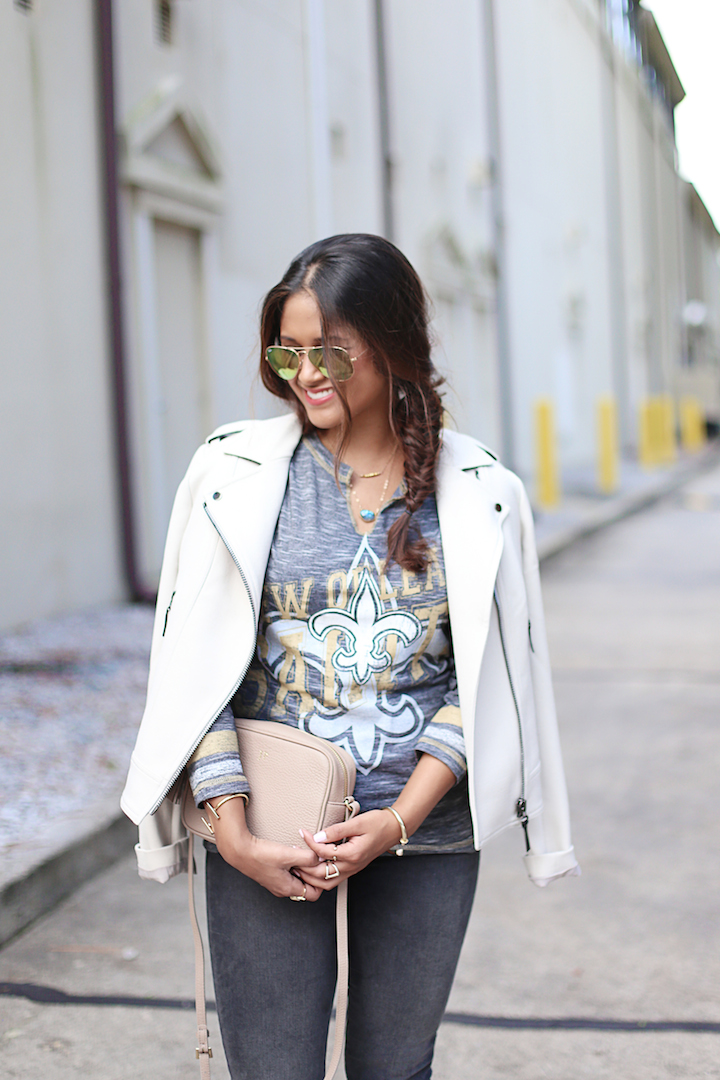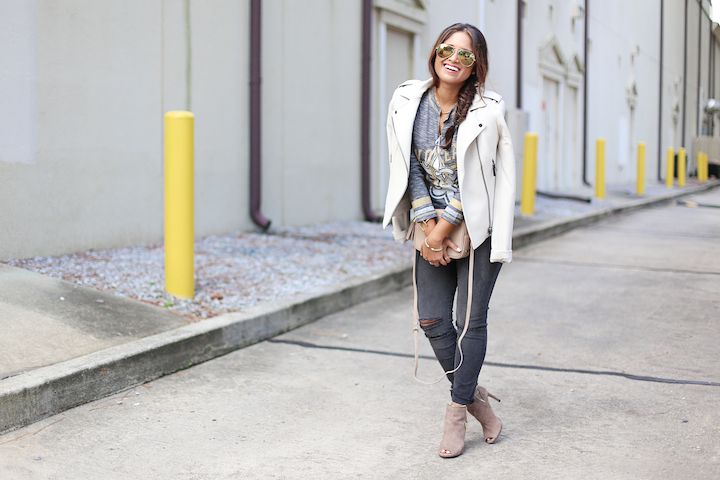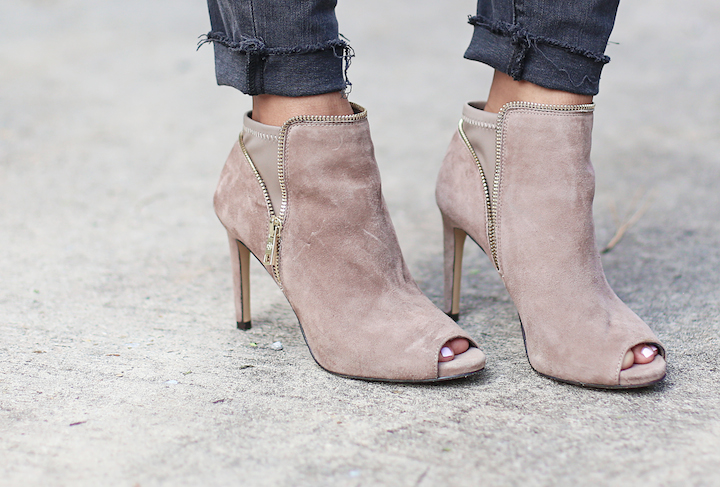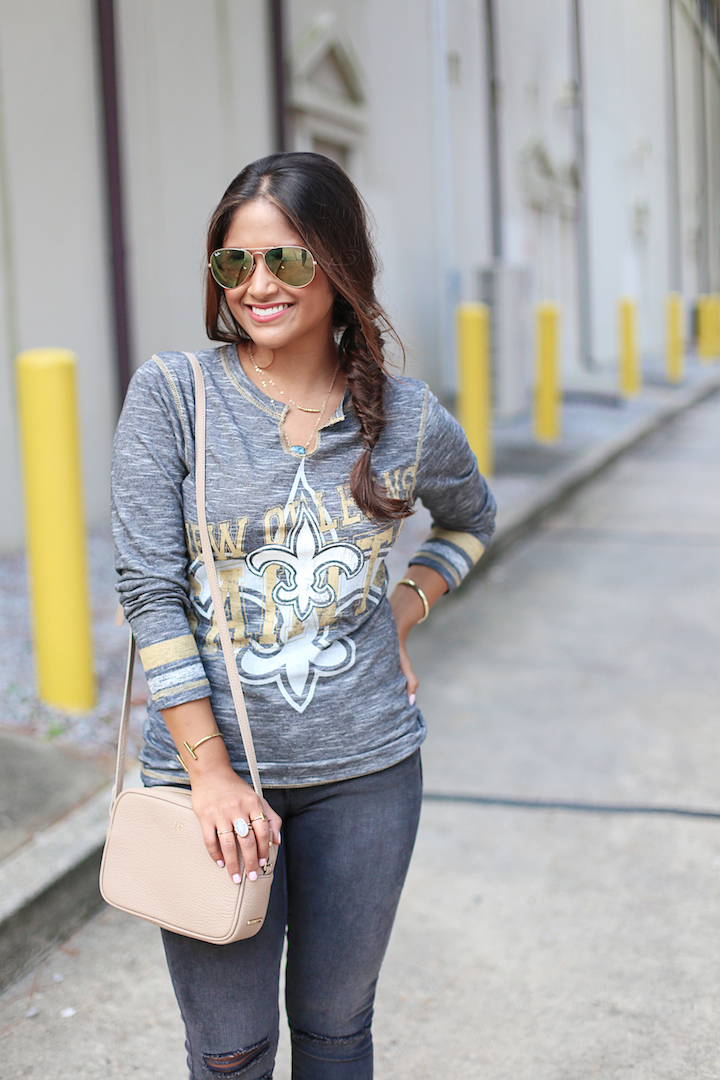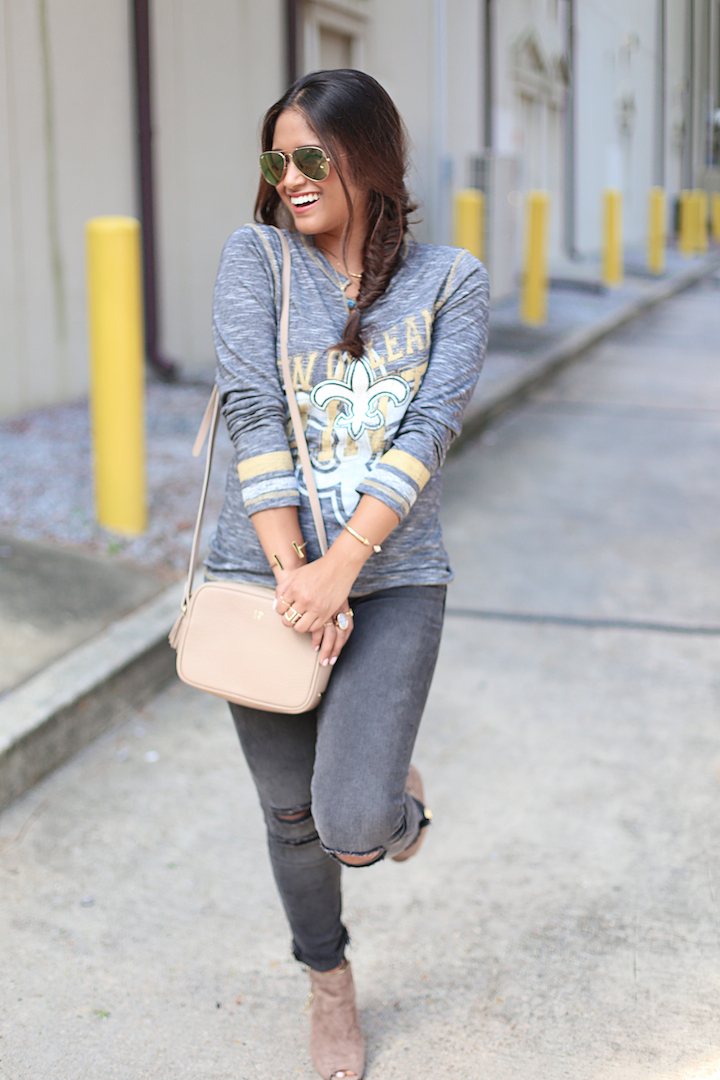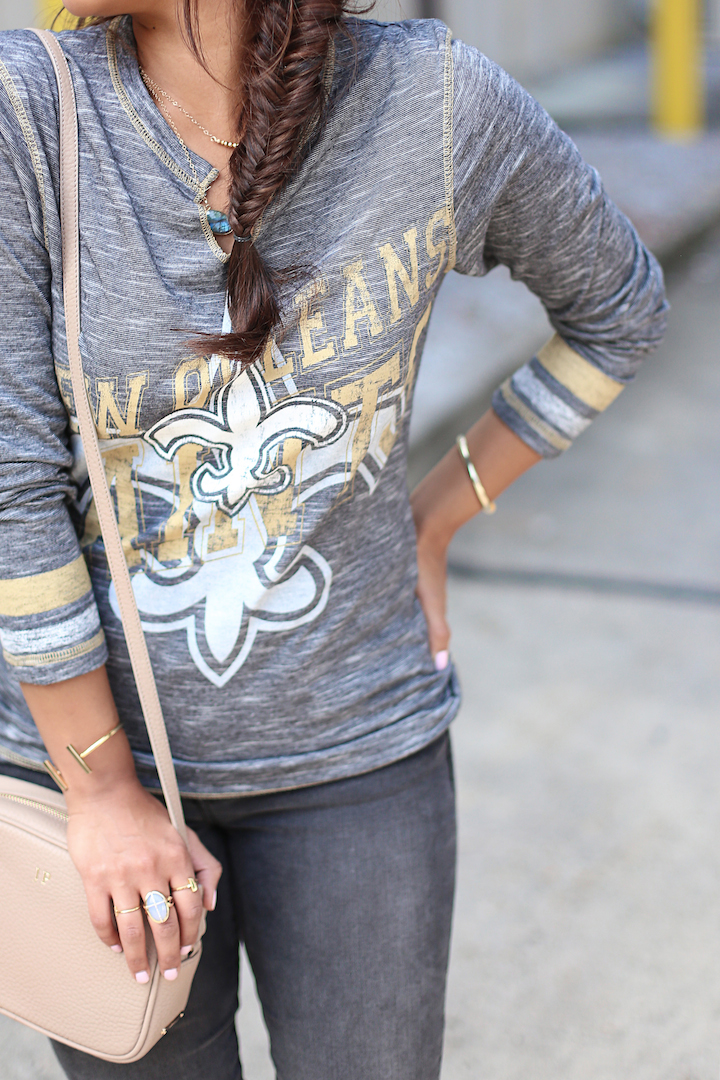 Photos by: Kaela Rodehorst Photography
| Shop This Look |

Outfit: J Brand Photo Ready Mid Rise Skinny Jeans in Mercy | Saints Tee c/o NFL Apparel | Moto Jacket c/o Ann Taylor (SALE alert: right now enjoy 30% OFF 1 item | 40% OFF 2 items | 50% OFF 3 items at Ann Taylor!) | Sunglasses | Madison Crossbody in Stone c/o Gigi New York
Jewelry: Yvonne Ring c/o Mary P Lamb Designs | Pave Gold Cuff c/o Candy Apple Boutique | Necklace c/o Bella Joy Jewelry | Bar End Cap Cuff c/o French Connection 
Hairstyle c/o Bleu, A Blow Dry Bar in Metairie, LA
Good Morning readers and Happy Casual Friday! Today, I'm sharing my first NFL Fan Style look with you featuring the Gametime Gal tee from NFL Shop.  I think the name of the shirt fits the style and design perfectly. The style of the tee reminds me of the kind of girl who knows all about football. She jumps up with the guys when their team scores a touchdown and throws her hands up at the ref when he makes a lame call. She's that cool "guy's girl" who stays later at the bar for a few more beers to celebrate the victory or mourn the loss while actually understanding what happened at the end of the game.  Even though she is a guy's girl, she still turns heads as she passes through the bar while guys admire her cool confident look and girls envy her perfectly messy fishtail braid from the night before.
 She's basically the girl I'll never be because I know nothing about football even though I cheered half of my life.   I'm always late in jumping up when our team scores becuase I'm usually more interested in the cheese fries sitting on the table at the bar rather than paying attention to the score. It's pretty bad… so bad that once my boyfriend made me memorize 10 Saints players and their numbers and I had to name at least five of them before he let me come to the game with him!  So just for today in this tee, I'm her, the Gametime Gal, the girl who can hang with the guys. Haha!  Well, except for the fishtail braid from the night before because I actually got that done right before I took these photos!
Follow NFL Fan Style on social media at @NFLfanSTYLE on Facebook and Instagram. You can join the conversation using the hashtag #NFLfanSTYLE.  Make sure to post your #NFLfanSTYLE photos for a chance to be featured on their page!
If you're attending the game, then you're going to need one of these clear NFL approved bags by Madly Yours! Available online as well as locally at Bella Bella, Bella Lucca, The Blue Jeans Bar, Blink, Chic Chateau, Haus 131, Imagine Boutique, Mint, Naaz, Pretty Reckless, Shop September & Vogue Boutique! See location addresses here–> Stockist 
Thank you to NFL Apparel & Madly Yours for sponsoring this post.