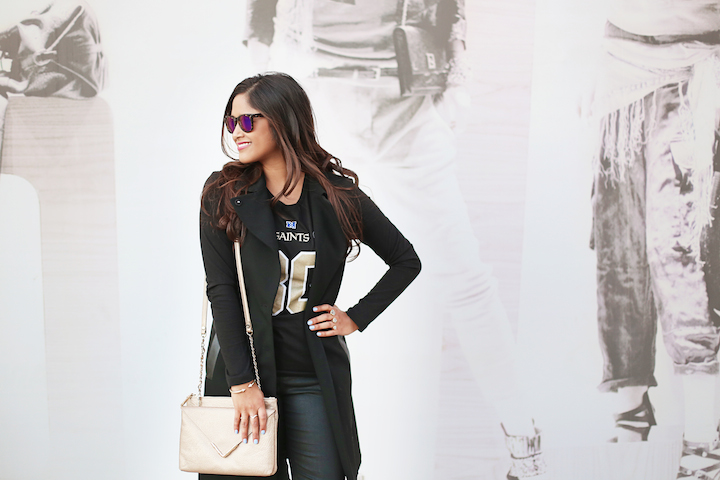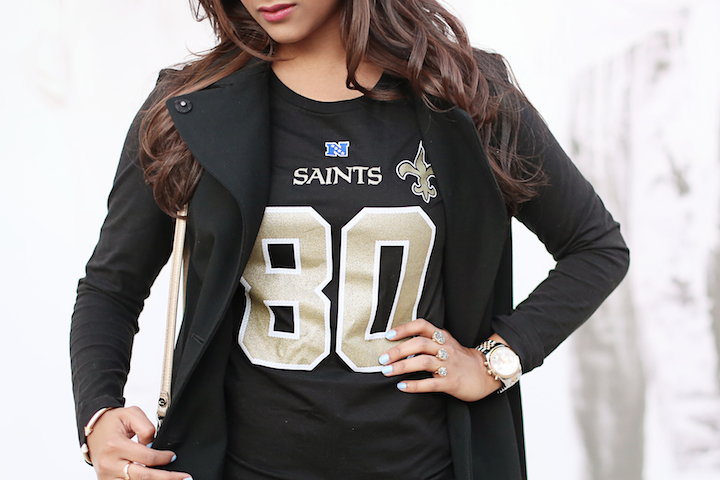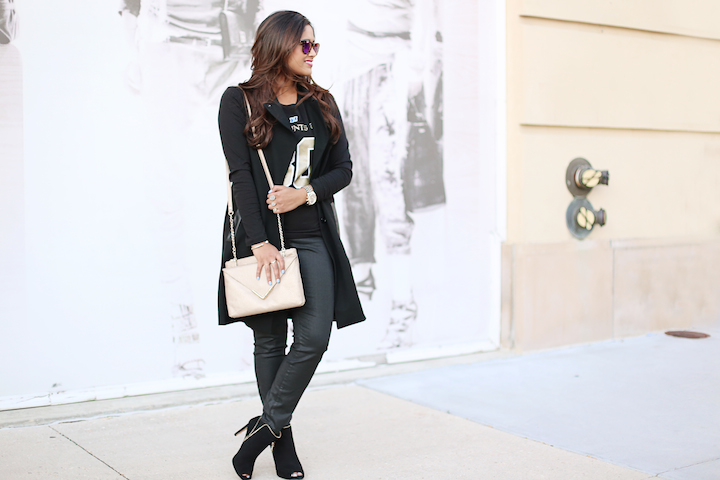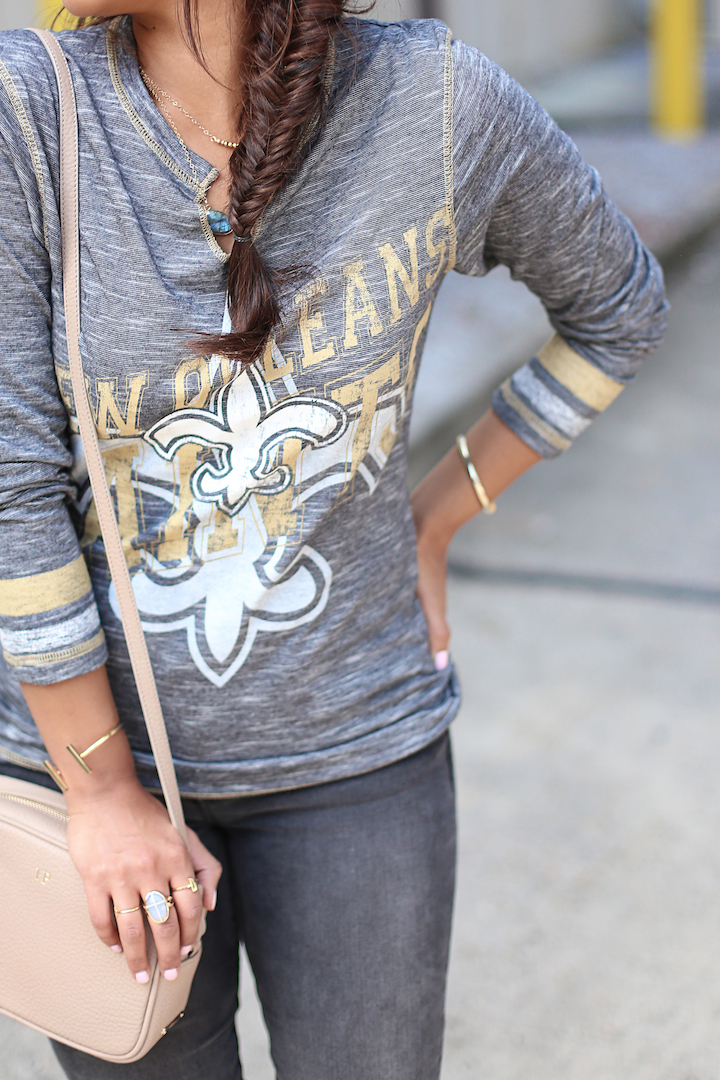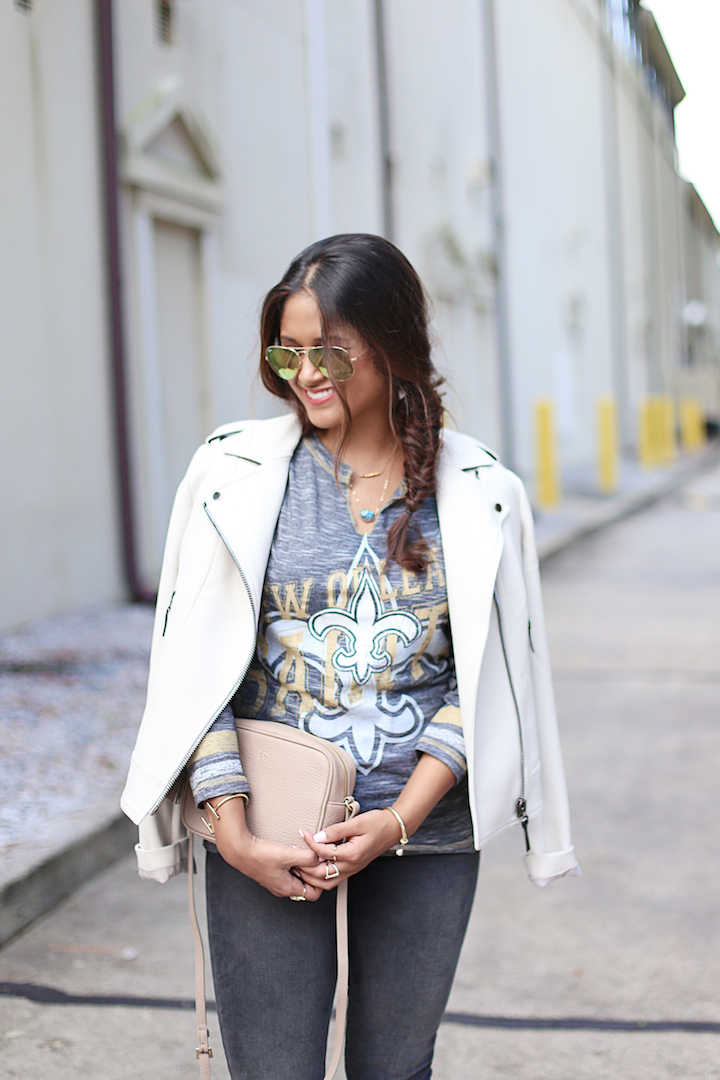 Photos by: Kaela Rodehorst Photography
| Shop This Look |

Outfit: Coated Skinnies, Vest & Peep-toe Booties c/o Ann Taylor <–SALE Alert! Get 50% OFF your entire purchase w/ code: FASHION50 | Saints Tee c/o NFL Apparel | Bailey Leather Crossbody in Metallic Gold c/o Elaine Turner | Sunglasses c/o Krewe Du Optic
Moto Jacket c/o Ann Taylor  | Madison Crossbody in Stone c/o Gigi New York
Jewelry: Naomi ring c/o Kendra Scott
Hey readers, I hope you're all having a great weekend!  If you're a football fan or live with one then I'm sure you've spent at least half of your Fall weekends watching college and NFL football or tailgating and cheering in a stadium.  I'm not your biggest sports fan, but my boyfriend is so I always end up at some kind of football party or game on the weekends.  If you read my last NFL game day post, then you know I'm more concerned about the fried food and sweets I'll get to eat instead of what the score is. Although, I did pay attention during the last quarter of the LSU vs Ole Miss game yesterday and I was rather intrigued.   Anyway, I also mentioned in my last post that I have bit of trouble remembering the players' names and numbers. In case you're wondering why I, myself of all people need to know them, that would be because my boyfriend won't let me come with him unless I can recite at least five of the players' names along with their numbers. So to help myself out a little, I decided to wear a shirt with an important player and his number on it! Smart right? One down, four to go!
Just to prove to you that I'm more in interested in my game day outfit and the chips and dip and sweets, look at what I made during the the first half of yesterday's game! We made these Pumpkin Pudding Parfaits that we found on Pinterest here–> Pumpkin Dirt Pudding Graveyard Parfaits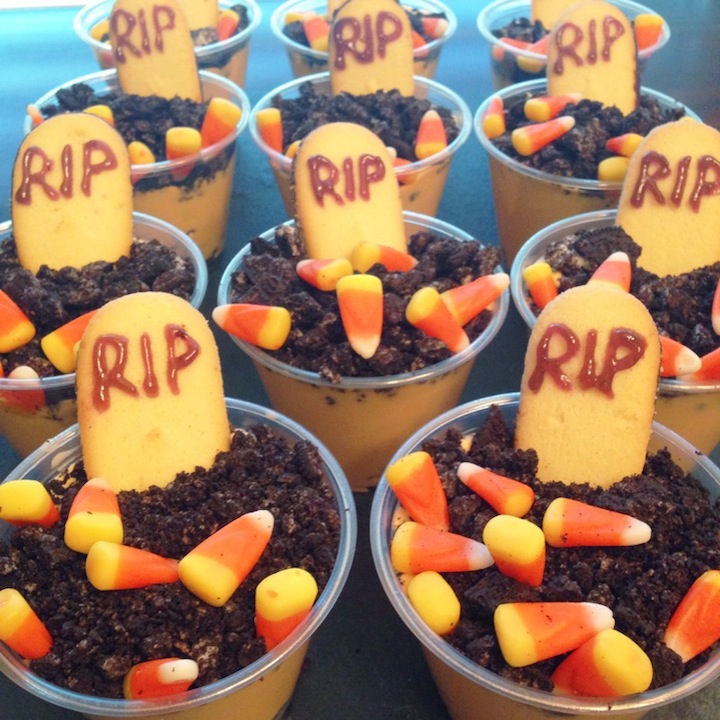 Check out my last New Orleans Saints post here–> The Gametime Gal
Follow NFL Fan Style on social media at @NFLfanSTYLE on Facebook and Instagram. You can join the conversation using the hashtag #NFLfanSTYLE. Make sure to post your #NFLfanSTYLE photos for a chance to be featured on their page!
If you're attending the game, then you're going to need one of these clear NFL approved bags by Madly Yours! Available online as well as locally at Bella Bella, Bella Lucca, The Blue Jeans Bar, Blink, Chic Chateau, Haus 131, Imagine Boutique, Mint, Naaz, Pretty Reckless, Shop September & Vogue Boutique! See location addresses here–> Stockist
Thank you to NFL Apparel & Madly Yours for sponsoring this post.