Morning friends, I'm finally sharing a recap from our Babymoon at Sugar Beach Viceroy in St. Lucia. This was actually my second trip to St. Lucia, but my first time visiting this part of the island and it was absolutely stunning. I will never get over how beautiful Sugar Beach Resort is nestled right between the two pitons. We were also super lucky to have perfect weather during the entire trip with a few short rain showers here and there. They always ended with a rainbow so it was worth the rain.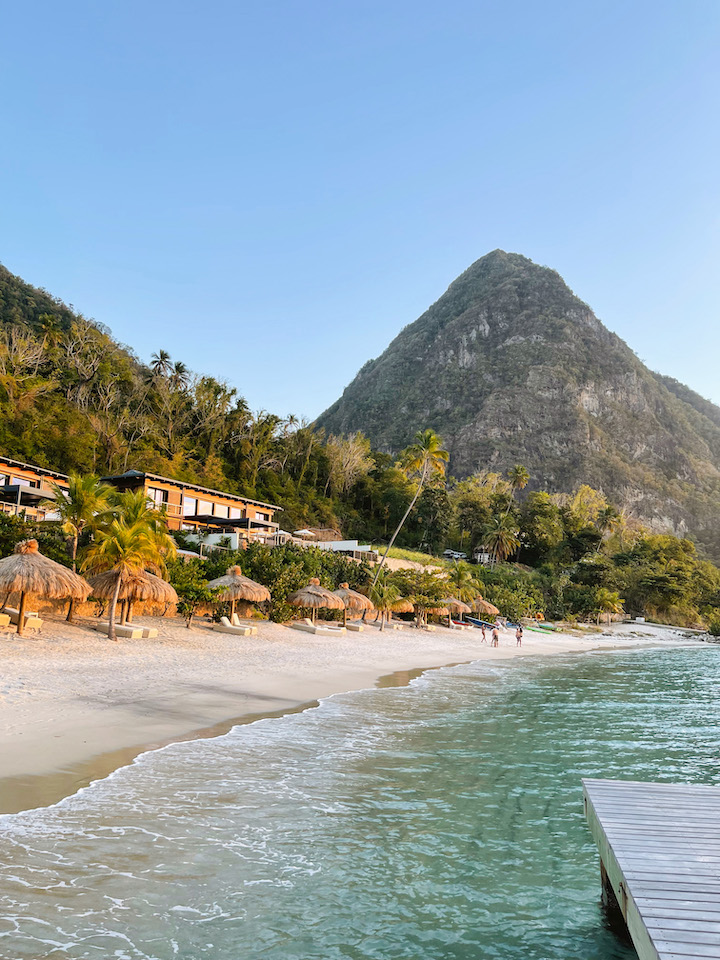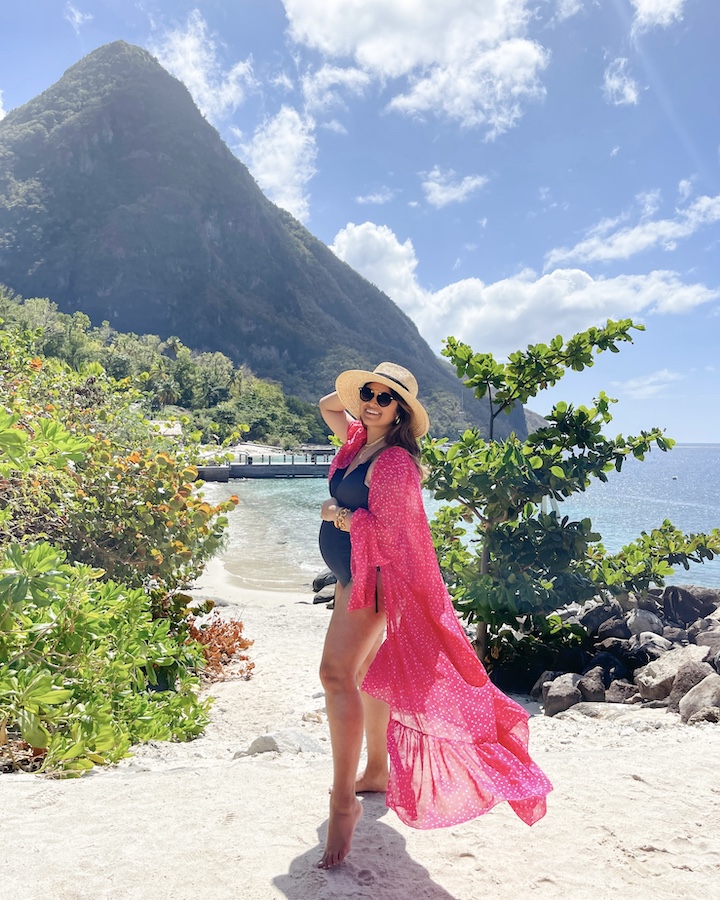 Travel:
We traveled to St. Lucia from Louisiana, which wasn't a super quick trip, but the best travel destinations take time. We scheduled a super early flight to still have some daylight once we arrived. We drove to the New Orleans airport at 4 am and flew 2 hours from MSY to MIA and then about 3.5 hours from Miami to St. Lucia. Upon landing, we of course had to go through customs and then we took and hour long taxi ride to the resort. This put us there for 5 pm in case you're wondering so I highly recommend scheduling an early flight if you want to be able to enjoy some sun before it goes down.
We took a similar route home at the end of our trip except we scheduled our flight for the later in the day to give ourselves time for breakfast and the beach before heading out.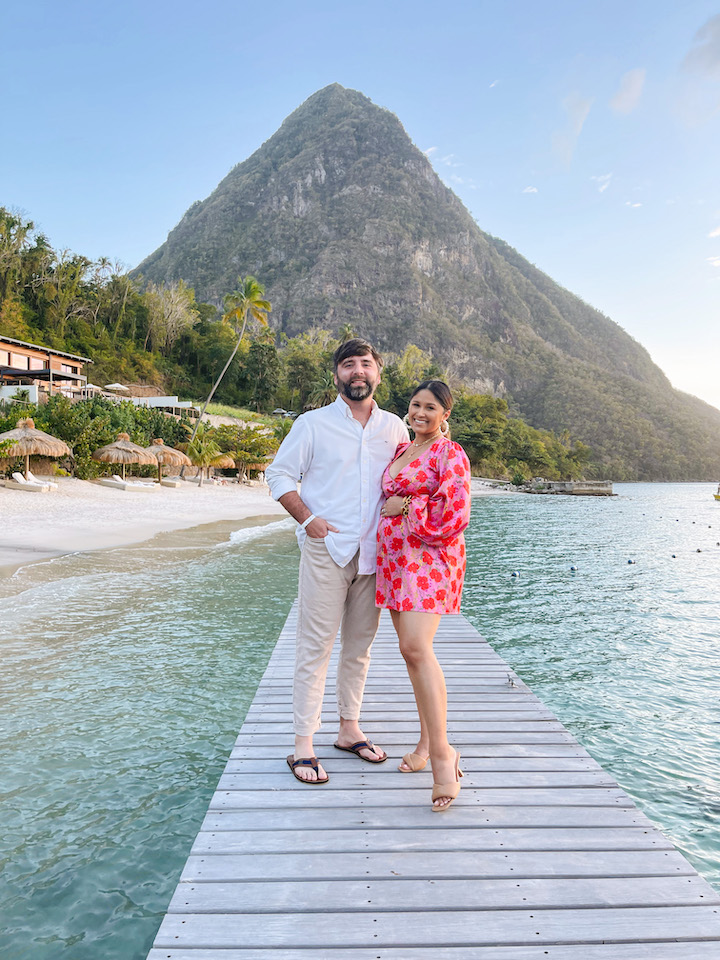 Covid Restrictions:
I feel like covid restrictions are constantly changing, but either way we felt super safe during both our travel to and from St. Lucia and our stay at Sugar Beach Viceroy.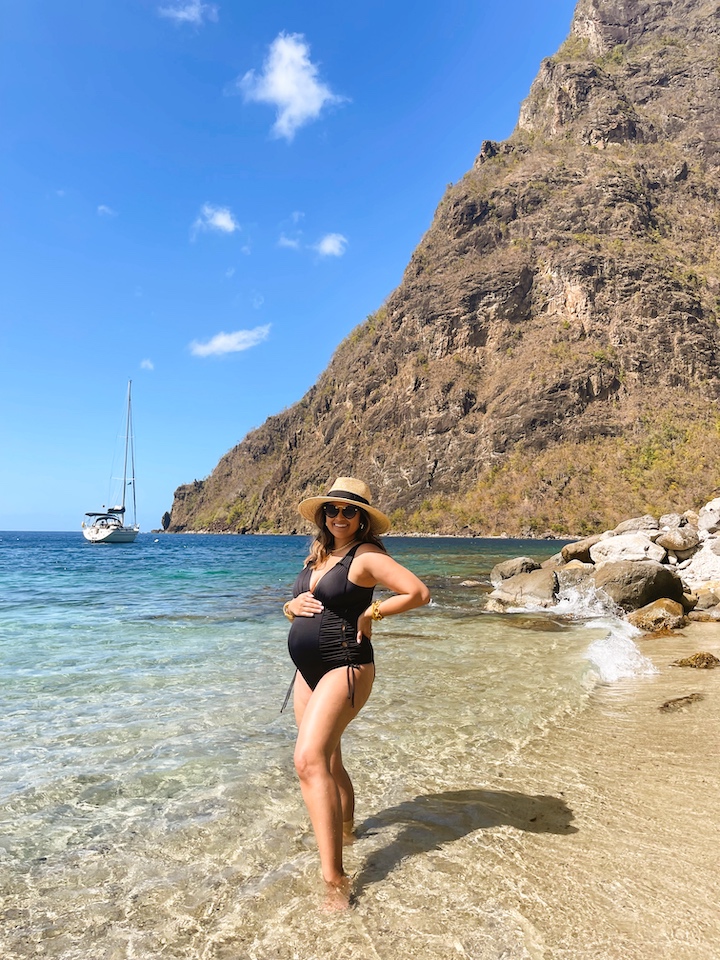 Lodging:
We stayed in a beautiful Grand Luxury Villa with the most stunning view of the ocean and lush pitons. Our room also came with access to a 24/7 butler who assisted with reservations, room service, transportation and pretty much anything we needed. I could go on and on about the reasons why we loved our villa, but I think in the end it was a tie between the incredible views and the luxurious steam shower. Truly one of the best showers I've ever showered in. Our bed was also super comfy and I love the crisp white and clean decor. It made the room the room feels so relaxing and refreshing.
Next time I want to stay in one of the Luxury Beach Front Bungalows because they look insane. You literally get to stay right on beach so you walk out onto the sand.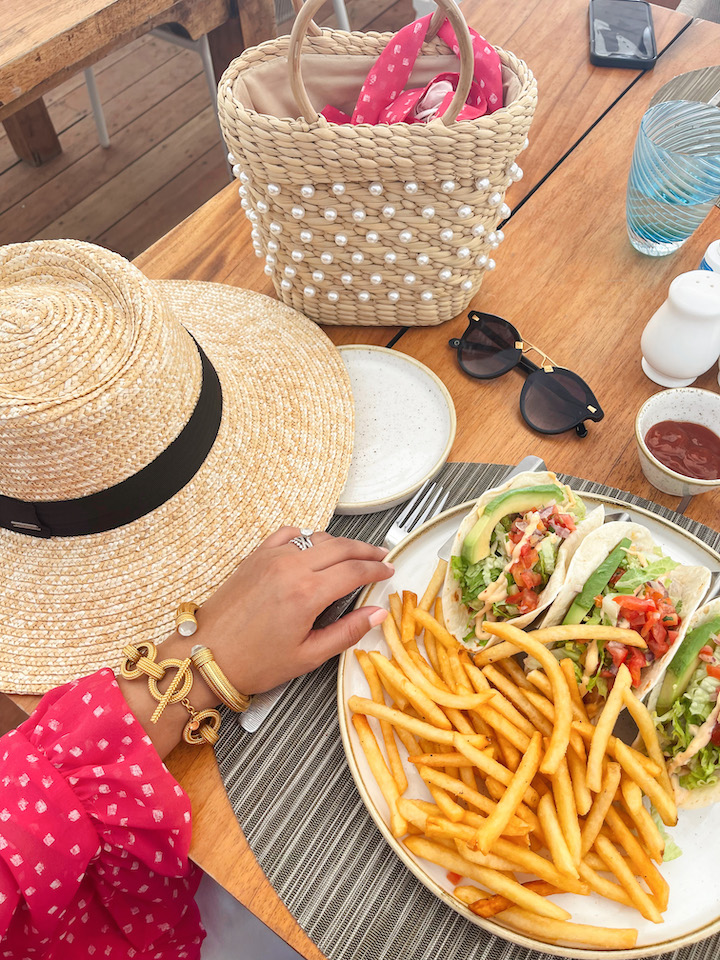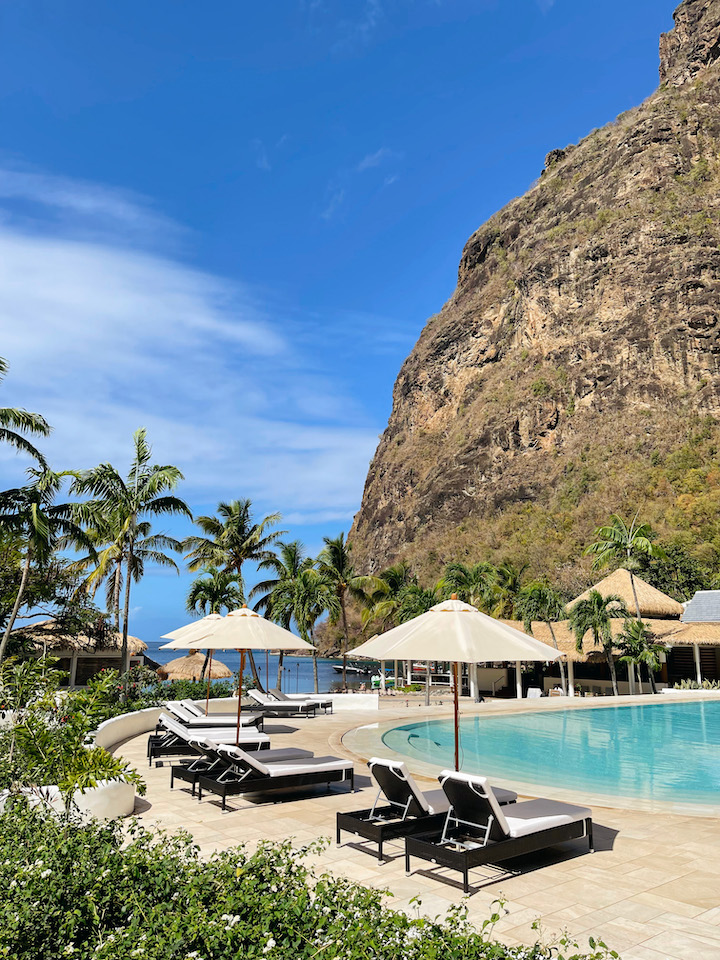 Dining:
Since I was pregnant during this trip I couldn't eat all the sushi I wanted to, but it looked so good. Fortunately, everything else was delicious especially breakfast. That was probably my favorite meal of the day because we had access to the buffet at The Terrace, which had everything as well as off the menu. The french toast was one of my favorites. For lunch, we always visited the Bayside Restaurant & Bar for casual beach food like sandwiches, pizzas, wraps and fries. When it came to dinner, we tried a few different options: room service, which was much needed on on our first night after a long day of travel, the Cane Bar for sushi (I only ate the cooked rolls, which were still good) and the JALOUSIE GRILL for a fun BBQ on the beach.
Disclosure: We only stayed three nights because it was our first trip out of the country away from Beck and I was about 24 weeks pregnant so I could only enjoy so many activities. We hope to stay much longer next time and check out the Great Room and even book a private dinner on the beach.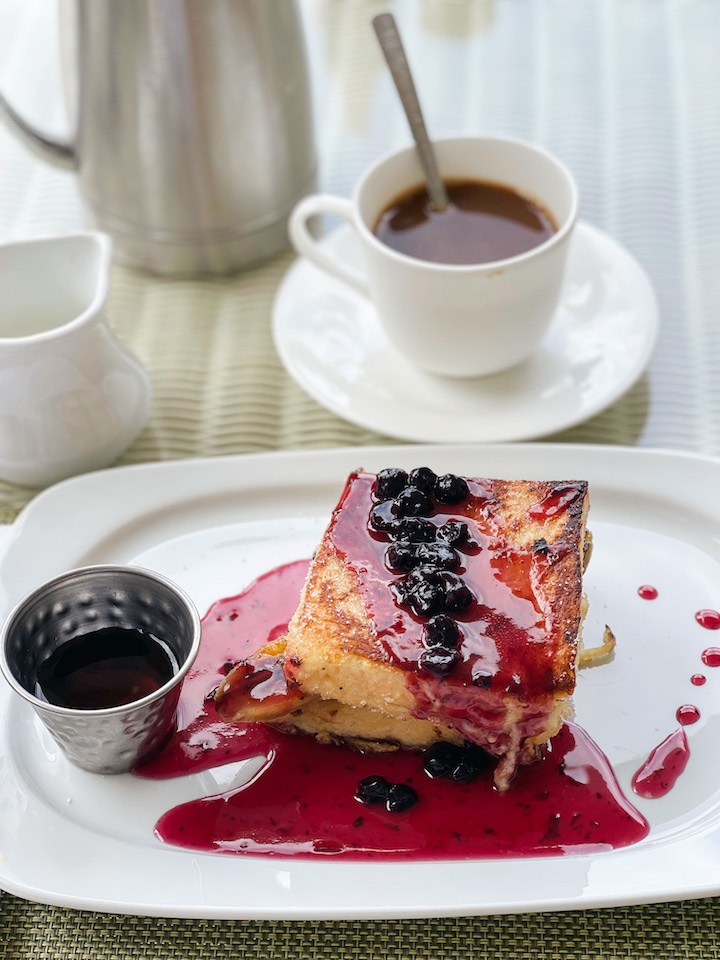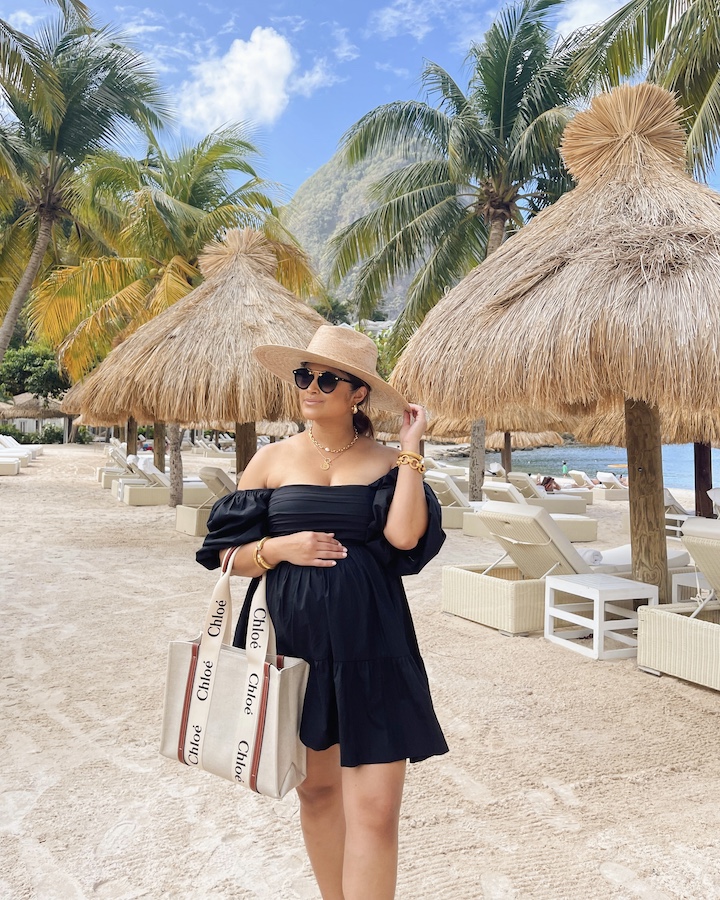 Activities:
As I mentioned, pregnancy really limits your activities, but Sugar Beach offers plenty of fun events and activities for both couples and the whole family like water sports, boating excursions, land tours, you name it. We really hope to visit the Sulphur Springs next time.
We spent most of our time on beach and the South Beach Pier Bar. That's where the best views are and you can order snacks and drinks out there.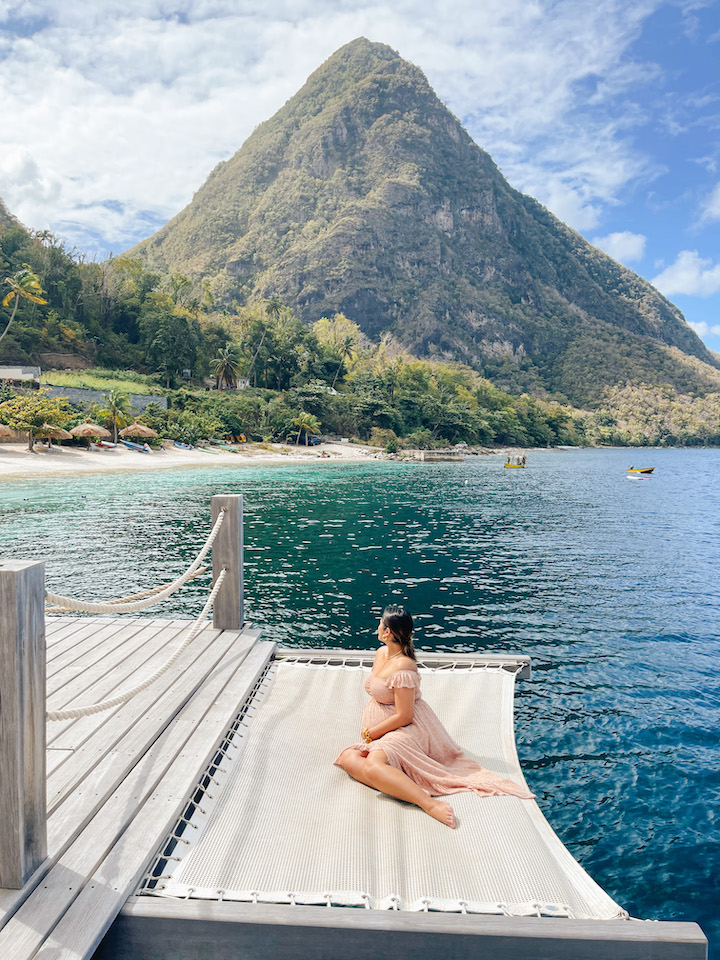 Spa & Fitness:
This category makes me chuckle because I had planned to hit the gym a couple times during our stay, but I honestly didn't even have to because all of all the elevation throughout the property. I'm used to flat Louisiana so walking up and down the hills to our villa and the beach was a workout in itself. We of course used the transportation service when going far distances.
As for the spa, I'm not a big fan of prenatal massages because they're just not as good as deep tissue massage so we opted out, but they have an absolutely beautiful spa and I will definitely book an appointment for our next trip.