Hi everyone, today I'm sharing seven outdoor date ideas with ModCloth just in time for spring and summer. While I've got all the fun ideas, ModCloth has all of your clothing, shoe and accessory needs for spring and summer lovin!
Scroll down to the bottom of this post for all of my fab outdoor date ideas and what to wear from ModCloth! Number 3 is usually quite entertaining and I really want to try number 7 and the bonus idea!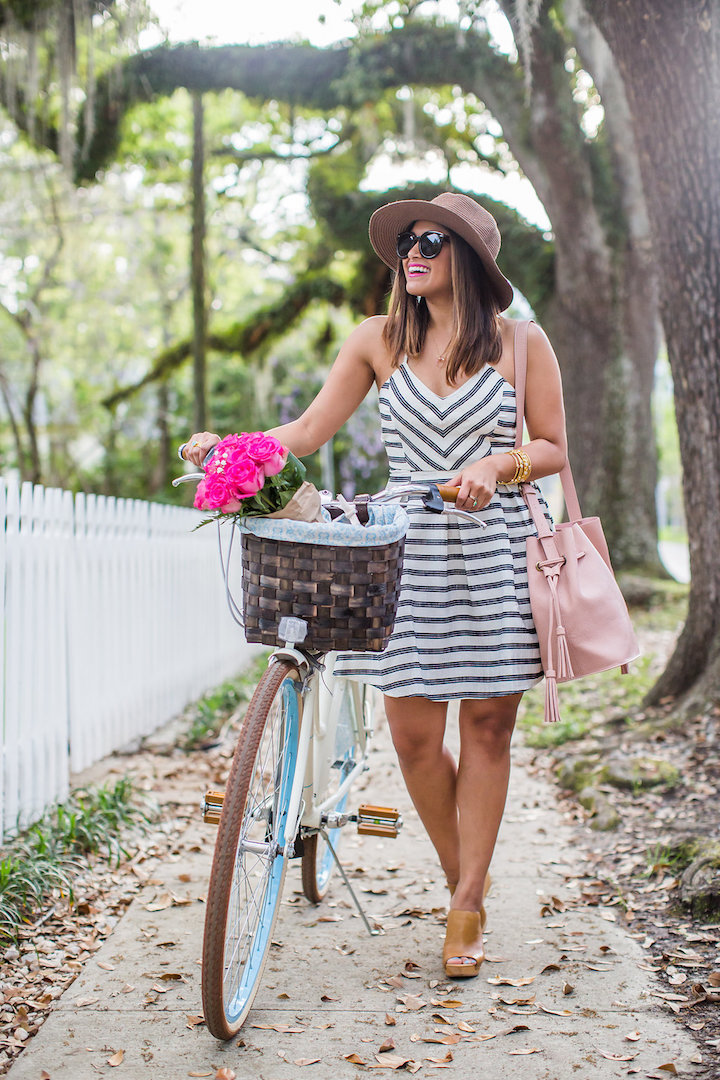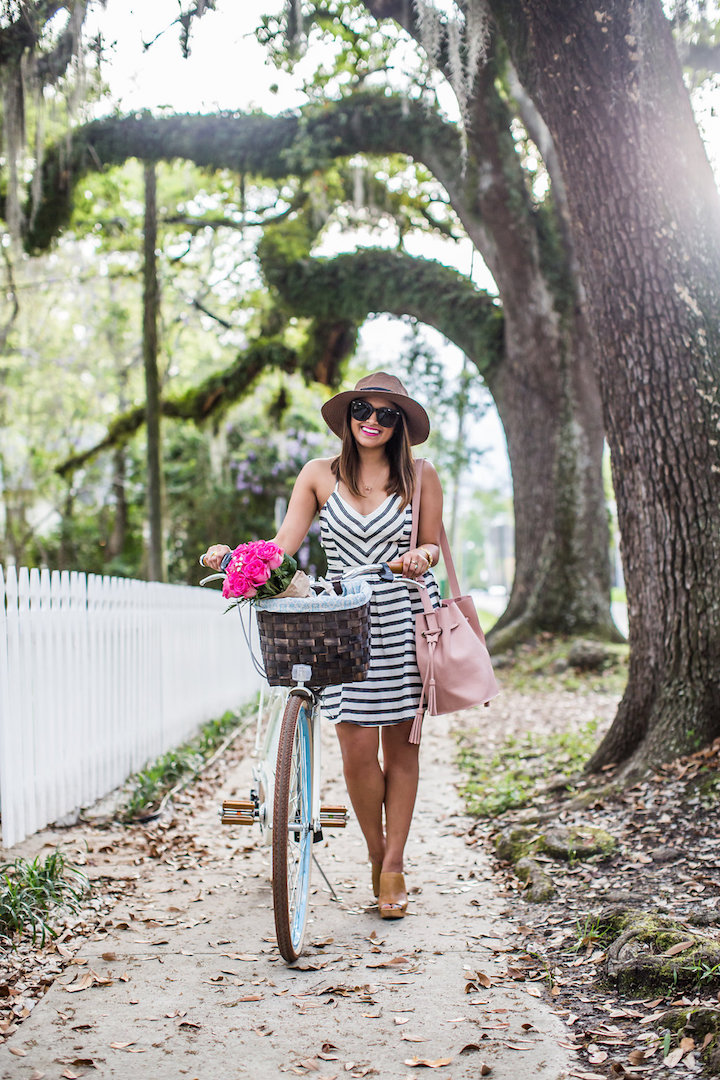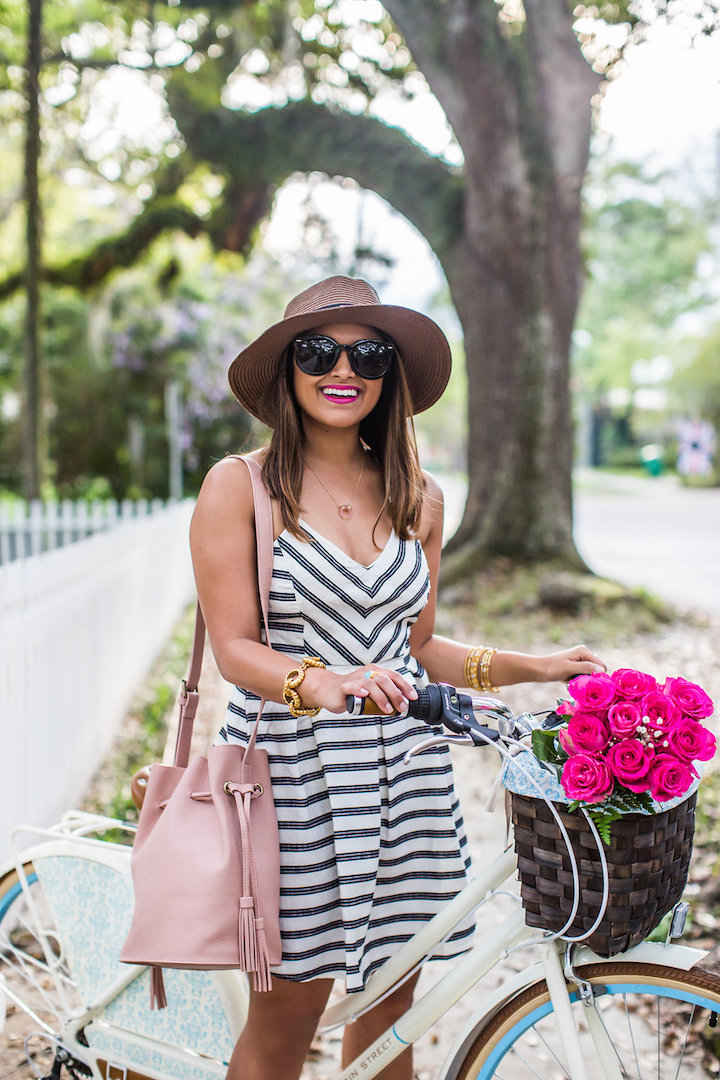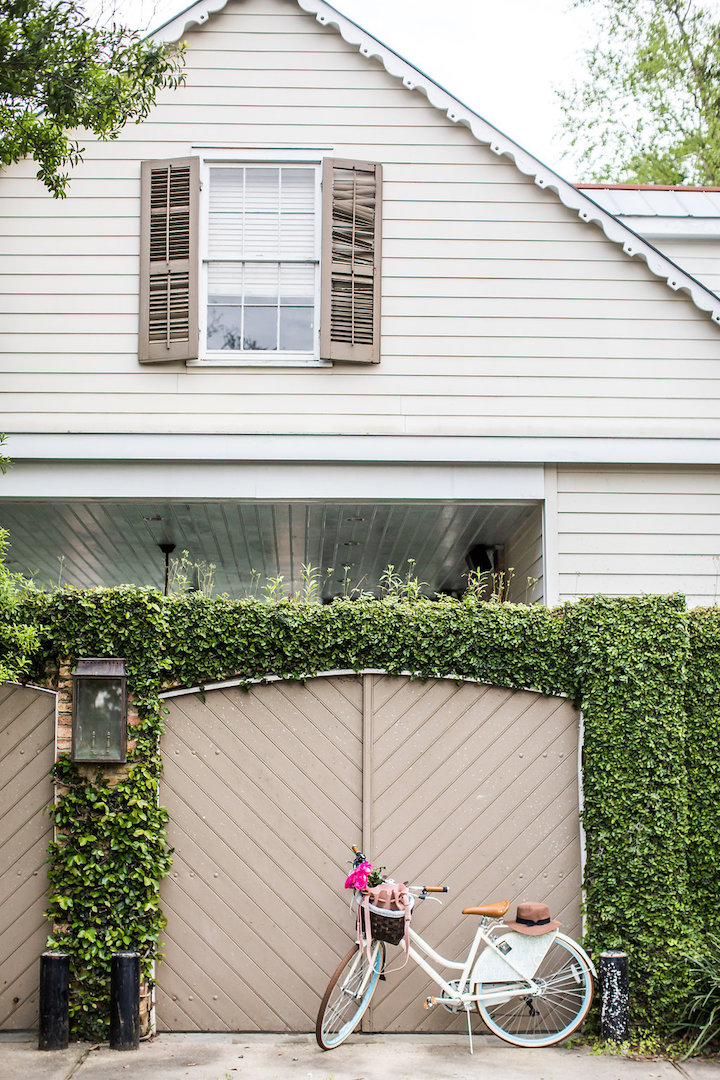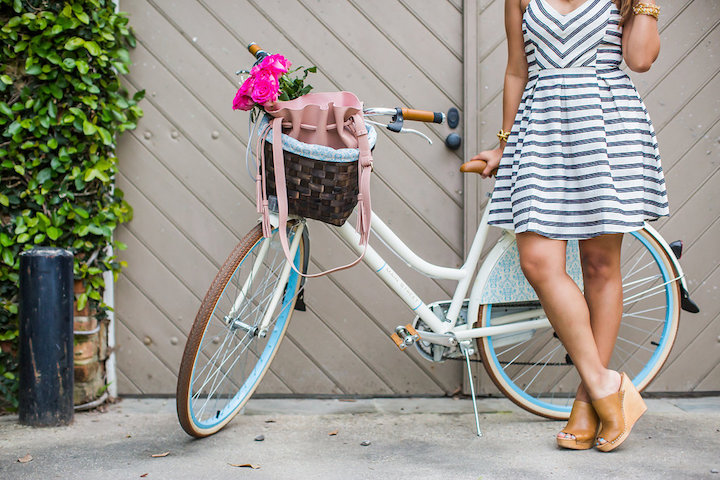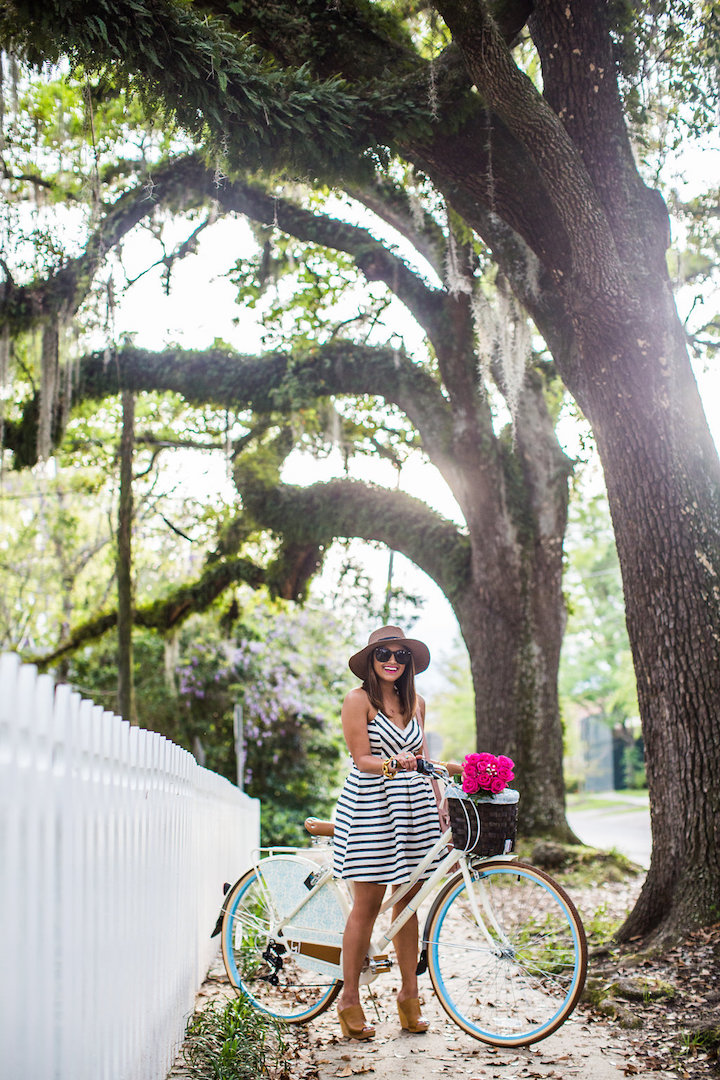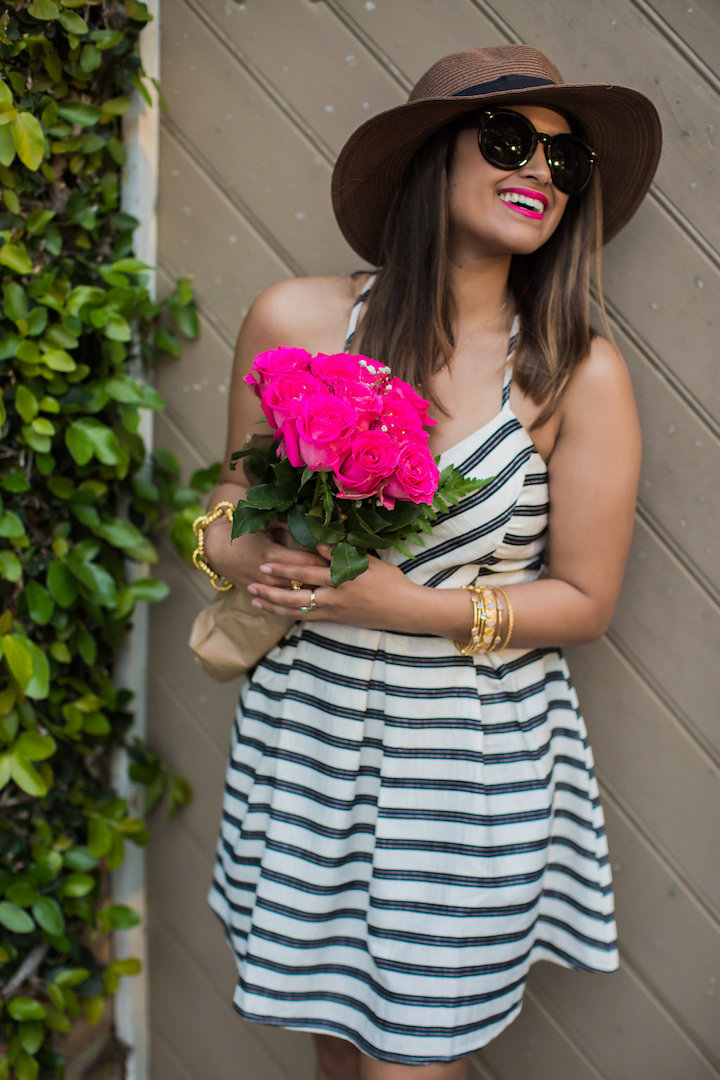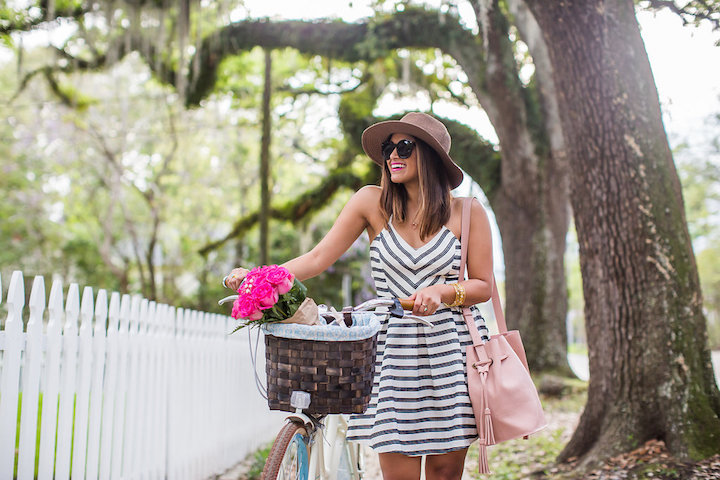 Photos by: Brooke Boyd Photo + Film
| Shop This Look |

Outfit: True Bluegrass Dress & Worth The Tassel Bag c/o ModCloth | Similar Cruiser & here | Similar Wedges (shop more wedges here)
7 Outdoor Date Ideas:
1) Go for a bike ride together on the most beautiful streets in your town that are pedestrian friendly of course.  Make sure to pack some water, snacks, champs and an oversized towel so you can stop for a little picnic before heading back. Also, you might want to wear a pair of these–> ModCloth Sneakers because biking in heels is not a pretty sight! Trust me on that one!
2) My boyfriend and I love scouting out cool, outdoor restaurants to try for lunch or dinner and drinks with friends. Wear one of these on your date–> ModCloth Spring Stunners
3) Play an outdoor sport that he used to play and let him teach you some skills or visa versa. Blake used to be the best point guard on his basketball team in high school and he was so talented! I know this because I watched him play a couple of times when I was just a little sophomore. That's one of perks of dating the same guy since you were 17. Anyway, we had so much fun playing on the court while his little cousins laughed their asses off at me as I tried to learn how to block, dribble, shoot and even score. I'm not sure if my abs hurt more from actually playing or dying laughing at myself. You might need pair of shorts for this type of activity –> ModCloth Cute Shorts & Rompers
4) Rent some Sea-doos and go jet skiing or boating with group of friends. Get all your swimwear needs here–> Cute Swimsuits 
5) Rent a fun convertible car and go cruising by the nearest beach with the top down. No beaches nearby? Winding backroads will do just fine! As long as your hair is blowing in the wind and your feet are up on the dash, you'll feel great! Don't forget to create a playlist of all your favorite songs and throw some oldies in there too! You're gonna need a funky pair of sunglasses too–> Vintage-Style & Retro Sunglasses 
6) This might sound lame, but go on a field trip! Think back to some place you went when you were in middle school like Global Wildlife , the zoo or Honey Island Swamp and go there! In case you're wondering what those places are, Global Wildlife is is safari tour where you get feed the animals and Honey Island Swamp offers a marshland and alligator tour. Those are local Louisiana spots, but I'm sure you get the idea!
7) Set up an outdoor scavenger hunt for the two of you and a few other couples.
Bonus Idea: Host a backyard camping party with a group of other couples. Put together a real tent with a bonfire and make tin-foil dinners and s'mores. If your backyard isn't big enough, try checkout out your local state park for available camping grounds. Oh, and these party decor accessories are essential –> ModCloth Daytime Party Decor
Other fun ideas that Blake probably won't do with me:
1) Go roller blading!
2) Go for a daily afternoon walk together in your neighborhood. Blake refuses to do this with me! He'll only agree if we run! Running isn't relaxing and enjoyable like walking! Gosh Blake! lol
3) Have a photoshoot in a field of sunflowers. He's not a fan of photoshoots! lol
4) Plant a garden together. There's actually a chance Blake may take interest in planting a garden of vegetables or what not together, but I'm the one who wouldn't! Haha! I always have bad luck in gardens. I usually end up with poison ivy or getting attacked by something!
Thank you to ModCloth for bringing you this post. All opinions are my own.