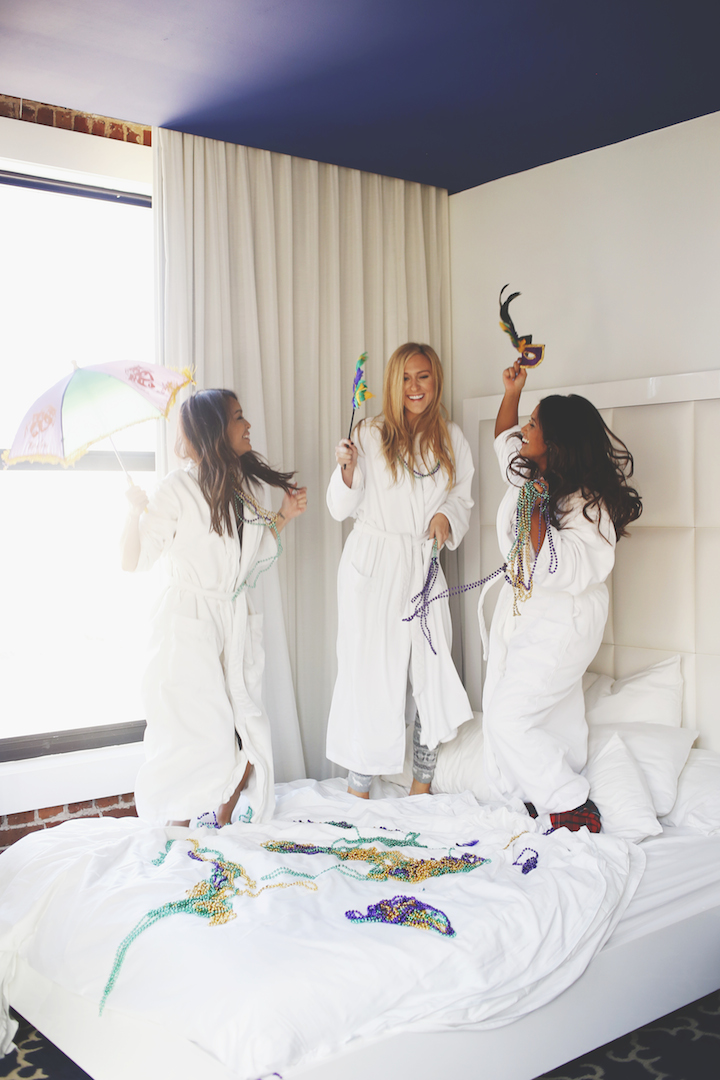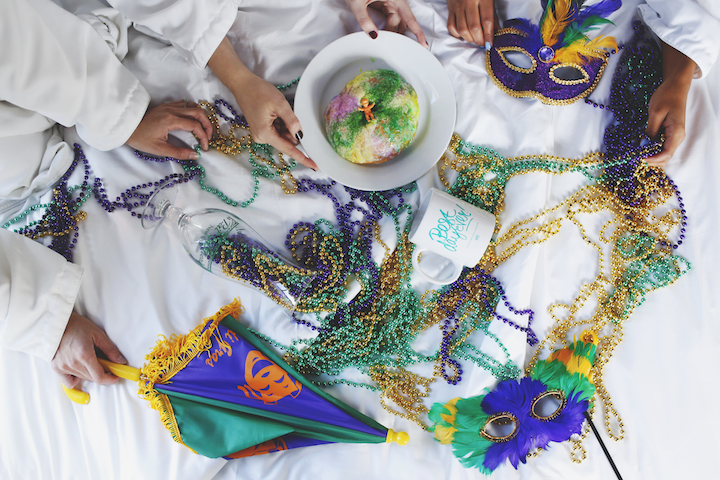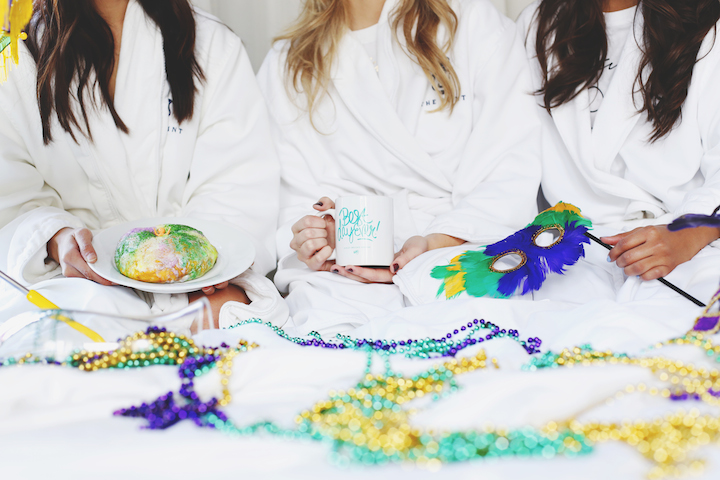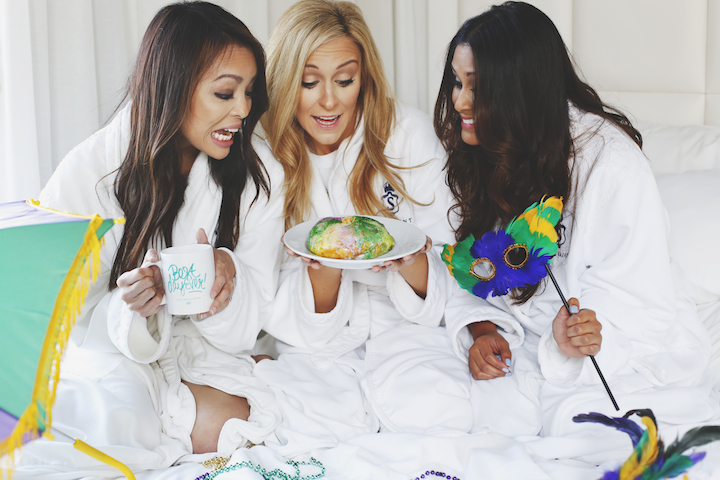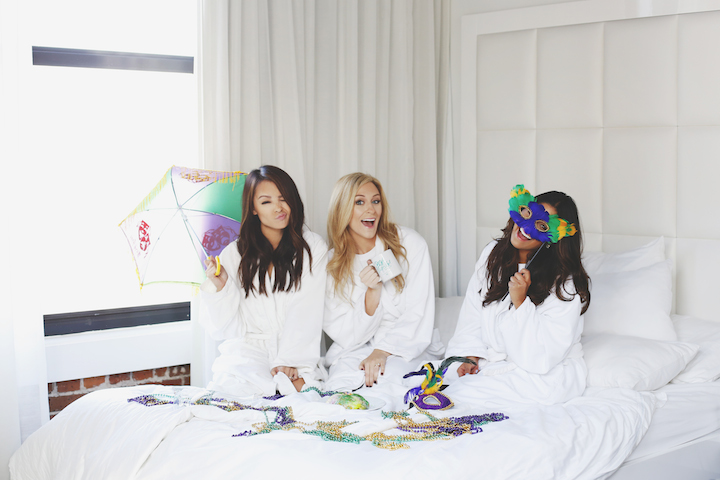 Hi everyone, in case you missed Day 1 of our FQ Stylecation, I will fill you in! I teamed up with Krystal of A Pinch of Lovely and Juley of Upperlyne & Co to give you five whole days of New Orleans fashion, food and fun just in time for Mardi Gras! We'll tell you all of the best places to drink, dine and wine (oh and sleep) in New Orleans.
French Quarter Stylecation:  (noun) /stīl/ + \vā-ˈkā-shən, və-\ = a style guide on what to wear to all of the best places to eat, drink, party and sleep in New Orleans!
On Day 2, we partied Mardi Gras style with king cake and beads in our huge white bath robes at The Saint Hotel! I can't help but cozy up in the hotel bath robes and order room service whenever I'm vacationing away from home! It's the best part! Trust me, I didn't grow up that way though! I can only remember one time ever that my mom let us order room service. She took me on a business trip with her to Vegas when I was 6 years old and we ordered pesto pasta to the room for dinner. I still remember that moment like it was yesterday. There is just something so special and luxurious about room service! Probably because I was deprived from it as a child! Haha! I wasn't even allowed to look at the $10 hotel room water bottles and candy!
 Anyway, how beautiful are these modern yet simple blue and white rooms? I told you that you'd love them! How about those exposed brick walls and white leather headboards! To die for, right?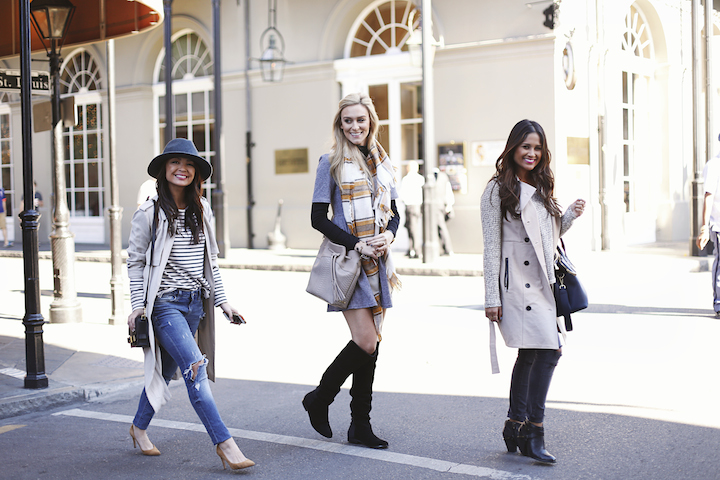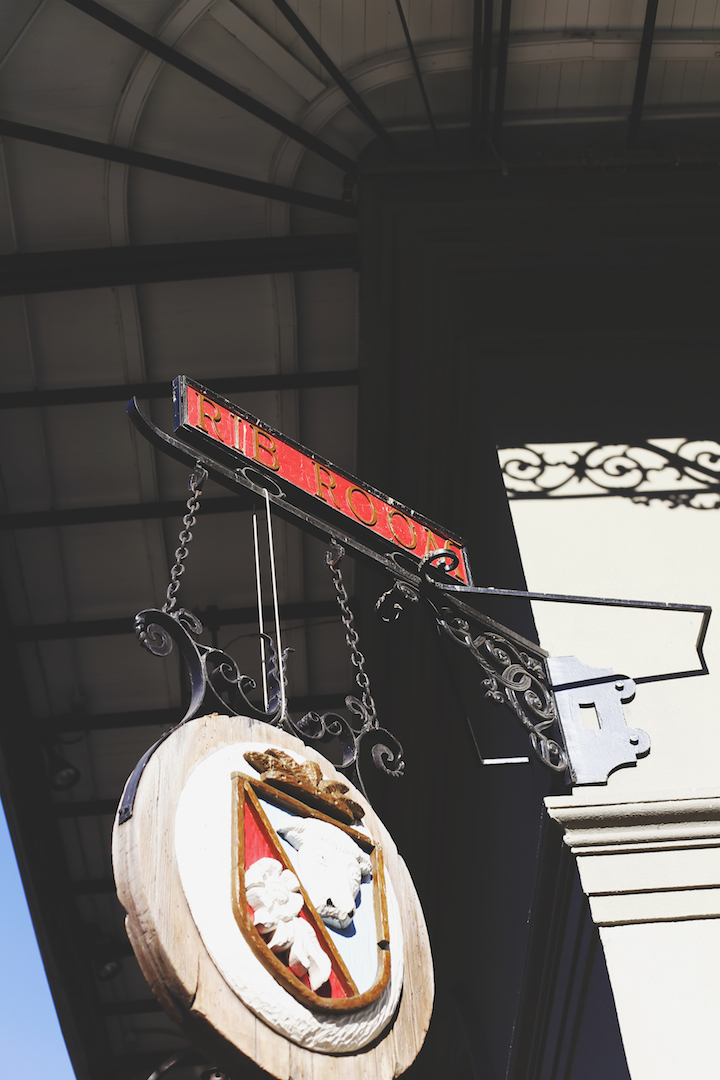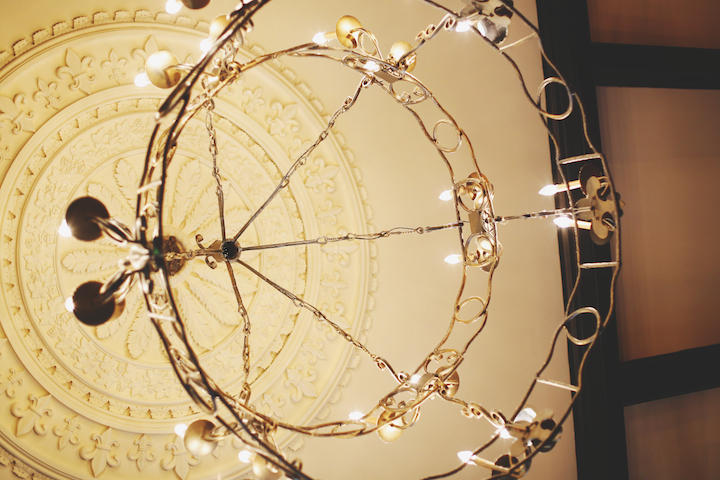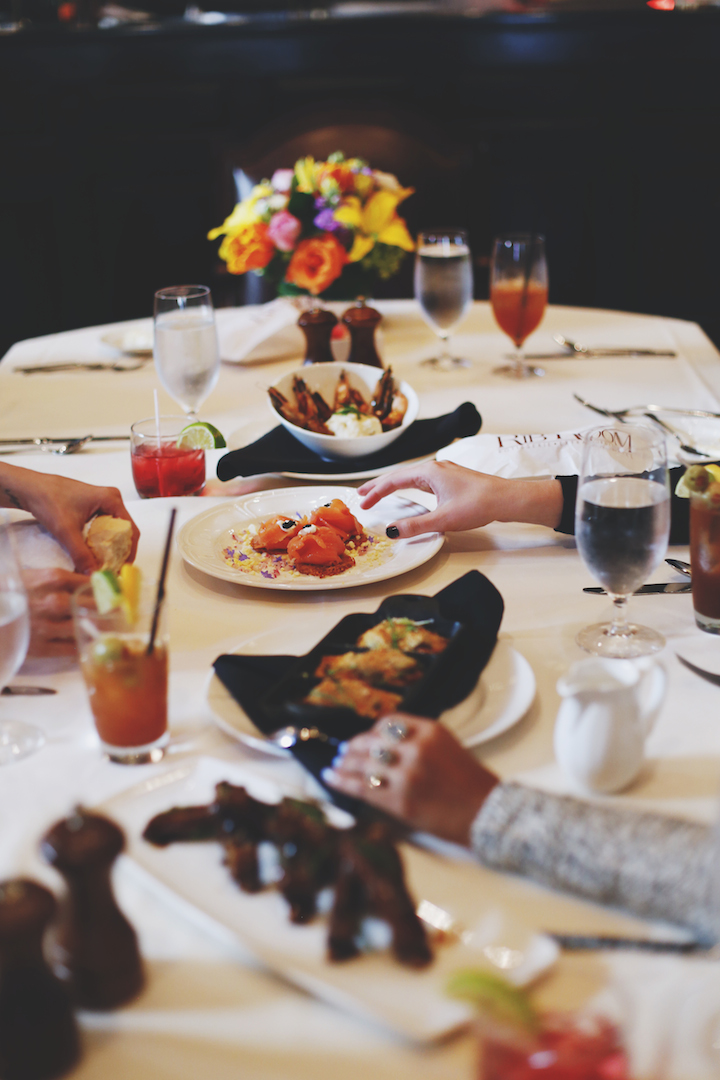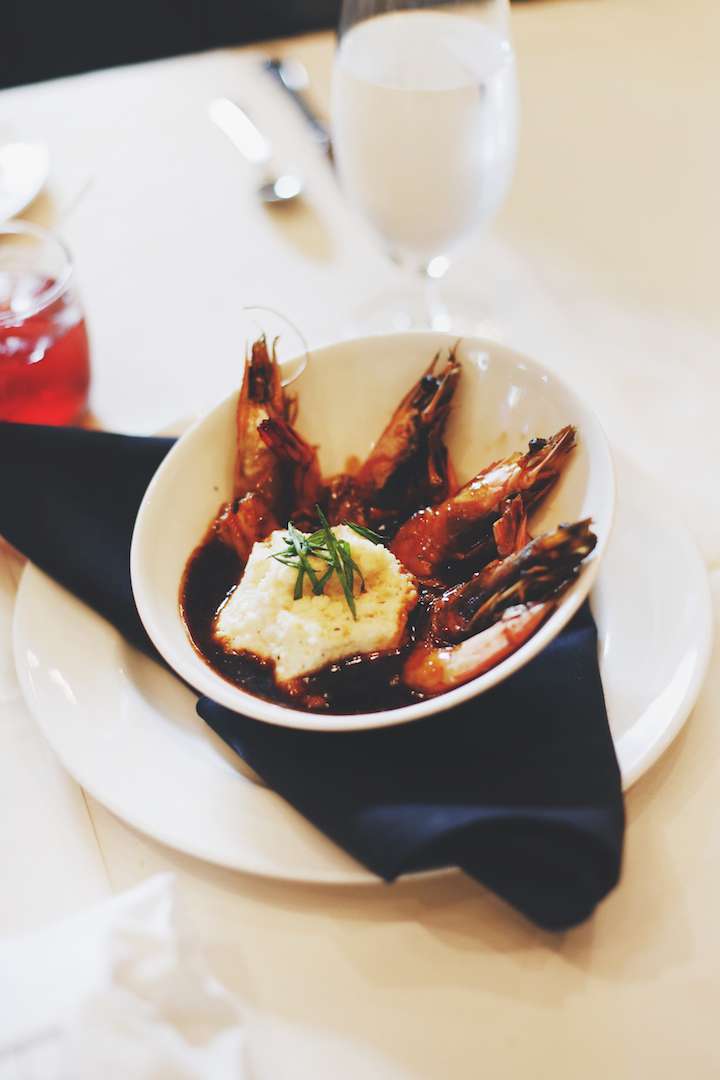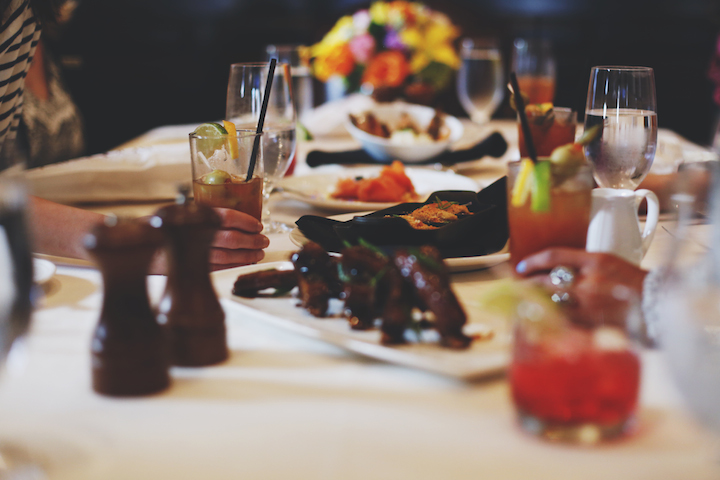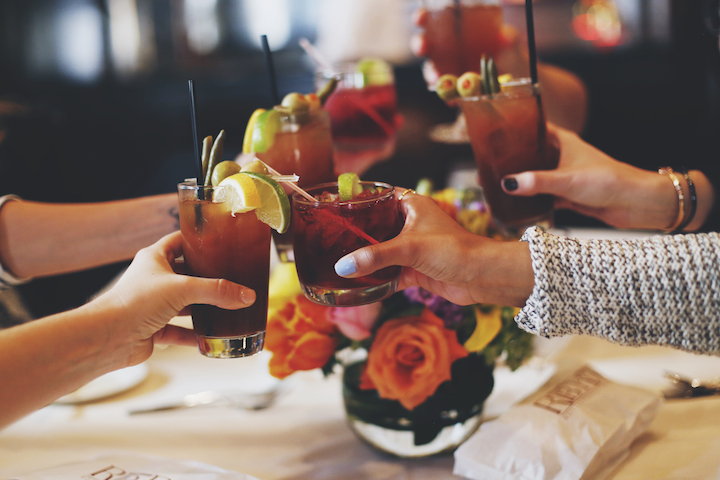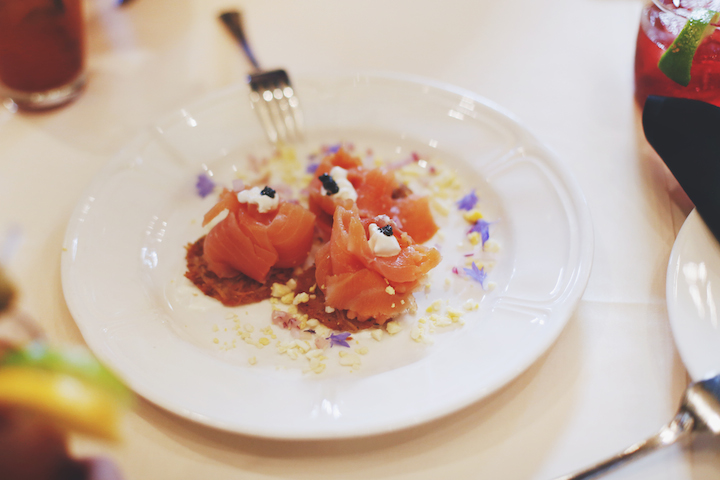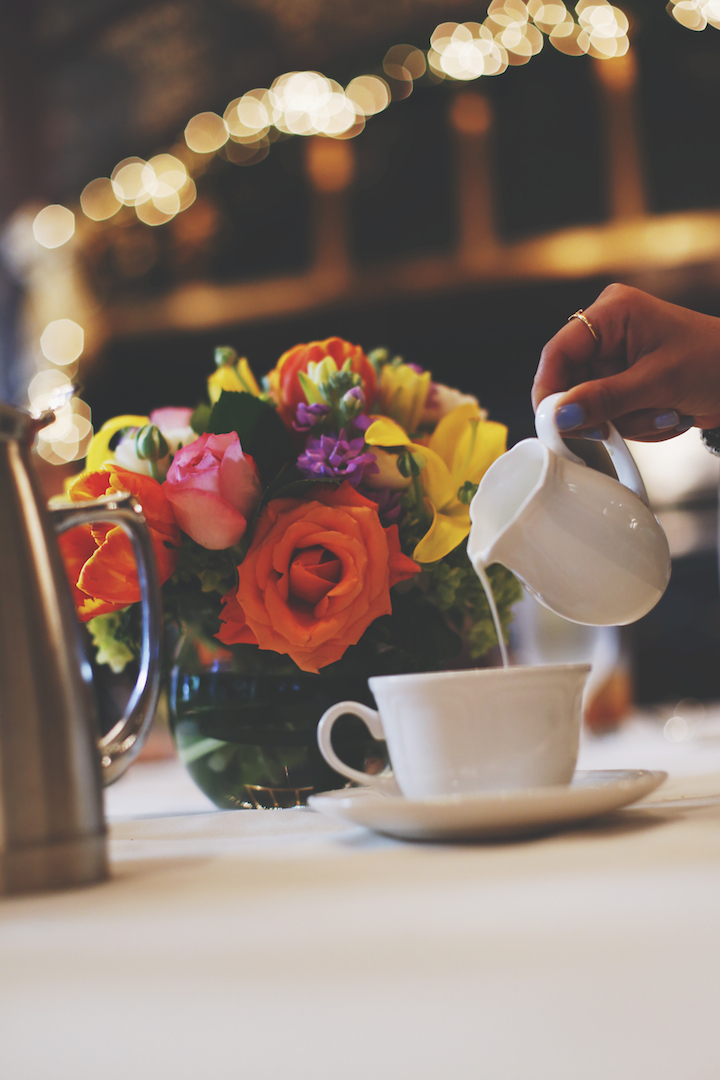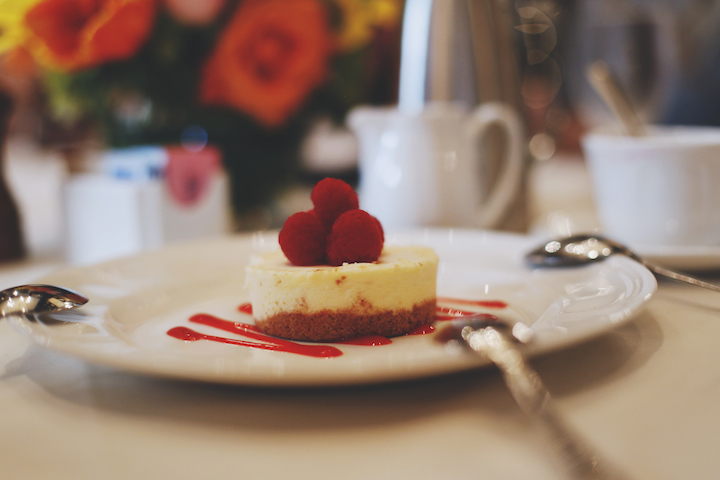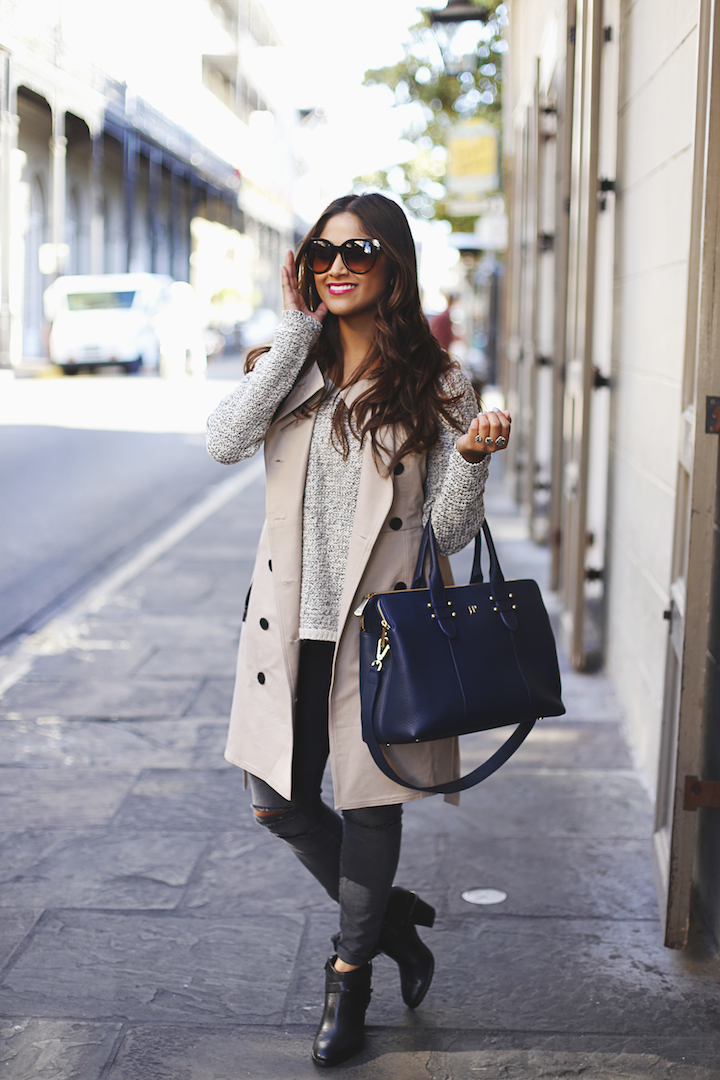 | Shop This Post |

Outfit: Denim| Sleeveless Trench Coat | Sweater | Dolce Vita Ankle Boots | Parker Satchel c/o Gigi New York
See more photos of this outfit here–> The Day After Christmas "Get What You Really Wanted" Sale!
After King Cake for breakfast, we headed to Rib Room at the Royal Omni Orleans hotel for lunch. If you haven't caught on yet, I'm sort of a foodie! I pretty much base my entire day around all of my meals. Is that awful? Haha!
The Rib Room delighted us with delicious Bloody Mary cocktails and an array of scrumptious appetizers before we ordered our main courses. My favorite appetizer was the New Orleans Style BBQ Shrimp served over stone ground grit cake and charred green tomato chutney! Let me tell you, best BBQ shrimp and grits that I have ever tasted. The grtits practically melted in my mouth. I can still taste them now! Is that weird to say?
For my meal, I ordered the Royal Club: rotisserie turkey or shaved roast beef, provolone, bacon, lettuce, and hot house tomato with sea salt fries. Sometimes after eating fancy apps, you just gotta have some fries!
I'm not gonna lie, we could barely even touch our coffee and Raspberry Cheesecake after we stuffed ourselves with New Orleans Gumbo, BBQ Shrimp, Whiskey Soaked Lamb Ribs and House Smoked Salmon. On top of that, we of course all tasted each other's main dishes!
 Photos by: Kaela Rodehorst Photography
Check back tomorrow for Day 3 of our French Quarter Stylecation. Visit A Pinch of Lovely & Upperlyne & Co for their reviews and outfit details.
This post was brought to you by the French Quarter Business Association. All opinions are my own.