Happy Friday everyone! Today I've teamed up with Vince Camuto to show you around my favorite spots in my city and give you an epic New Orleans Foodie Guide. However, I have so many favorite places that I decided to narrow it down to a couple and then you'll just have to come to New Orleans to see the rest yourself! First things first, I'm a foodie so all of my top spots include food, but it's perfectly normal to eat your way through town, right? Anyway, let's pretend it is!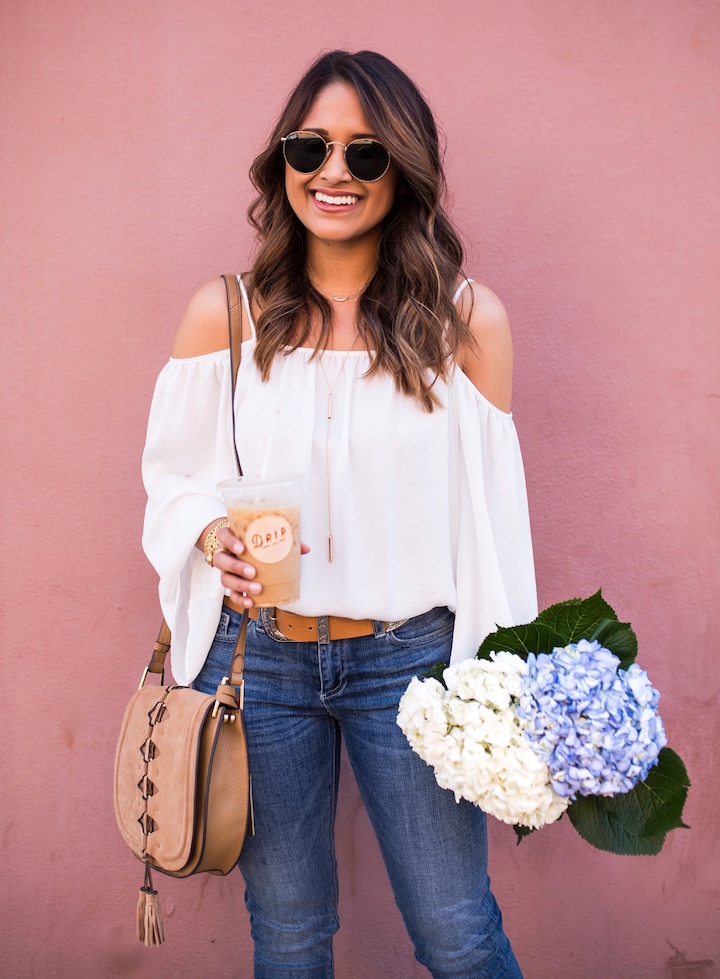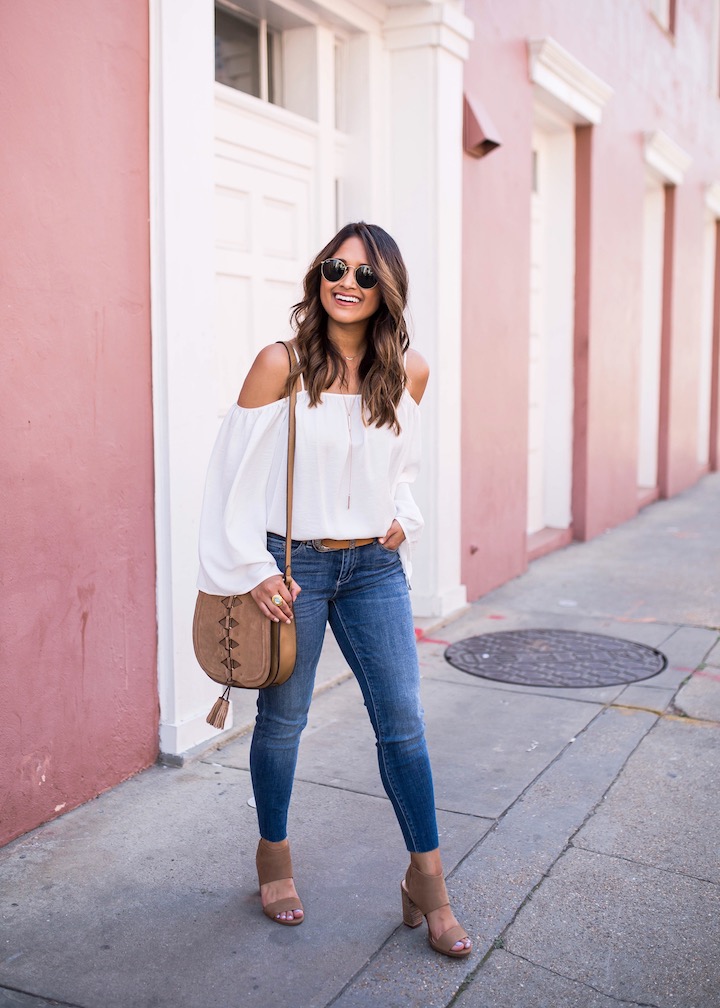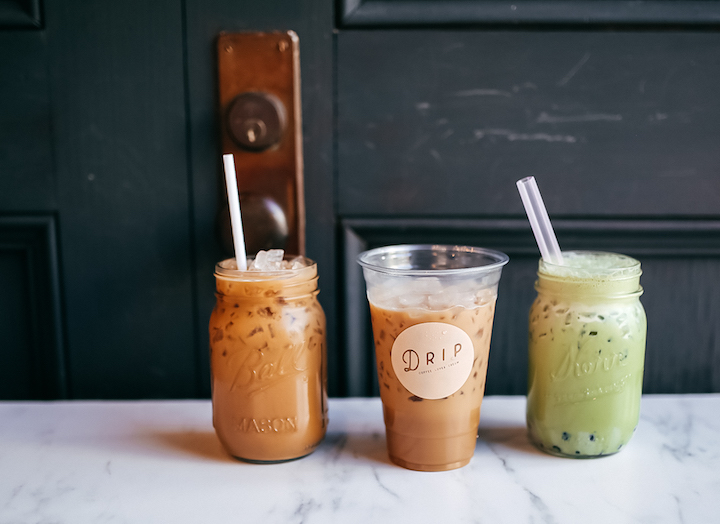 With that being said, I always start off my day with coffee and sometimes even end it with coffee and Drip Affogato Bar is the perfect place to do both. You'll see why! Drip is fairly new to New Orleans, but they are already stealing the scene with the most delightful lattes, espresso drinks, Vietnamese iced coffees and cold brews and get this…they also serve ice cream! In fact, their delicious espresso ice cream treats and exclusive Creole Creamery flavors is what they're famous for. My favorites are the Cookie Monster and The Classique. Most people refer to those types of espresso treats as Affogato, but the Drip team likes to affectionately call it coffee + ice cream's love child. I'm sure now you can understand why I would want to both start and end my day at Drip.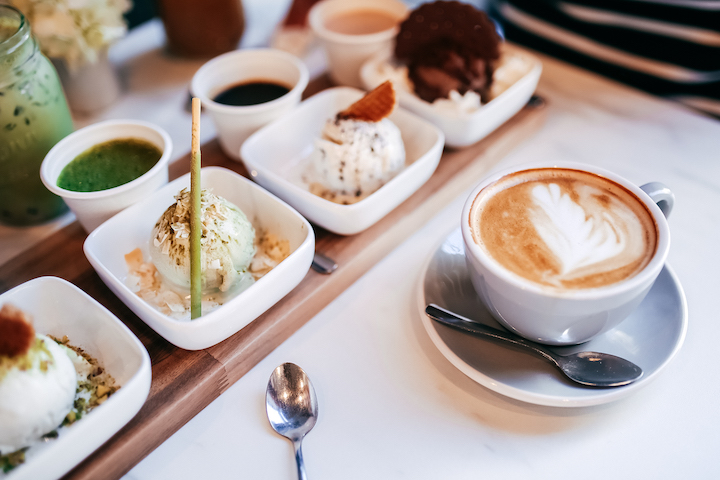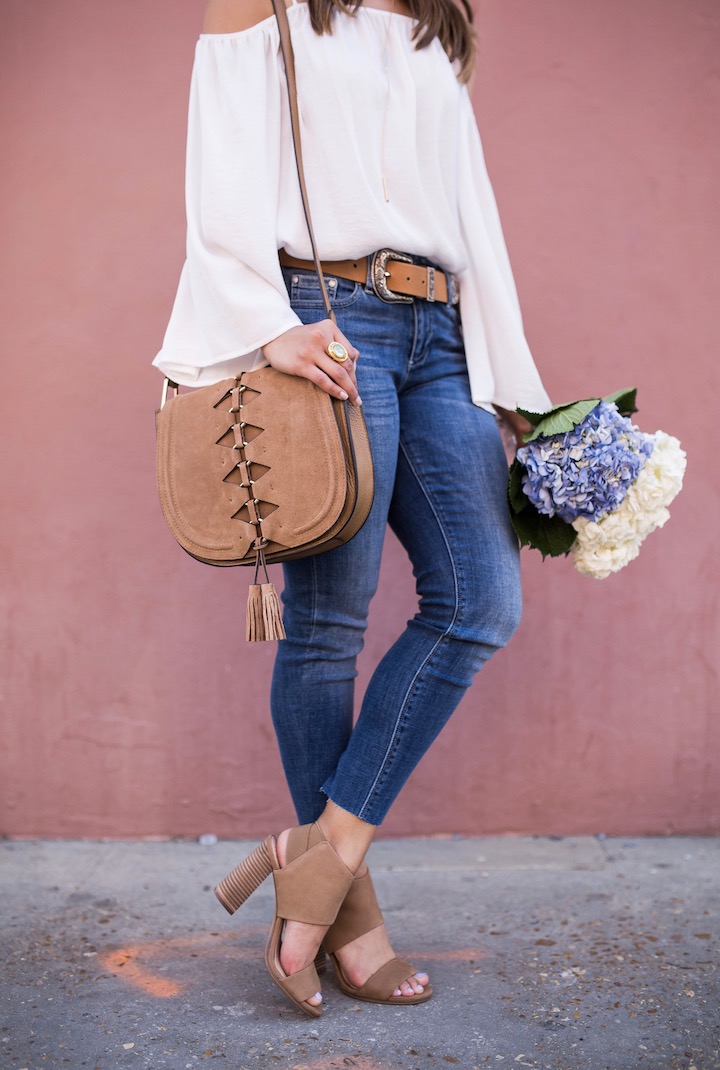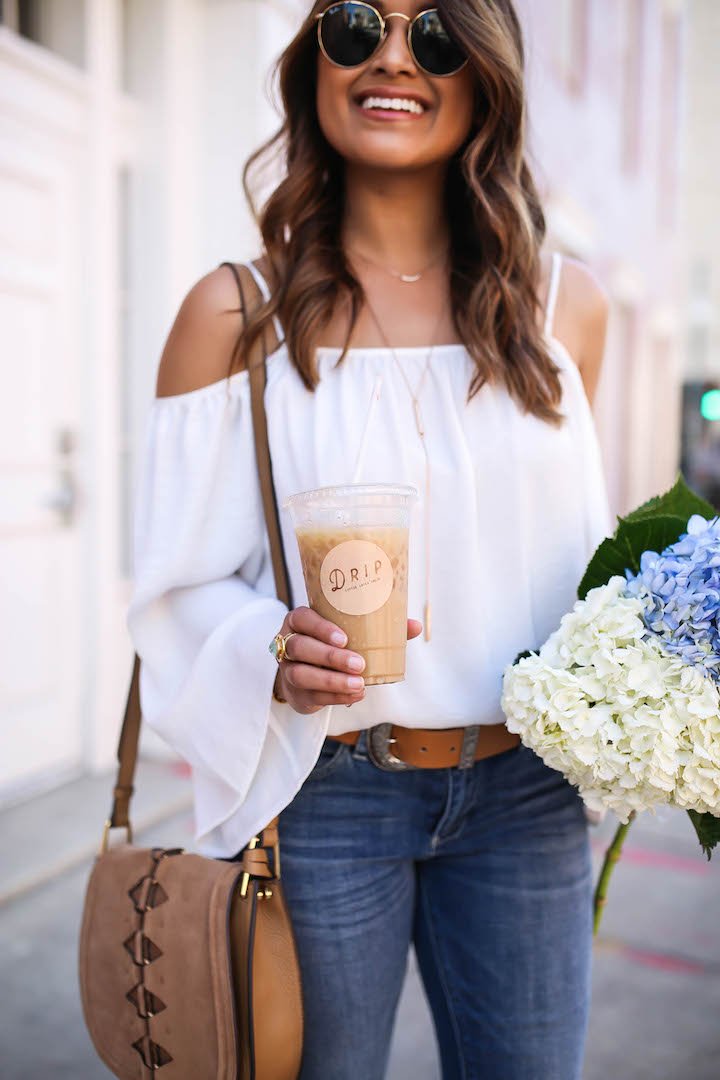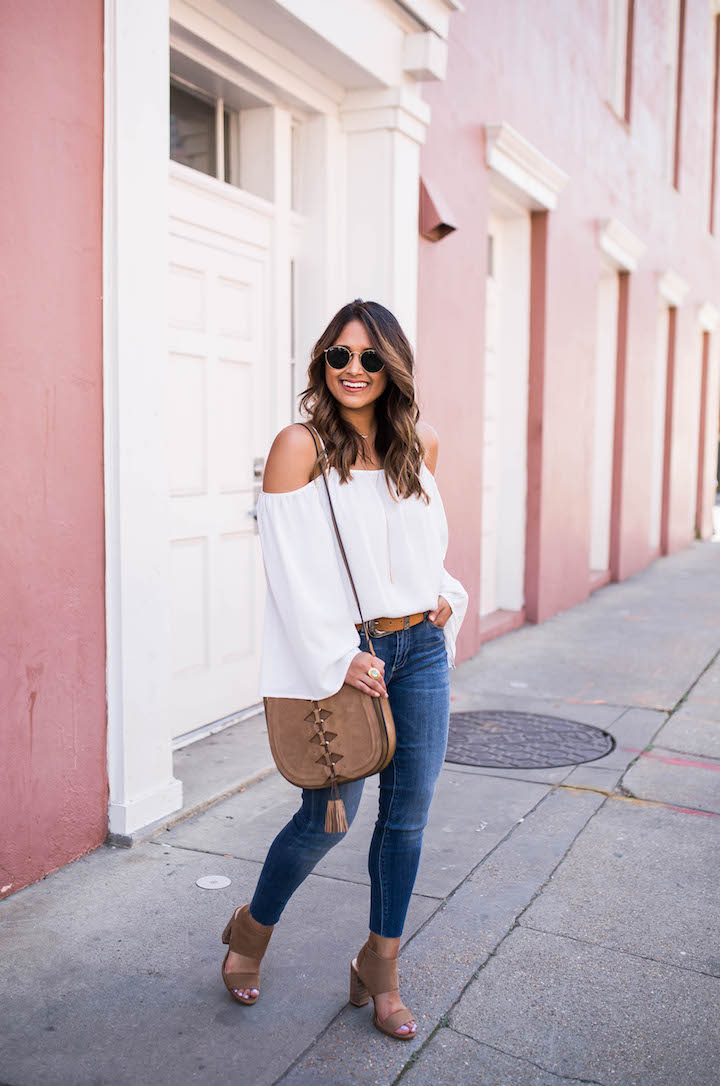 | Shop Look 1 |

5 Pocket Skinny Jeans: Get your normal size in these jeans! I took the 26 and just cut the hem to fit perfectly at my ankle since I'm petite. They have just the right amount of stretch and the medium wash makes them easy to take from day to night.
Cold Shoulder Peasant Top: This cute open shoulder top is a tad oversized so I went for the XS and it fit perfectly. I like to wear it tucked in, but it also looks great over jeans and shorts and too.
Keisha Elastic Slingback Heel: I took my normal size in these heels and I in love with them! They're so flattering and the tan color goes with everything.
Ring & Cutout Flap Bag: A crossbody bag is key for walking around New Orleans, but I also love wearing them with everyday outfits as well as when I'm traveling.
| Shop More Vince Camuto Bags I Love |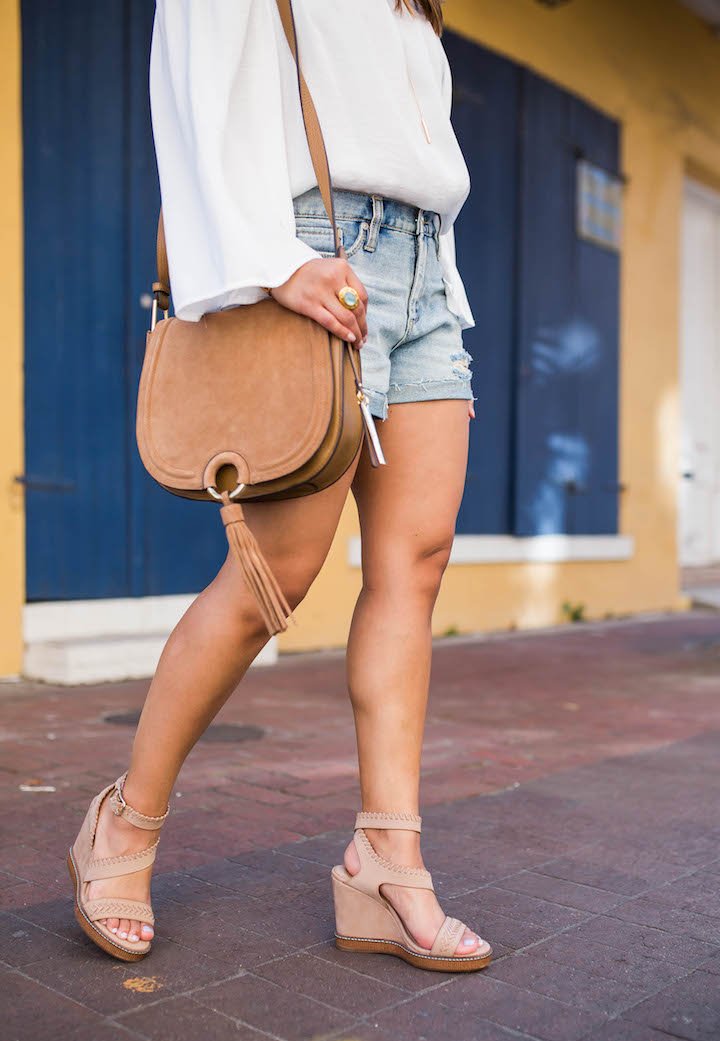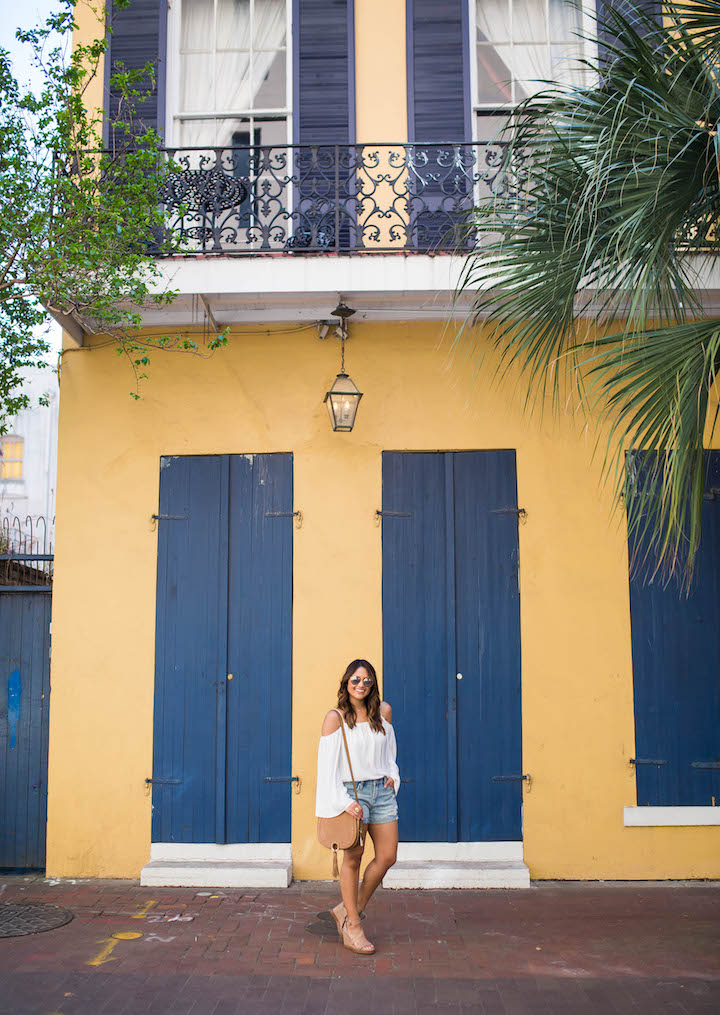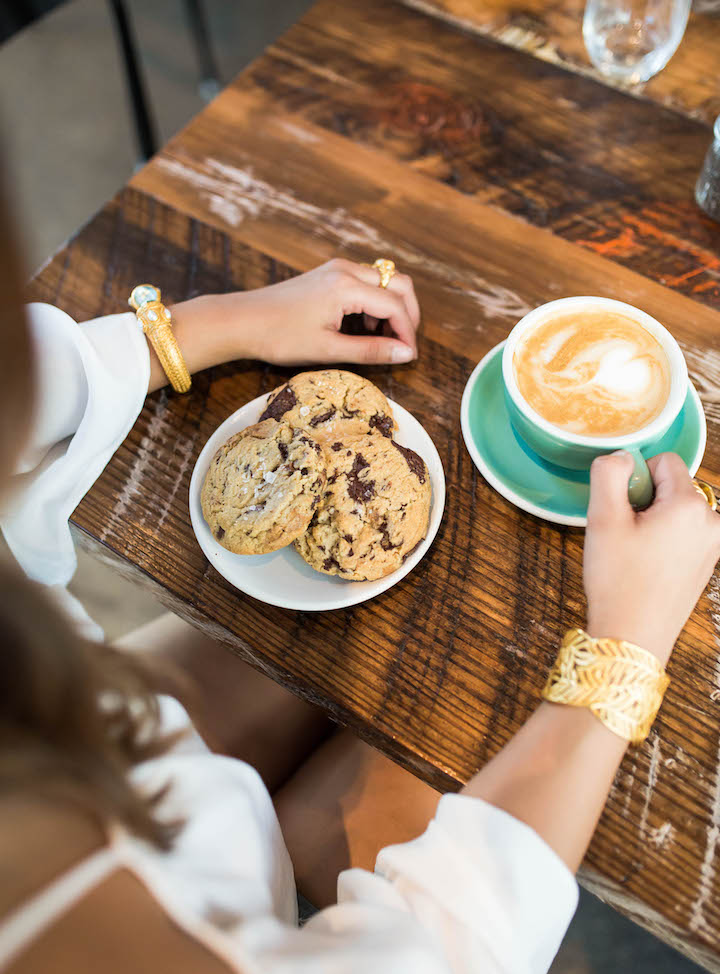 Next on my list, I've got Willa Jean, which is actually right around the corner from Drip so you can easily hit up both places together! You can stop for coffee at Drip and then brunch at Willa Jean or you can do dinner at Willa Jean and then ice cream for dessert at Drip. Although, I must warn you that Willa Jeans makes a mean dessert, more specifically, they bake some bad ass chocolate chip cookies! I'm telling you guys, these cookies sit right at the top of my chocolate chip cookie list and get this…when you order them for dessert, you also get a scoop of raw cookie dough and a glass of sweet milk! Is your mouth watering yet? Well, just wait because I haven't even told you about their fried chicken sandwich, which is served on a sweet Hawaiian roll and topped with serrano slaw. Needless to say, that is always what I personally order, but the rest of their menu is also to die for including their frozé exclusively served during brunch. Yes, you read that right, frozé and it's exactly what you think it is, frozen rosé!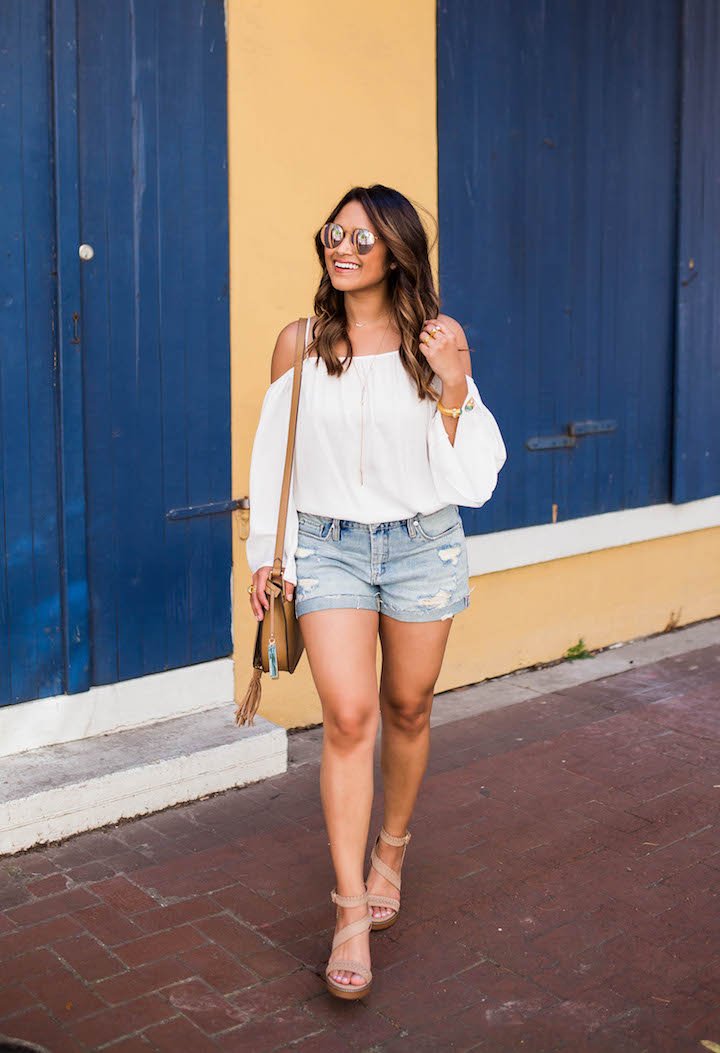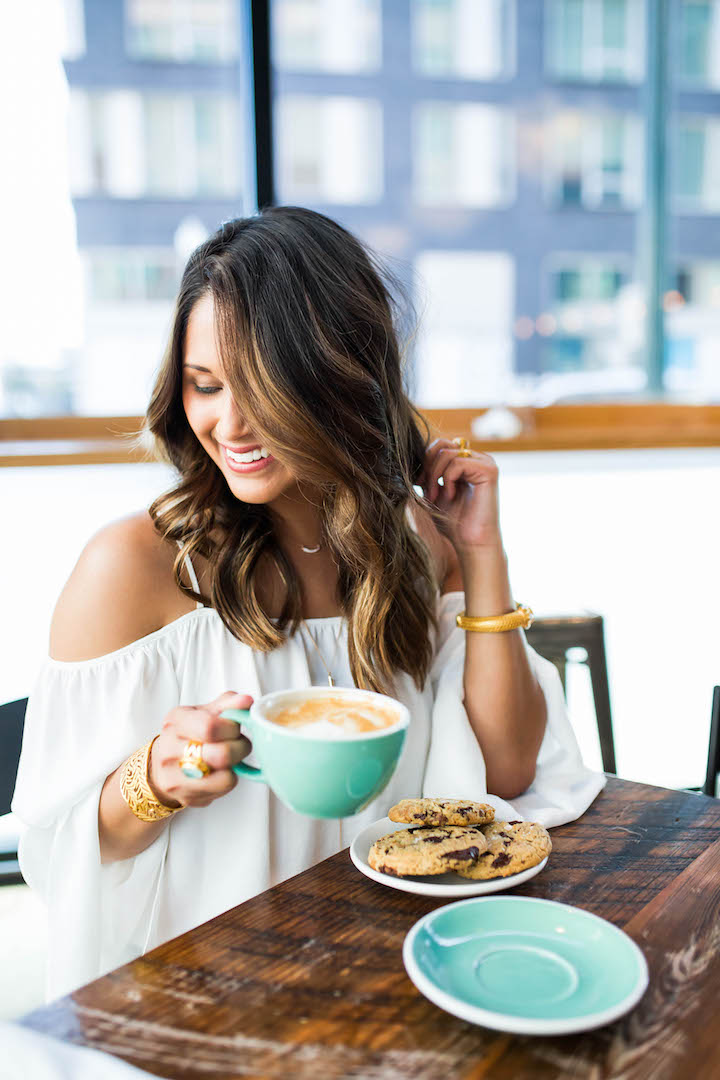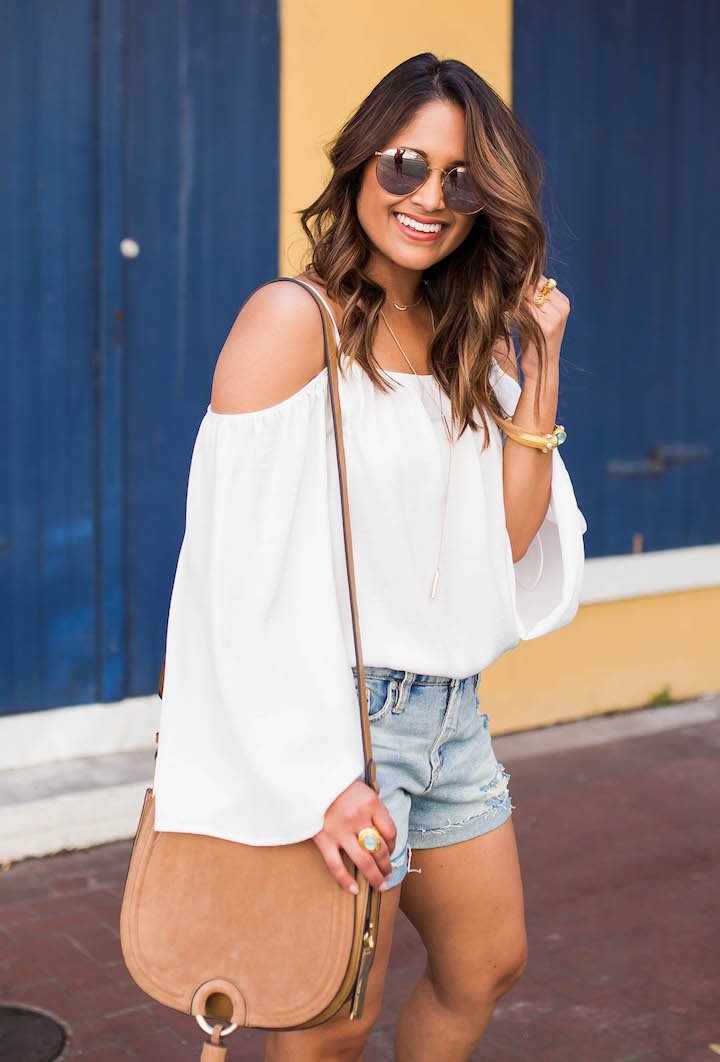 I know what you're thinking…you need to get down to New Orleans, right? Well, when you do, make sure to check out my list below for all the best places to snack, wine and dine in New Orleans! Oh and don't worry I'm linking all of my outfit details from Vince Camuto below!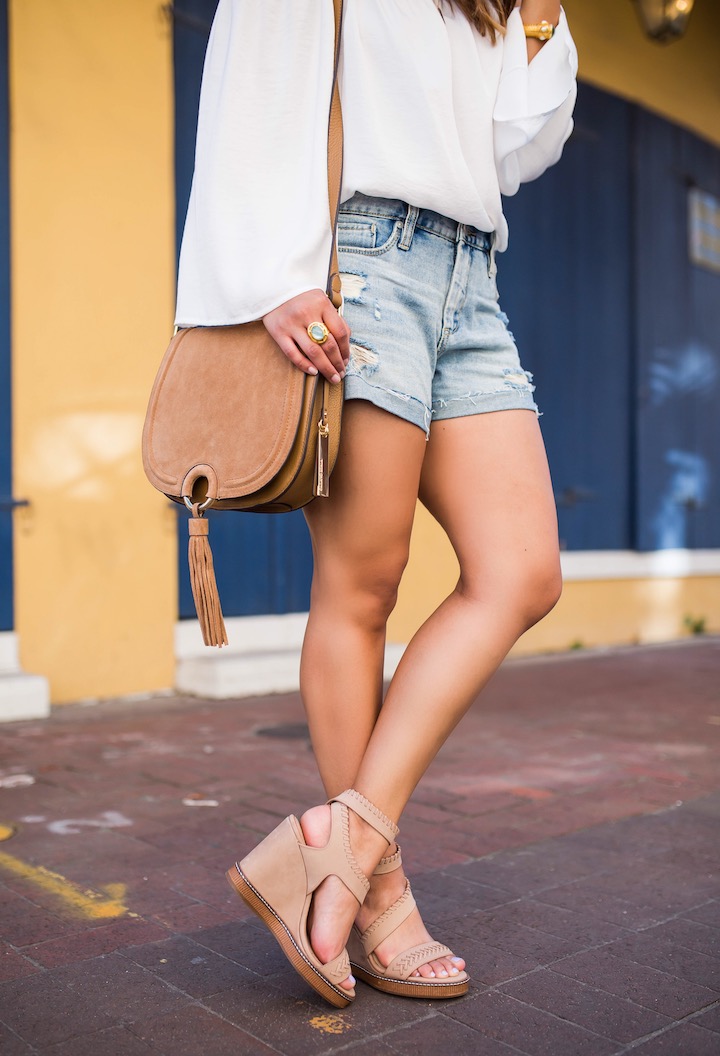 | Shop Look 2 |

Cold Shoulder Peasant Top c/o Vince Camuto
Tassel Ring Flap Bag: As I mentioned, I love using crossbody bags while I'm on the go, but this design is slightly more simple without the cutout detail! I personally love both!
Ivanta Wedge: I can't say enough good things about these wedges! They are perfect in every way from the nude color and the flattering fit to the height and braided wrap around detail!
| Shop More Vince Camuto Shoes I Love |

My Favorite NOLA Brunch Spots:
Court of Two Sisters
Antoine's: Order the shrimp and grits and of course, their famous Oysters, Rock-a-feller and Baked Alaska! Don't forget to ask for a tour at the end of brunch! The history behind that place is mind blowing!
Elizabeth's
Commander's Palace
Willa Jean: Order the milk and cookies for dessert! You won't regret it!
Broussard's
Where to snack:
Aunt Sally's Pralines
Café Beignet: My favorite hidden gem on Royal St.
Café Du Monde: Be prepared to wait in line while enjoying music from talented street performers and jazz bands!
District Donuts
Sucre & Salon by Sucre (see full review post here)
King Cake at Manny Randazzo in Metairie
Snowballs in the summer
Drip Affogato Bar
My Favorite Lunch Spots in NOLA:
Magasin
Mother's
Port of Call
Cafe Amelie on Royal St.
Neighborhood Restaurant, Katie's
Camellia Grill
Cochon Butcher
Parkways Po-boys
New Orleans School of Cooking: enjoy wine and a little French Quarter history while you learn to cook traditional New Orleans cuisine.
Company Burger
Domenica Pizza
Dat Dog
Noodle & Pie
My Favorite Dinner Spots In NOLA:
Sylvain
Dickie Brennan's
Jacques Imo's
Galatoire's
Café Adelaide
Peche
Brennan's
Latitude 29
Baru Bistro & Tapas: You must order the Mazorca, Guacabello and Atun Tartare
Borgne — great lunch specials too!
Shaya: their endless homemade pita bread and duck hummus is to die for!
Tableau
Mopho
August
Seaworthy
Square Root
Where to wine:
The Carousel Bar
Burgundy Bar
Bacchanal Wine: Enjoy wine accompanied by small plates and live music on the open back patio
Cure on Feret
Pat O's Piano Bar: great courtyard for drinking and visiting with a large group of friends
Cane & Table
Bellocq
Delachaise
 I hope you enjoyed my New Orleans Foodie Guide! Please feel free to comment or email with any additional questions! Also, let me know if you think there is anything I should add to my list!
This post is in partnership with Vince Camuto, a brand I love. All opinions and selections here are my own. Thank you for supporting the affiliate posts who make this blog possible.