Happy Friday everyone, I hope you all have fun plans for the weekend or maybe an end-of-summer trip to look forward too. Speaking of trips, I've been getting so many questions about my Mark & Graham travel bags so today I'm sharing a full review of each of my bags! If you follow along with Haute Off The Rack Regularly, then you know how often I use my personalized Mark & Graham overnighters and spinner trunks. I've been using their bags and accessories for a couple years and recently added these beautiful new cream and camel spinners to my collection. I think the best part is that you can personalize all of the items with your initials. Scroll through this post to learn more great features about Mark & Graham luggage.
Outfit: Denim Skirt (similar here) | Tab Blouse | Marc Fisher Heels | Ray-Ban Round Sunglasses | Concourse Rolling Briefcase & Concourse Carry-On Spinner c/o Mark & Graham
| Shop Mark & Graham Travel Bags & Accessories |

1. Concourse Carry-On Spinner | Initially, I fell for this bag because of the beautiful cream and tan colors. But this bag was made for so much more than just sitting pretty! Not only is it gorgeous, but it's also super super function with its spacious interior and deep front zipper pocket. It can fit so much of  your stuff, yet it's still super lightweight with a minimalistic look. Addtionally, I like how the personalization on this style bag is very subtle.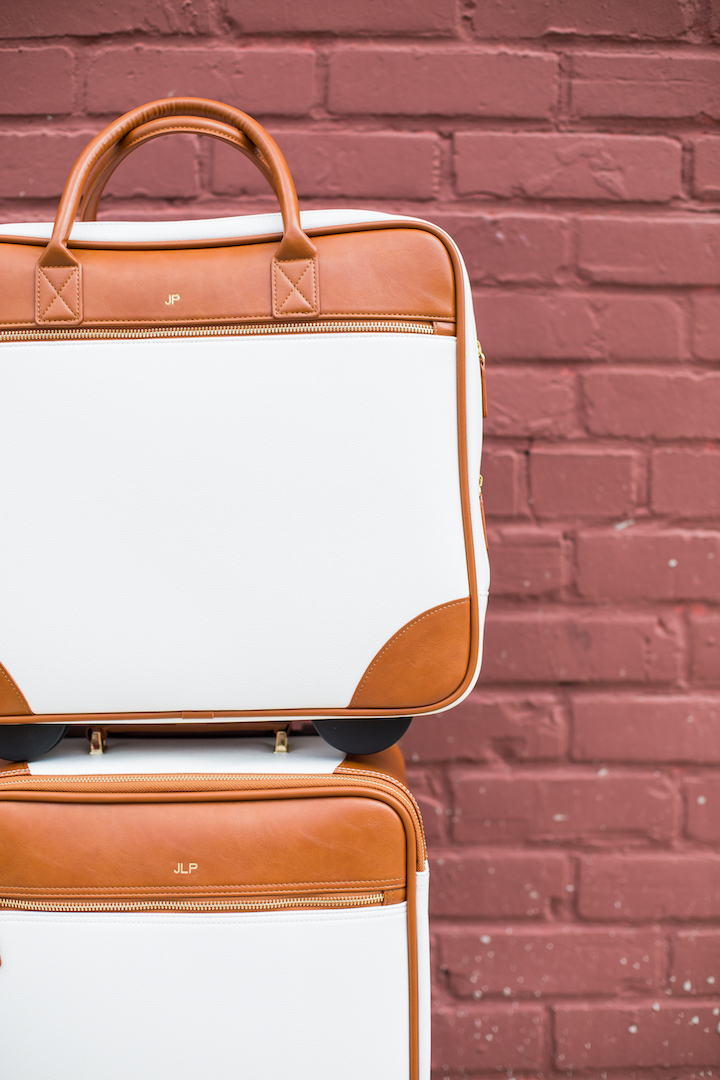 2.  Concourse Rolling Briefcase | The briefcase is ideal for the business traveler because it fits your 15″ laptop and work essentials perfectly with extra room to spare for a a change of clothes and those extra nick-nacks you like to keep with you while traveling. I think the best part about this bag is the zipper pocket in the back that slips over the handle of your other rolling suitcases.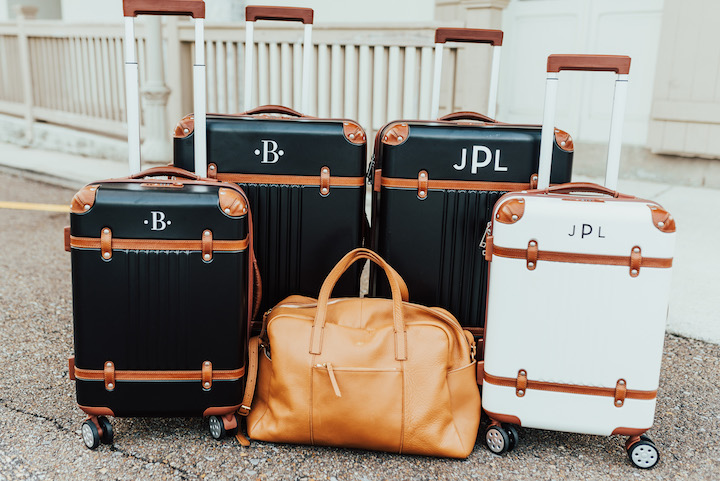 3. Checked Spinner | I've had my checked spinner since January and it's been halfway around the world with me and still holding up well. This may sound weird, but my favorite part of this bag this bag is the wheels. Seriously thought this bag isn't called the spinner for nothing! It spins like a dream right along the side of you. I'm sure we can all agree that no one likes to lug around a heavy suitcase all over the airport, but with this one it's all in the wheels. Also, how fun that you can customize these bags with all different kinds of fonts.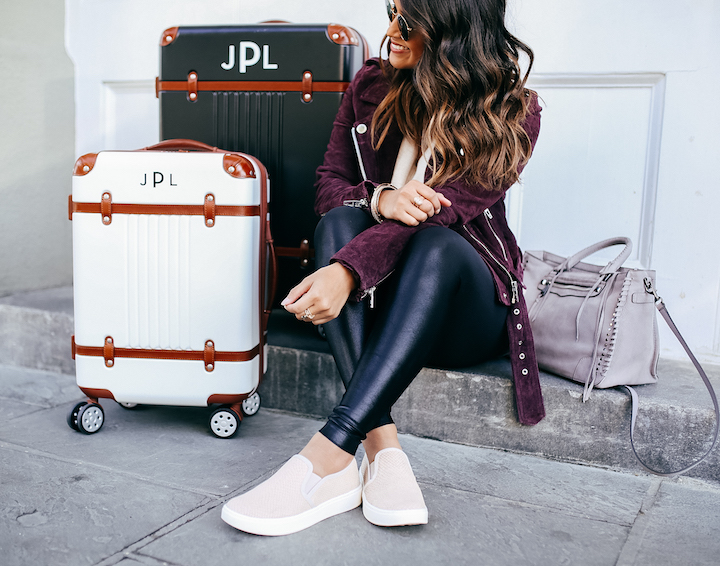 Outfit: Nude Sweater (wearing size XS) | Koral Lustrous Leggings (also available here)—wearing size S |Monogrammed Checked Spinner Bag & Terminal 1 Carryon c/o Mark & Graham | BlankNYC Suede Moto Jacket (wearing sz S) | Rebecca Minkoff Regan Satchel | Somers Sneakers c/o Soft Shoes
4. Carry-on Spinner | The carry-on spinner is basically a mini replica of the checked spinner so the wheels are equally as the smooth and the body just as sturdy. I like how you can pack two sides of the bag in case you want to keep your toiletries separate from other valuable items in case your hairspray decides to explode. This has actually happened to me before!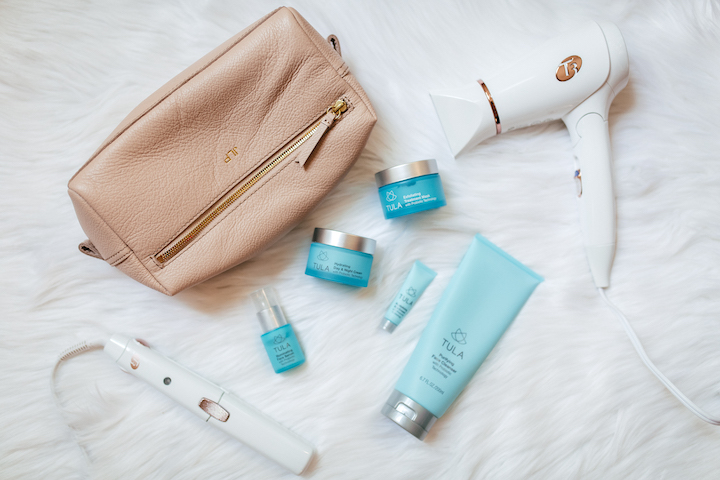 5. Daily Leather Travel Pouch | The best part about this toiletry bag is that it fits full size hair products with room to spare for your tooth brush, toothpaste and some travel size skin care products. The front zipper is great for holding important necessities like daily medicine or your jewelry at night while traveling.
| Shop Mark & Graham Travel Bags & Accessories |

See some of my most recent posts featuring their travel collection here—> Chic New Mark & Graham Travel Bags & His & Hers Summer Travel Style
This post is in partnership with Mark & Graham, a brand I love. All opinions and selections here are my own. Thank you for supporting the affiliate posts who make this blog possible.
SaveSaveSaveSaveSaveSaveSaveSave