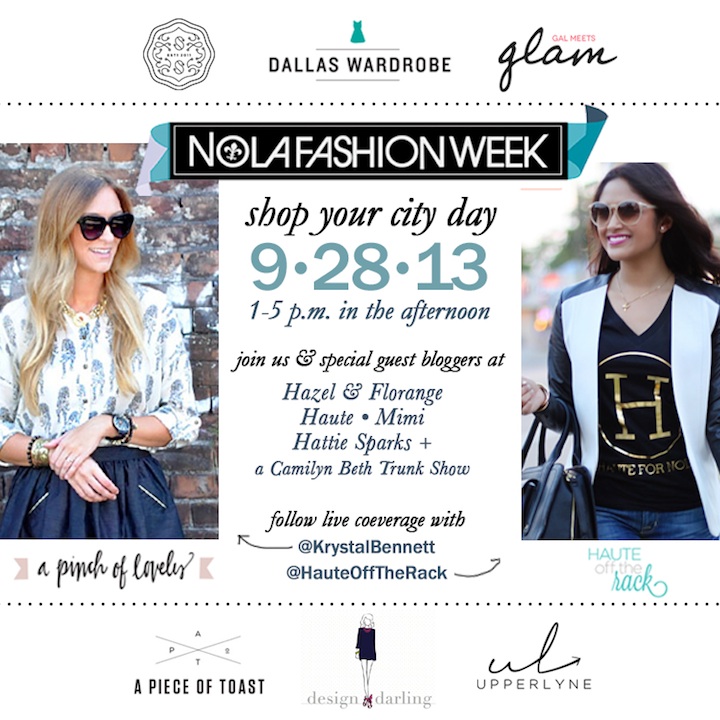 Hello readers, as you know this has been a super eventful week for me with my WBRZ News segment and Avenue Rouge Runway show, but it's not over yet!  In fact, things are about to get even more hectic as we move forward with NOLA Fashion Week.  Tomorrow Krystal of A Pinch of Lovely and I will be covering NOLAFW's Shop Your City Day in New Orleans and hanging out with some fabulous guest bloggers at Hattie Sparks, Mimi, Haute and Hazel & Florange! In case you're interested in who these guest bloggers are, you can read some fun facts about few of them below!
@DallasWardobe

1. I love nothing more than a great deal

2. I eat out 98% of the time (I'm a horrible cook)

3. Blue Moon is my favorite drink in the whole world

@APieceOfTOast

1. We are 15 months apart – Sally is the older one but often Molly is mistaken for being older

2. We shared a room for most of our lives growing up and now we are roommates!

3. Sally has never tried jelly or ketchup (ever).

4. Molly biggest pet peeve is whistling and she has never one colored/highlighted/dyed her hair (but she gets asked all the time what formula she uses).

5. We collect nailpolish, are obsessed with Sephora, and generally love all things beauty.

6. Sally is the shopaholic sister

7. Molly's favorite thing to splurge on is jewelry

@LizSchneider_

1. Born, raised, and currently living in Chicago.

2. I have an unhealthy obsession with Nutella.

3. I just got engaged last month!

@Juleytl

1. I always drive with my left leg propped up.

2. I'm a terrible Asian, ie: terrible at math and science.

3. I'm actually an introvert.
Learn all about what's in style this season by following @HauteOffTheRack & @KrystalBennett via social media.  We'll be giving you live coverage throughout the day starting with a blogger breakfast with Krewe Du Optic, then hair and makeup at Paris Parker salon leading all the way to all four boutiques!  You'll even get to see the guest bloggers's favorite items in the stores as well as our picks too! I hope you enjoyed learning a little more about these amazing bloggers and we can't wait to see you tomorrow!