Happy Friday friends! We recently decided to update our entryway with Kathy Kuo Home just in time for spring and it turned out beautifully. I centered my design around the most beautiful gold and wooden bead chandelier. I chose other gold pieces like the white and gold lacquer console table and antique round mirror to complement the light fixture. I love how mirror makes the entryway appear larger and I placed two blush ottomans beneath the console table to soften the overall look.
Scroll through this post for tips on how to style your entryway and if you love these Kathy Kuo pieces, you're in lucky because we teamed up to give you 20% OFF with code: KKHxHOTR20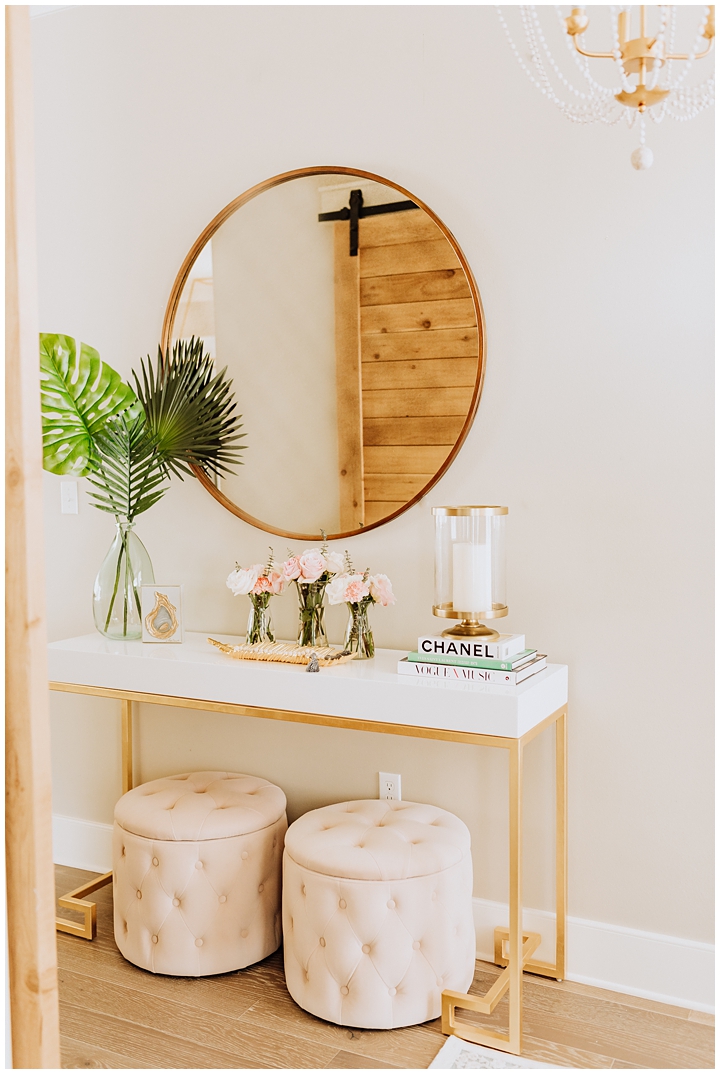 | Shop Our Entryway |
Take 20% OFF my Kathy Kuo Home pieces with code: KKHxHOTR20
Thea Modern Blue Grey Damask Border Pattern Rug – 2'6″" x 8′ | Remi Hollywood Regency Antique Gold Narrow Ring Round Mirror – 43D | DaVinci Hollywood Regency White Lacquer Gold Console Table | Wyatt French Country Gold leaf Round Wooden Bead Metal Ring Empire Chandelier c/o Kathy Kuo
How to Style Your Entryway:
If you have a small entryway or your budget only allows you to add a few things, I suggest that you invest in a runner, a new light fixture and something to hang on the wall. If your entryway is narrow, I recommend hanging a mirror to make the area seem larger. Those few items are my top three must-haves for an entryway, but if you have more room in your budget, check out my tips below.
1) Place a small bench or console table against the wall beneath your mirror or piece of artwork. If you can fit items beneath the bench or table, add baskets for blankets and storage or ottomans for added style.
2) When it comes to styling your console table follow these helpful tips:
1) Add height with a tall vase, lantern or table lamp and balance out the height difference with greenery or floral stems.
2) Incorporate a personal item or decorative object to create more visual interest. I love how my little oyster painting from my friends looks on the table. I also draped some wooden beads over a decorative gold plate to tie in the light fixture.
3) Stack books for height like I did beneath my brass hurricane candle.
4) Add a pop of color! I added color with some greenery and I also placed 2 blush ottomans beneath the console table. You could also do this with flowers, a painting or decorative pillows in basket underneath the table.
5) Texturize! Last but not least, make sure to add some texture for dimension. There a few ways to do this. I incorporated texture with my patterned rug and the ottomans, but you can also add a blanket in a basket to soften the look or pillows like I mentioned earlier.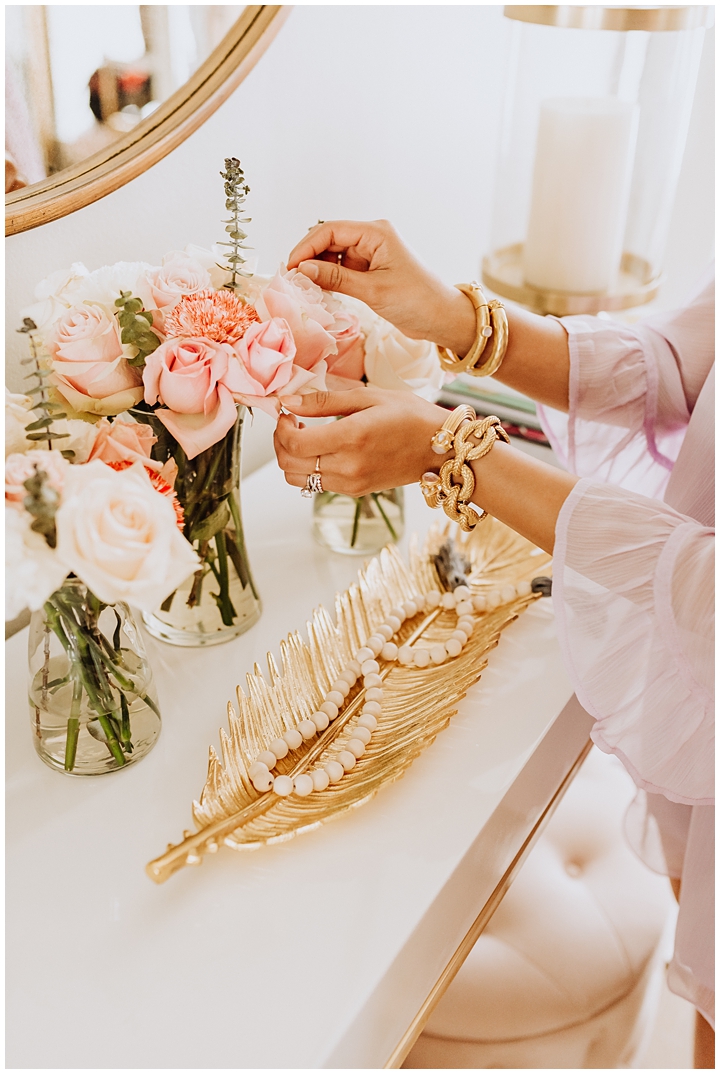 | Shop Decor Details |
Clear Barcelona Vases | Faux Stem Split Leaf Philodendron | Faux Palm Stem | Vogue x Music Book | Chester Brushed Brass Hurricane | Pastel Tufted Velvet Storage Ottoman | Chanel Three Book Set | Michael Aram Sago Palm Gold Bread Plate | Small Oyster Painting by Christina Fontenot Art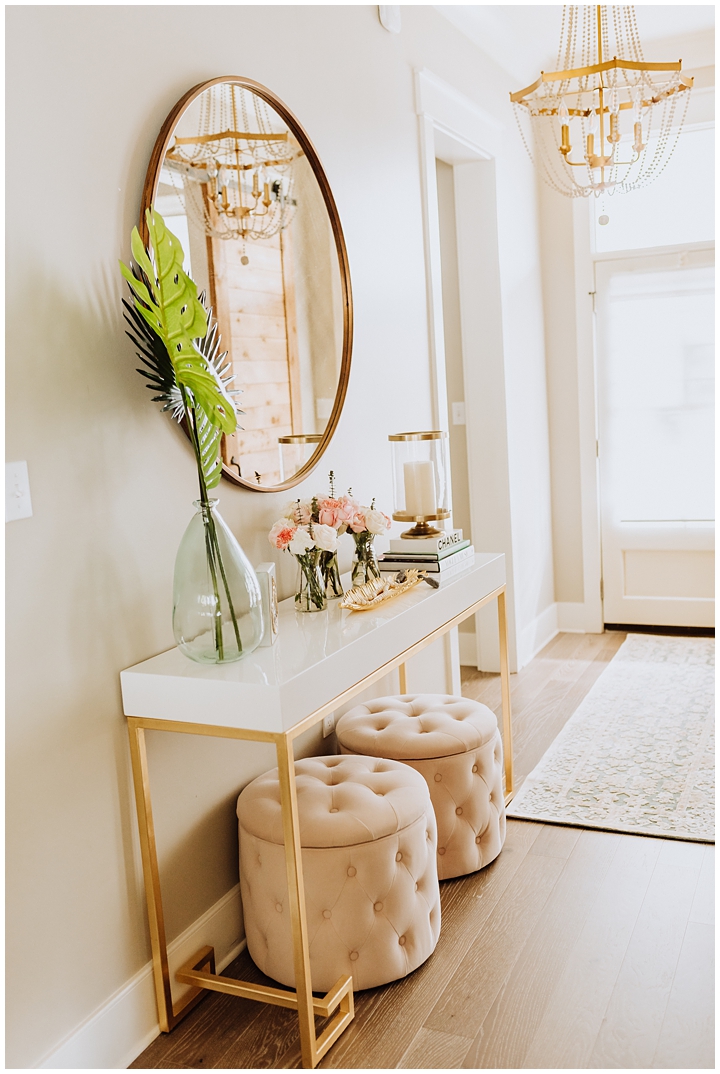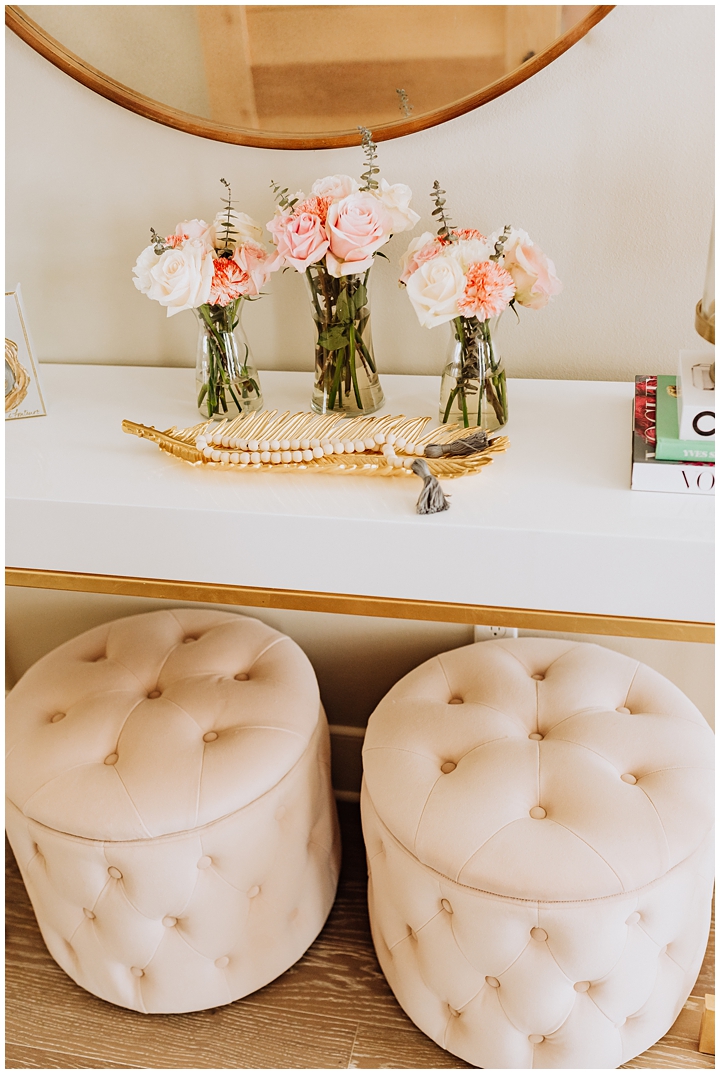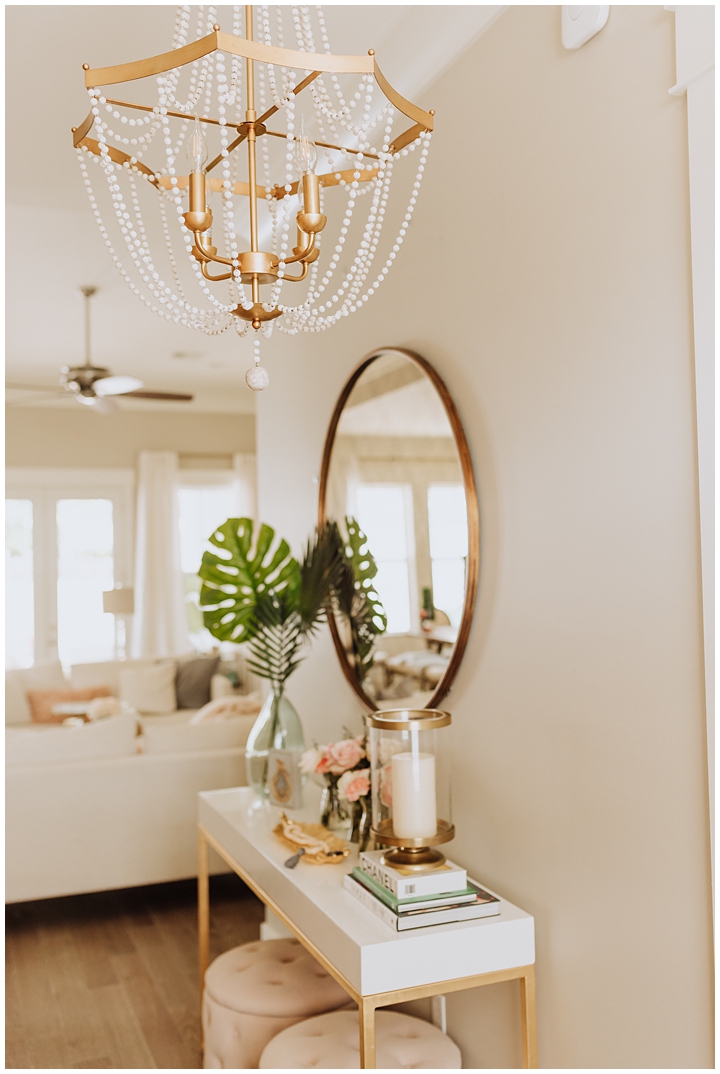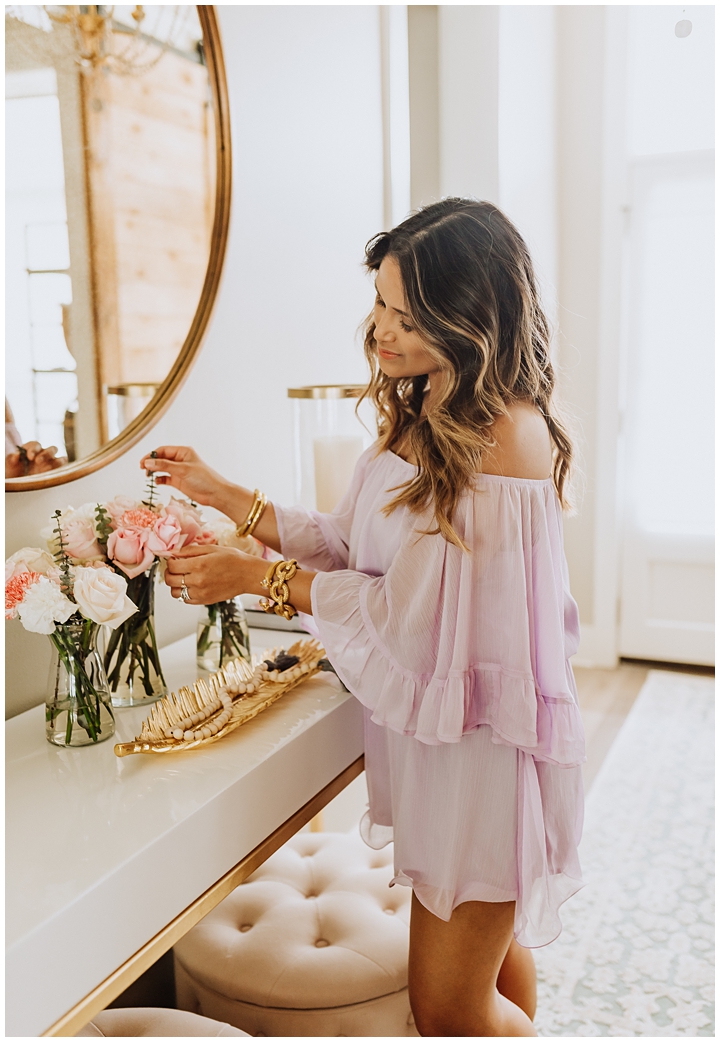 | Shop My Look |
Outfit: Endless RoseChiffon Off the Shoulder Ruffle Romper | Monterey Bracelet, Byzantine Demi Hinge Cuff, Catalina Hinge Bangle & Savannah Demi Hinge Cuff c/o Julie Vos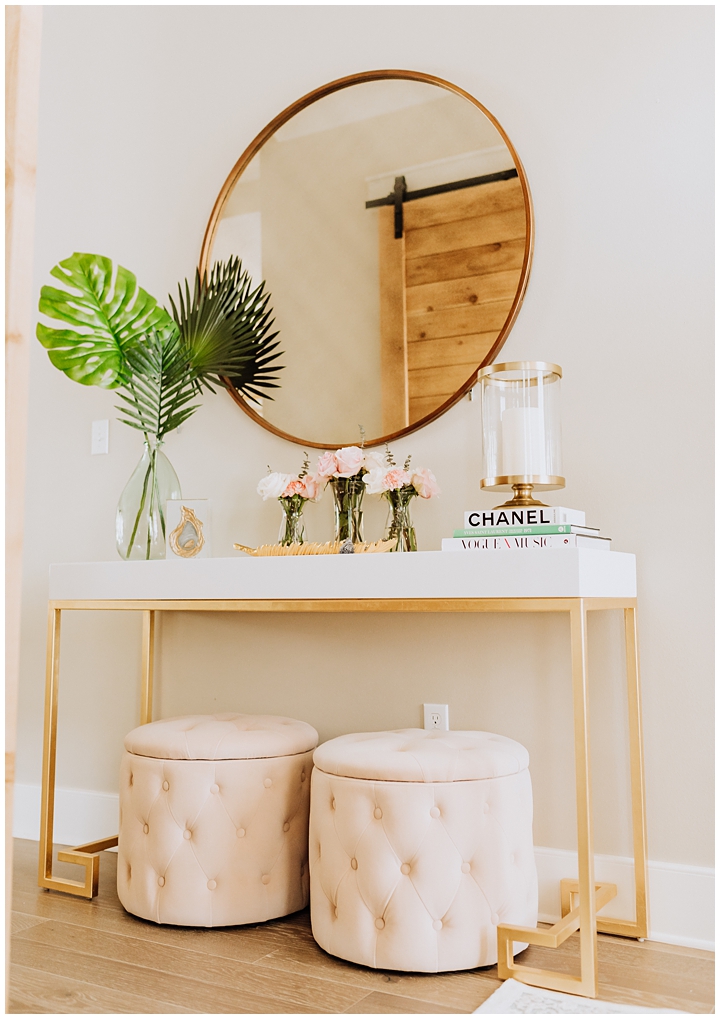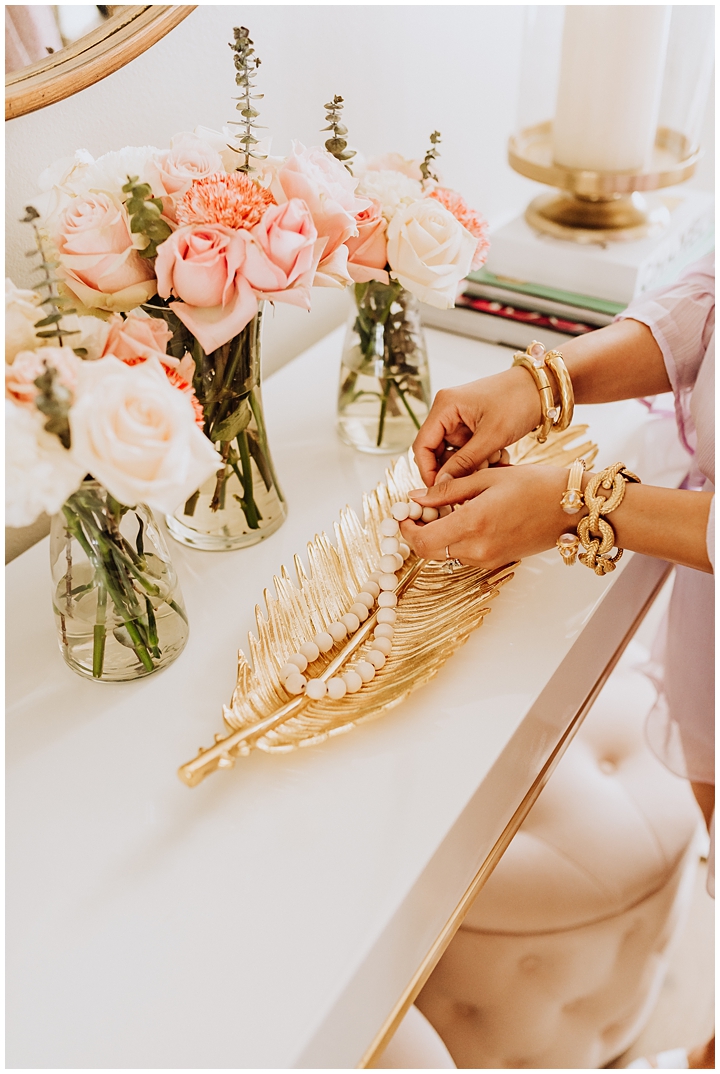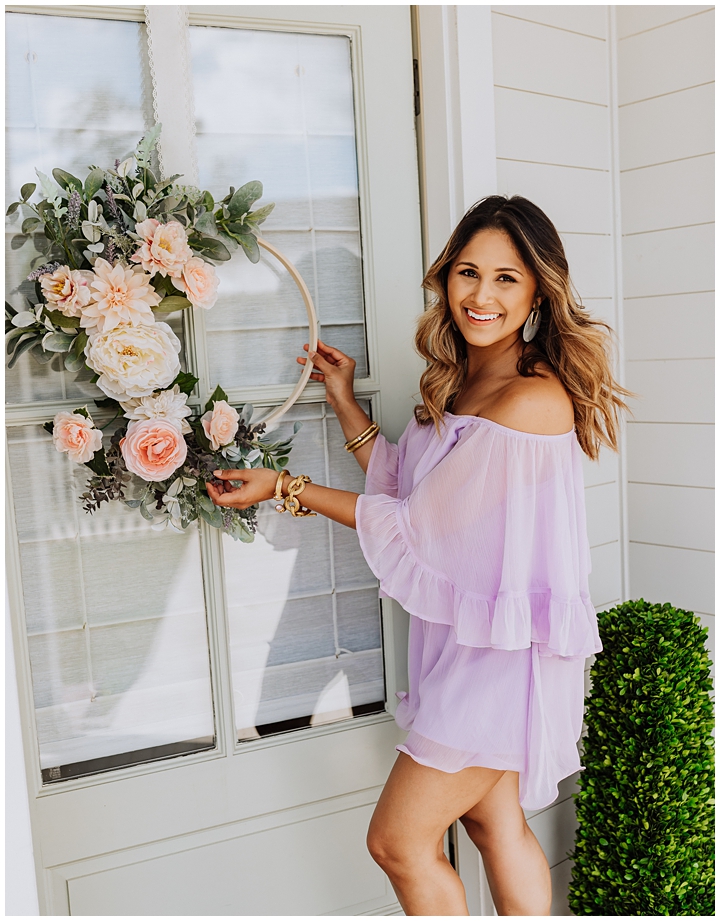 Floral door wreath by The Sweetest Grace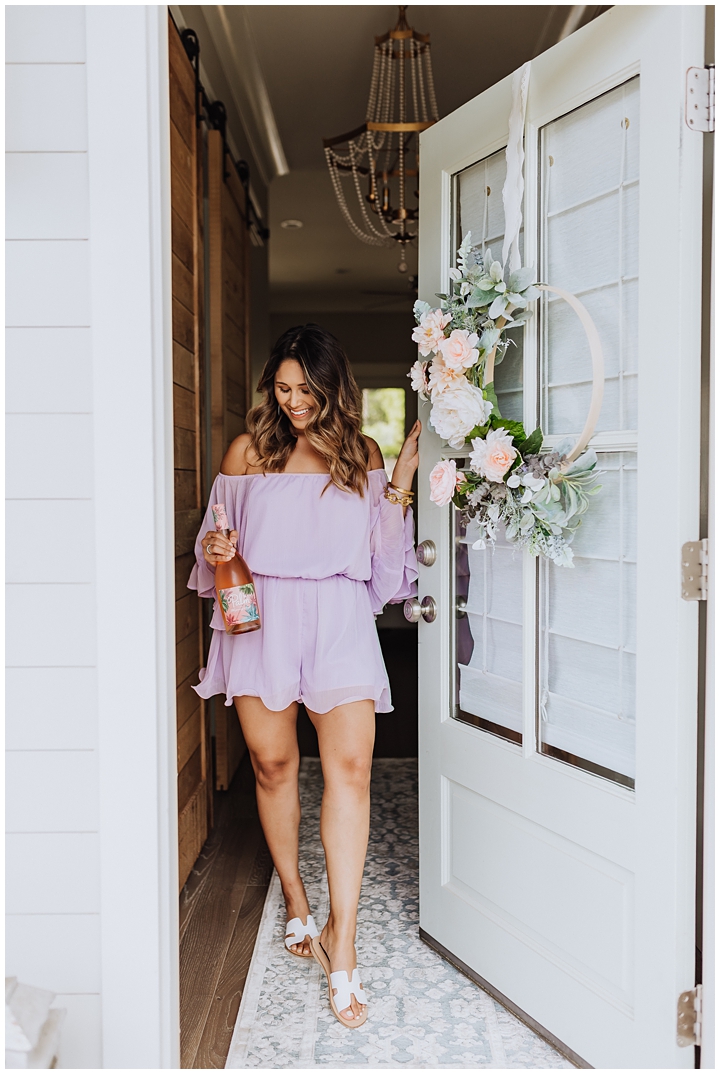 | Shop Our Entryway |
Thea Modern Blue Grey Damask Border Pattern Rug – 2'6″" x 8′ | Remi Hollywood Regency Antique Gold Narrow Ring Round Mirror – 43D | DaVinci Hollywood Regency White Lacquer Gold Console Table | Wyatt French Country Gold leaf Round Wooden Bead Metal Ring Empire Chandelier c/o Kathy Kuo
Take 20% OFF my Kathy Kuo Home pieces with code: KKHxHOTR20
| Shop Decor Details |
Clear Barcelona Vases | Faux Stem Split Leaf Philodendron | Faux Palm Stem | Vogue x Music Book | Chester Brushed Brass Hurricane | Pastel Tufted Velvet Storage Ottoman | Chanel Three Book Set | Michael Aram Sago Palm Gold Bread Plate | Small Oyster Painting by Christina Fontenot Art