Good morning friends, we're officially one week away from the most anticipated sale of the year: the Nordstrom Anniversary Sale 2019! This sale is known for offering some of Nordstrom's top pieces like the BlankNYC suede moto jacket, the Barefoot Dreams cardigan and the Jeffrey Campbell Booties from last year! I love the Anniversary Sale because Nordstrom isn't just marking down items that didn't sell over the summer, they're selling brand new closet staples and on-trend items at unbeatable prices. It's the ultimate time to go crazy on pre-fall denim, booties, jackets, Zella leggings, handbags, shoes, you name it! With that being said, I've taken my past six years of N-sale experiences to put together my top 5 tips for shopping the Nordstrom Anniversary Sale 2019 to help you fully maximize your shopping experience.
I will be heading to Nordstrom Houston next week to cover the sale before it even begins as ambassador and icon status shoppers gain access on Thursday, July 11. Be sure to check your Nordy Club status to see if you can start shopping then too.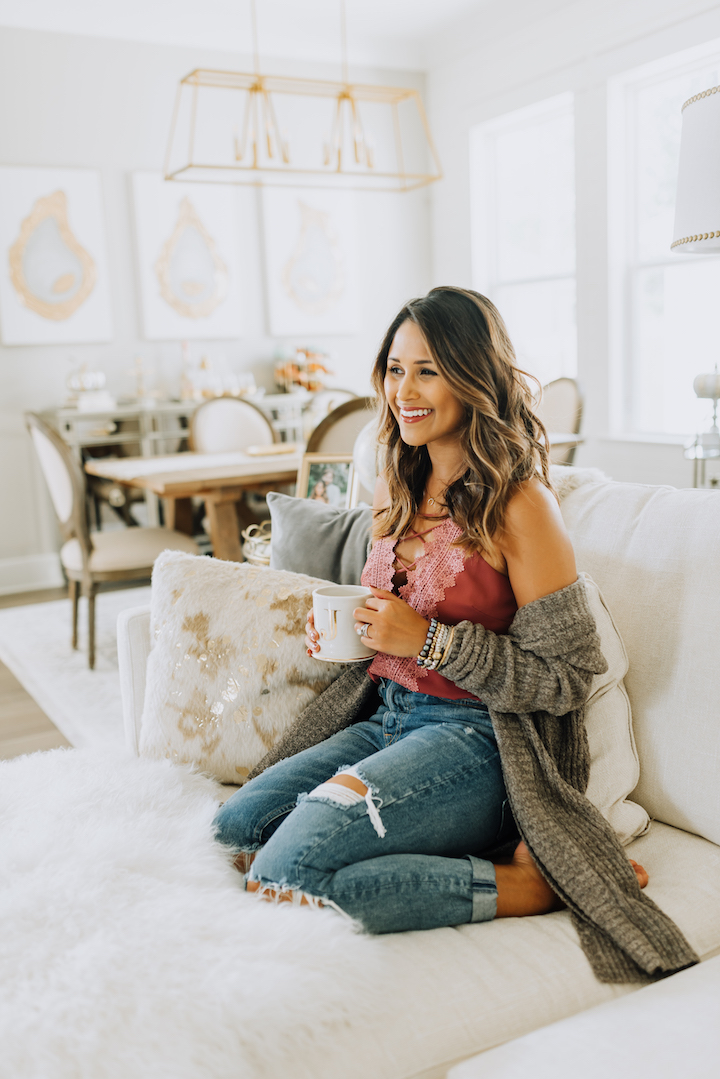 How to Shop The Nordstrom Anniversary Sale 2019:
1) KEY DATES TO KNOW:
July 12th: Early access begins for Nordstrom cardholders
July 18th: LAST day of early access
July 19th: Public access begins
Sale ends August 4th!
2) GET AN EARLY START!
All the best items usually sell out within the first few days of "Early Access" so getting early access is obviously a must!! All you have to do to gain early access is sign up to be a Nordstrom Card Holder. I signed up with Nordstrom about six years ago and it was the best decision I could have ever made for my shopping habit. Sign up for Nordstrom Credit here and if you sign up by July 10th & make a purchase the day you're approved, you'll also receive a $60 Nordstrom Bonus Note, which is essentially a gift card to Nordstrom.
If you aren't able to sign up until the day of the sale, not to worry because Nordstrom doesn't require you to have you card in-hand to gain early access. Also, if you're a Nordstrom Rewards member, you'll get rewarded every time you shop!
3) DO YOUR RESEARCH & MAP OUT A PLAN!
When I say "do your research," I mean study the 2019 Nordstrom Anniversary Sale Catalog and make a list of everything you want for your future fall wardrobe. Then narrow the items down to your favorite pieces and create a budget according to that list. However, keep in mind that you can always return items, so don't be afraid to go a little over your budget because once an item is gone, that's usually it. It's very rare that they restock the bestsellers. If it happens to you though, don't lose hope because remember that other people return things too.
You can check out my top purchases from the Nordstrom Sale in 2018 here—> Top Purchases from The Nordstrom Sale 2018
4) SHOP ONLINE!
You don't live near a Nordstrom? No problem! Neither do I! Fortunately, the best way to shop Anniversary Sale is online because it allows you easily navigate all of the sale items and categories. Plus why would you get dressed and leave the house when you can everything in your pajamas on the couch! LOL
Additionally, their online shipping and return policy is amazing because they offer both free shipping and returns. So you've got nothing to lose! Plus I'm heading to Houston for the sale to do all of the leg work for you!
5) USE ME AS YOUR GUIDE!
As I mentioned earlier, I am heading to Houston this week to scope out the sale early and will be reporting to you live from the dressing rooms in Nordstrom! Just be sure to follow along with my Instagram stories (@hauteofftherack) as well as my blog post updates and I am happy to answer any of your questions about sizing, quality as well as my overall opinion.
5 Items I recommend investing in during the sale each year:
1) Cozy Cardigans — I love the Barefoot Dreams, Leith and BP cardigans each year during the sale
2) Designer Denim — This year I would keep your eyes out for Kut from Cloth, AG Jeans, Good American and Frame.
3) Boots&Ankle Booties — I always love the Marc Fisher, Steve Madden, Sam Edelman and Jeffrey Campbell booties
4) Activewear — Zella leggings are the best, but I also love All Yoga too.
5) Shoes, shoes and more shoes! I probably buy 10 pairs of fall shoes from the sale each year and I use them all season long! Last year, I scooped up some of my favorite shoes of all time that I still receive compliments on!
Click through the below items for the top brands to look for during the sale. These are the brands that sell out the fastest!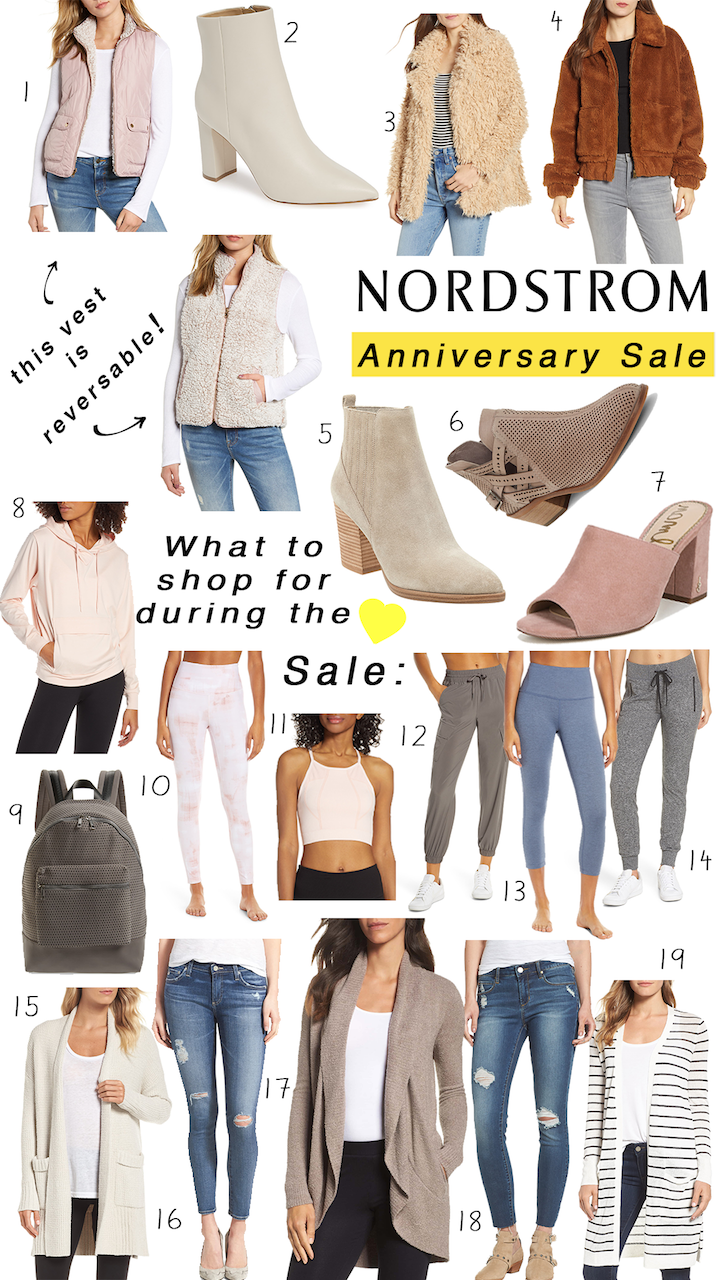 1) Reversible Fleece Lined Quilted Vest | 2. Ulani Pointy Toe Bootie | 3. Sully Jacket | 4. Northy Faux Fur Jacket | 5. Alva Bootie | 6. Pranika Bootie | 7. Orlie Open Toe Mule | 8. Community Canyon Hoodie | 9. Perforated Backpack | 10. Community Canyon Leggings | 11. Longline Sports Bra | 12. Cargo Jogger Pants | 13. Live In High Waist Crop Leggings | 14. Ultrasoft Jogger Pants | 15. Cozy Chic Weekend Cardigan | 16. The Legging Ankle Jeans | 17. Cozy Chic Circle Cardigan | 18. Sarah Skinny Jeans | 19. Long Linen Blend Cardigan
1)Duo Brow Brush | 2. Dipbrow Pomade Brow Color | 3. T3 Trio Interchangeable Set | 4. Drybar Dry Shampoo | 5. Triple Sec 3-in-1 Texturizer | 6. Haute Nudes Palette | 7. T3 Flat Iron | 8. Buttercup Blow Dryer | 9. Lemon Drop Daily Detangler | 10. Flowerbomb Parfum Spray | 11. Purity Facial Cleanser | 12. Supergoop! Kit | 13. YSL Lip Color Trio | 14. Eight Inch Sensor Mirror
Items I already have on my list for the Nordstrom Anniversary Sale 2019