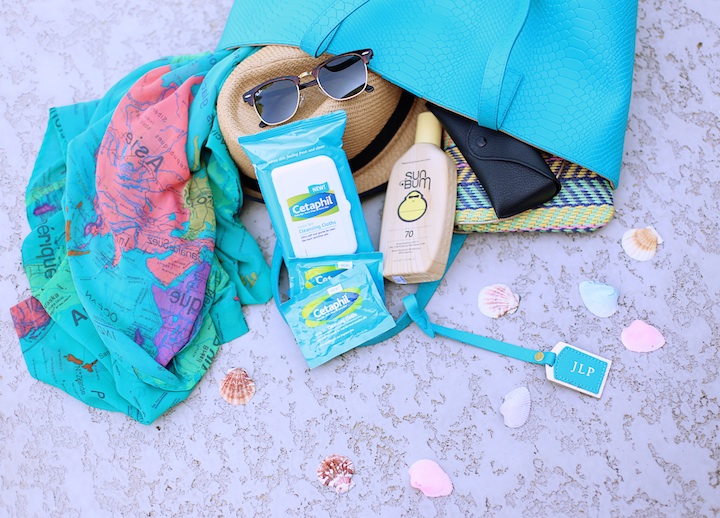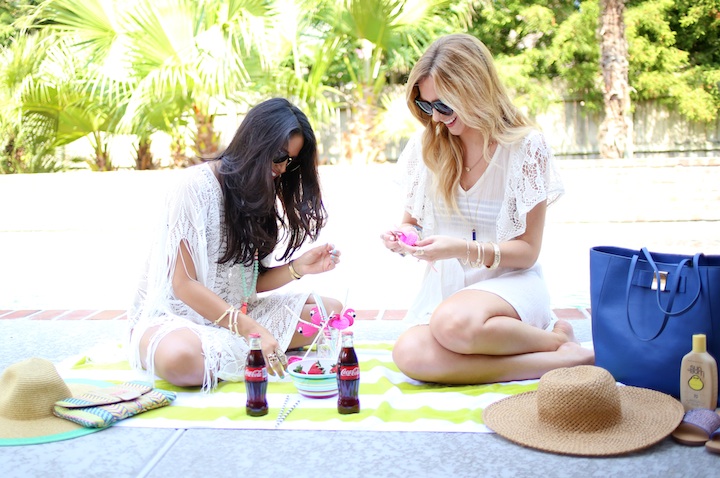 Photos by: Kaela Rodehorst Photography
| Shop This Post |

Good Morning readers, when it comes to your weekend essentials, what do you find most important to pack in your purse or travel bag? Do some of those essentials include touchup makeup, sunscreen, sunglasses, flip-flops or a clutch to go out in the evening? Those are just a few mine! I'm kind of a "bag lady" who always carries everything and anything that someone or myself might possibly maybe need! I'm always forgetting to do something before I leave the house and I always realize it as I'm heading out the door. That's why I'm all about on-the-go products like nail polish remover pads and mini deodorants that fit in my purse!
Cetaphil Gentle Skin Cleansing Cloths are another one of my go-to quick skin essentials. After a long day of photo shoots, the beach or driving all over the city for meetings, I usually have smudged eyeliner and mascara all around my eyes and dirt trapped beneath my makeup. (Hey, it happens!) That's one of the reasons why I love packing along my Cetaphil Gentle Skin Cleansing Cloths because I can just use them to wipe all of the makeup off of my face conveniently from my car or wherever I am and start my makeup over fresh before I head to dinner or my next occasion. It's just like washing your face except without a sink because the cloths are conveniently pre-moistened. They easily remove makeup and dirt, leaving your skin clean, refreshed and balanced! If you're a girl on the go like me, then you'll love having these Cetaphil Gentle Cleansing Cloths at your fingertips!
Top 5 Tips for Preventing Summer Breakouts:
1) Make sure to keep your skin Hydrated! Cetaphil's Daily Advance Lotion is sure to keep your skin ultra hydrated and moisturized which is perfect for this summer heat!
2) Avoid using heavy liquid foundation during the day time on top of your sunscreen. Go for a tinted moisturizer with SPF 30 instead and finish with a translucent mineral powder.
3) Don't skip out on washing your face each night at morning. I even recommend using a Clarisonic or deep exfoliant to make sure that you're getting all of the dirt and bacteria that gets trapped under your makeup and moisturizer.
4) Don't pile more makeup on top of the makeup that you've been wearing all day.  Keep Cetaphil Gentle Cleansing Cloths on hand for when you don't have time to stop at home to remove your makeup before reapplying to out in the evening.
5) Keep in mind that changes in the weather also come with changes in your skin so you may need to alter your skin care routine to help your face adapt to the weather. That could mean adding a few more steps to your routine or even skipping a few steps. Just find what works best for you by experimenting with your products.
For more summer skin care tips–> The Grab-and-Go Solution for Summer Skin Care
Compensation for this post was provided by Galderma via AOL Media. The opinions expressed herein are those of the author and are not indicative of the opinions or positions of Galderma or AOL.