Happy weekend everyone, today I'm sharing my second episode of "Have Your Cake and Eat it Too" on my Instagram stories at @HauteOffTheRack. "Have Your Cake and Eat It Too" is a new spinoff series from my silly "Haute Out The Oven" show. In this new show, my mom and I attempt to bake a cake together while also working out at the same time as our cake bakes in the oven so we can still have our cake and eat it too.
I'm about 3.5 months postpartum now and since my mom is a certified personal trainer on the side, we thought this would be a fun way to work towards getting back in shape and have you follow along with the journey. I hope you enjoy the series and attempt to make some of these recipes yourself. I also hope it inspires you to stay active and healthy especially if you recently had a baby and you're now ready to get back to making your healthy a priority again as I know it can take a backseat when you're more focused on taking care of your new baby. Last episode we made the most amazing chocolate cake and this time we're making a delicious and refreshing Lemon Blueberry Cake. My mom found the recipe (here).
You can check out the cake recipe from our first episode here—> Have Your Cake & Eat It Too Episode 1 | I have all of the videos saved under my highlights under my bio on my Instagram: @hauteofftherack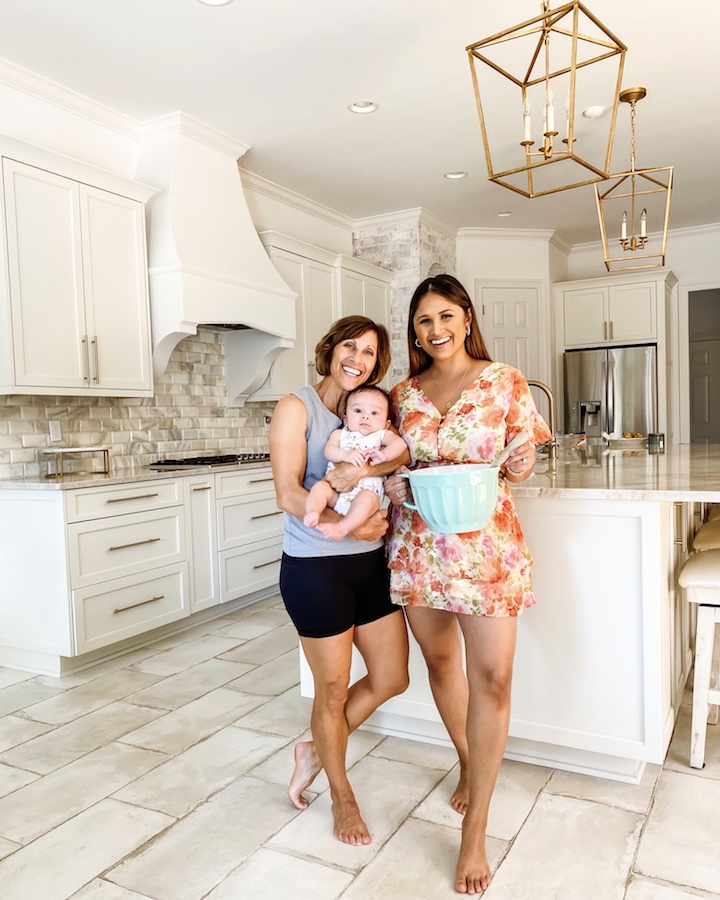 Wearing sz M in this floral dress, which also happens to be nursing friendly!
You can find this gold and marble cake stand (here). It comes in two different sizes and this is the large one!

Lemon Blueberry Layer Cake
Ingredients:
1 cup (230g) unsalted butter, softened to room temperature
1 & 1/4 cups (250g) granulated sugar
1/2 cup (100g) packed light brown sugar
4 large eggs, at room temperature*
1 Tablespoon pure vanilla extract
3 cups (345g) sifted all-purpose flour (spoon & leveled)*
1 Tablespoon baking powder
1/2 teaspoon salt
1 cup (240ml) buttermilk*
2 Tablespoons lemon zest*
1/2 cup lemon juice (3 medium lemons)*
1 and 1/2 cups blueberries, fresh (258g) or frozen (do not thaw– 275g)
1 Tablespoon all-purpose flour –> to toss blueberries in!
***Fresh or frozen blueberries: Fresh or frozen blueberries are OK. If using frozen, do not thaw. Be sure to toss the blueberries in a little flour– this is extra insurance they don't sink to the bottom of the cake.***
Cream Cheese Frosting:
8 ounces (224g) full-fat brick style cream cheese, softened to room temperature*
1/2 cup (115g) unsalted butter, softened to room temperature
3 and 1/2 cups (420g) confectioners' sugar
1 – 2 Tablespoons (15-30ml) heavy cream*
1 teaspoon pure vanilla extract
pinch salt
Steps:
1) Preheat oven to 350°F (177°C). Grease three 9-inch cake pans, line with parchment paper, then grease the parchment paper. Parchment paper helps the cakes seamlessly release from the pans.
2) Using a handheld or stand mixer with a paddle attachment, beat the butter on high until creamy – about 1 minute. Add granulated and brown sugars and beat on medium-high speed until creamed, about 2-3 minutes. Add eggs and vanilla. Beat on medium speed until everything is completely combined, about 2 full minutes. Scrape down the sides and bottom of the bowl as needed.
3) In a large bowl, whisk together the flour, baking powder, and salt. Slowly add the dry ingredients to the wet ingredients. Beat on low speed for 5 seconds, then beat in the milk, lemon zest, and lemon juice *just* until combined. Toss the blueberries with 1 Tablespoon of flour and gently fold into the batter. Batter is extremely thick. Do not over-mix. Over-mixing will lead to a tough, dense textured crumb.
4) Spoon batter evenly into 3 prepared cake pans. If only using 2 cake pans, your bake time will be longer. Bake the three layers for about 21-25 minutes or until a toothpick inserted in the center comes out clean. Remove from the oven and allow to cool completely before frosting.
Frosting Steps:
Using a handheld or stand mixer with a paddle attachment, beat cream cheese and butter together on medium speed until no lumps remain, about 3 full minutes. Add confectioners' sugar, 1 Tablespoon cream, vanilla extract, and salt with the mixer running on low. Increase to high speed and beat for 3 minutes. Add 1 more Tablespoon of cream to thin out, if desired.
Assemble and frost:
First, using a large serrated knife, trim the tops off the cake layers to create a flat surface. Place 1 layer on your cake stand. Evenly cover the top with cream cheese frosting. Top with 2nd layer, more frosting, then the third layer. Top with frosting and spread around the sides. The recipe doesn't make a ton of frosting, just enough for a light frost. Top with blueberries or lemon garnish if desired. Refrigerate for at least 45 minutes before cutting or else the cake may fall apart as you cut. Cover leftover cake tightly and store in the refrigerator for up to 5 days.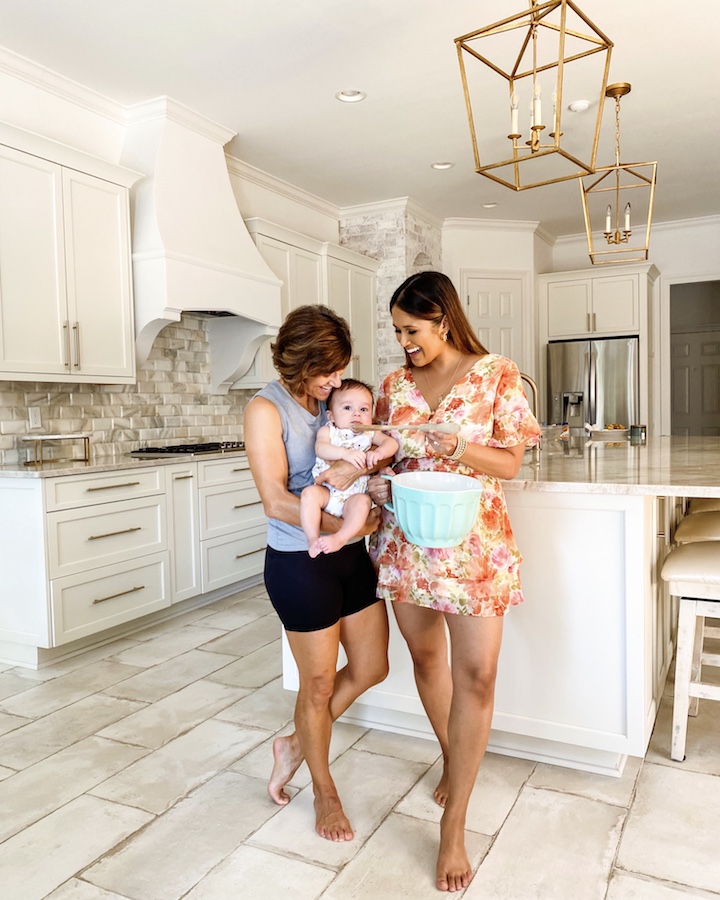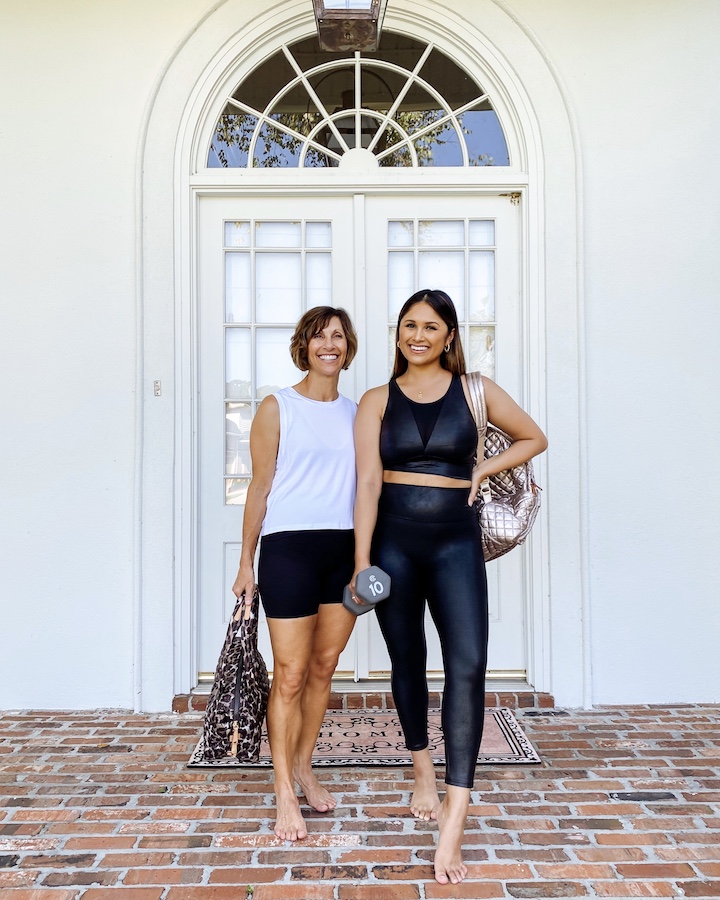 | Shop Our Activewear Looks |
My Look:  Faux Leather Sports Bra— (wearing sz M) Faux Leather Cropped Leggings— (wearing sz S) c/o Spanx | MZ Wallace Metro Backpack
These Faux Leather Cropped Leggings fit amazingly and I actually wore the maternity version of them while I was pregnant. I've also been wearing the non-cropped version of these faux leather leggings for the past 4 years.
 My Mom's Look: Booty Boost Active— (wearing sz S)| White Tie Back Top

My braided hoop earrings are by ALV jewels and you can find my "B" necklace (here).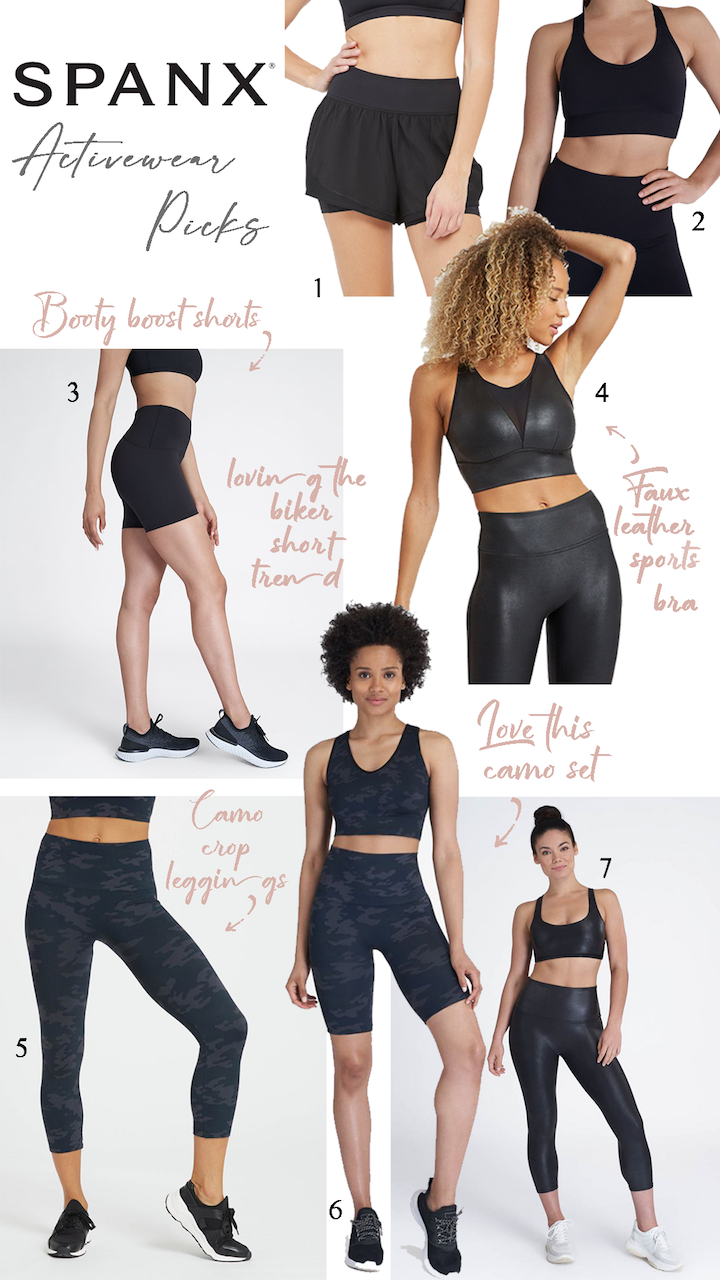 | Shop Spanx Activewear |

1. Get Moving Short | 2. Low Impact Sports Bra | 3. Booty Boost Active  | 4. Faux Leather Sports Bra | 5. Cropped Seamless Leggings | 6. Seamless Crop Top | 7. Faux Leather Cropped Leggings