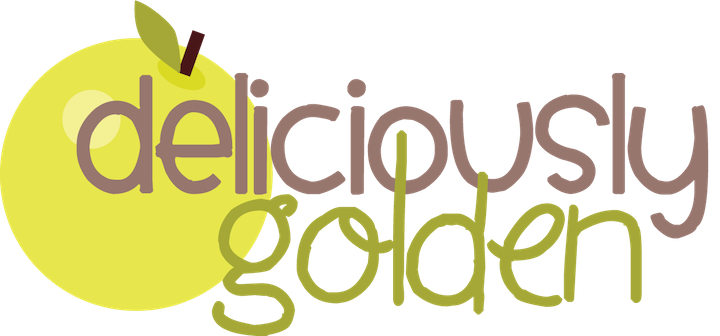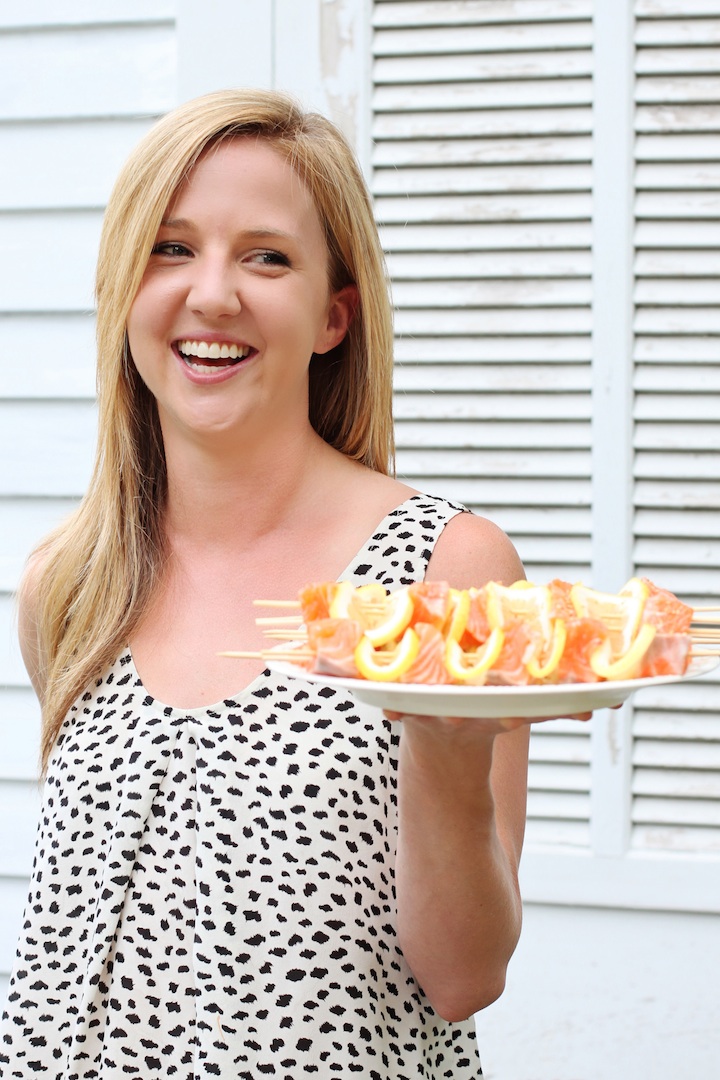 Good Morning everyone  and please welcome guest food blogger, Blair Buras of Deliciously Golden. While I'm vacationing in Mexico, I thought I'd give you a little treat and share some of Blair's deliciously golden recipes with you!  Before we dive into these delectable dishes, here is a little background on Blair:
Haute Off The Rack: What is your long time favorite recipe?
Blair Buras: Ooh, that's a tough one.  I've been making my grandmother's beef vegetable soup for years.  I'm so glad I have her recipe.  I make it a little differently than she did (and a little differently each time!)  recipe is on my blog.   http://deliciouslygolden.blogspot.com/2010/11/nanas-beef-vegetable-soup.html
HOTR:What is one recipe that you've been dying to try?
HOTR: What made you decide to start a food blog?
BB: I worked as a dietitian at Life Time Fitness in Katy, Texas.  When I decided to move back to Louisiana it was a good way for me to stay connected to my clients!
HOTR: What is the most challenging recipe you have ever made?
BB: What about the most challenging meal?  lol… I cooked lasagna for a Christmas party one year…lasagne for 100 anyone??
HOTR: If you cook for any person in the world, who it be and what would you prepare for him/her?
BB:  My mom.  She passed away when I was 23 years old.  And at that point I wasn't as interested in cooking.  I would love to cook for her!  I would make her stewed chicken because it's the first thing she ever taught me how to make.  Of course I make it slightly different…she used Campbell's condensed cream of chicken in hers! I would also make her some spice cake with cream cheese frosting, which is also something she used to make for me.
These salmon kebabs are so fun and colorful!  I served them with roasted green beans and then finished off the meal with these cool creamy peach pops!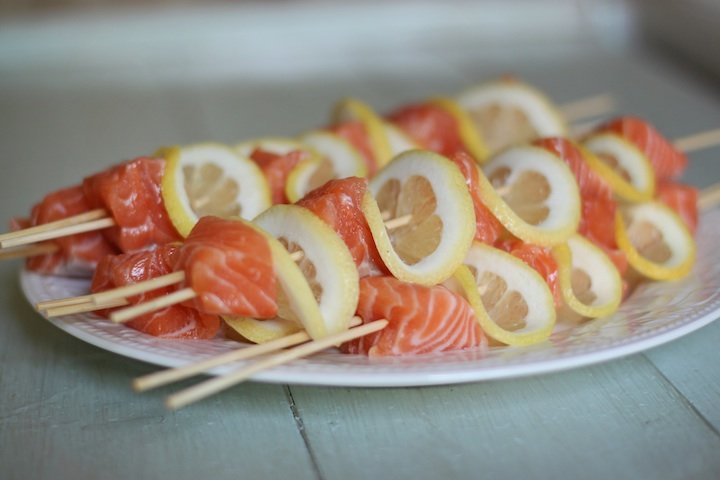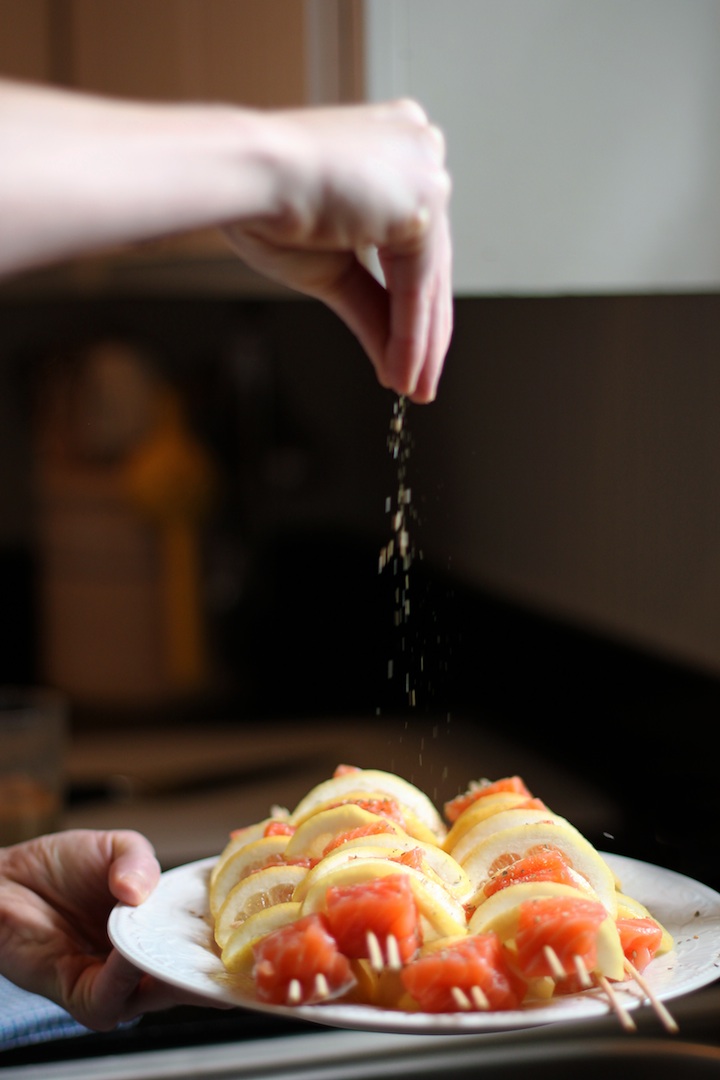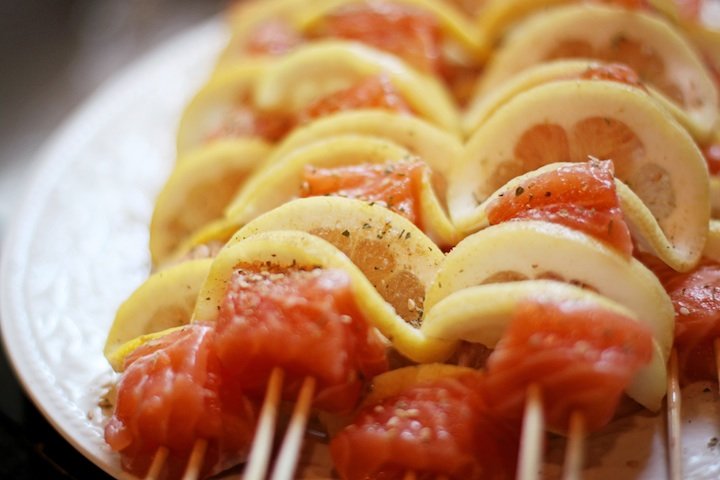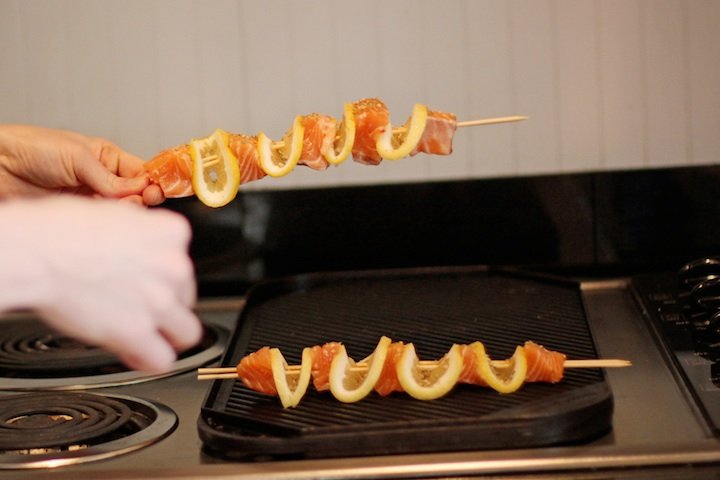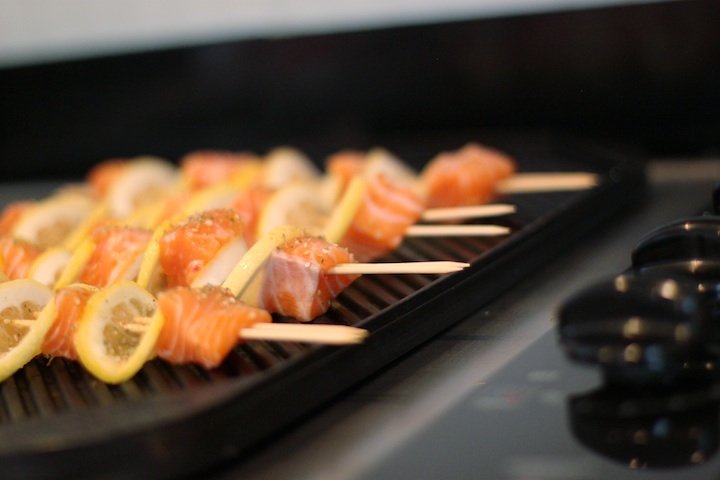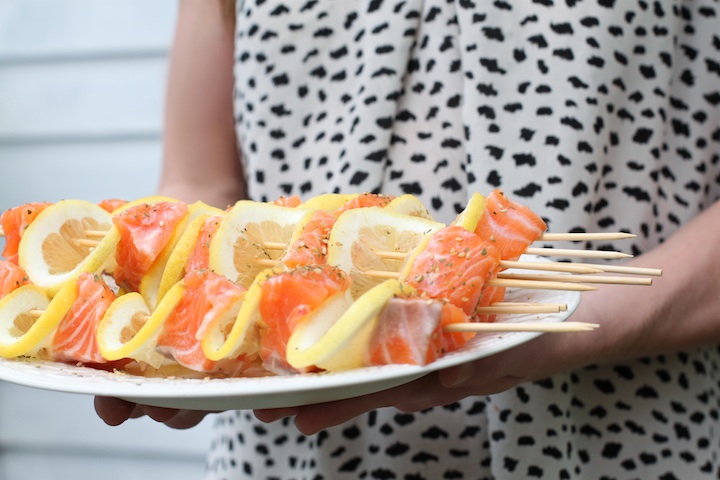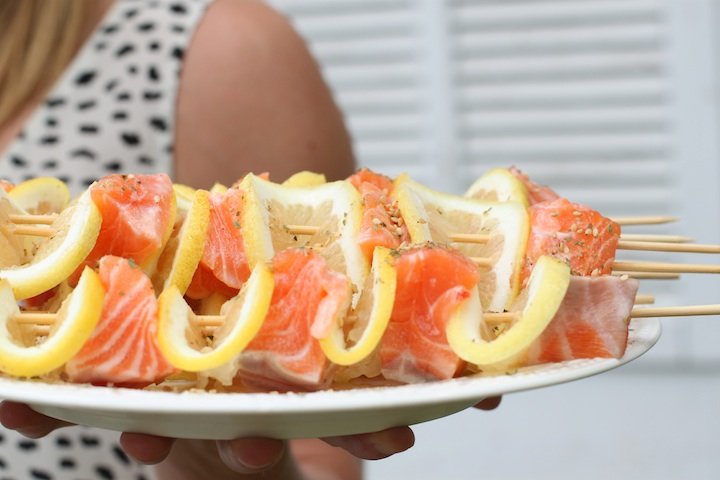 Spiced Salmon Kebabs
Adapted from Bon Appétit magazine
Serves 4
2 tablespoons chopped fresh oregano (or 1 teaspoon dried)
2 teaspoons sesame seeds
1 teaspoon ground cumin
1 teaspoon kosher salt
¼ teaspoon crushed red pepper flakes (optional)
2 pounds skinless salmon fillet (preferably wild), cut into 1-inch pieces *
3 lemons, very thinly sliced into rounds
1 tablespoon olive oil
vegetable oil for the grill (i.e. canola, safflower)
16 bamboo skewers soaked in water 1 hour
Prepare grill for medium heat. Mix oregano, sesame seeds, cumin, salt, and red pepper flakes (if using) in a small bowl to combine; set spice mixture aside.
Beginning and ending with salmon, thread salmon and folded lemon slices onto 8 pairs of parallel skewers to make 8 kebabs total. Brush salmon with oil.  Season kebabs with reserved spice mixture.
Brush the grill VERY thoroughly with oil.  Grill, turning occasionally, until fish is opaque throughout, 5–8 minutes.  Allow the first side to cook for at least 3 minutes (or until it easily releases) before turning.  **
* As your market to skin it for you!  And if the wild salmon filets look too thin to cut into skewerable pieces, go with responsibly farm raised (I had to do this, even though I typically buy wild)
** Tips to prevent fish from sticking: http://articles.latimes.com/2007/aug/01/food/la-fo-calcookside1aug01
I bet swapping the oregano out for cilantro would be great too!  And I think these would be great for a fish taco bar!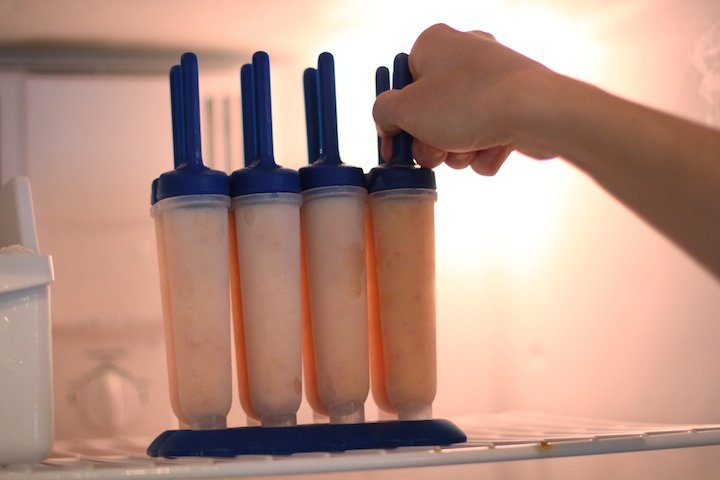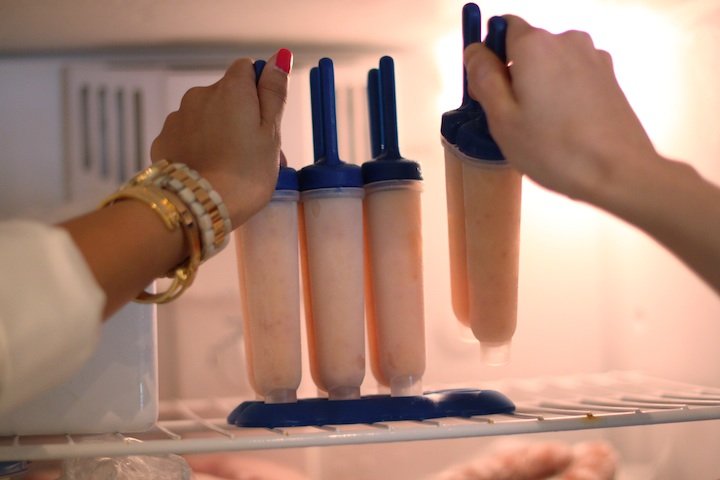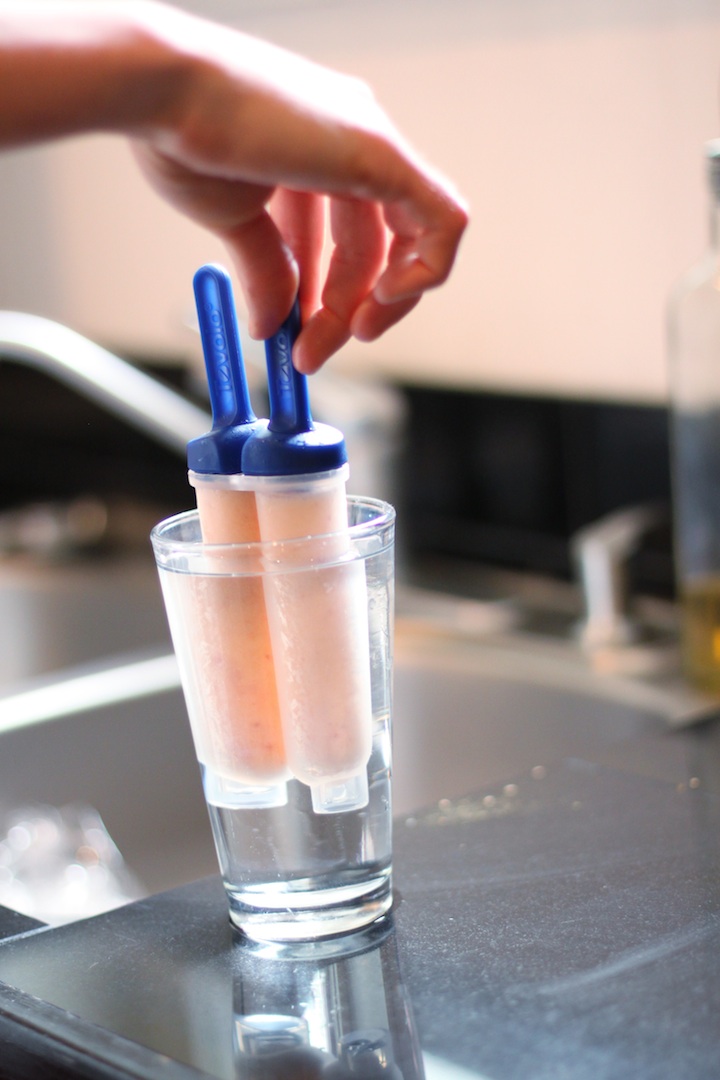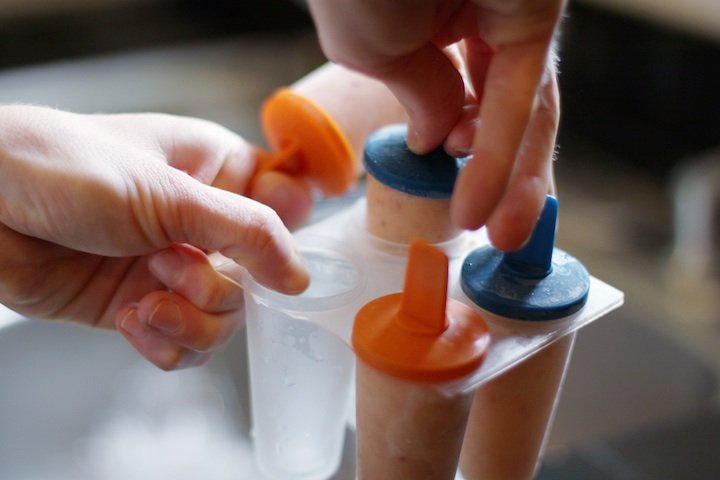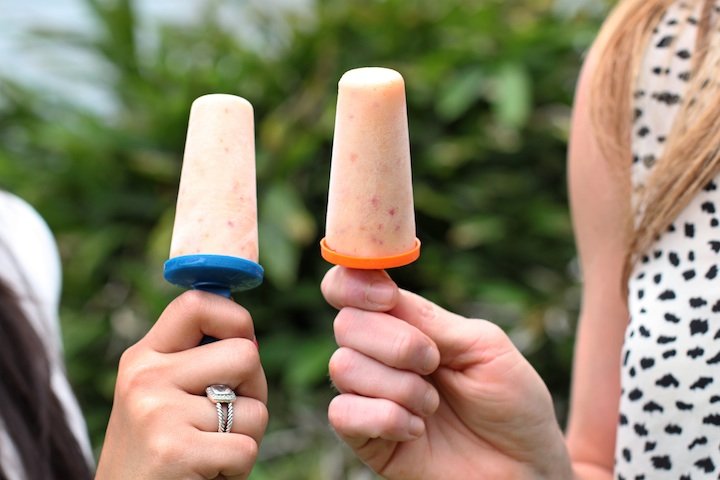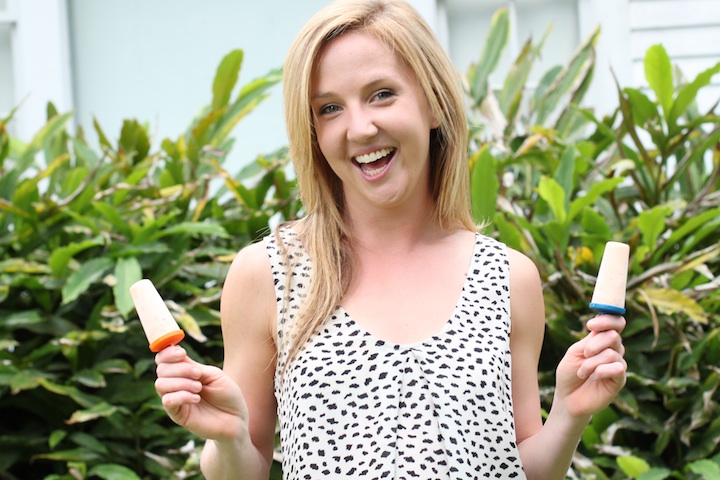 Peach Buttermilk Popsicles
Makes 12 popsicles
5-6 small to medium RIPE peaches, roughly chopped (about 2 ½ cups of fruit)
½ c sugar
½ teaspoon vanilla extract
¼ teaspoon almond extract
1 cup milk
1 ½ cups buttermilk
Place all ingredients in a blender and blend until smooth.  Pour into 12 1/3-cup capacity popsicle molds and freeze for 4 hours or until completely frozen.
This would be great with any fruit…banana buttermilk! Yum!
I bought my popsicle molds at Whole Foods.  These look fun too:
http://www.amazon.com/Tovolo-Groovy-Ice-Molds-Yellow/dp/B000G32H3Y/ref=sr_1_1?ie=UTF8&qid=1371763868&sr=8-1&keywords=popsicle+molds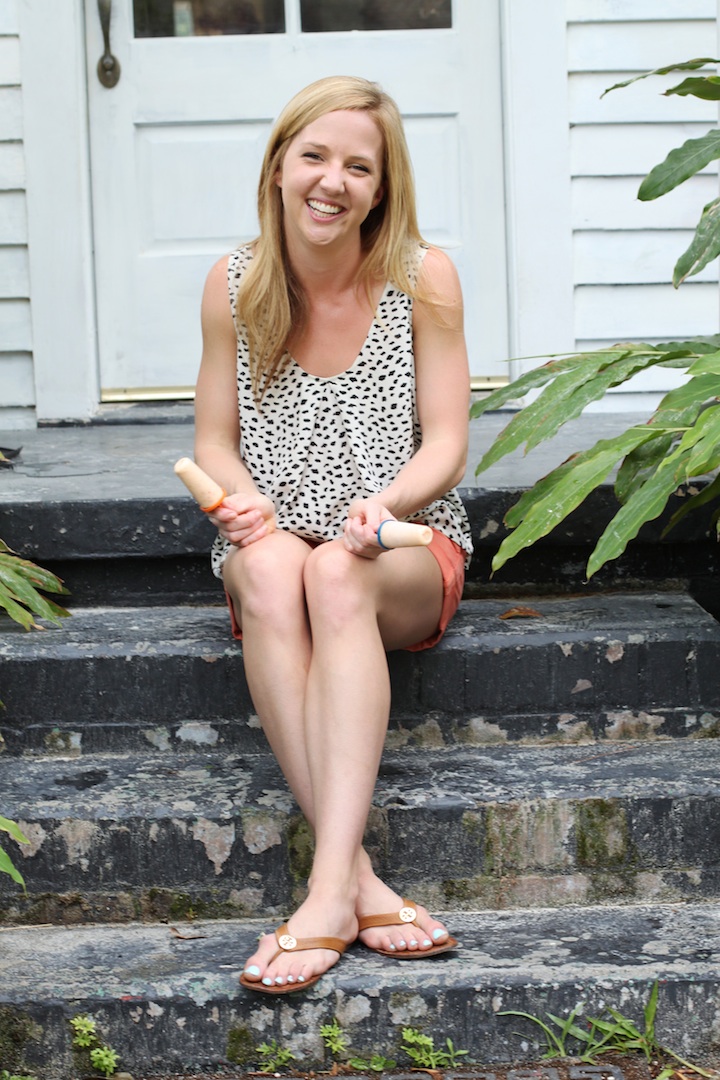 Photos by: Kaela Rodeshorst Williams
Thank you for reading!  You find more great recipes at Deliciously Golden!