Hey everyone, in case you didn't know, Sunday was #NationalBrownieDay so I figured it was the perfect time to share the "slutty brownie" recipe that I recently posted on my Instagram stories with my mom. If you missed it, I decided to bake brownies and cookies for our neighbors to enjoy during the holiday season. I feel like that tradition that has been forgotten over time and I thought it would be such a nice way to make friends with our neighbors. I don't bake often so I called my mom over to help me and then we boxed everything up in these adorable holiday containers from World Market for me and Blake to hand deliver to our neighbors.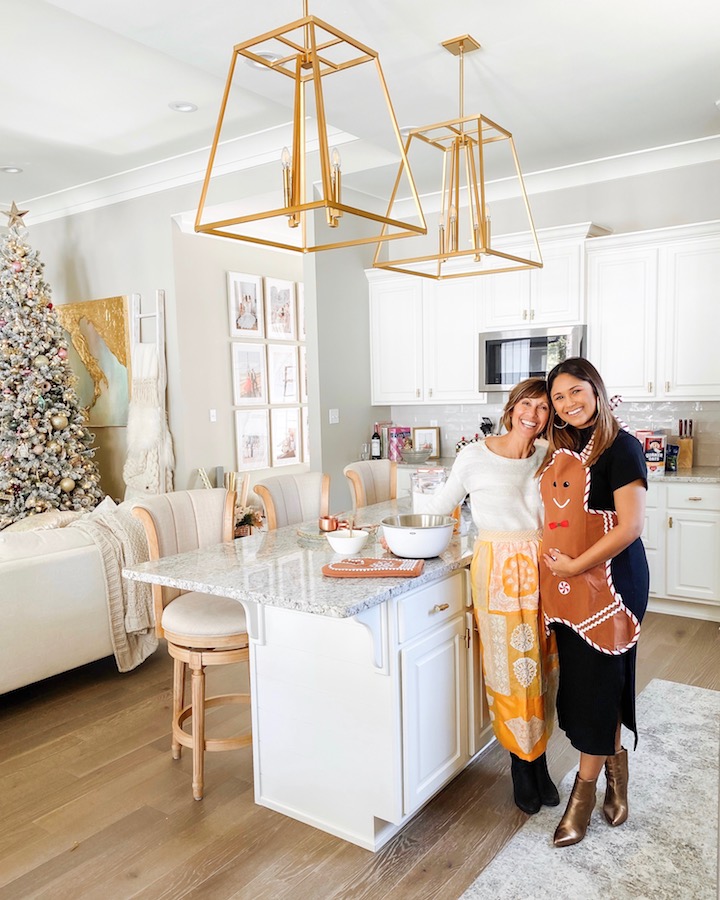 Scroll through this post to see how we made the cookies and "slutty brownies" along with the full recipes. My mom got the cookie recipe from my grandmother who clipped it out of a newspaper and we've been making slutty brownies since I was in middle school!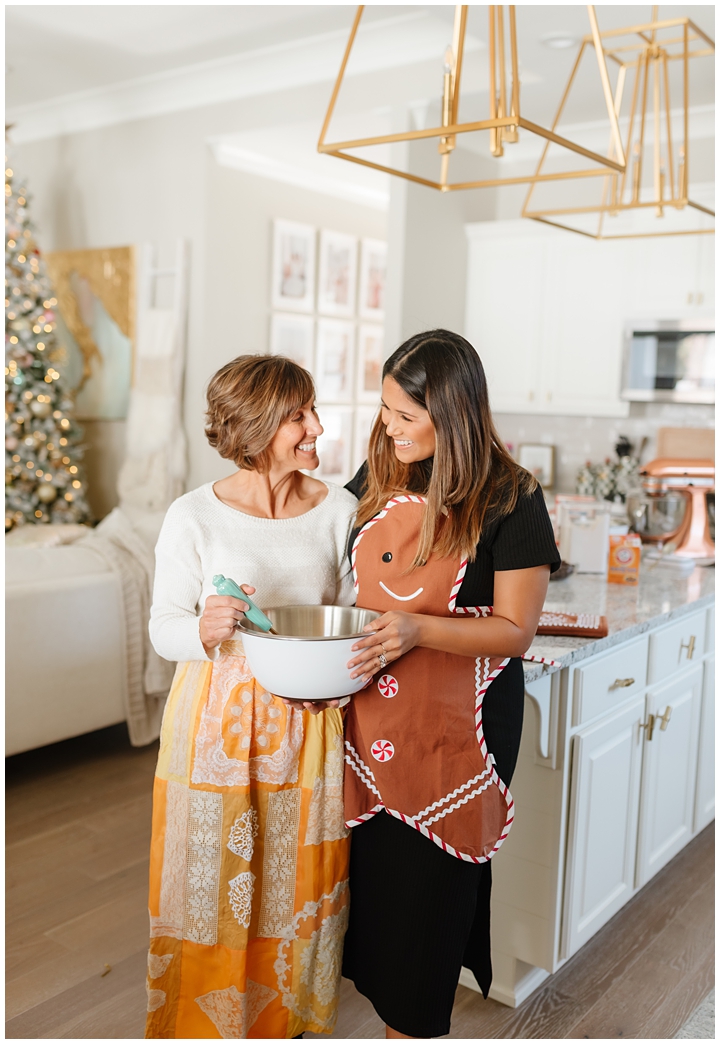 | Shop My Look |
Outfit: Gingerbread Apron (one size only) | Black Midi Dress | Metallic Booties (old—similar here & here) | Gingerbread Oven Mit | My mom's apron belongs to my great Aunt Jenni who I was named after. She's still living at age 102! Let's hope I get her good genes too!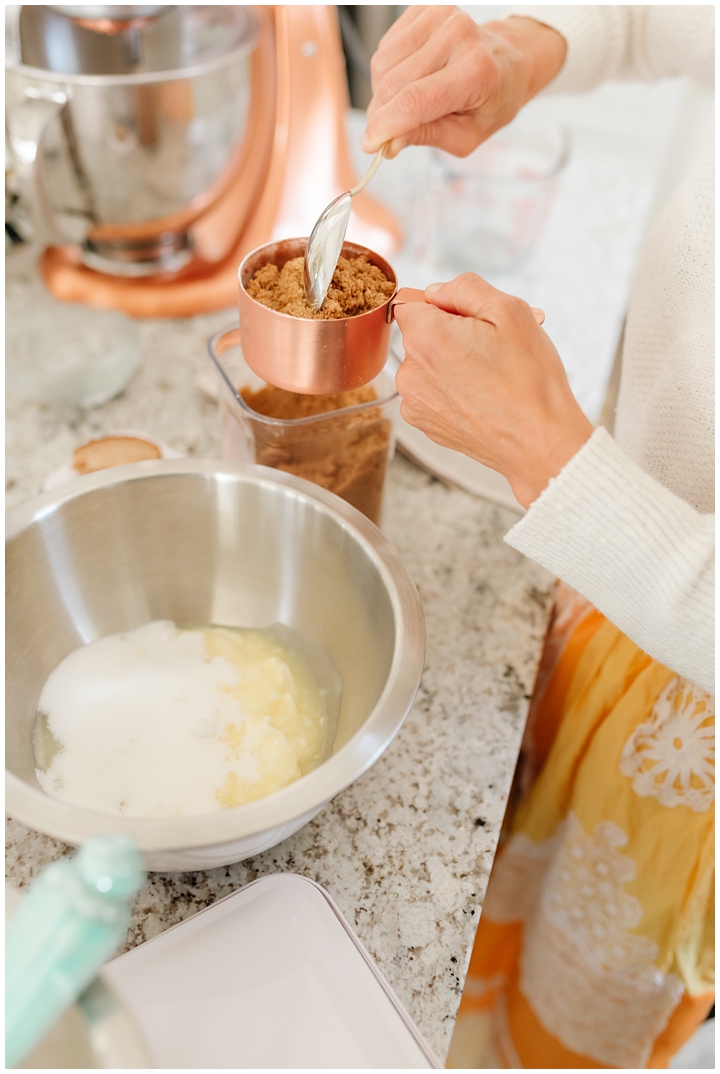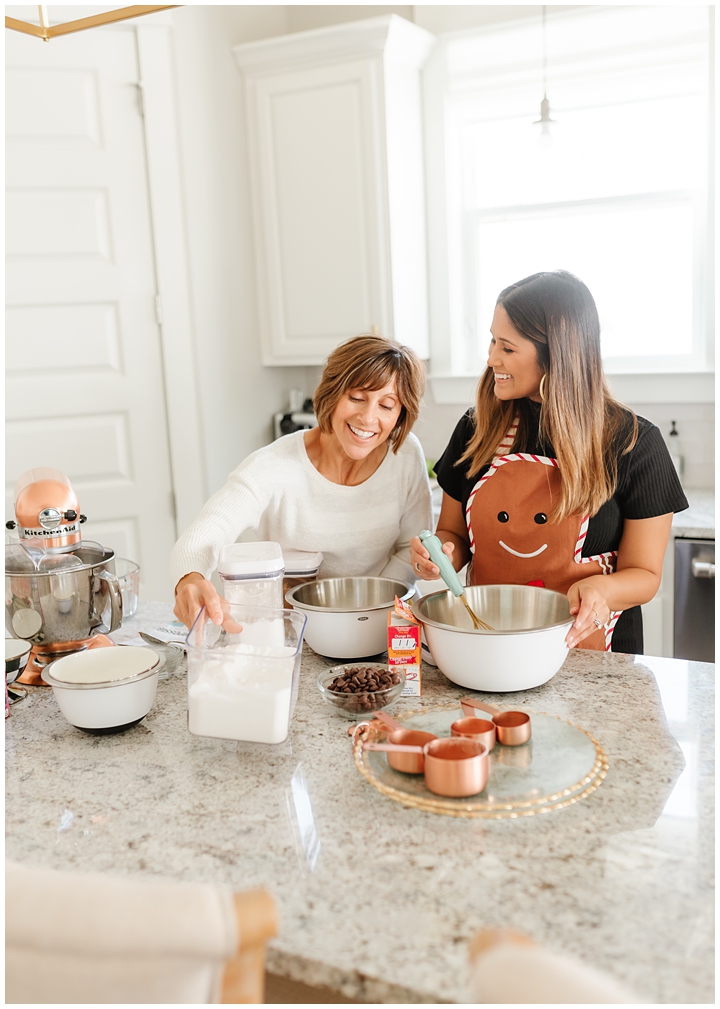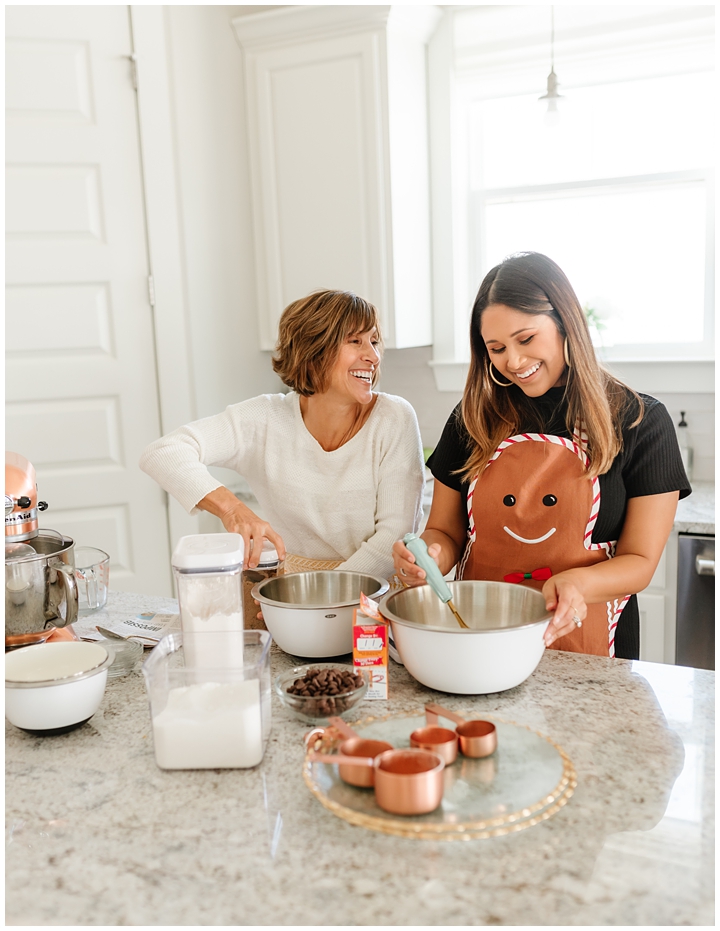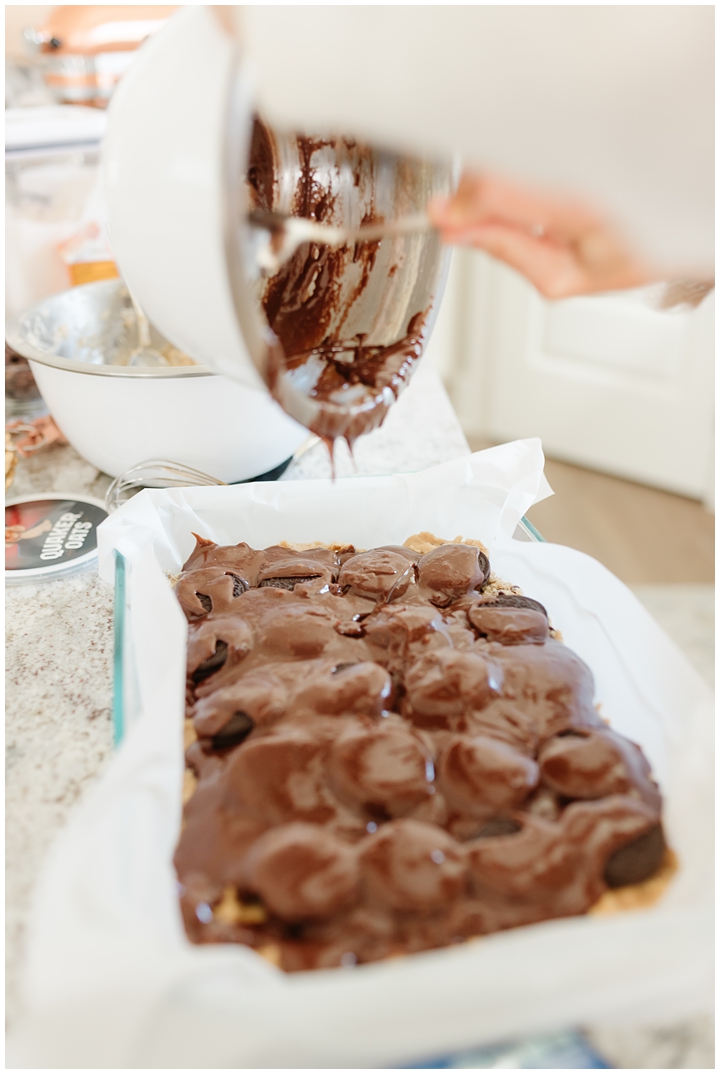 Slutty Brownie Recipe:
Ingredients:
Fudge Brownie mix (You can choose any kind you like. We went with the Betty Crocker Fudge Brownie Mix.)
1 pack of Oreos
1 Pack of chocolate chip cookie dough (We didn't make our dough from scratch. We just used a roll of Pillsbury chocolate chip cookie dough.)
Assembly:
Preheat the oven to whatever the fudge brownie box you chose tells you because those are the cooking instructions you need to follow.
Line the bottom of your with parchment paper.
Spread your cookie dough evenly across the bottom of the pan. We used a 9 x 13 glass dish.
Line Oreos across the top of your cookie dough.
Mix together your fudge brownie ingredients by following the box instructions.
Pour the brownie batter across the top of the dish. Make sure you completely cover the Oreos and pour in between as well.
Bake your dish for however long the brownie box instructs you too and then cool for one full hour before cutting.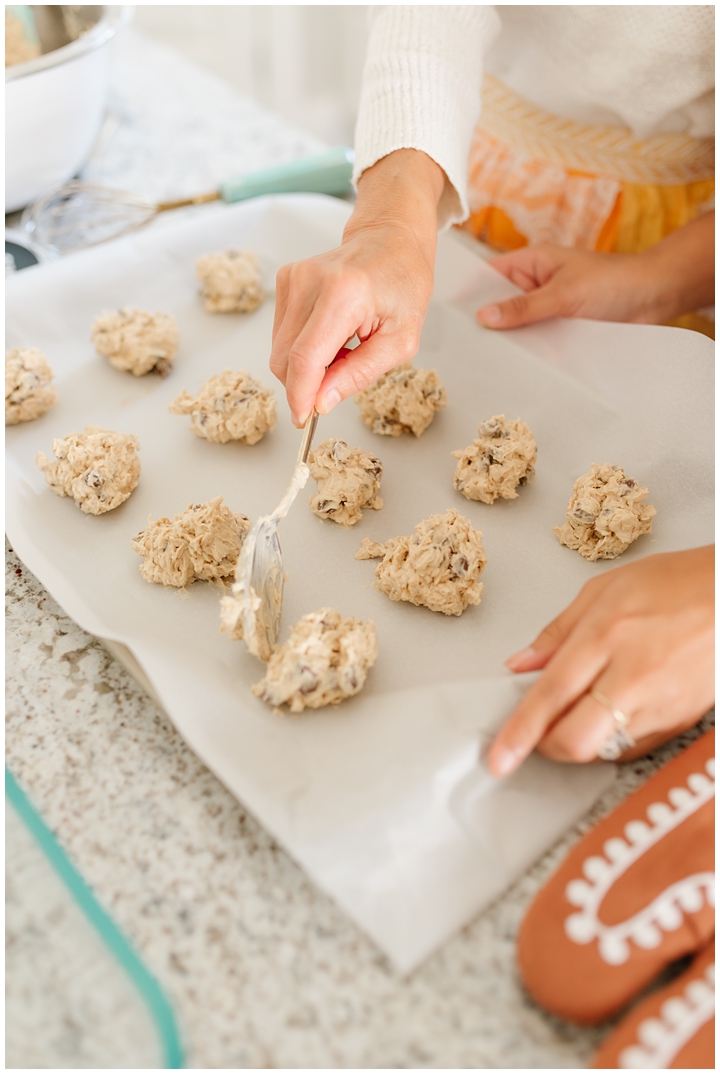 Thick & Chewy Chocolate Chunk (chip) Cookies:
Ingredients:
14 ounces semisweet or bittersweet chocolate, coarsely chopped (we used milk chocolate chips instead)
1 3/4 cups all-purpose flour
1 teaspoon baking soda
1 ½ teaspoons kosher salt
1 ½ cups unsalted butter, room temperature
1 ½ cups packed dark brown sugar
¾ cup granulated sugar
¼ cup heavy cream
2 large eggs, room temperature
1 tablespoon pure vanilla extract
4 cups old-fashioned (rolled) oats
2 cups walnut halves and pieces (we didn't include nuts in case someone had a nut allergy)
Steps:
1) Heat the oven to 375 degrees. Line 3 large cookie sheets with parchment paper.
2 Coarsely chop the chocolate into ½-inch chunks, leaving all the flaky bits on the cutting board.<— (we skipped that part) Whisk the flour, baking soda and salt in a medium bowl or on a large sheet of parchment or wax paper.
3) Beat the butter and both sugars with a stand mixer fitted with the paddle attachment on medium speed, scraping the bowl occasionally, until smooth and creamy but not fluffy, about 3 minutes. With the machine running on medium speed, pour in the cream in a steady stream and beat until smooth. Scrape the bowl, turn the machine to medium-low speed, and add the eggs one at a time then the vanilla. Beat just until smooth and scrape the bowl.
4) Turn the machine to low speed and gradually add the flour mixture then the oats. Scrape the bowl, add the walnuts (didn't add the nuts), and mix on low speed until evenly incorporated. You should hear the nuts cracking into smaller pieces as the paddle turns. Scrape in all the chocolate chunks and bits and beat on low speed until well mixed.
5) Use a large (3-tablespoon) cookie scoop to drop balls of dough onto a prepared sheet, spacing them 2 inches apart. Bake until golden brown, about 15 minutes. Scoop the remaining dough while the first batch bakes, then bake the remaining sheets, one at a time.
6) Cool on the pan on a wire rack. You can wait for them to completely cool or eat them warm. No judgment.