Happy National Coffee Day! I originally planned to make a fun a coffee drink today, but you all know how much I love dessert so we decided to go with a frozen coffee treat instead. We made Coffee Ice Cream Waffle Sandwiches and let me tell you… they are probably one of the most delicious desserts I've ever tasted. And if you know me, you know I never skip dessert so this is a big deal! We actually made it up ourselves by mixing a few different recipes that we came across on Pinterest. Scroll through this post for the full recipe and watch me make it on today's episode of "Haute Out The Oven" over on my Instagram stories at @HauteOffTheRack.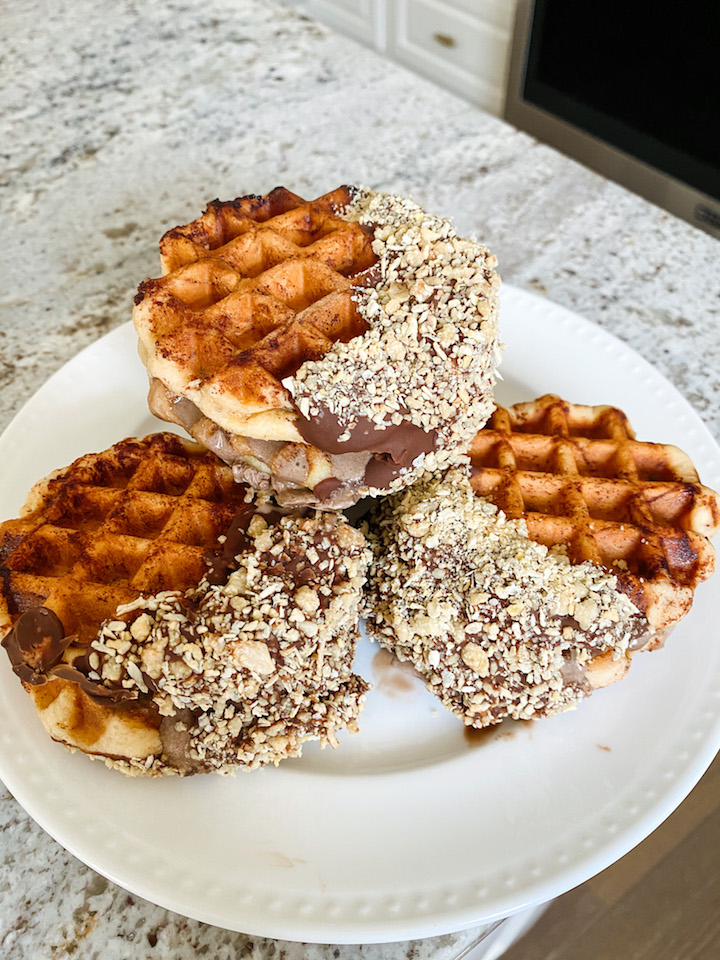 Coffee Ice Cream Waffle Sandwiches Recipe:
Ingredients:
1) Coffee flavored ice cream (or you can add cool brew coffee to chocolate or vanilla ice cream) — We used Blue Bunny Chocopolitan!
3) Crushed nuts (we used toasted almond crunch)
6) 2 crushed Hershey Chocolate bars

What you will need:
1) Mini waffle maker (only $10!)
2) Baking pan 
4) Ice Cream Scoop <—This is the best ice cream scoop by the way!
Directions:
1. This first step is optional, but super fun and I highly recommend it. Pull your coffee flavored ice cream out of the freezer and scoop out into a large mixing bowl. Add all the toppings of your choice into the bowl of ice cream and mix well before returning to the ice cream container and placing back into the freezer to harden again!  If you you're unable to find coffee flavored ice cream, you can always add a splash of cool brew coffee into your ice cream.
2. Cook cinnamon rolls in mini waffle maker for 2 minutes each & let them cool completely!
3. Heat your chocolate melting wafers & line your baking pan with parchment paper.
4. Pour chocolate melt & chopped nuts into their own bowls that are large enough for dipping the sandwiches into.
5. Put a scoop of ice-cream in between two mini waffles to make your ice cream waffle sandwiches. Dip one side of the sandwich into the chocolate melt followed by the chopped nuts. Place on parchment paper and repeat this step until you've made them all. Then, put them in the freezer until the chocolate and ice cream harden again! Serve & Enjoy!
Pro Tip: Try to do step 5 as quickly as possible so your ice cream doesn't melt too much.
I hope you enjoy this recipe and be sure to tag me at @hauteofftherack & #hauteouttheoven if you post your frozen treats on social media!