Morning everyone! Fun fact about me: I love watching Christmas movies! I would watch them year round if I could, but Blake won't allow for that. Haha! When I was little, my sister and I would take turns picking out different Christmas movies to watch each night with my mom during the holidays. We would make a palette on the floor with pillows and cozy blankets in front of the TV and drink hot chocolate while watching Christmas specials or the movie we chose.
So now as an adult, once Thanksgiving rolls around, you can find "Elf" and "The Grinch" playing on repeat in our house, but I also love a ton of other Christmas classics too. Scroll through the list below for a full list of the best Christmas movies including some of my favorites!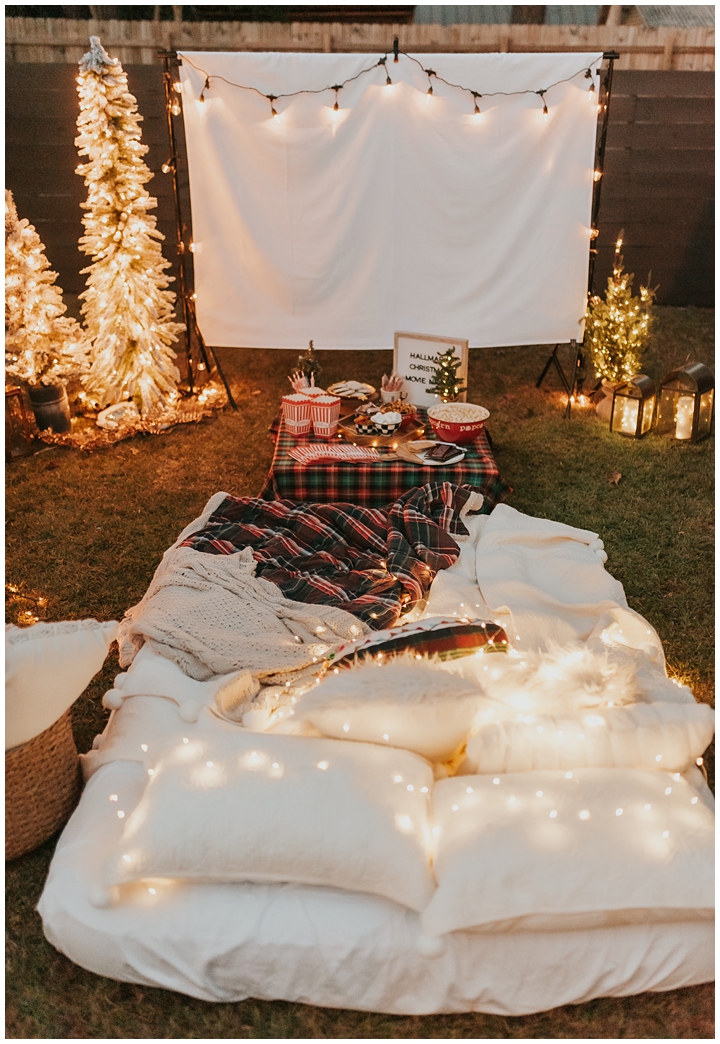 Check out of the details for this outdoor movie setup in my backyard from last here here–> Cozy Backyard Christmas Movie Party Ideas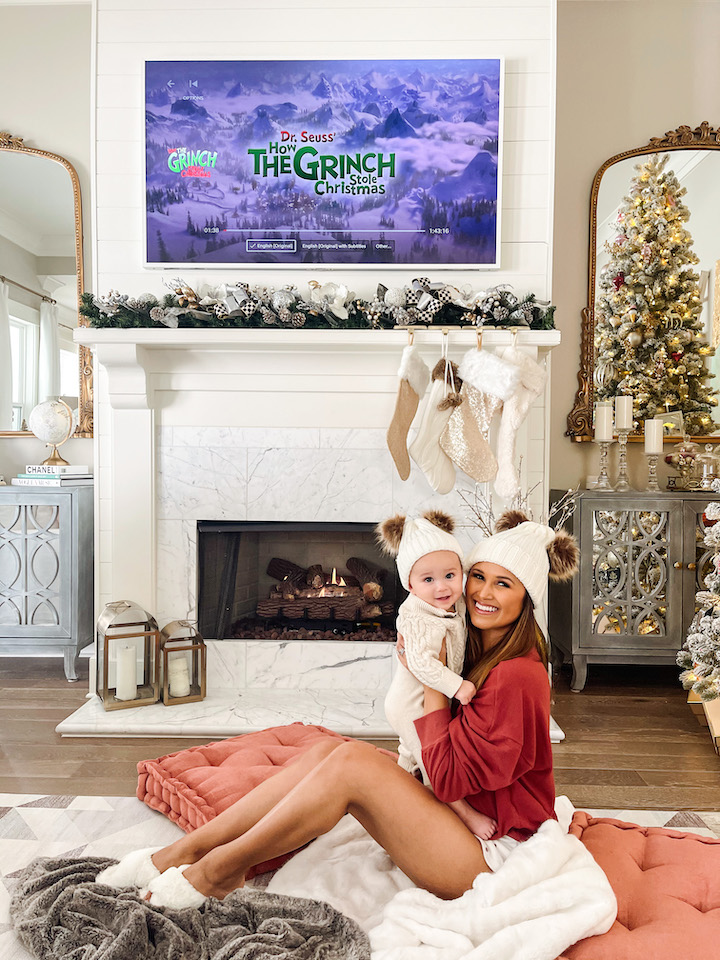 I can't wait until Beck is old enough to actually enjoy watching Christmas movies with me and we'll watch "The Grinch" all day long on repeat! Haha!
| Shop our Looks |
Jenn: Matching Beanies | Elle Sleigh Sweatshirt | Mia Dot Short | Faux Fur Slippers
Beck: Baby Knit Long Sleeve One-Piece | Matching Beanies
Home Details: Floor Cushions | King of Christmas Tree | Samsung Frame TV | Cozy Faux Fur Blanket | Gleaming Primrose Mirrors | Ruggish LULU Memory Foam Reversible Play Mat
Best Christmas Movies:
Knee Slappers:
How The Grinch Stole Christmas' | Is it sad that I quote this movie year round? LOL The Jim Carrey version will always be my favorite!
Elf | When I'm not watching "The Grinch," I'm watching "Elf!"

Just Friends | This movie is underrated! It's absolutely hilarious and I die laughing every time. This is another movie that I quote year round!
Four Christmases
National Lampoon's Christmas Vacation (A lot of people like this movies so I added it, but it's not my favorite.)
The Night Before (crude humor)
Office Christmas Party (crude humor)
Classics:
Home Alone 1, 2 & 3
White Christmas
Miracle on 34th St.
A Christmas Story
It's a Wonderful Life (Fun Fact: I didn't watch this movies until just last Christmas)
The Santa Clause 1 & 2
Christmas with the Kranks
Kid Movie:
The Grinch (animated version 2018)
Christmas Chronicles
Mickey's Once Upon a Christmas
Rudolph the Red-Nosed Reindeer
A Charlie Brown Christmas
Frosty the Snowman

The Polar Express
Love stories:
The Holiday
Serendipity
You've Got Mail
While You Were Sleeping
The Princess Switch

Tear Jerkers:
Family Stone | I cry every time!
Jack Frost
Last Christmas on Netlfix  | We watched this recently! Heart warming movie!