Good morning readers, today I'm sharing my bedroom design experience with Havenly. As you all know I love to travel, but nothing beats the feeling of coming home to my crisp, clean, white room and enormous, comfortable bed. Let me back up some though…my bed has always looked like a heavenly cloud of fluff that you want to dive into, but as for my the rest of my room, well that is whole other story. To make that long story short, we decided to work on all the visible parts of the house first and then our bedroom last since guests rarely ever come into our room.
However, we all know how long home decor projects can drag out when you keep putting them off. So after about a year of living in our ugly, unfinished, barely-even-started room, I decided to bite the bullet and partner with Havenly to custom design my dream bedroom. I wanted to wake up in my room every morning feeling refreshed, happy and inspired instead of messy, unfinished and lazy. I honestly think the design and color scheme of your room can affect your mood so I knew it was time to get work.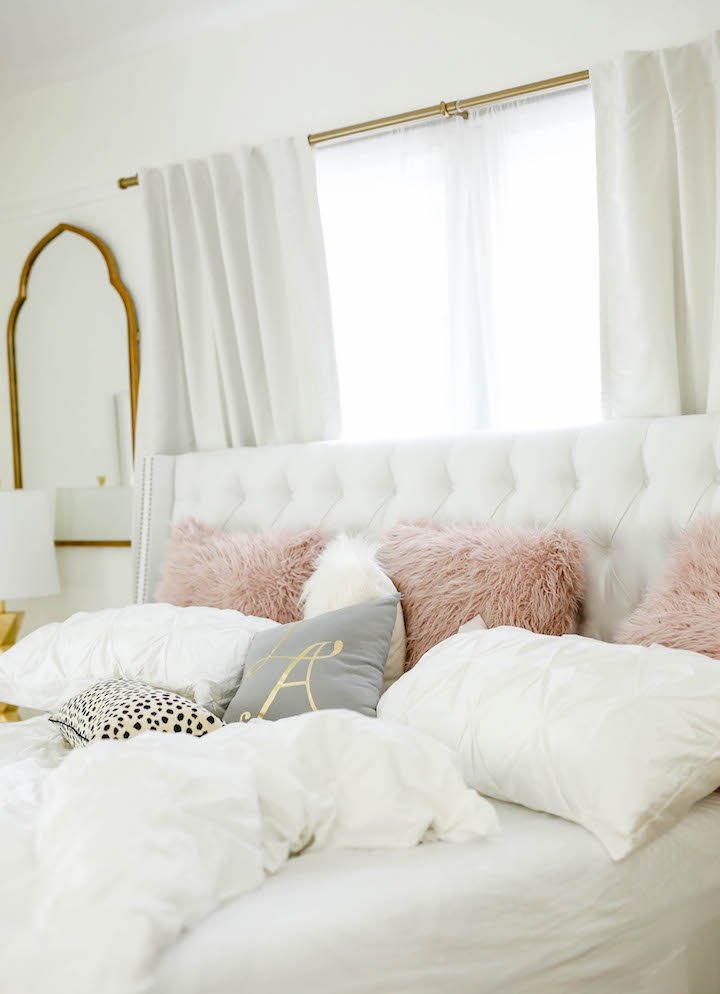 After submitting my online home decor style survey, Havenly matched me with the most amazing designer.  Once they matched us together, I filled out an online page with my ideal budget, room size and inspiration. We immediately got to work knowing that room designs can take quite a while because even after you make a decision on a piece of furniture, you still have to wait on shipping and then you actually have to put it together. Thankfully, my designer helped speed up the entire process by scouring the internet until she found the perfect pieces to complete my room. Then she put together a design rendering so I could see exactly how everything would look.
You can read all about the process with Havenly here—> How It Works
Scroll through this post to see how my online room design with Havenly turned out.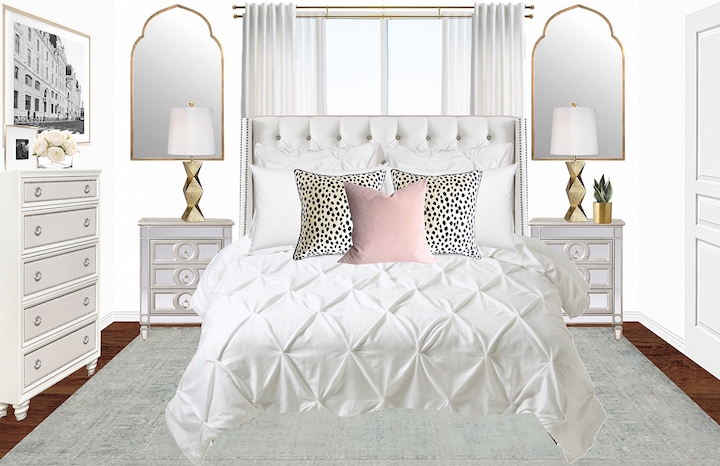 I told my designer that I wanted to go for an all white look because I can always swap out my throw pillows to add in some color. I also wanted glam furniture with mirrored or textured details. When my designer sent me this design rendering I instantly fell it love. She pretty much hit the nail on the head with this design. It included everything I wanted from the mirrored nightstands and croc-textured dressers to the crisp white headboard and fluffy duvet cover. I have to say that favorite part of my room might be the two mirrors hanging above the nightstands. I think it makes the room appear larger and they also tie in all of the gold accents.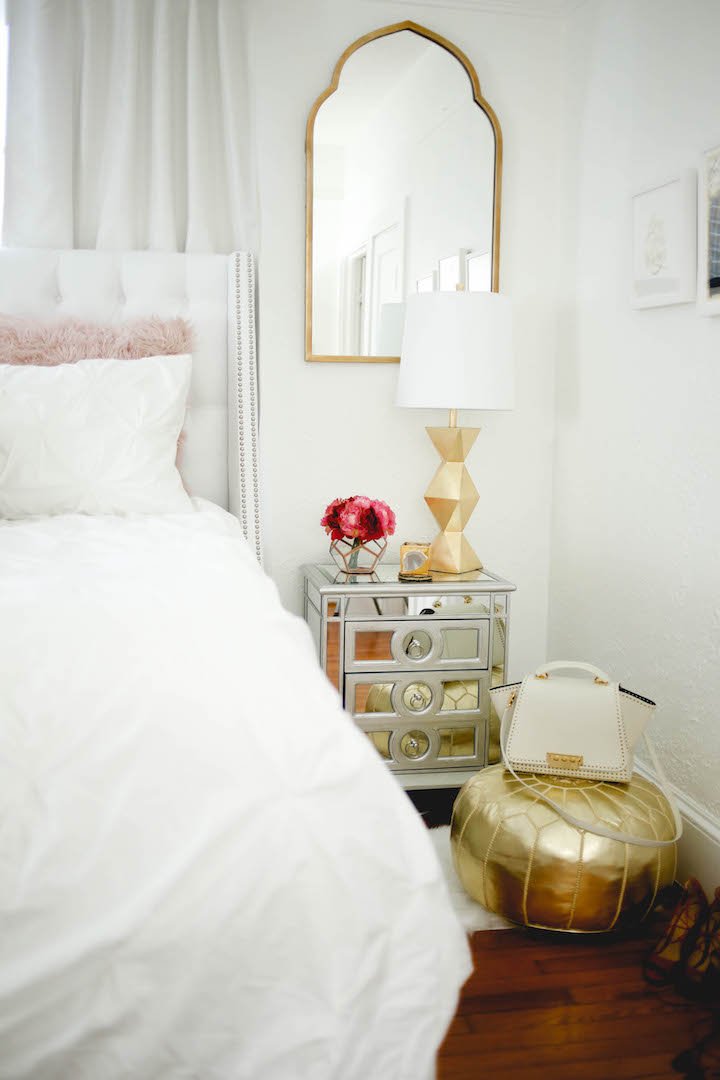 You can find my gorgeous Ripley Gold Table Lamps at Lamps Plus.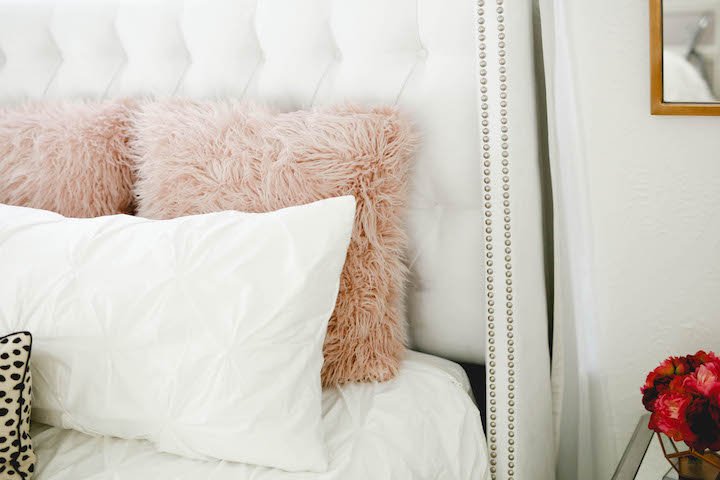 We purchased this custom-made, microsuede plush headboard with a tufted wingback silhouette from World Market. I especially love the grommet details that double line that sides of the headboard.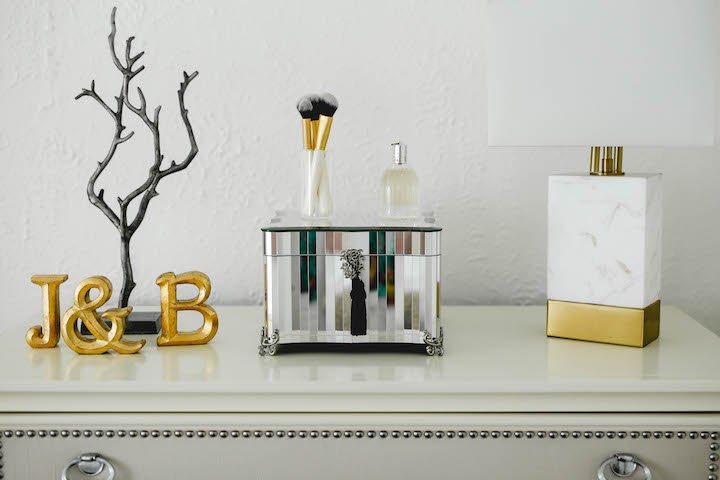 This gold and white marble table lamp from Lamps Plus is my everything!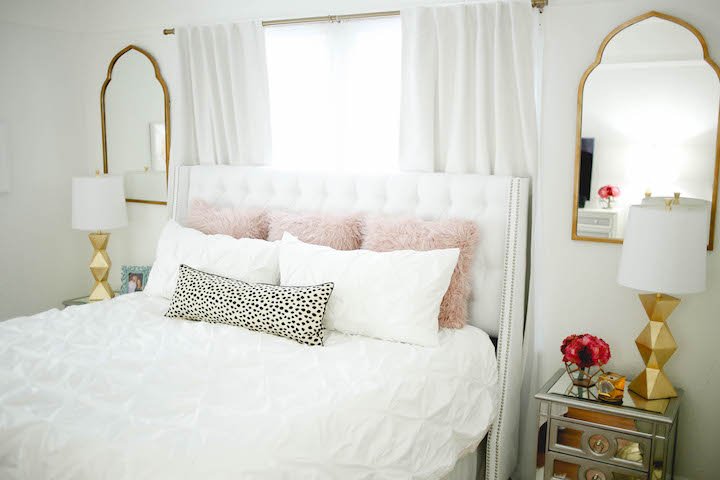 My white pintuck duvet cover and euro shams can be found at Crane & Canopy.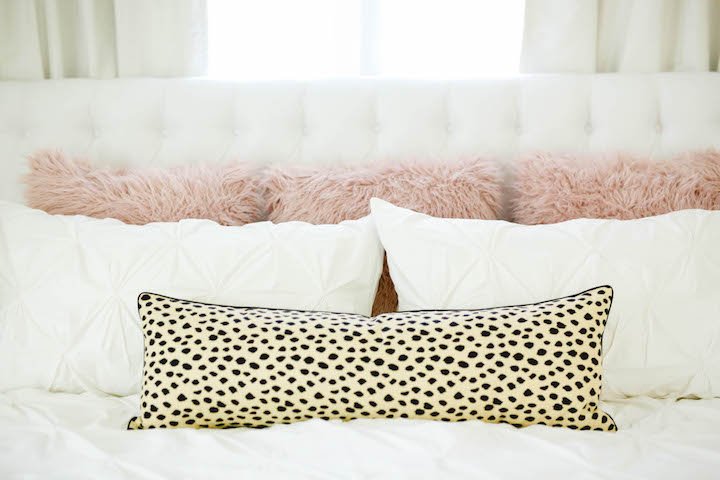 My Blush Faux Fur Throw Pillows are from Lulu & Georgia and 12 x 36 Duma Spots Lumbar Pillow Cover is from Willa Skye. I had to order the custom size pillow insert separately here—>United Pillow
As I mentioned before, these Arch Wall Mirrors are two of my favorite additions to the room along with these mirrored nightstands.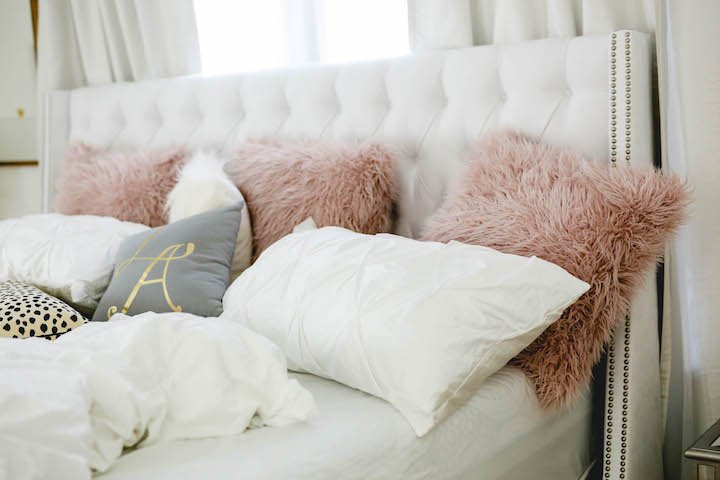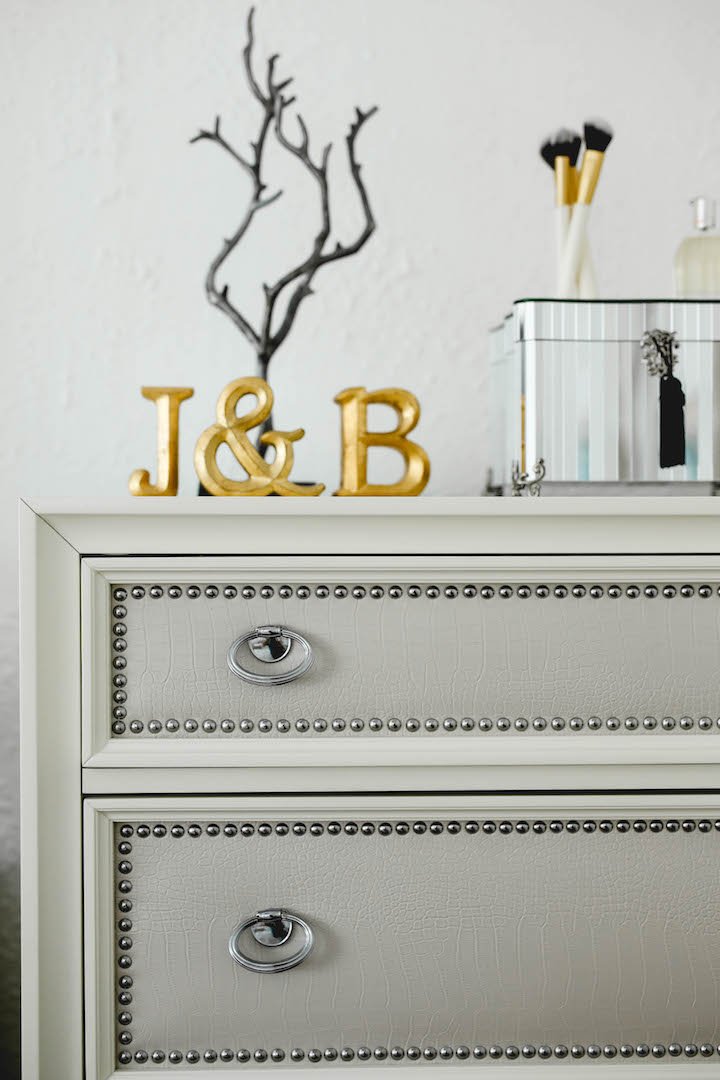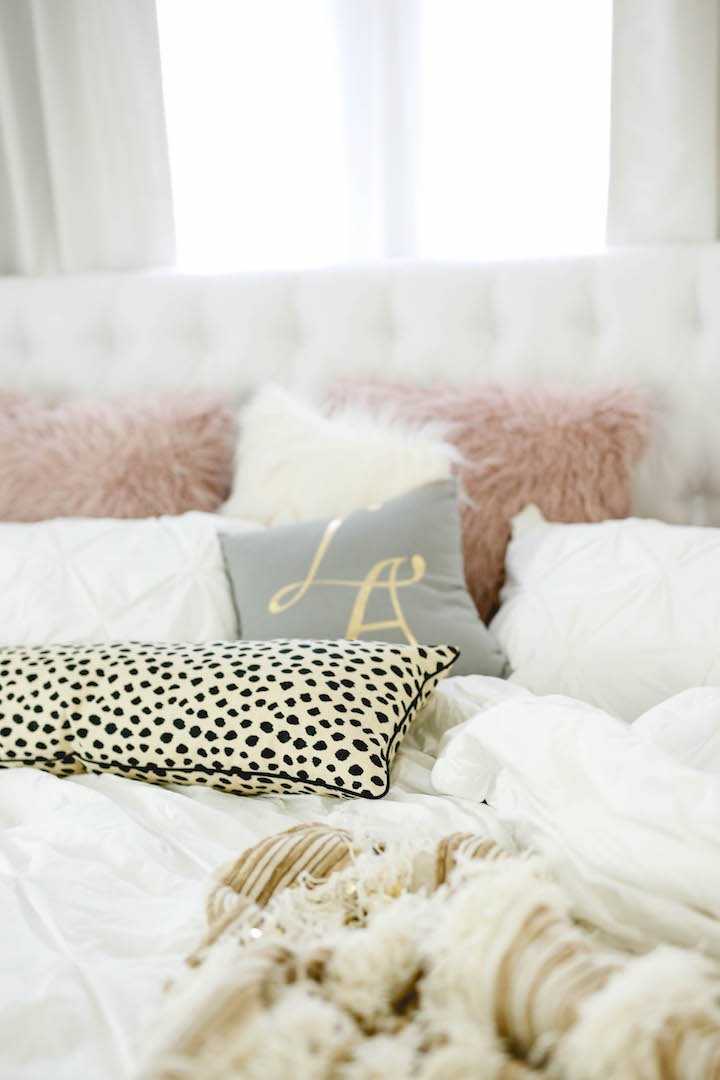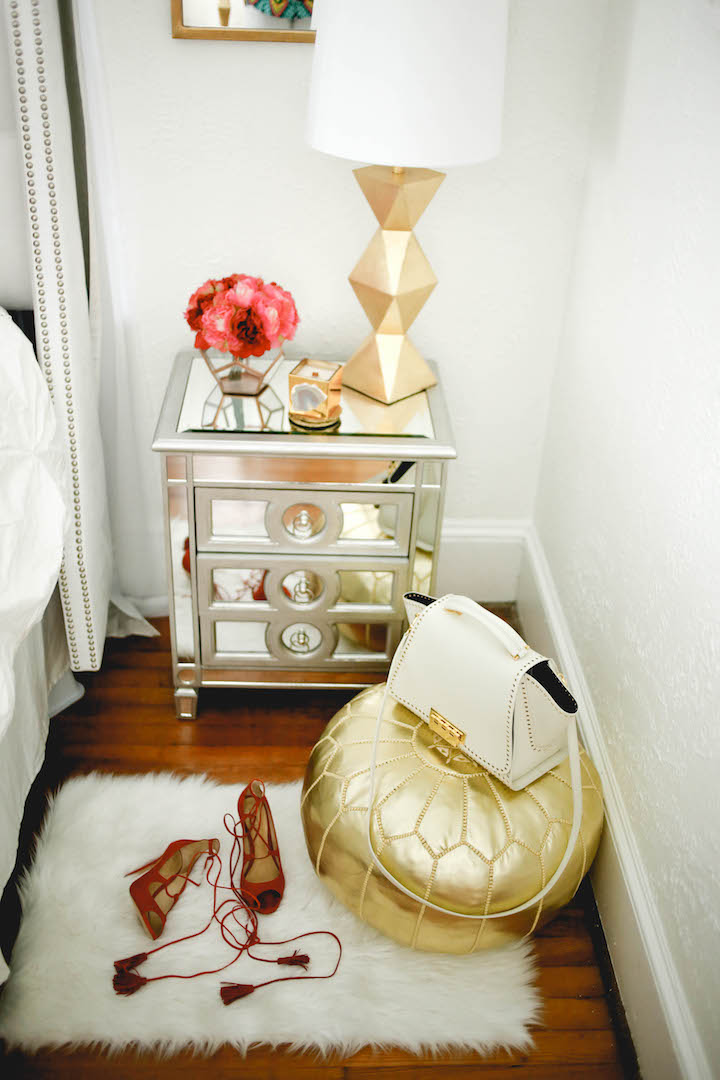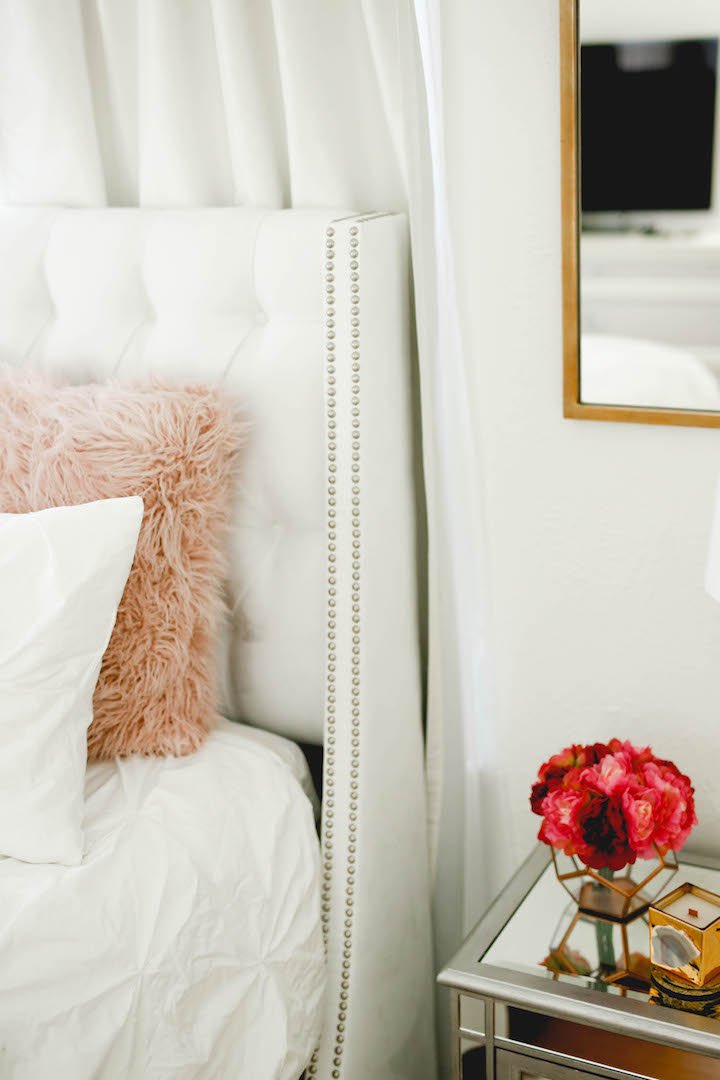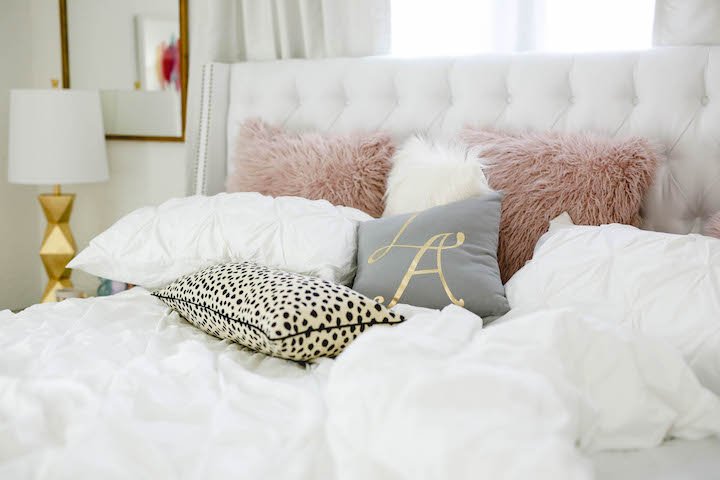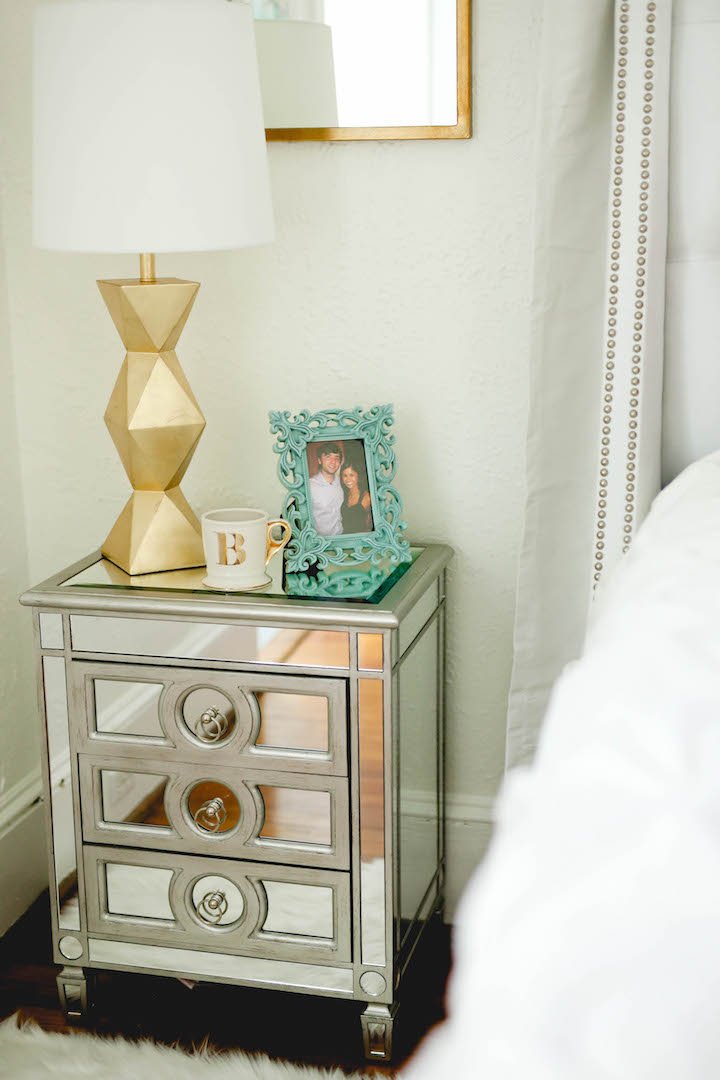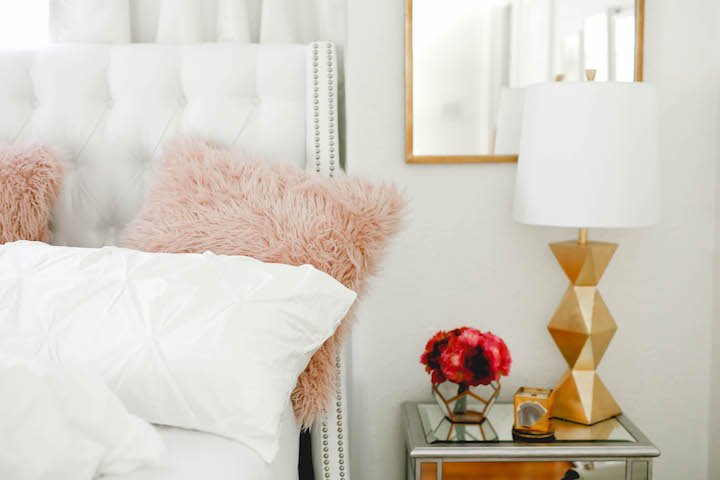 Photos by: Kaela Rodehorst Photography
| Shop My Bedroom |

Greenwich Curtain + Blackout Liner | Kenitra Arch Wall Mirror (also available here) | Mirrored 3 Drawer Accent Chest | Kenzo Moroccan Pouf | Blush Faux Fur Pillows | Micro Suede Kellerman Headboard | Diamond 5 Drawer Chest | Valencia Pintuck Duvet | Ripley Gold Table Lamps | Gold & White Marble Table Lamp | Gold Candle with Agate (available at Chateau en Mae) | White Sheepskin Rugs 
Your Questions Answered:
Who was your designer? Amy Fasnacht
How long did the entire process take? From start to finish including the Havenly online survey, shipping and assembling about three months.
Would you design another a room in your home with Havenly? Funny you ask! Now that I know how much easier the process is when working with Havenly, I don't know if I'll ever want to do it by myself again!
Did your boyfriend have any say in the design? He actually prefers not to be involved with any home decor decisions. As long as both our couch and mattress are comfortable, he doesn't want know anything about the rest, which works for me because then I'm allowed to bring home pink chairs and pillows! lol