Hey everyone, I recently lost track of what day it is since this crazy quarantine began, but I thought we could all use some pretty distractions today so I'm sharing all of my baby shower details. If you unfortunately had to cancel your baby shower due to the recent world crisis circumstances, my heart goes out to you and I hope you're able to reschedule and celebrate later. Your baby shower host could even throw you a "sip'n see" party once everything settles down and it's safe for the baby to be around friends and family. In case you aren't familiar with sip'n see parties, it's basically when you have the shower after the baby is born so everyone gets to see your new bundle of joy while showering you with gifts. Speaking of gifts, be sure to check out my top baby products here—> My Top Baby Registry Picks
Scroll through this post to see m whimsical gender neutral baby shower details!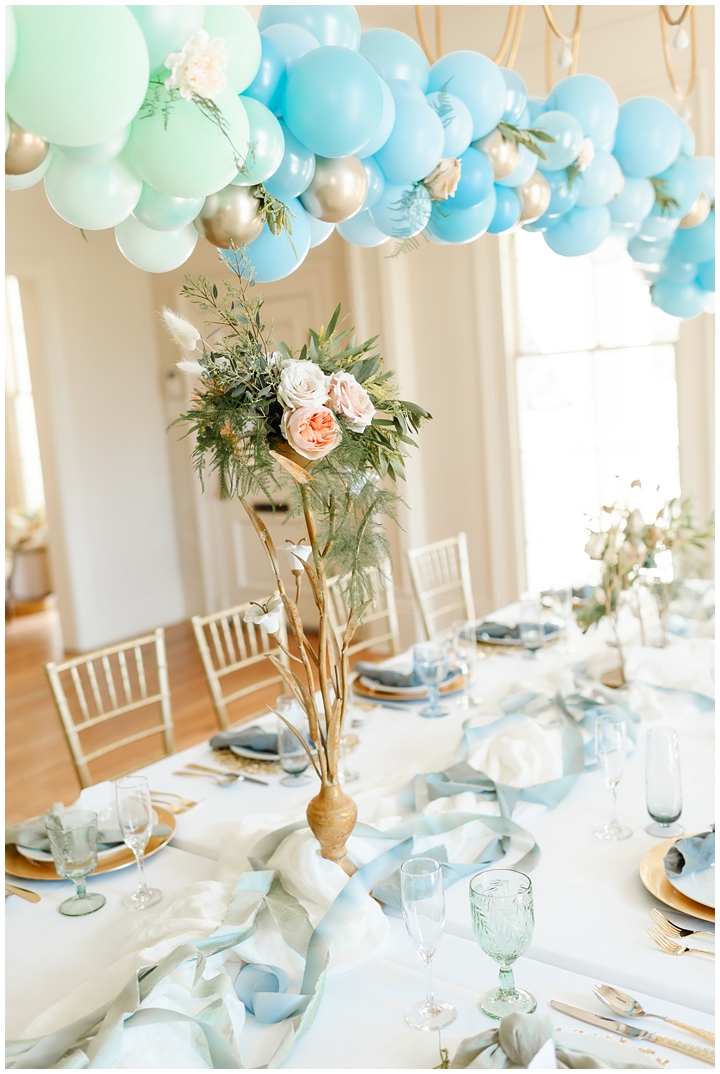 | Shop My Look |

My Outfit: Sequin & Tulle Maternity Dress (wearing sz 6 —comes in a few other colors) <—For size reference: Before pregnancy I wore size smalls and still usually order smalls now, but my bust has gone from a small 32B to a full 36C so that is why I sized up to the 6 | Nude Ankle Strap Heels | Avi Hoop Earrings In Rose Gold | Name Necklace | Amiya Cuff Bracelets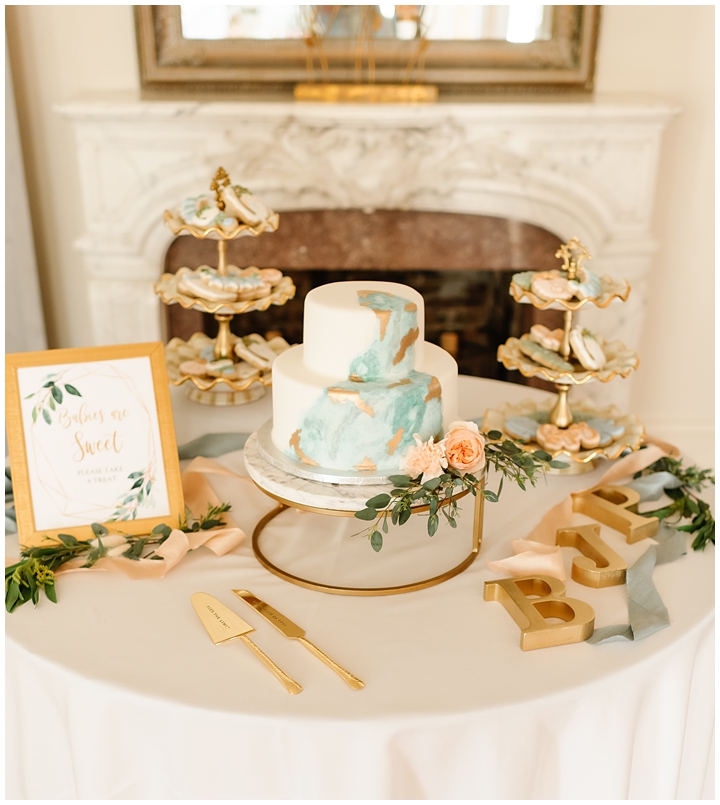 Cake Table Details: Gold and Marble Pedestal Stand | Three Tier Sweet Stand | Gold Frame found at dollar store & sign from Etsy | Wooden Block Letters (spray painted gold) from Hobby Lobby | Ribbon c/o Paper White Collections | Gold Cake Knife set (old from World Market)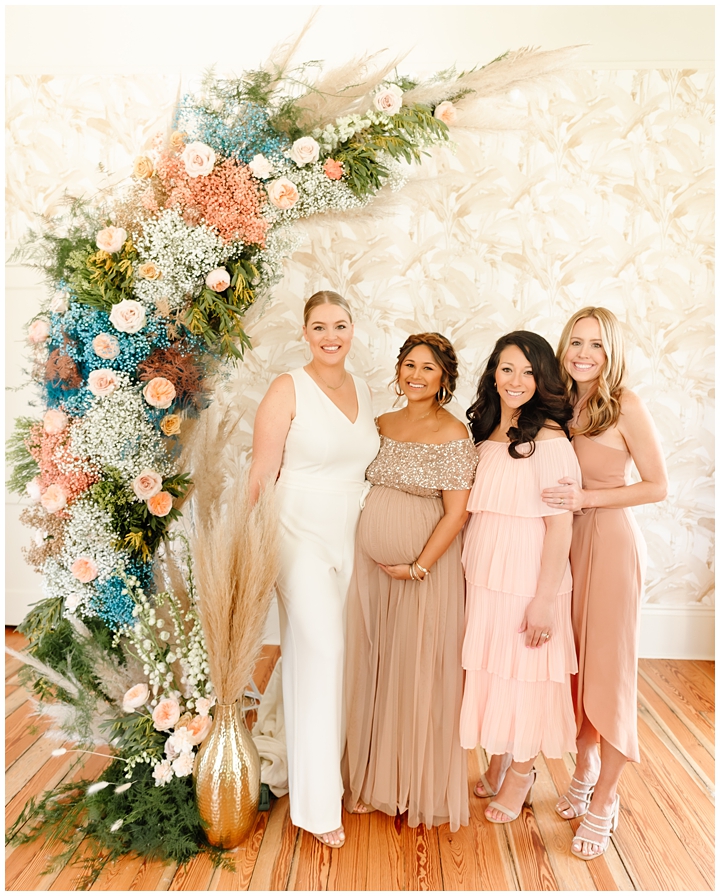 Another option is for your original host to reach out to all of the invited guests and let them know that she's decided it's best to throw you a virtual shower. In this case, everyone would have your presents sent directly to your home before the baby arrives so you can still get everything you need. Plus I know your friends and family still want you to feel special during this time especially with the given circumstances. If you want to take it a step further, you could even send little videos of yourself opening gifts to family members when you receive them in the mail.
If you're waiting until this whole Covid-19 mess dissipates, be sure to check out my tips for throwing baby showers here—> Top 5 Tips for Planning and Hosting a Baby Shower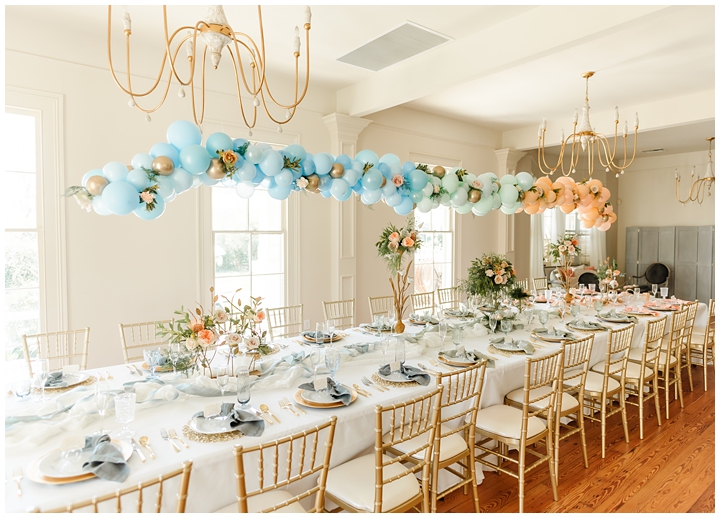 I found this rattan chair at World Market and have used used it at multiple other baby showers and parties too.
I almost feel guilty sharing all of my shower details with you at this time, but again I know you all enjoy pretty distractions from the real world so without further ado, here we go! My mom and mother-in-law threw me a family shower, in which I could have invited my friends to, but I decided to keep friends and family separate so I would have equal time to enjoy with the both them. With that being said, I decided to throw my "friend" baby shower myself and not because my friends weren't willing to host one for me, but because I love planning events and parties. So it was like a treat for me. I thrive on designing and planning plus I had the assistance of Paper White Collections who helped me come up with the most beautiful color scheme.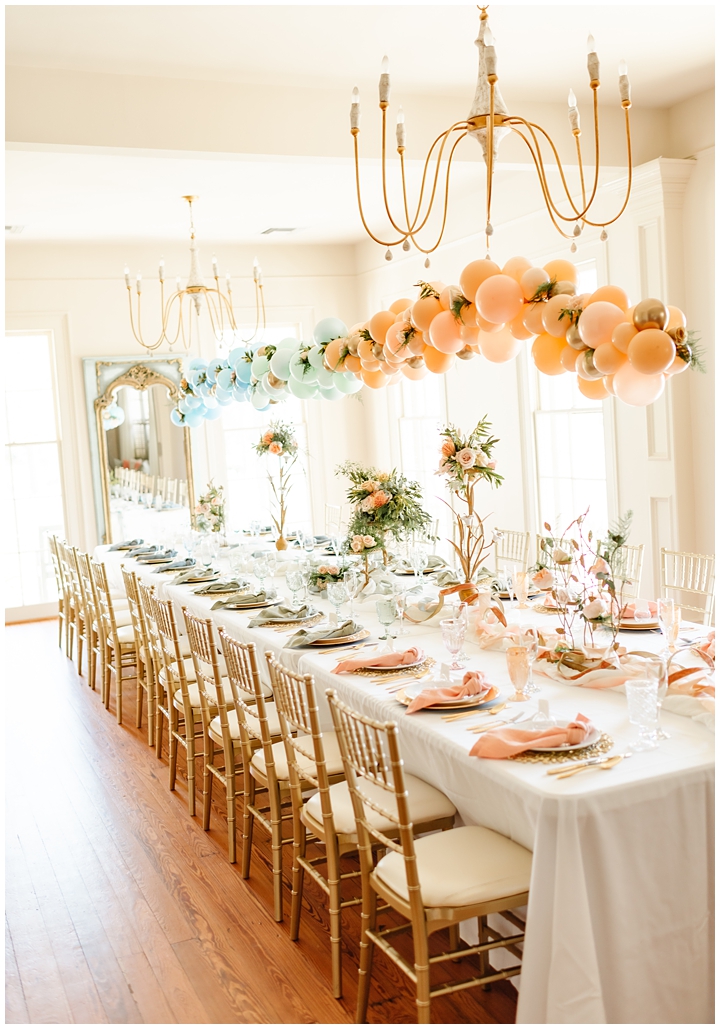 Before we came up with the color scheme we met to brainstorm ideas and since I had already booked the venue (Maison Lafitte) in the previous year, we knew exactly what kind of vibe we wanted: the perfect combo of glam and whimsical while still staying within that gender neutral bracket. Initially, we thought about doing a full-on rainbow theme, but then we decided to narrow it down to just a few colors and create a softer ombre look. I ended up choosing a beautiful boho invitation design from Minted with the colors: gold, blue, green and peach so we decided to use those as our base colors. The Paper White Collections team went to market with those colors in mind to find the perfect table settings and decor for the tablescape. They were also able to hand select the colors of all of the linens and ribbons that matches with my invitations.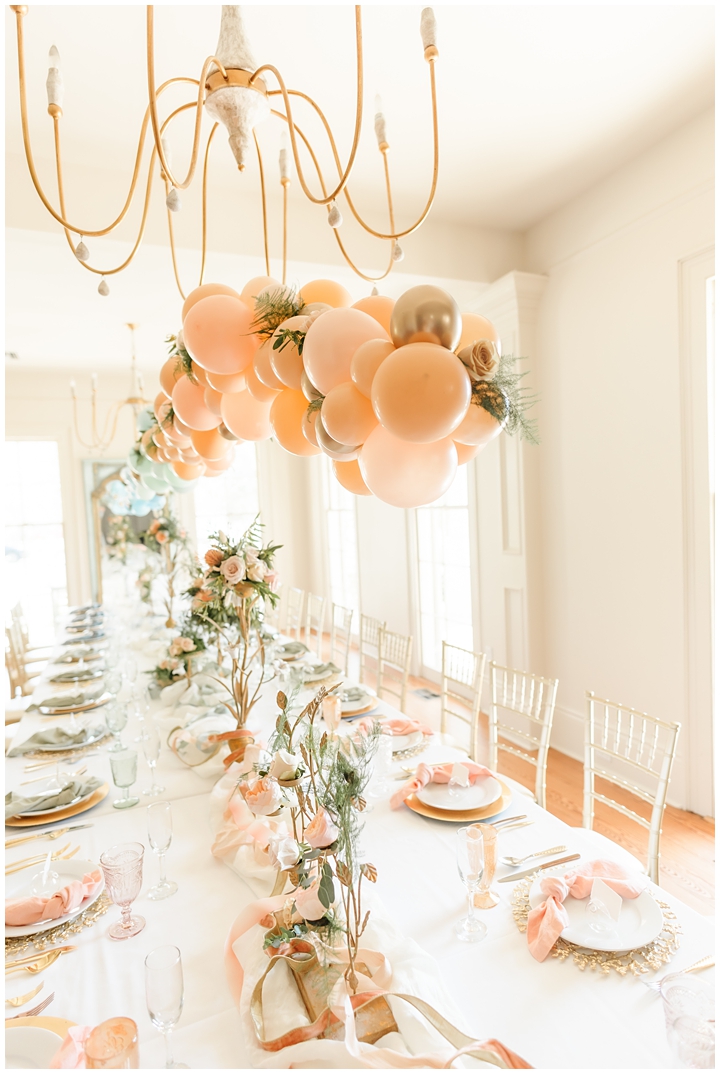 Tablescape c/o Paper White Collections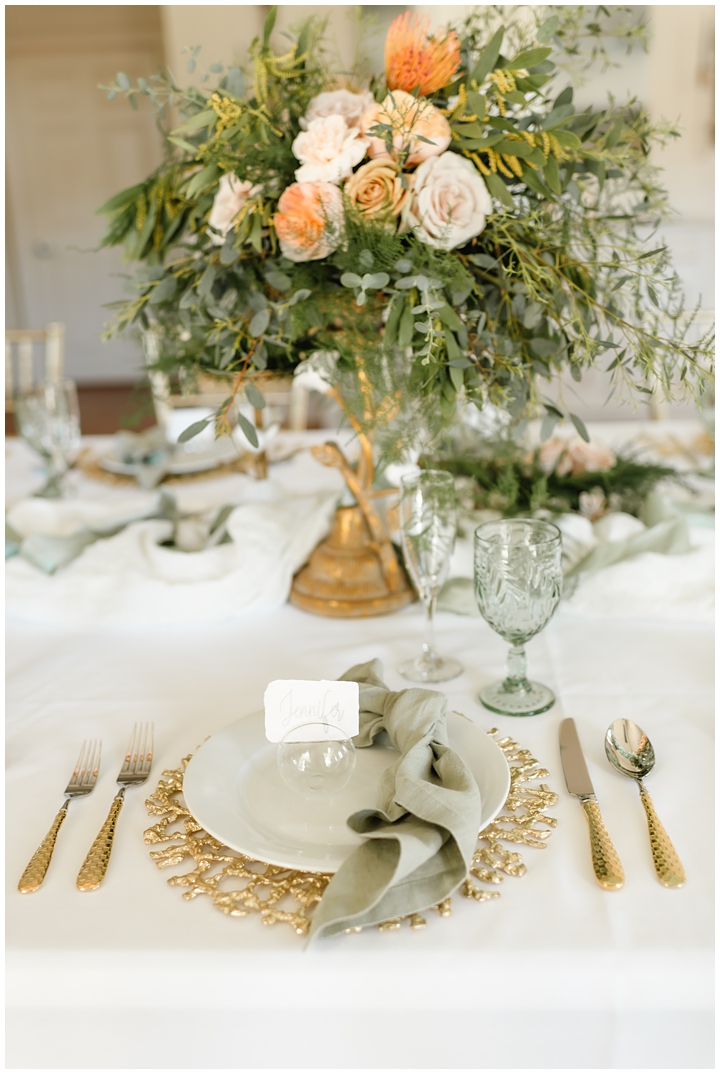 Then I reached out to Moonbeam Fleurs and Animated Art Balloon to discuss the two big balloon and floral installations. We sent a photo of the invitation as well as color swatches to both of them so everyone would be on same page. Usually when I work with Tabitha from Animated Art Balloon, we design a fun a balloon arch together, but this time we decided to do something we've never done before. Ashley from White Paper Collections had a floating balloon garland installation at her shower and I loved the idea so much that we decided to recreate it with my soft ombre color scheme.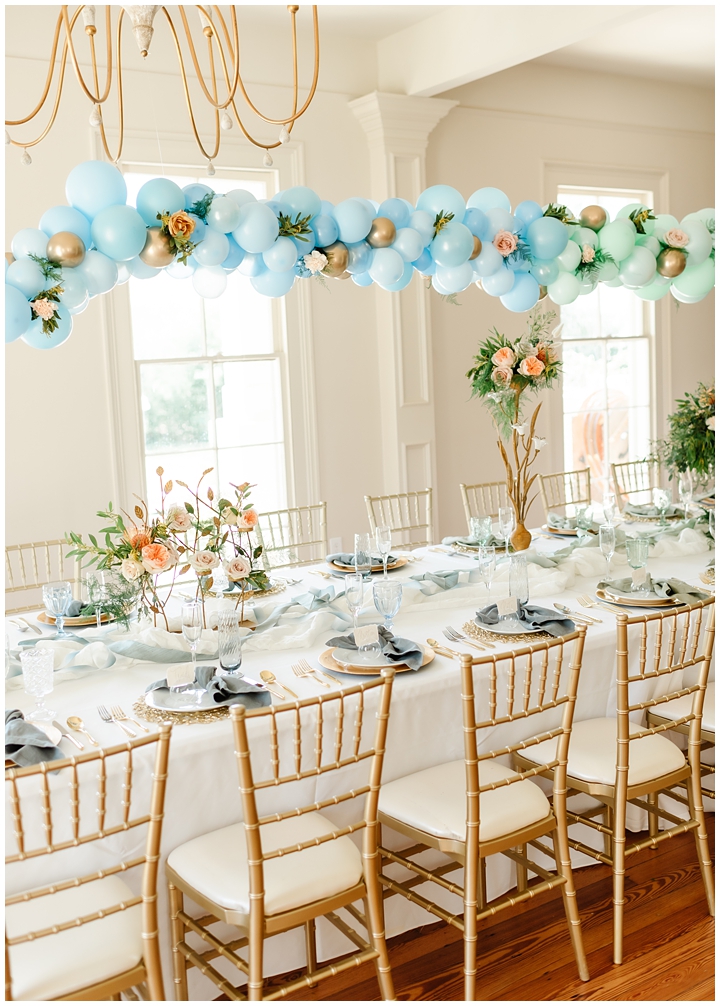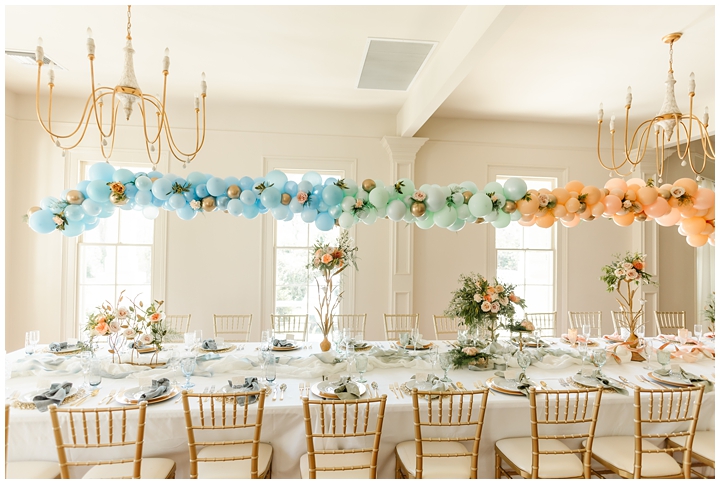 As for the crescent floral installation, I had saved a photo of one from a wedding that I saw on Instagram and Whitney from Moonbeam Fleurs was the perfect florist to recreate it. She also arranged all of the flowers on the dining table as well the flowers that were incorporated into the balloon garland. The floral crescent installation was really important to me because I always like to have a beautiful designated spot to take photos in front of and it worked wonderfully as you can see in the pictures below.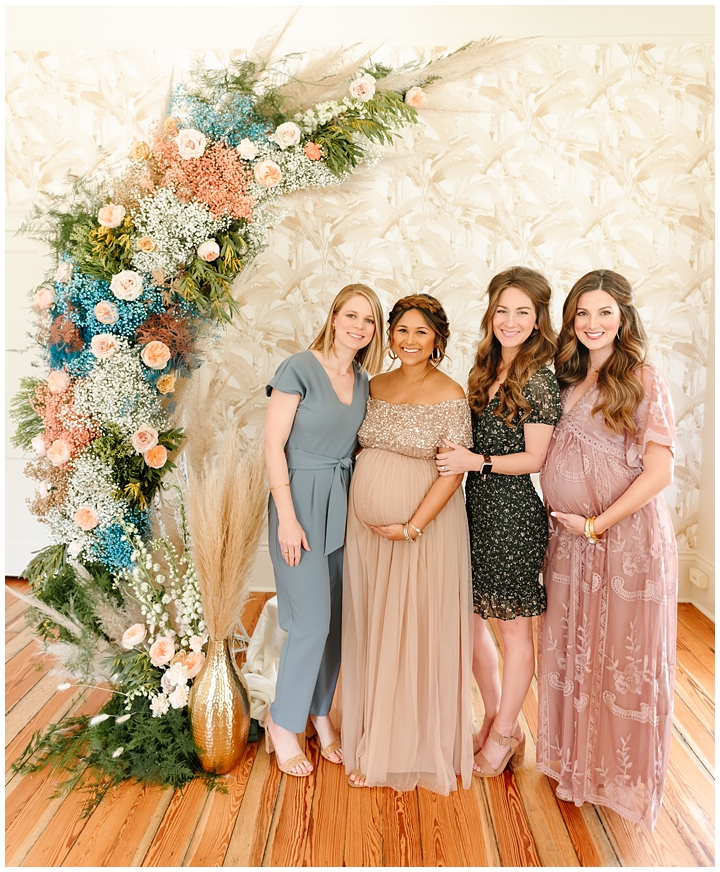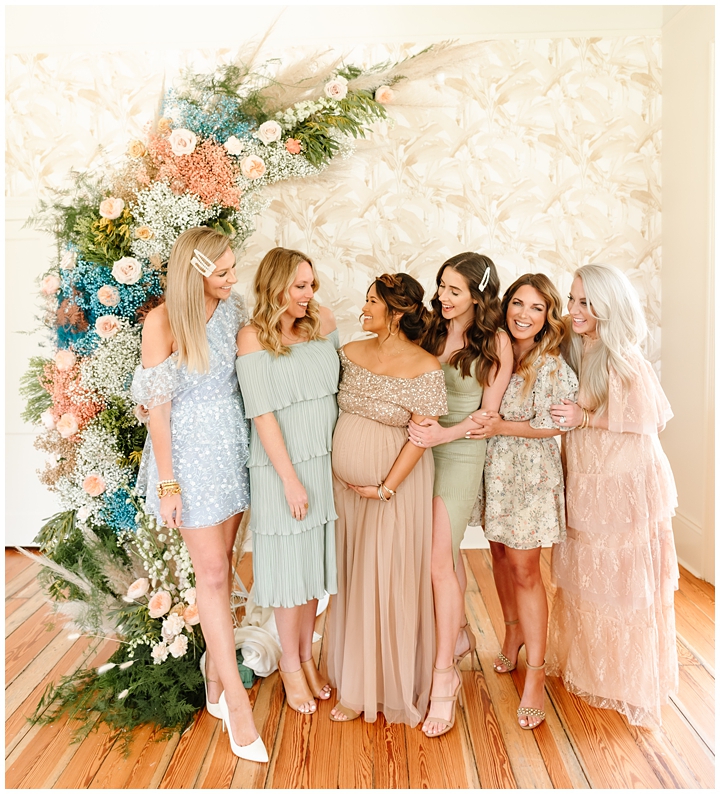 Signs and Welcome Decor: I found all of my signs on Etsy and printed them at local printing shop. I framed them using gold frames from the dollar store and Hobby Lobby that I keep in a decor box in my garage.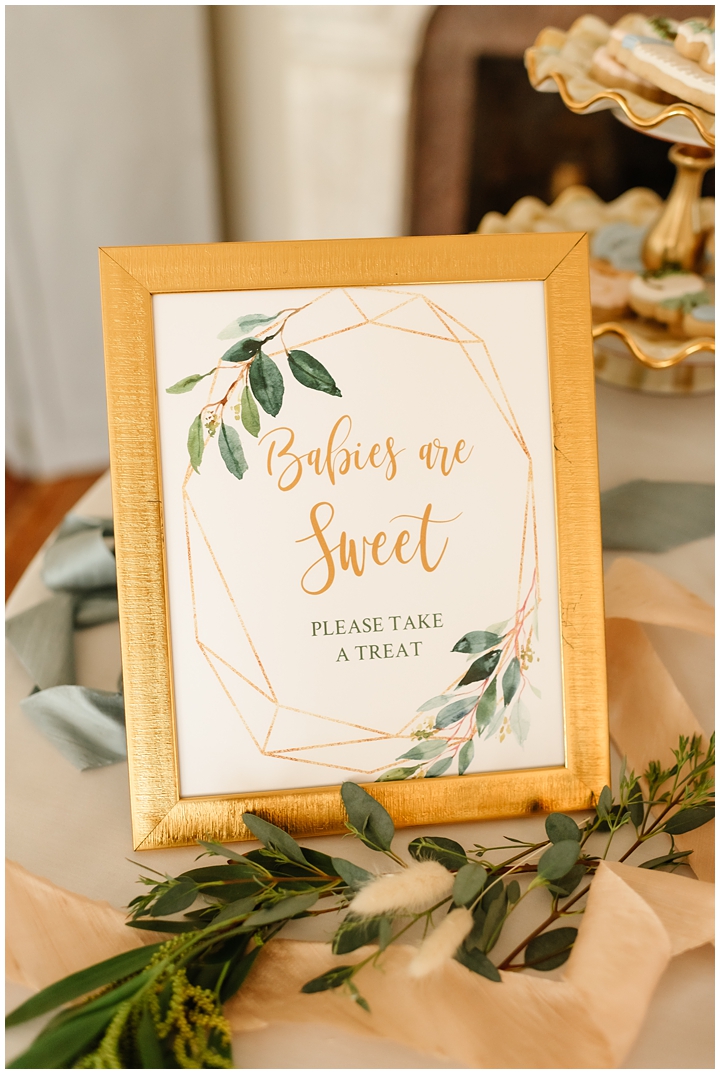 Glo Event Decor installed these drapes for me at the entrance of Maison Lafitte, which also worked as a great spot for photos in the afternoon once the sun moved over.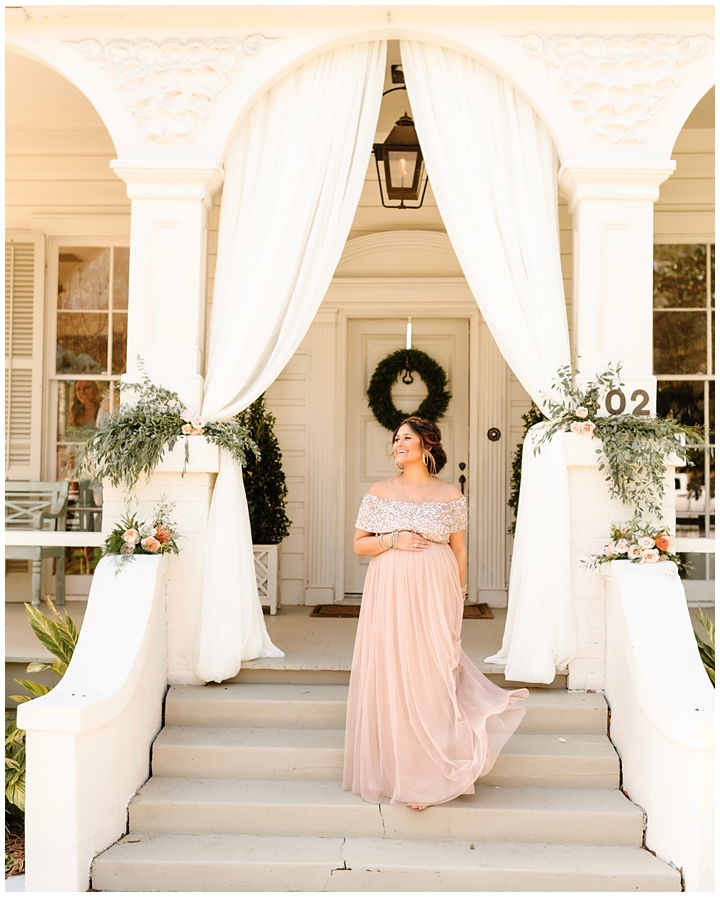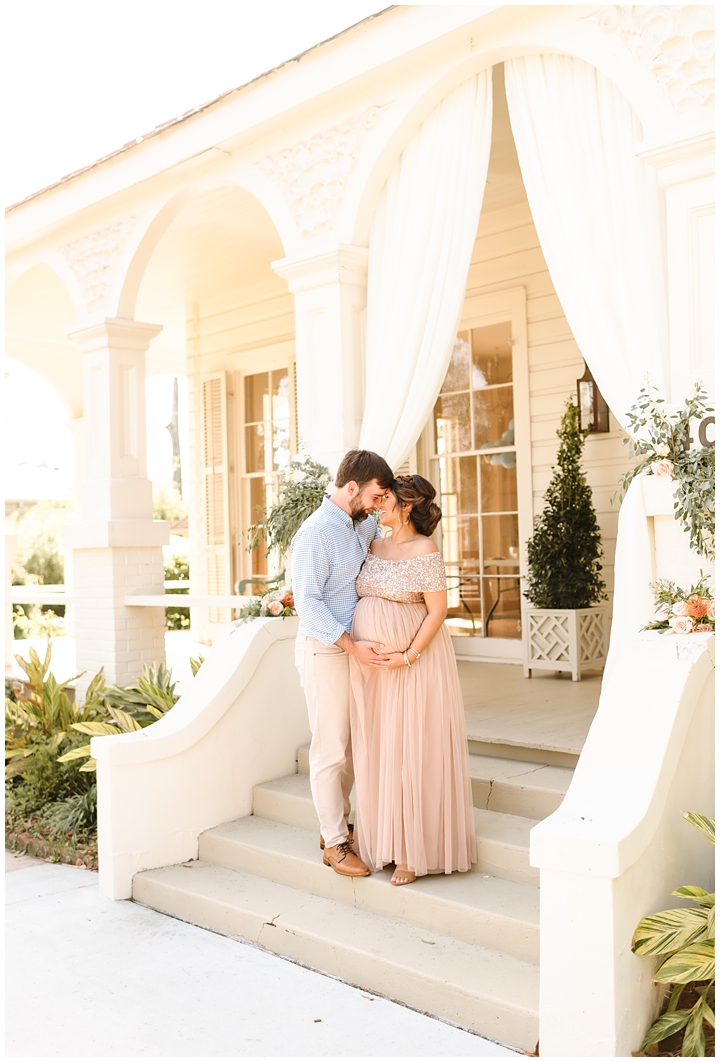 Food: Fortunately, I didn't have to think much about food because Maison Lafitte offers catering. I decided to go with a seated lunch menu as well as some passed appetizers, cheeseboards and bottomless mimosas.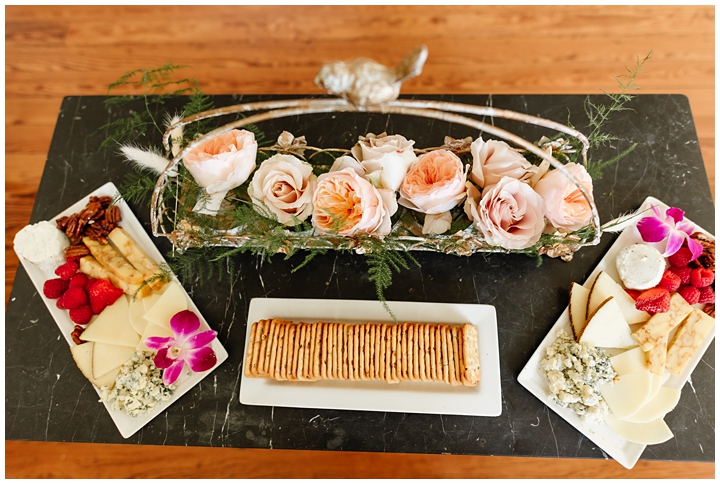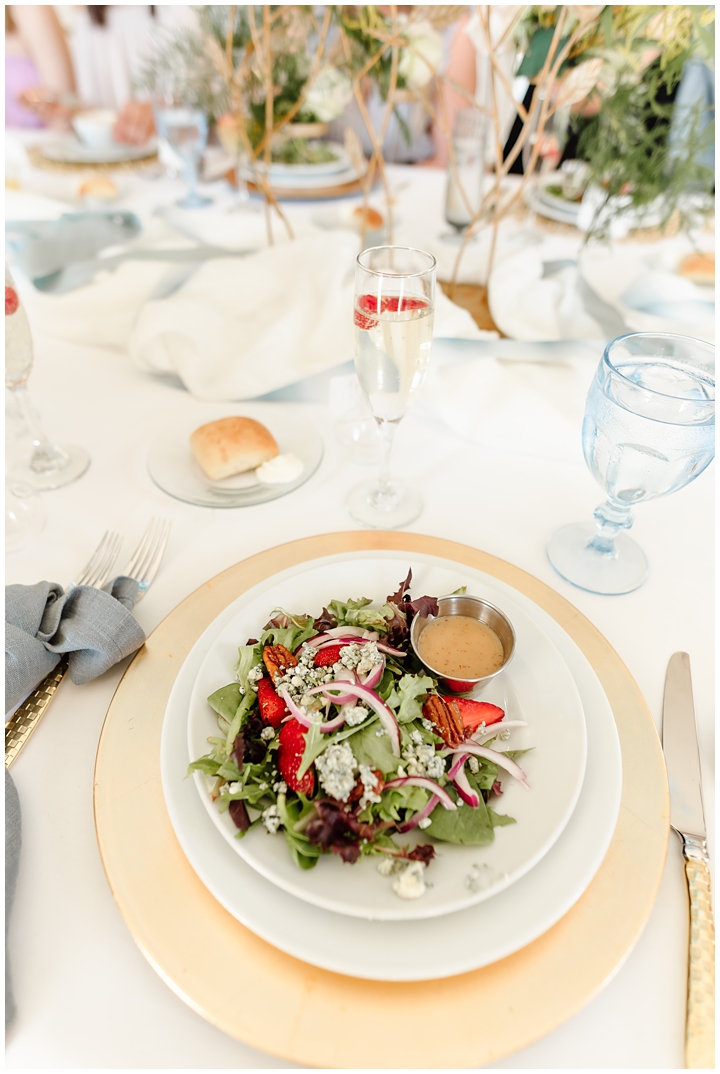 Cake & Cookies: My cake design was supposed to look a little different as it was supposed to look like a blue agate stone, but it still tasted delicious. The cookie designs turned out absolutely beautiful. I made sure to send her a photo of the invitation so she could create cookies using the same colors and she even made a cookie looked exactly like the invitation designs.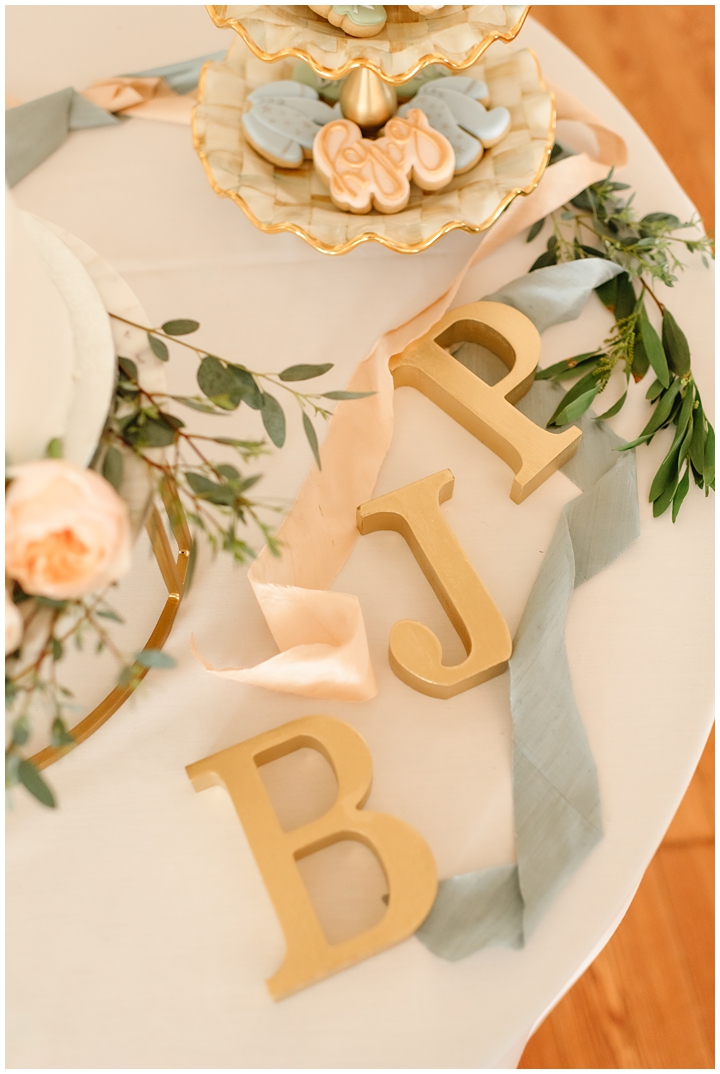 I found these wooden block block letters at Hobby Lobby and spray painted them gold. I do this for every shower I host so they can be used in the baby's room as decor.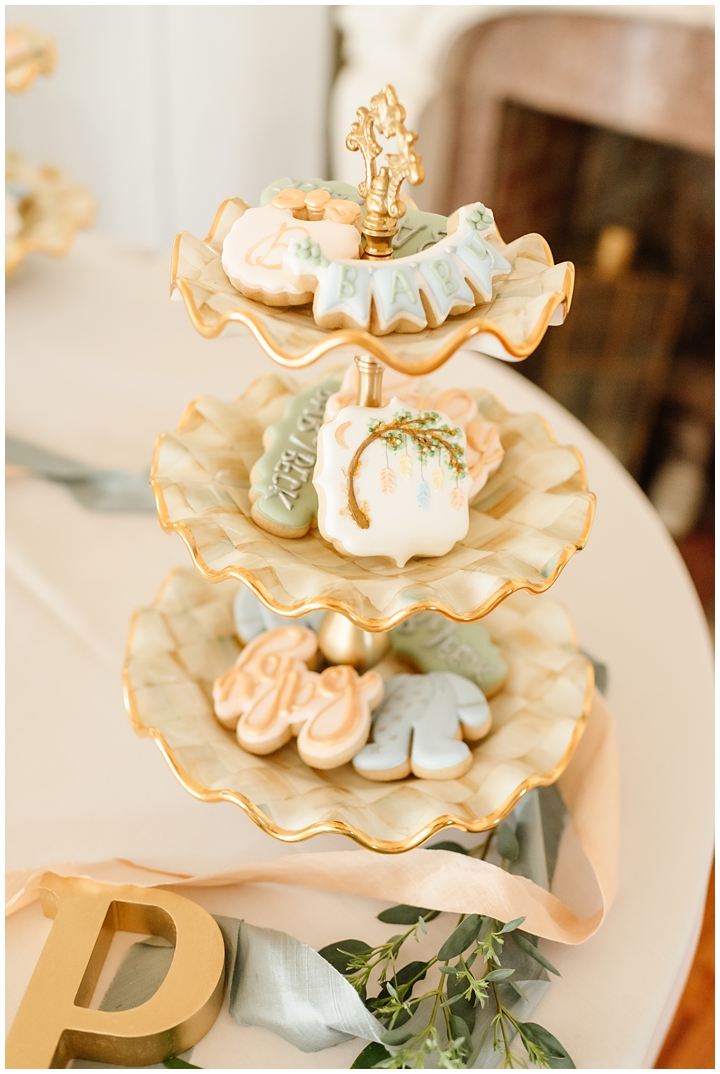 Not only do decorative cookies make great desserts and table decor, but they're also perfect to use as shower favors too.
Diaper Raffle, Favors & Guest Book: I've been working with GiGi New York for 8+ years now and we have designed three different handbags together as well as a special wedding collection when I got married. So they of course wanted to be a part of this life milestone too by providing me with a Teddy Tote to give away during my shower for the diaper raffle, leather embossed pens as the favors and personalized leather children's book to use the guest book. I feel so fortunate that I was gifted those items because of our relationship, but I understand that may not be within everyone's budget. So if there's one you thing you can do, I highly recommend purchasing one of their personalized leather children's books to use as the guest book because it's a special keepsake that the child can keep forever with sweet notes from their friends and family.
For the diaper raffle, we mentioned on the back of the invitation for guests to bring a pack of diapers any size for a chance to win a special prize. This obviously was NOT required of guests, but most of them participated knowing there was prize involved. At my family shower, we had guests bring books with hand written notes inside of them instead to bringing cards.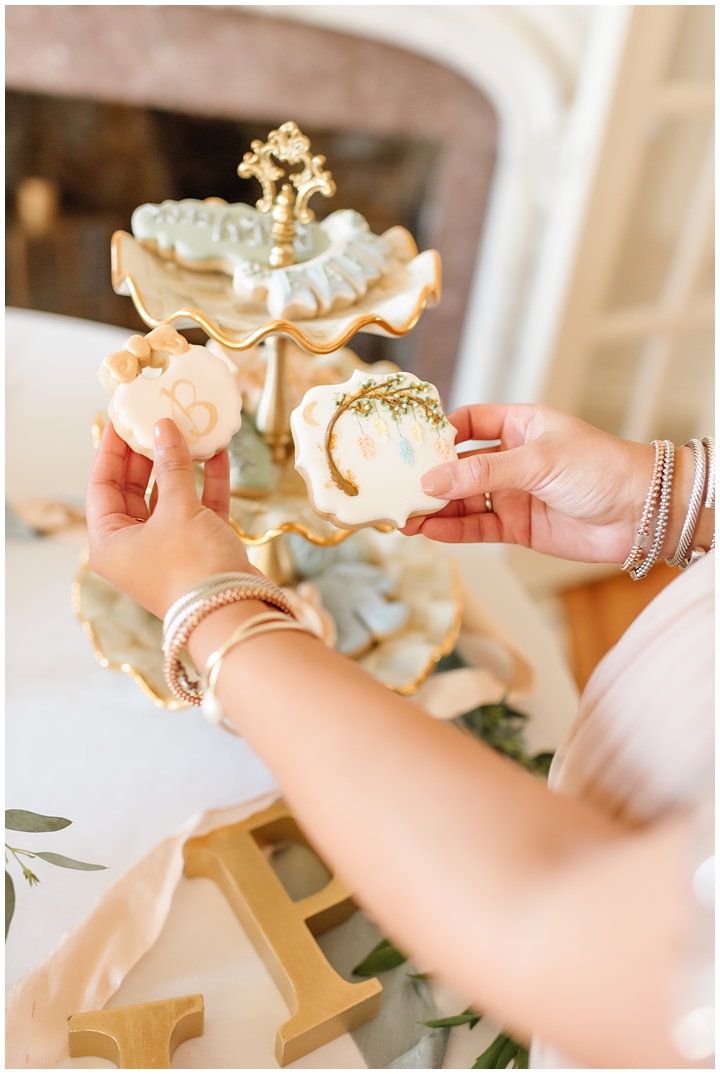 At the end of the shower, I put all of the decorative cookies right next to the favors by the entrance so guests wouldn't forget to take one home.
Gifts: I decided to do an open gift concept where we put the the gifts on display using a small rolling rack for clothes and baskets with ribbon to make the diapers and baby products looks decent. I did this at my friend shower because friends our age usually don't have any desire to sit there and watch you open presents for a whole hour. Also, I don't know about you, but I hate opening gifts in front of people. How did we keep track who the gift came from you ask? My friend wrote down the names and items as people walked in and handed the the gifts so it was very easy to do.
All of the baskets are available at At Home Stores and the clothing rack you can find here—> Children's White & Gold Rack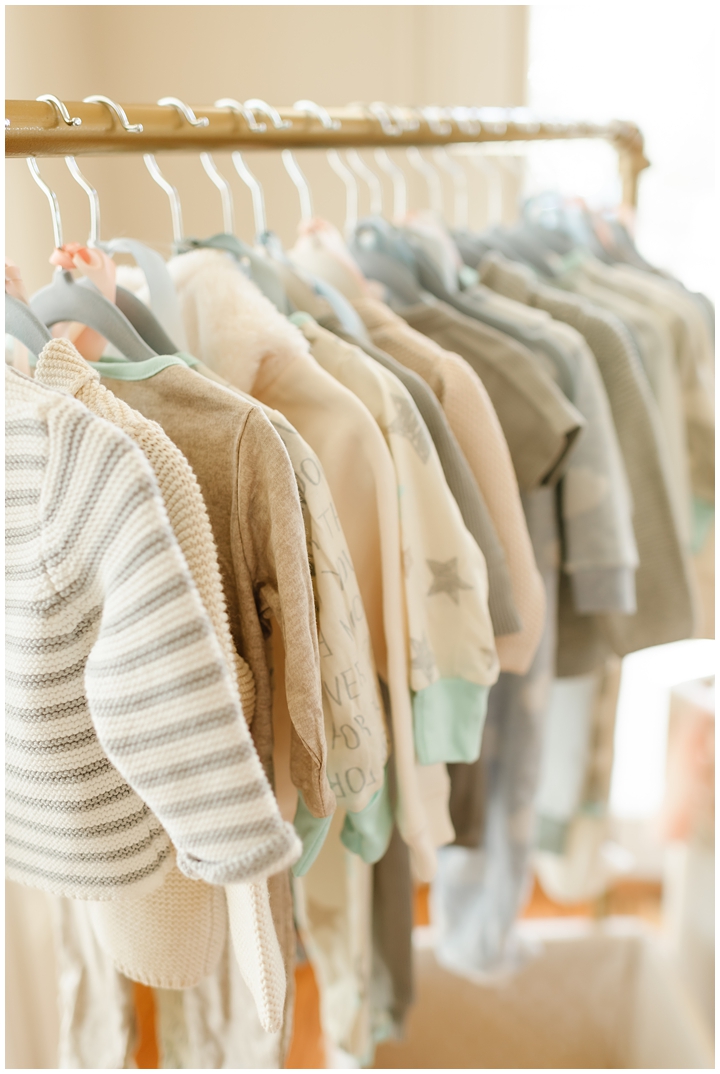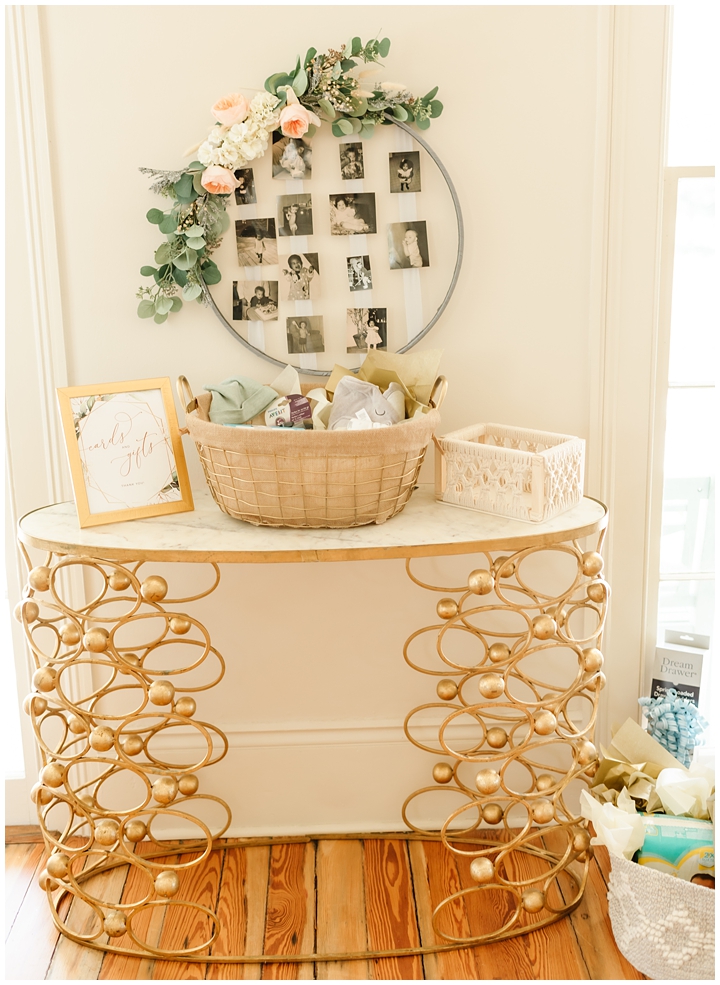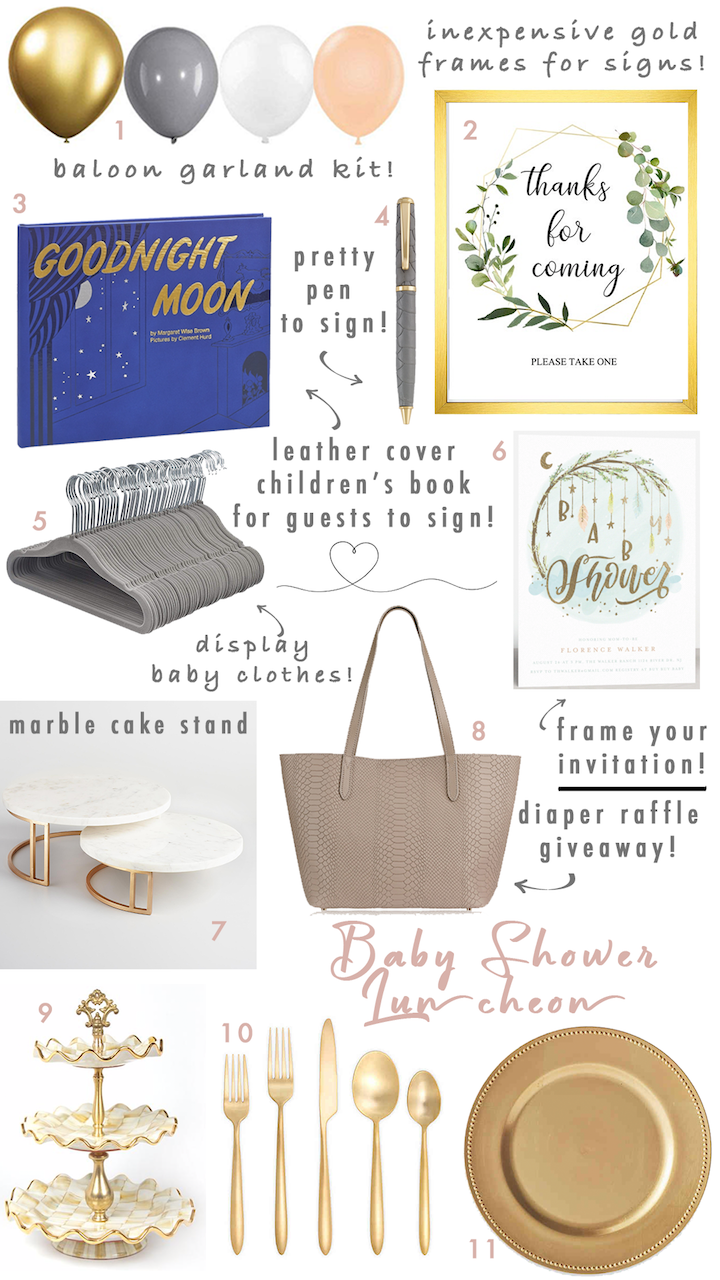 | Shop My Baby Shower |
1. Party Balloons 100 Pcs | 2. 8×10 Metal Picture Frame | 3. Goodnight Moon Personalized Leather Book | 4. Pen Full Wrap | 5. Kids Velvet Hangers | 6. "Whimsical Mobile" Baby Shower Invitations | 7. Gold and Marble Pedestal Stand | 8. Teddie Tote | 9. Three Tier Sweet Stand | 10. Flatware with Gold Finish | 11. Beaded Charger Plates in Gold (Set of 6)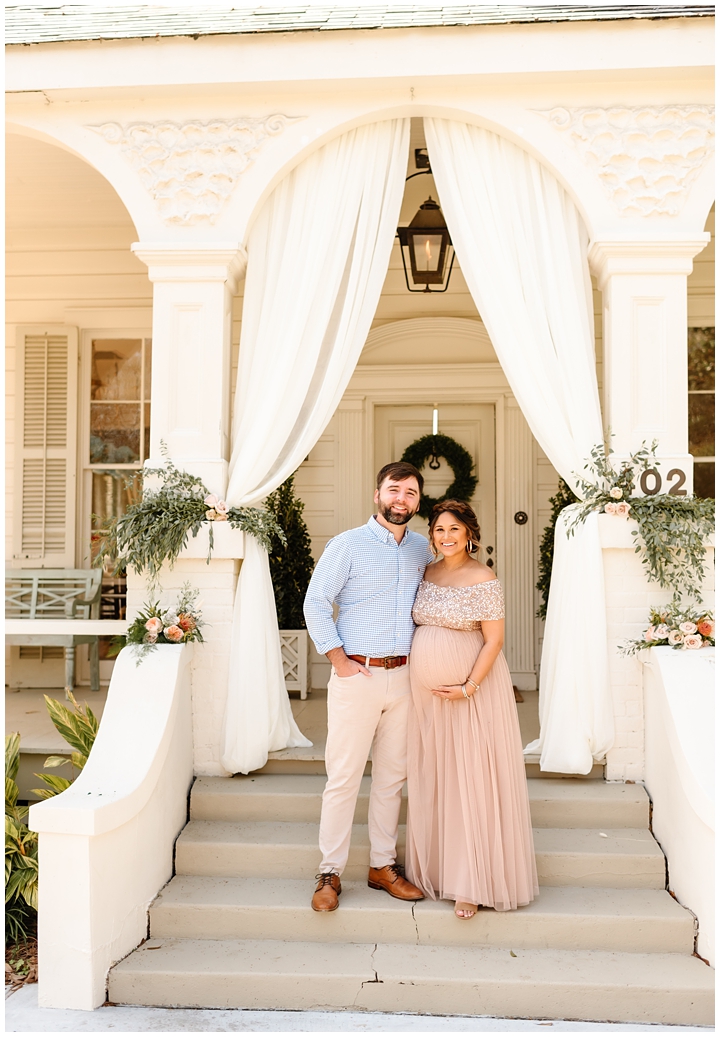 Thank you all so much for reading this post. I hope it serves as some inspiration for upcoming showers or parties that you're hosting this spring and summer. Blake and I can't wait to welcome Baby P into the world and we appreciate you following along with the journey!
Vendors:
Tablescape: @paperwhitecollections
Balloons: @animatedartballoon
Florals: @moonbeamfleurs
Venue: @maison_lafitte
Invitations: Minted
Decorative Cookies: @iwantamyscookies
Hairstyle: Courtney Graham
Cake: Zoe's Bakery in Covington, LA
Favors & guest book: GiGi New York
Photographer: @aperture_photos_co