Happy Friday friends! Mardi Gras might be cancelled this year, but there are still so many fun ways to celebrate at home like hosting a mini baby parade in the yard or throwing a king cake tasting party with a few friends. Scroll through today's blog post for 5 Fun Ways to Still Celebrate Mardi Gras in 2021.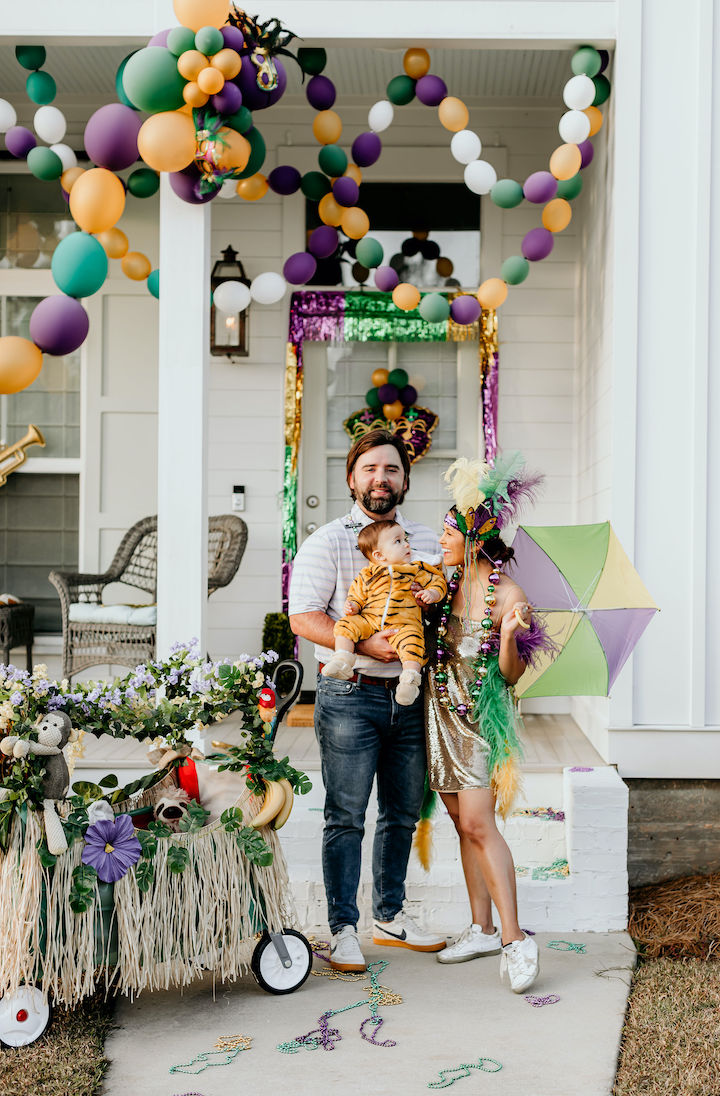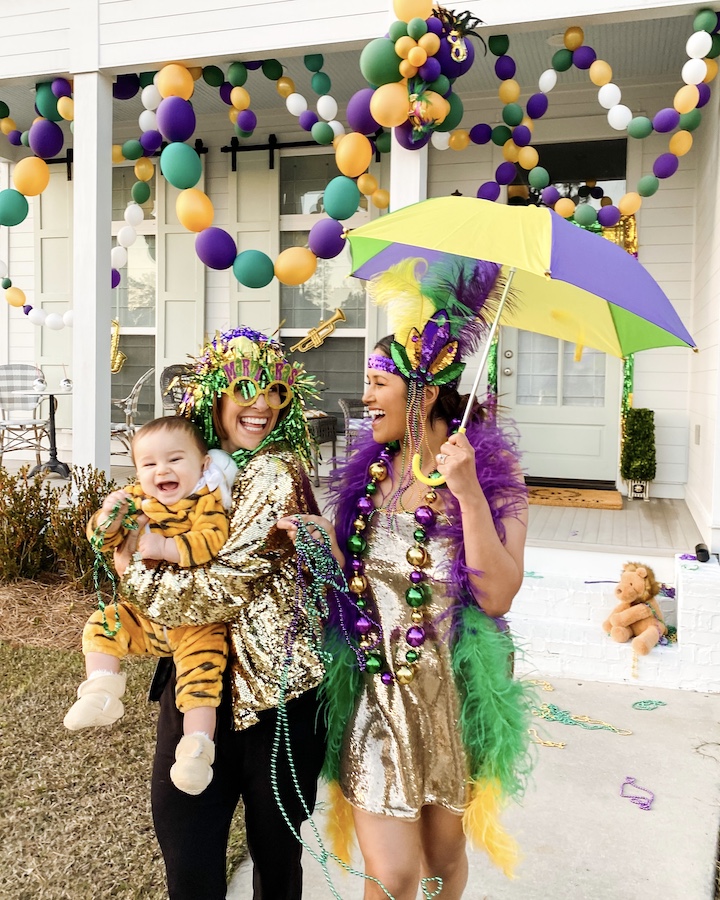 5 Fun Ways to Still Celebrate Mardi Gras in 2021
Host a mini Mardi Gras parade! If you have kids, decorate a wagon and transform it into a mini Mardi Gras float. Get together with a small group friends and host a little baby/kid parade in the front yard with recycled beads from previous years.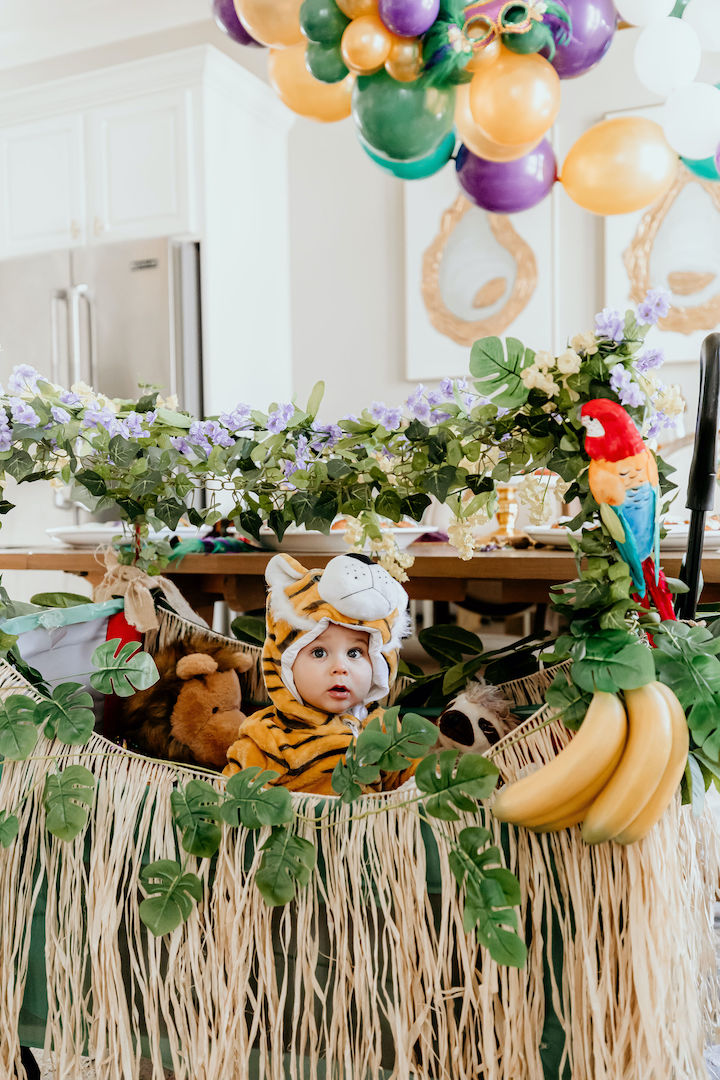 Beck's Mardi Gras float theme: New Orleans Audubon Zoo | I found all of these arts & crafts items at Hobby Lobby to put together his float. This is the exact we used–> Radio Flyer 3-In-1 EZ Folding, Outdoor Collapsible Wagon for Kids & Cargo & Beck's Costume–> Baby Tiger Costume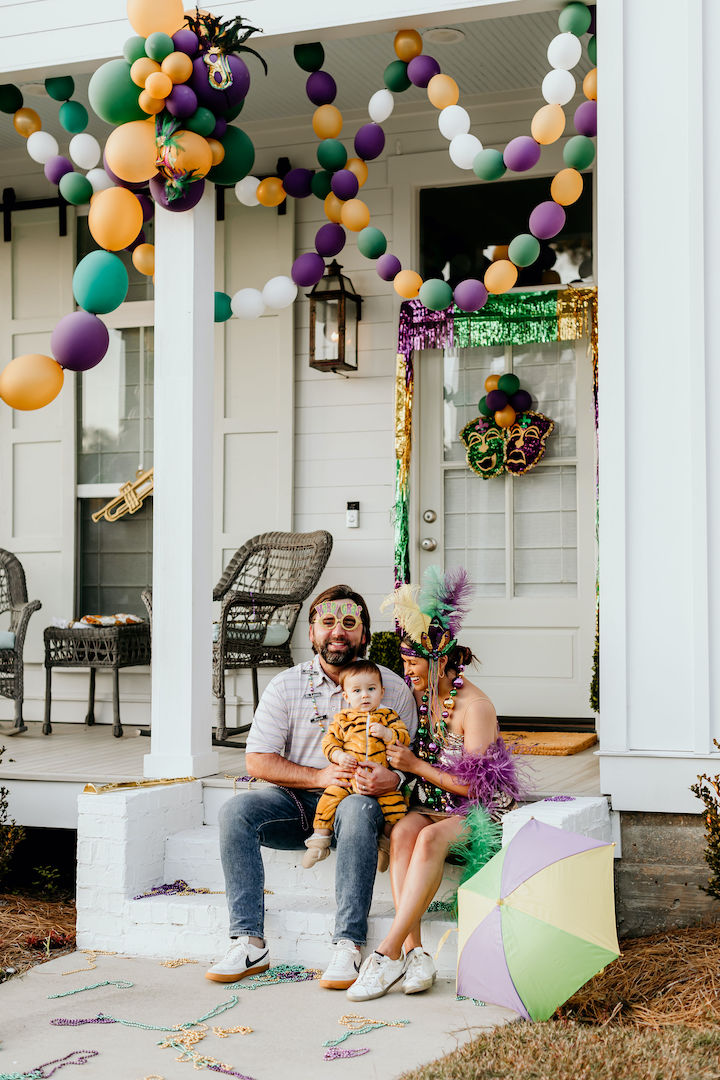 2. Celebrate Yardi Gras! Pick a fun a theme and decorate your front porch like a Mardi Gras Float or just add some purple, green and gold decorations like I did. Don't have time to decorate your own house? Check out this map of all the intricately decorated homes in New Orleans to drive around and check out yourself–> Mardi Gras House Float Map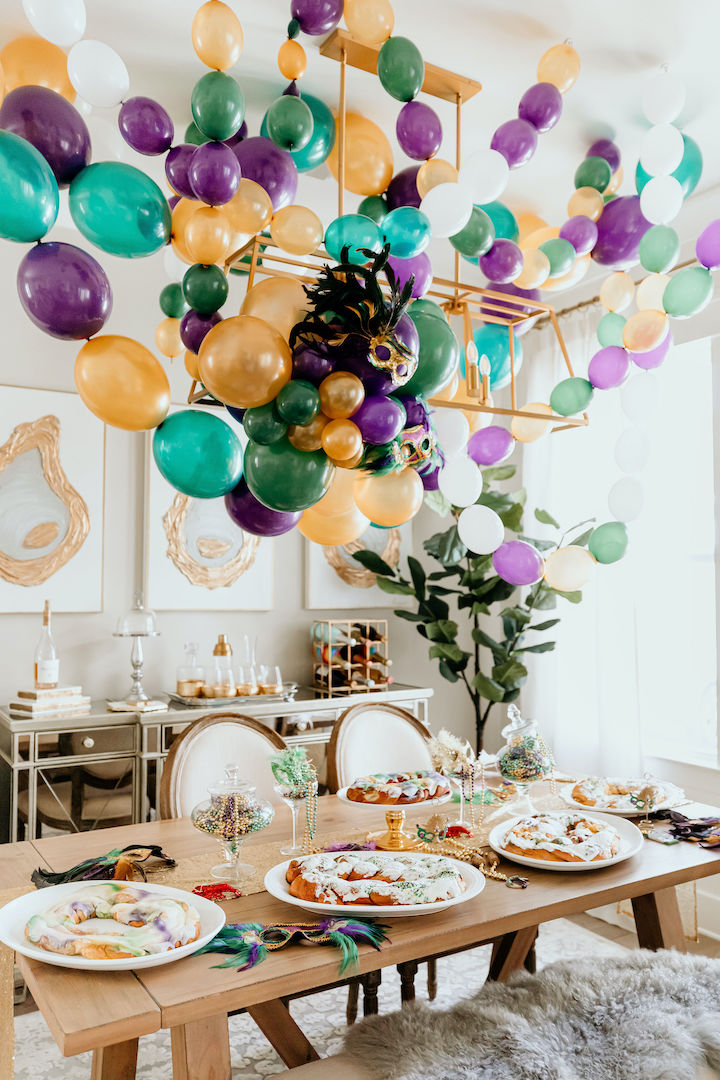 3. Cook your favorite Louisiana recipes! Make a big pot of jambalaya, red beans or gumbo or you can even boil crawfish if you're up for it! Don't feel like cooking, but still want that Louisiana flavor? Pick up some Popeyes fried chicken and a King Cake and call it a day! LOL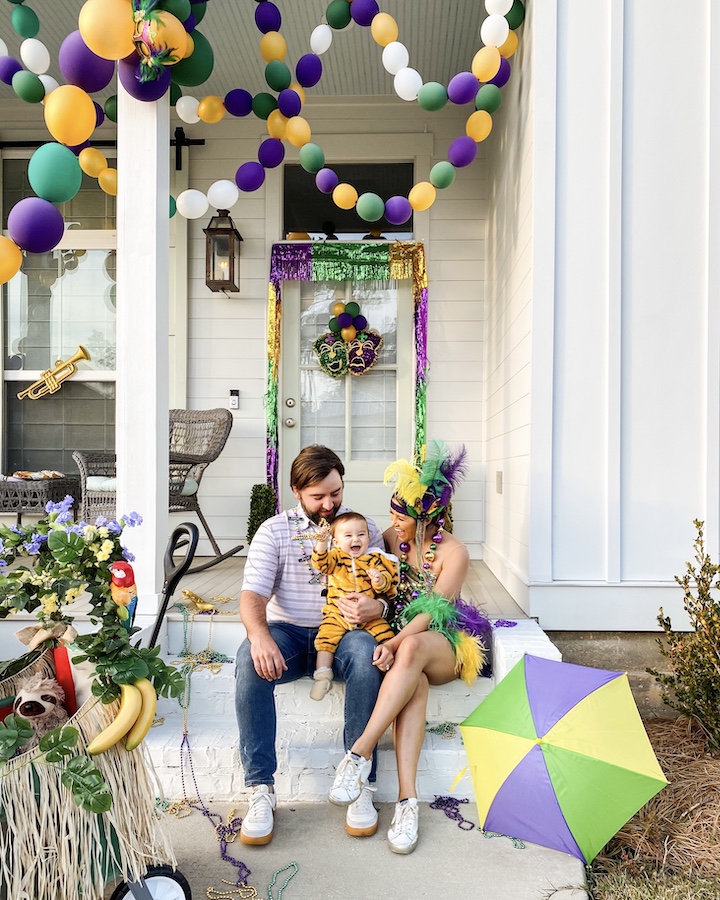 4. Throw a King Cake Tasting Party! Create a king cake sign up list and invite a few friends to bring over their favorite king cake and have everyone vote on the "best overall" and the "most unique." You can even list out a word bank and have everyone try to guess where each king cake is from. I did this with my friends and we had so much fun! I discreetly transferred all of the king cakes onto separate platters as each guest arrived and labeled all of the cakes with a number. Then I cut small slices of every cake for the exact amount of guests and placed toothpicks with numbered flags in them so each guest could vote on their favorite. Some of my favorite king cakes include: Cream Cheese King Cake from Manny Randazzo's in New Orleans, Pecan Praline King Cake from Haydel's in New Orleans, Plain King Cake from Dong Phuong in New Orleans, Pecan Cream Cheese King Cake from Keller's Bakery in Lafayette, Plain King Cake from Meche's Donut Shop in Lafayette. There are so many other amazing King Cakes out there, but those are just some of my personal faves.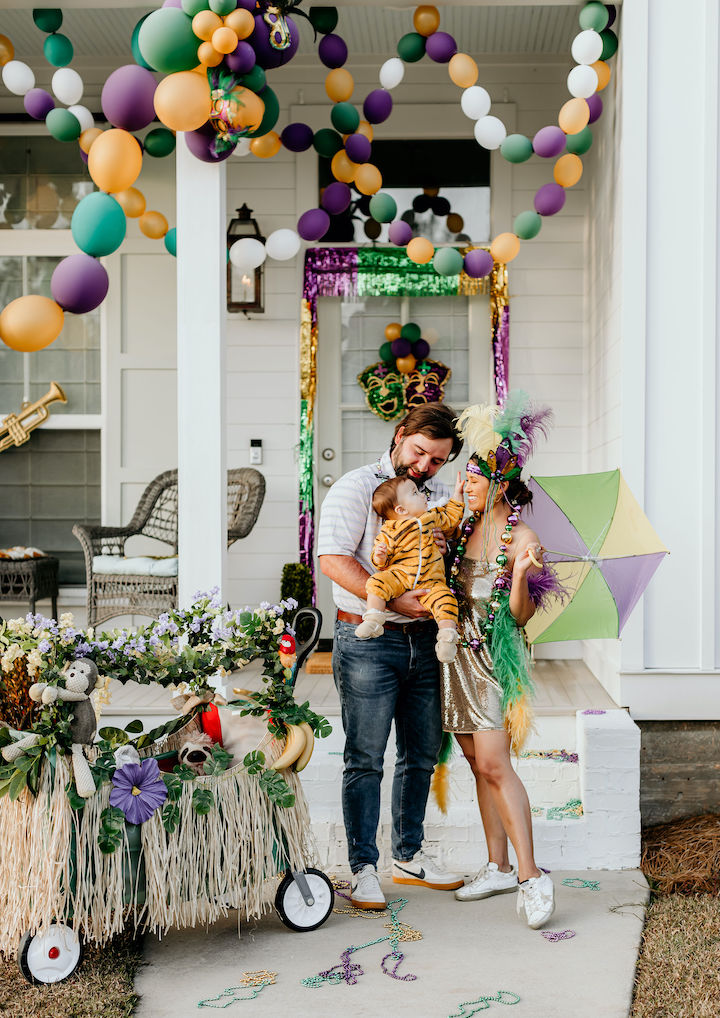 5. Make your own version of King Cake! This recipe from Southern Living is amazing–> King Cake Monkey Bread | I made a similar recipe last year that I shared on my IG stories and this year I made one that tops last year's king cake bubble up. See the photos below!
Ingredients:
3 cans Pillsbury cinnamon rolls grands
1 (8 oz) package cream cheese, softened
2/3 cup sugar
2 eggs
1 teaspoon vanilla extract
1 cup evaporated milk
Garnish: purple, yellow, green sanding sugar
Directions:
Step 1
Preheat oven to 350 degrees. Spray a tube pan with cooking spray.
Step 2
Separate cinnamon rolls, saving icing to use later. Cut each cinnamon roll into four pieces. Place cinnamon roll pieces in tube pan.
Step 3
Beat together cream cheese and sugar. Add eggs, vanilla, and milk. Mix until combined. Pour cream cheese mixture over cinnamon rolls.
Step 4
Bake for 45 to 50 minutes. After baking, let pan cool 10 minutes.
Step 5
Turn baked monkey bread out on plate and ice with cinnamon roll icing. Decorate with purple, yellow, and green sanding sugar.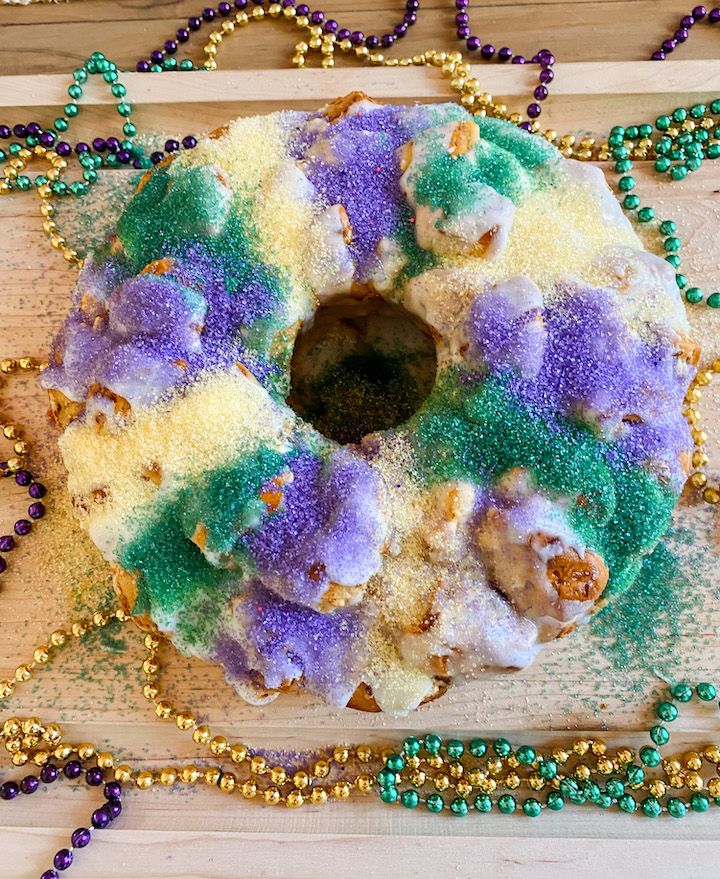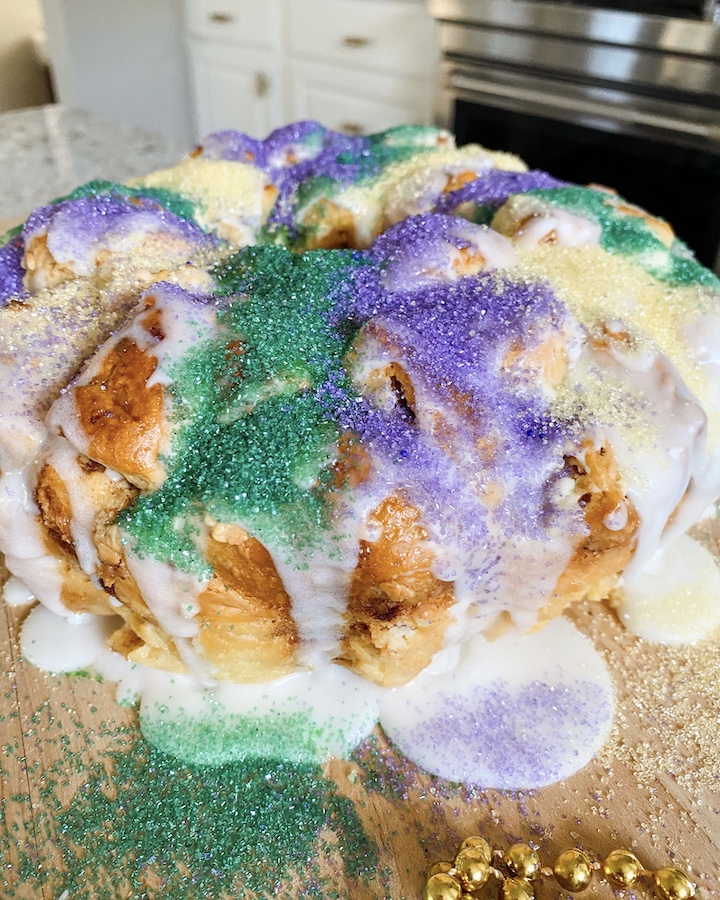 This homemade king cake was so easy to make and tastes just as delicious as it looks!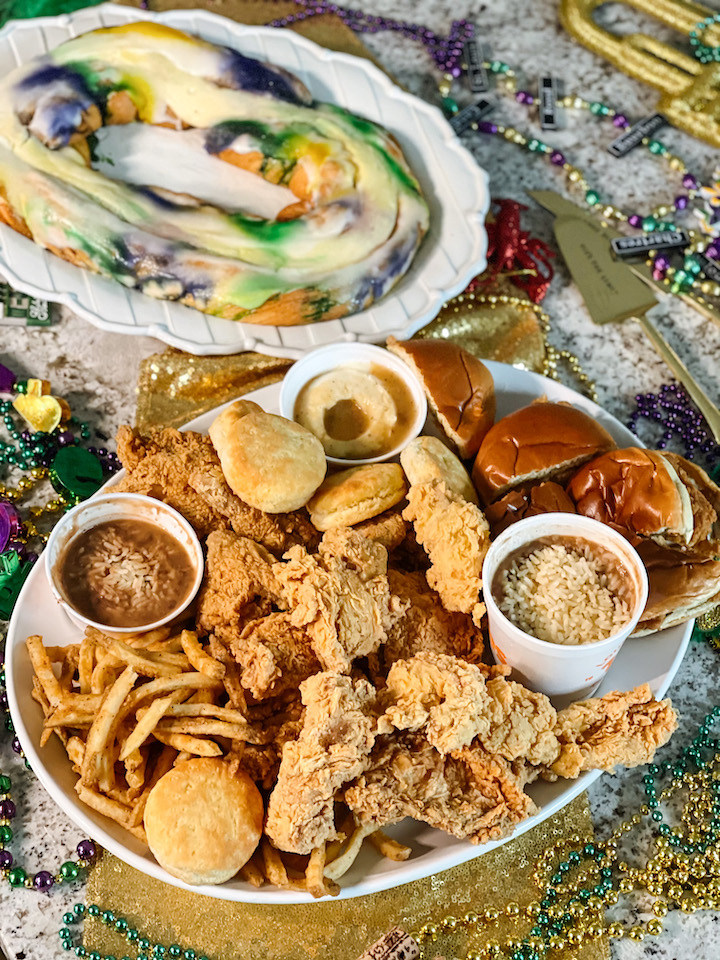 Bonus: You can't have Mardi Gras Day without Bloody Mary cocktails and Popeyes fried chicken! I ordered all of my Popeyes faves and set them out on a nice platter for a mouthwatering display of food.
#HauteOffTheRails Bloody Mary Recipe:
Ingredients:
Ice cubes
Worcestershire sauce
lemon for freshly squeezed lemon juice
lime
hot sauce (Crystal or Louisiana hot sauce works great!)
salt & pepper
Zing Zang Bloody Mary mix
vodka (you can use Absolute pepper vodka for more spice!)
Garnishes:
Celery sticks
Olives
Pickled okra
Lime slice
Lemon slice
Popeyes french fries
Popeyes chicken tenders
Shrimp Cocktail
Directions:
First, scoop ice into a tall glass. Next, add a splash of Worcestershire sauce & hot sauce followed by a heavy pour of Zing Zang (be sure to shake well before using!) Then squeeze in lemon & lime juice! Add a pinch of salt and pepper and pour in a shot (or double shot) of vodka and stir well! Garnish with your favorite toppings using toothpicks and skewers! Get wild with it! After all, it's Mardi Gras! Refer to the garnish list above for what we used in our Bloody Mary cocktails.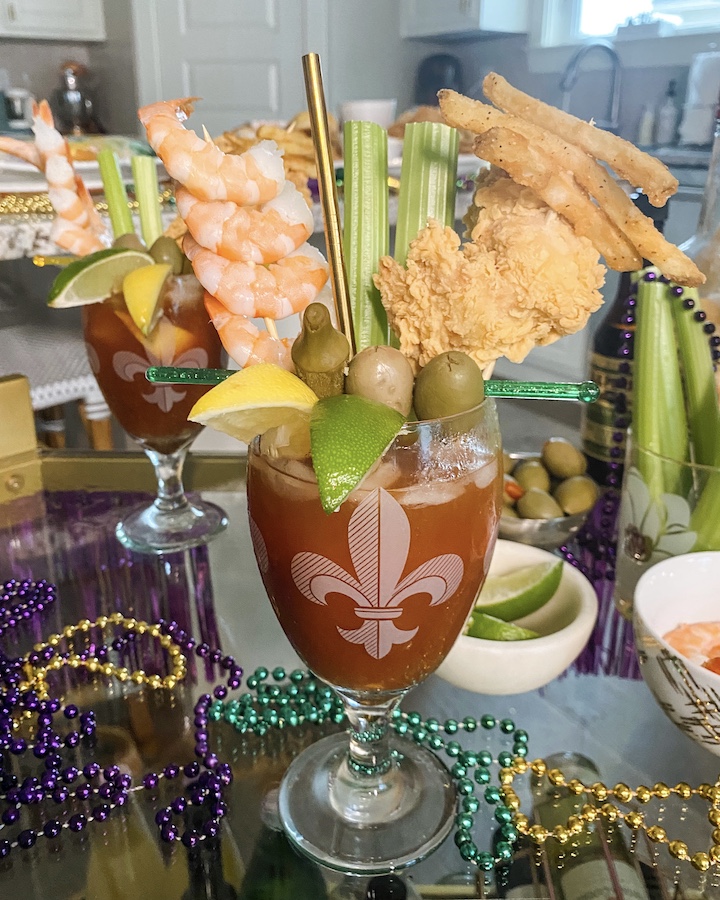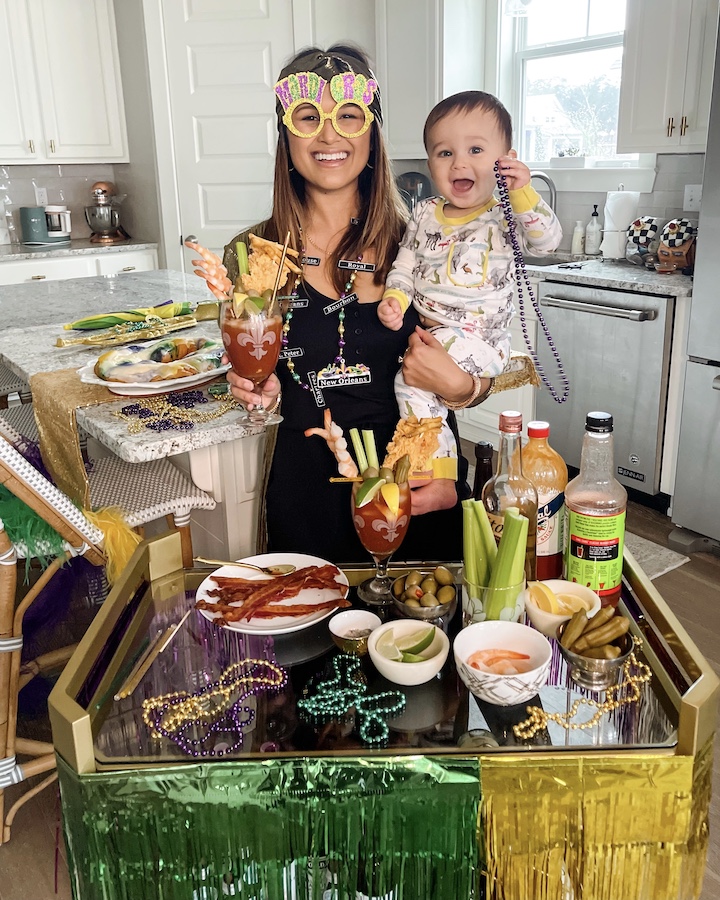 We found all of the accessories and decor at Party City!
Balloons by The Graceful Host Shop