Hey everyone, I can't believe we're less than two weeks away from Thanksgiving. To celebrate, I'm sharing the details from my Friendsgiving party including the recipes, decor and dinnerware to inspire your own holiday dinner party with friends. You can even use some of these ideas for your Thanksgiving dishes and decor next week.
| Shop My MacKenzie-Childs Dinnerware |

Table Runner | MacKenzie-Childs Blooming Tumbler | Gold Check Hostess Serving Set | Gold Check Flatware – 5-Piece Place Setting | Sweetbriar Charger | Sweetbriar Dinner Plate | Sweetbriar Salad Plate | Parchment Check Two Tier Sweet Stand |
I've teamed up with MacKenzie-Childs to give away 3 desserts stands along with a gold check cake serving set to 3 lucky winners. I use these pieces year round, but especially during the holidays. I'm so grateful to all of my readers and IG followers who take time connect with me online each day so I wanted to give back to you this Thanksgiving by sending 3 winners some of my favorite MacKenzie-Childs pieces. Head over to my Instagram (@hauteofftherack) to enter!
See more posts on my MacKenzie-Childs pieces below:
Bridal Brunch Table Setting With MacKenzie-Childs
New Orleans Bridesmaids Luncheon Cooking Class
Wedding Wednesday: Engagement Party Ideas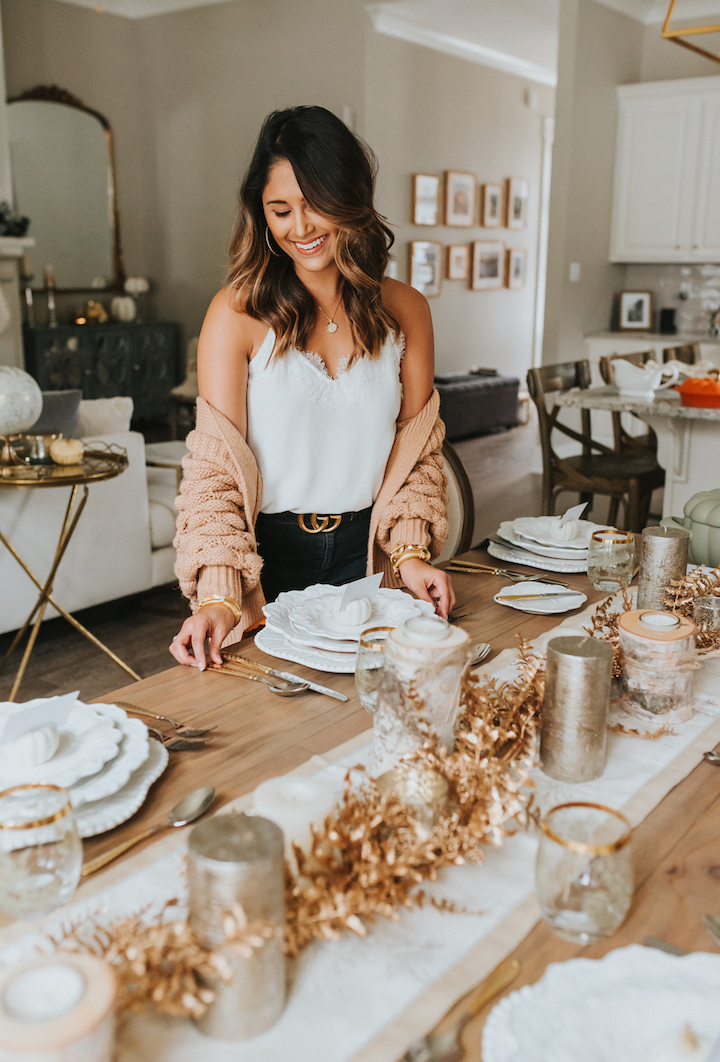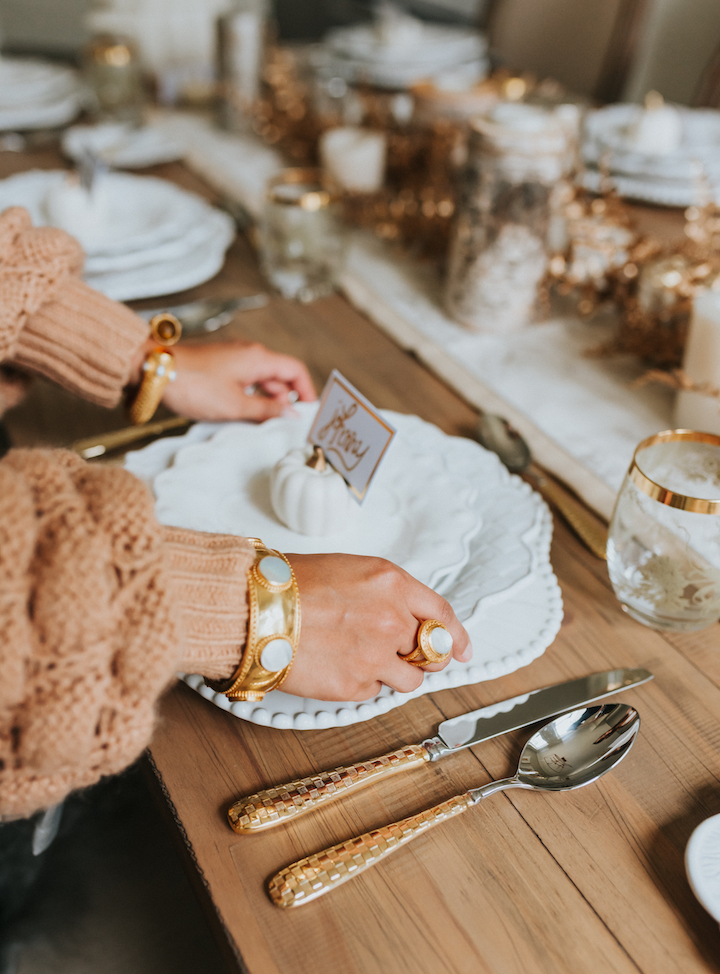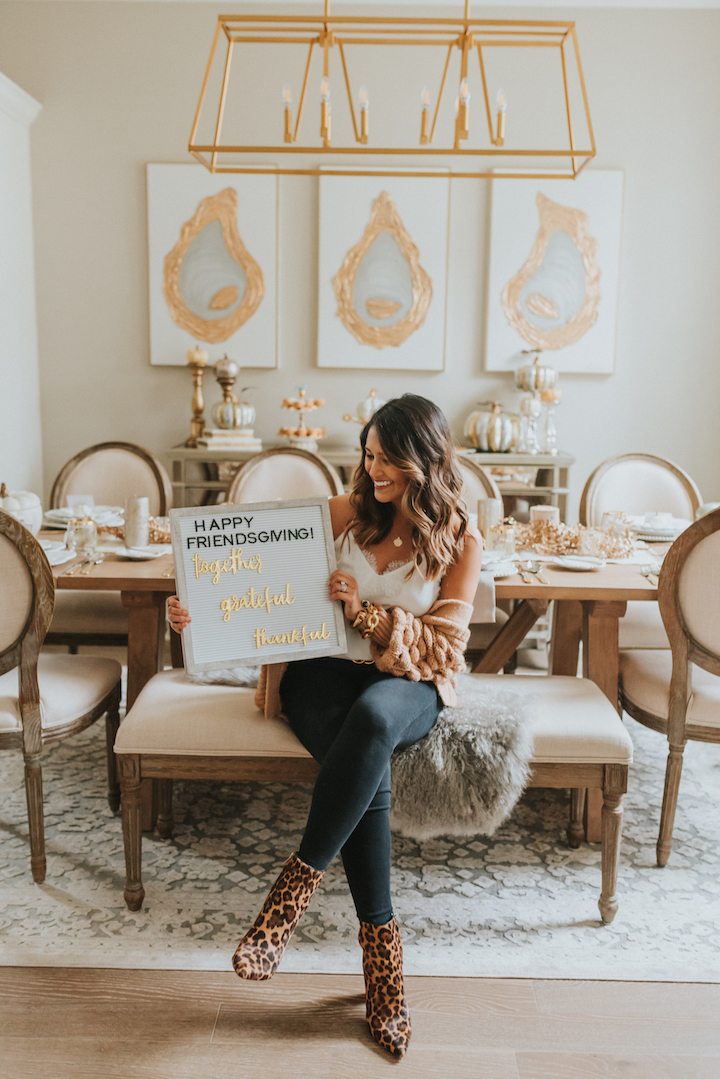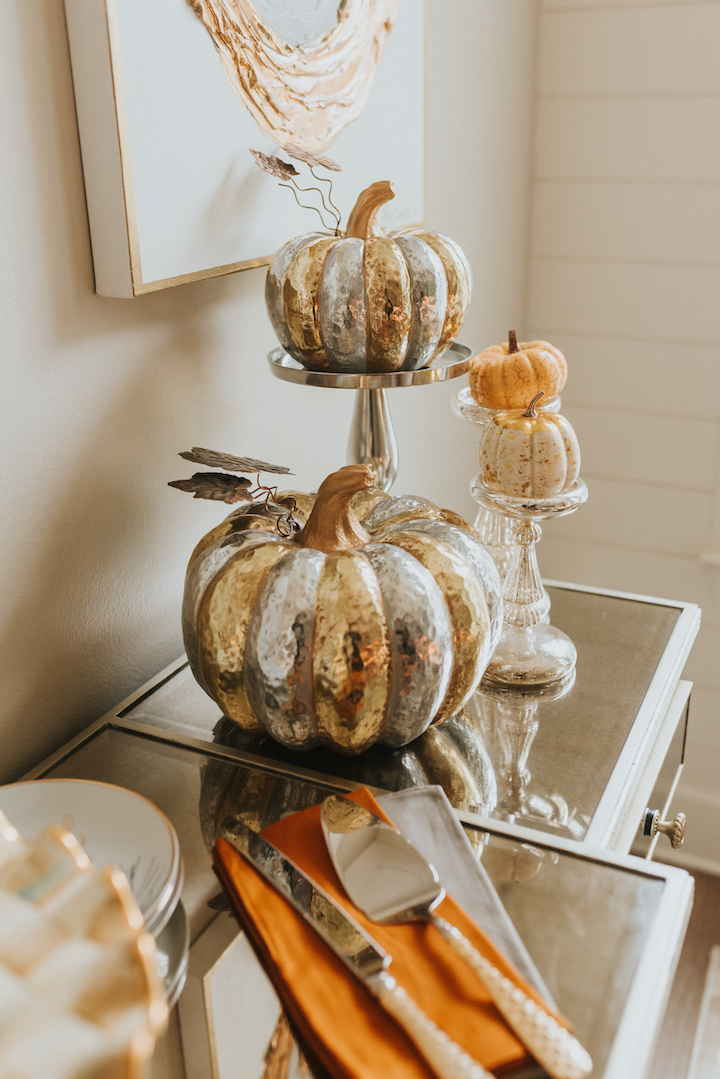 | Shop My Dinging Room Furniture on Sale |

Furniture: Wood Leona Farmhouse Extension Dining Table | Neutral Linen Paige Dining Bench | Natural Linen Paige Round Back Dining Chairs | 3 Tier Rolling Bar Cart <—SALE ALERT! Take 40% OFF all furniture with code: FURNDEAL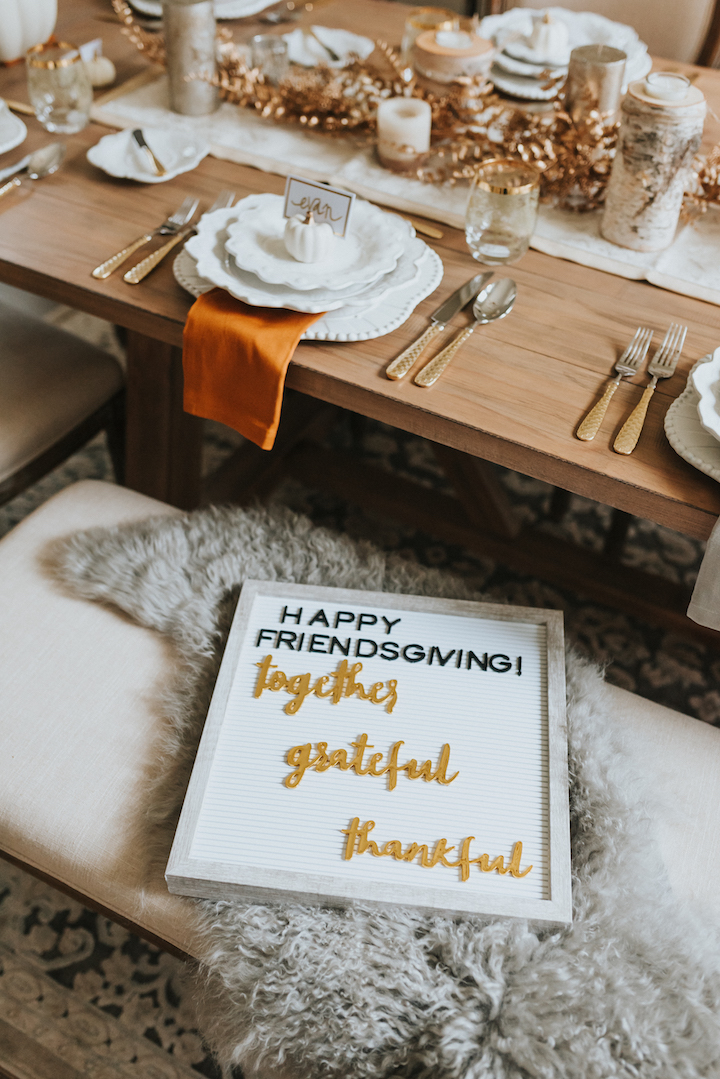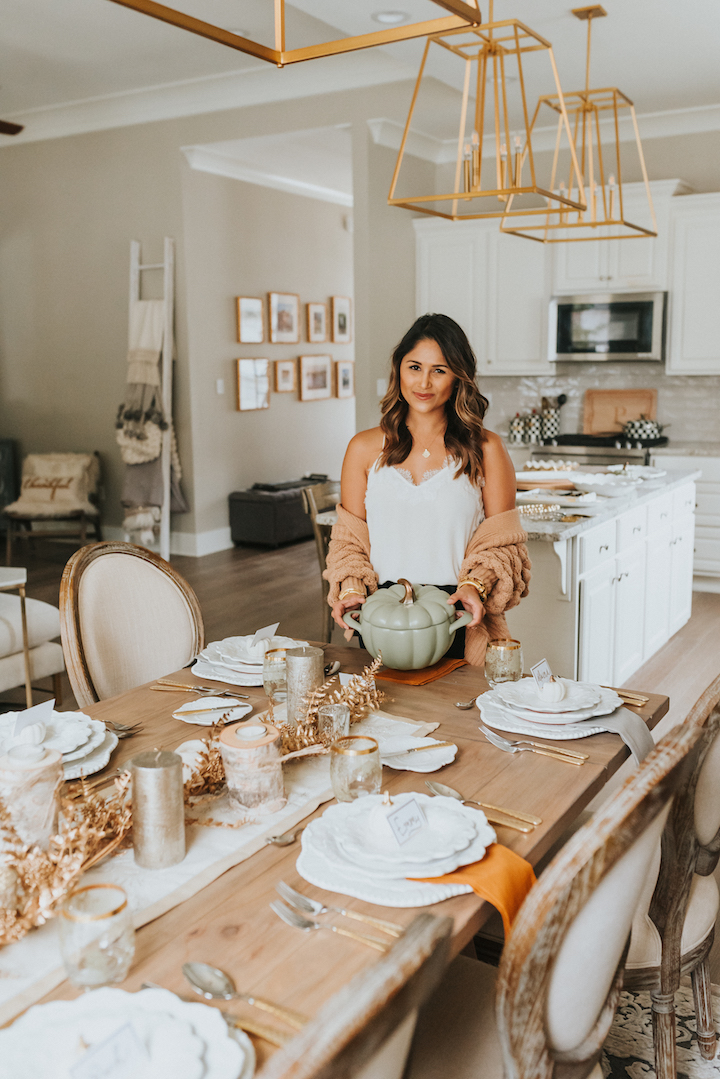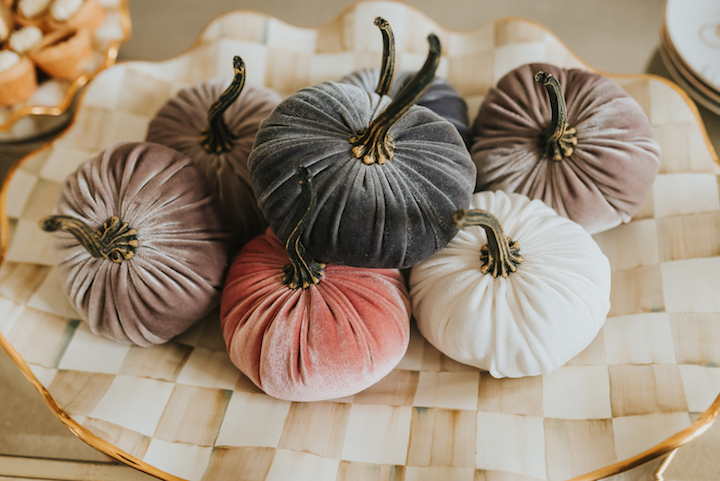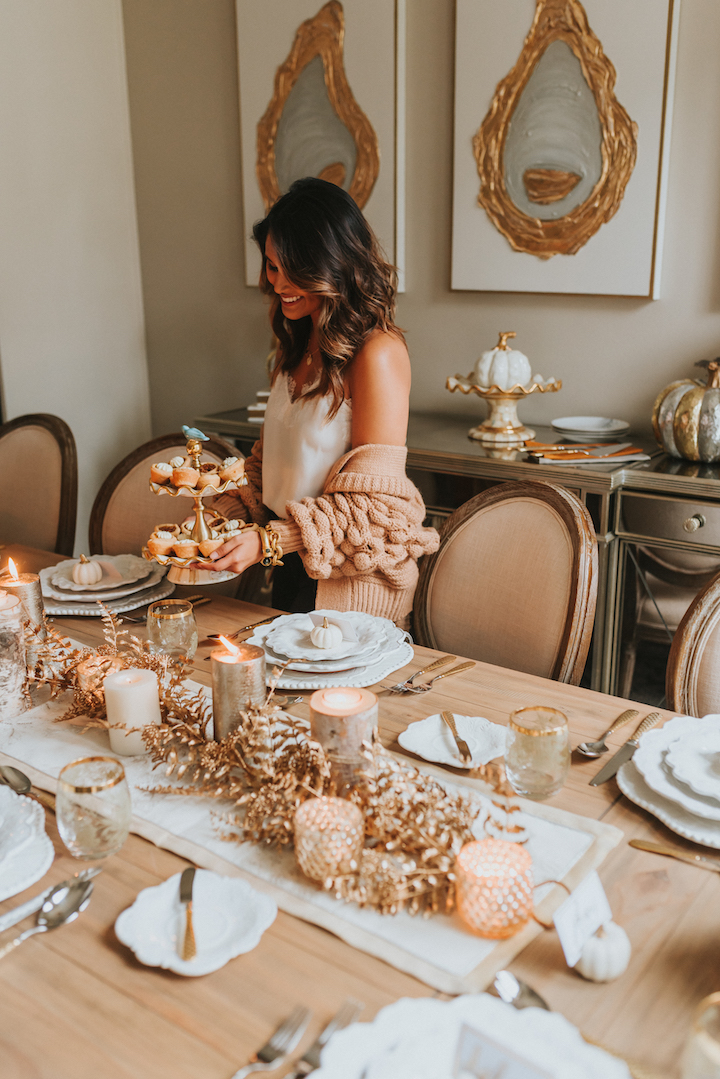 | Shop My Dining Room Decor |

Decor: Light Grey Sheepskin | Pumpkin Place Card Holders |Silver and Gold Mercury Pillar Candle | BIRCH VOTIVE CANDLEHOLDER | Gold Fern and Berry Garland | 3×3 Ivory Sugared Vanilla Bean Pillar Candle | Matte White Ceramic Pumpkin Casserole Baker | Velvet Pumpkins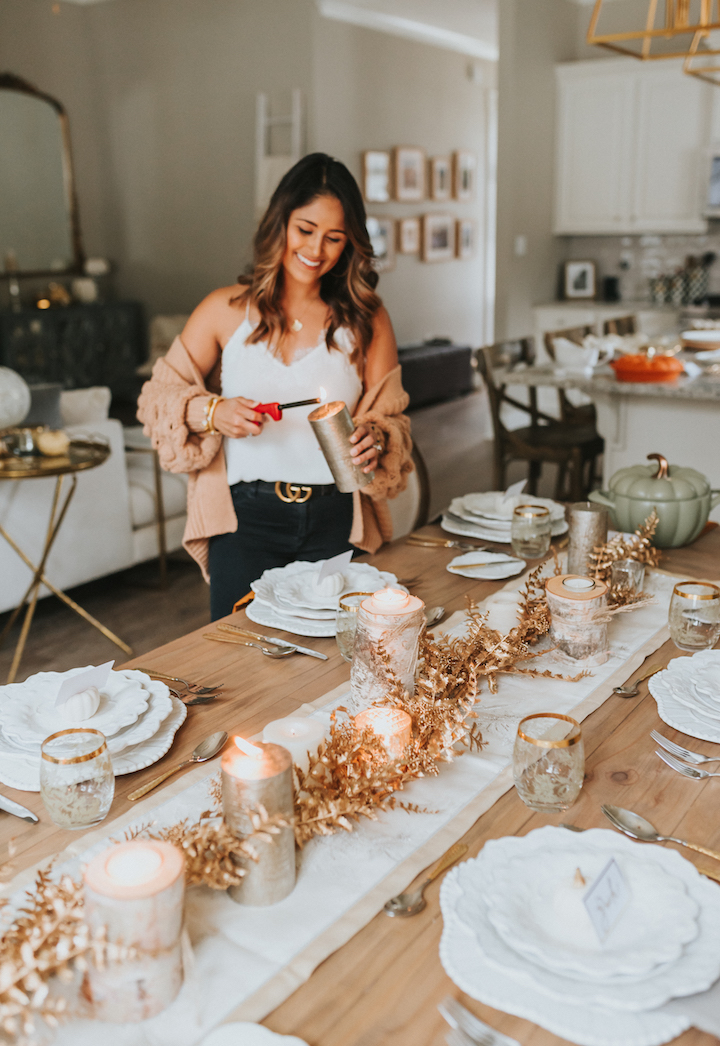 | Shop More Furniture |

Mirrored Side Board | Belen Rug | Light Fixture above dining table | Gold Light Fixtures above island | Gold & Silver Pumpkins c/o MacKenzie-Childs | 14 x 14 Letter board | White Gravy Boat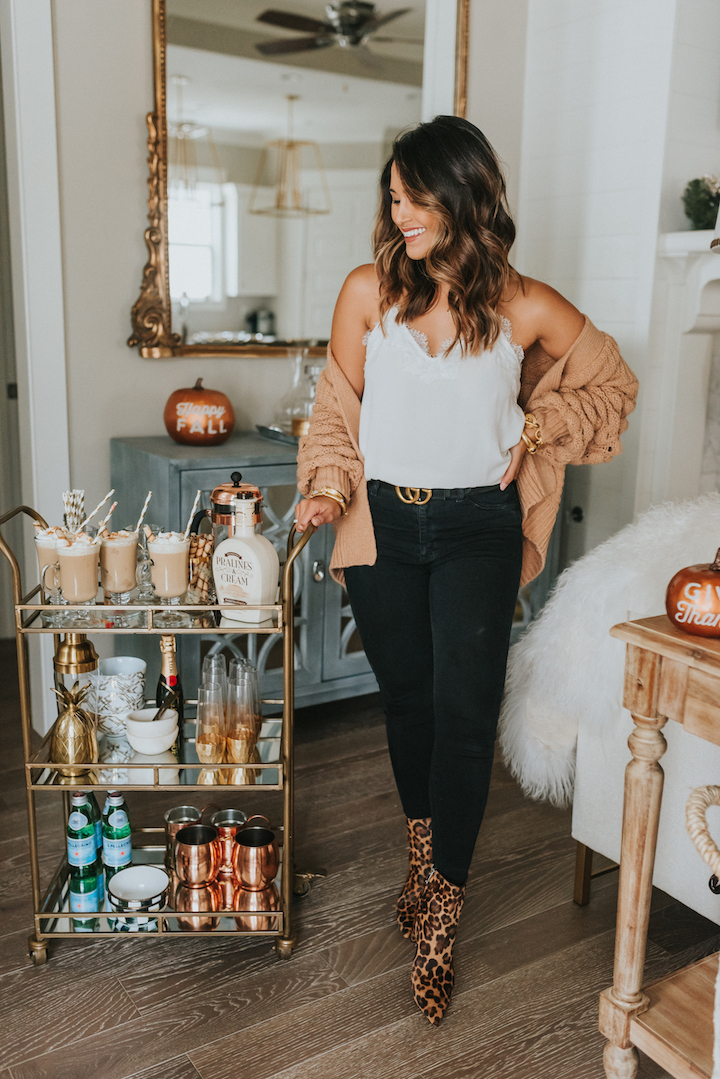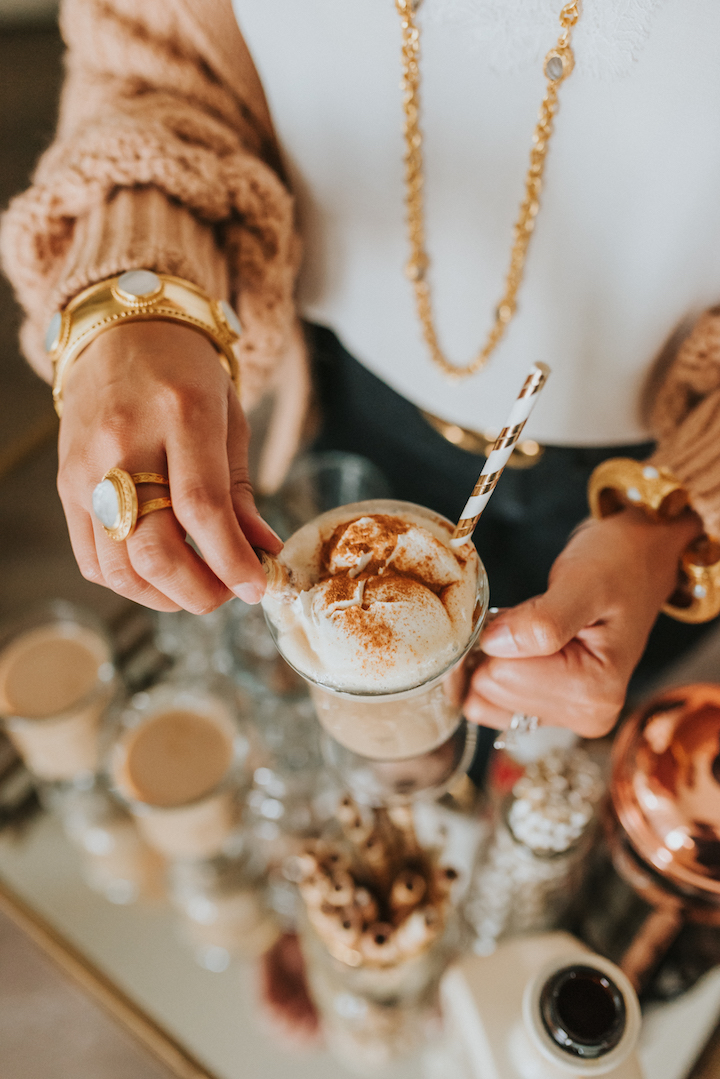 | Shop My Look |

Outfit: CREAM CHUNKY BOBBLE KNIT CARDIGAN (similar here) | The Racer Tank | Barbara High Waisted Skinny Jeans (also available here) | Ulani Heeled Leopard Print Bootie (also available here) |
Jewelry: Coin Necklace | Val Rose Gold Hoop Earrings Iridescent Crystal | Byzantine Demi Hinge Cuff, Catalina Hinge Bangle, Catalina Hinge Cuff & Monterey Link Bracelet c/o Julie Vos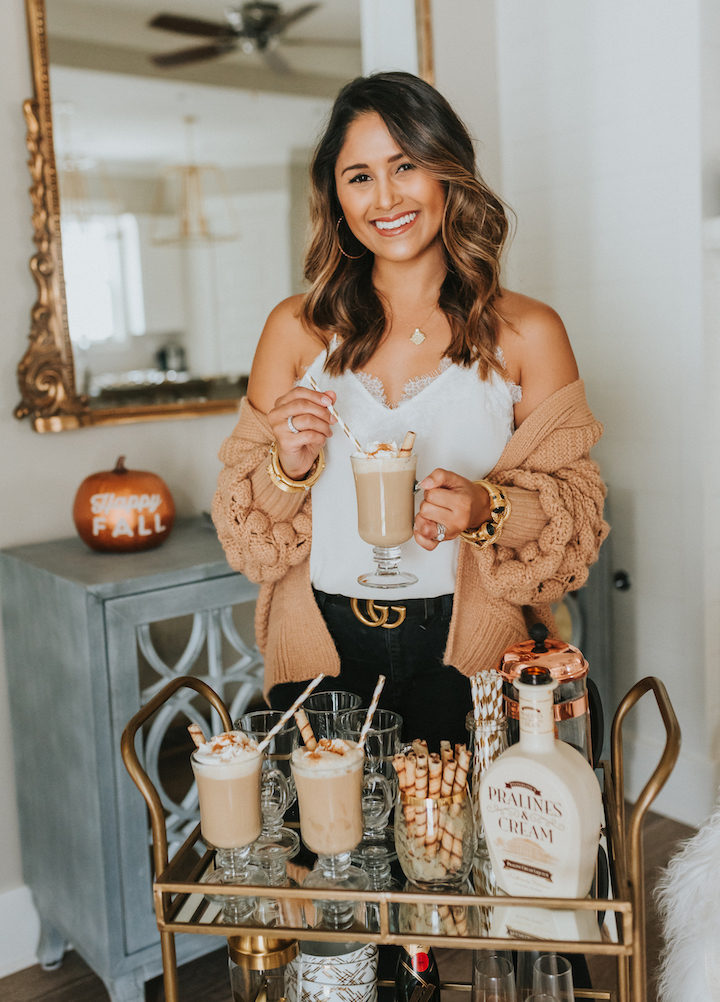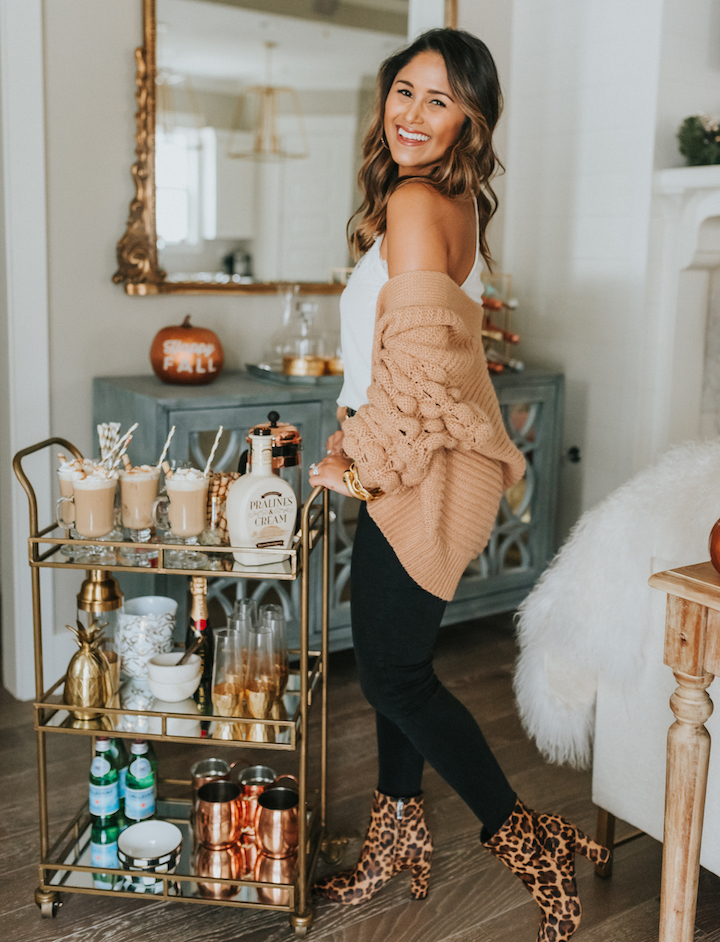 3 Tips on How To Host Your First Friendsgiving
1) Create a menu & guest list! Send out an invite to all of your guests a couple weeks out and begin planning out your menu so you can start prepping the dishes 2-3 days before your party. Decide on the dishes you're going to cook and the items you're going to order and make sure you order them with plenty enough time. It's also fun to create a menu with your friends and host pot luck where everyone brings a dish.
As I mentioned before, we started a supper club with our friends a few months ago where each couple takes turns hosting everyone at their house for dinner once a month. So it was our turn to make all of the dishes ourself. With that being said, we had a lot of food to prepare so we decided to order an already cooked turkey and gravy and then we made all of the side dishes and desserts ourselves.
Recipes:
Mac & Cheese | http://www.thatwhichnourishes.com/the-mac-and-cheese/
Green Bean Casserole | https://thenovicechefblog.com/the-best-green-bean-casserole/
Stuffing | Blake's grandmother came over & made her personal recipe with me. I can't think of a more perfect time to learn your grandmother's recipes than during the holidays. We had so much fun making new recipes we found online, but it's also nice to use a family recipe and learn how to make it so you can pass it down to your own kids.
Sweet Potato Casserole | https://addapinch.com/sweet-potato-casserole-pecan-topping/
Pumpkin Squares | My mom came over to make pumpkin squares with me because it was my late uncle's recipe.
1 can of pumpkin
3 eggs
1 large can of pet milk (aka condensed milk)
2 cups of sugar
1 tsp. cinnamon
1 box of Duncan Hines Butter Cake Mix
1 Cup of chopped pecans (a little more is ok)
2 sticks of melted butter (1 cup)
1 small Cool Whip
1 8 oz. Philadelphia Cream Cheese
Mix pumpkin, 3 eggs, pet milk, 1 cup of sugar and cinnamon. Stir until all blended. Pour liquid mixture into a 13 x 9 inch pan lined with wax paper. Then sprinkle the box of cake mix on top. Sprinkle pecans next. Pour melted butter on top of pecans & cake mix and bake for one hour at 350 degrees. After baked, let cool ten minutes. Then turn the cake over but do not take the wax paper off until completely cooled. Mix one cup of sugar and Philedelphia Cream Cheese. After blended, add 1 small container of cool whip. Ice the whole cake and refrigerate. Cut into squares and keep refrigerated until serving.
Irish Coffee Dessert Drink | ingredients: coffee, Pralines & Creams Liqueur (you can find this at your local World Market as well as select grocery stores), cool whip (we ended up making our own whipped cream using a cup of sugar and heavy cream), Clear Irish Mugs, Cream-Filled Rolled Wafers & some fun straws
2) Tis the time to be a little extra! Pop open some champagne! Light some holiday candles and create a Friendsgiving playlist to set the mood. Go out of your way to make your guests feel special by placing custom name cards on everyone's seats and be sure to always keep their drinks full.
3) Get interactive! Have everyone go around the table and say what they're grateful for or play a fun game after dinner.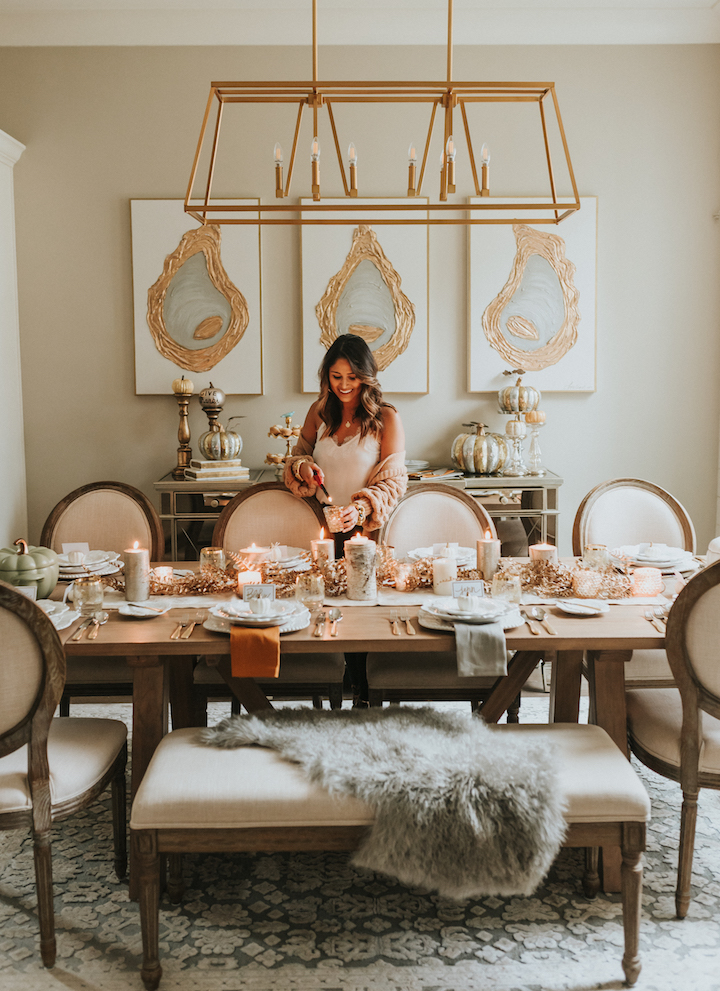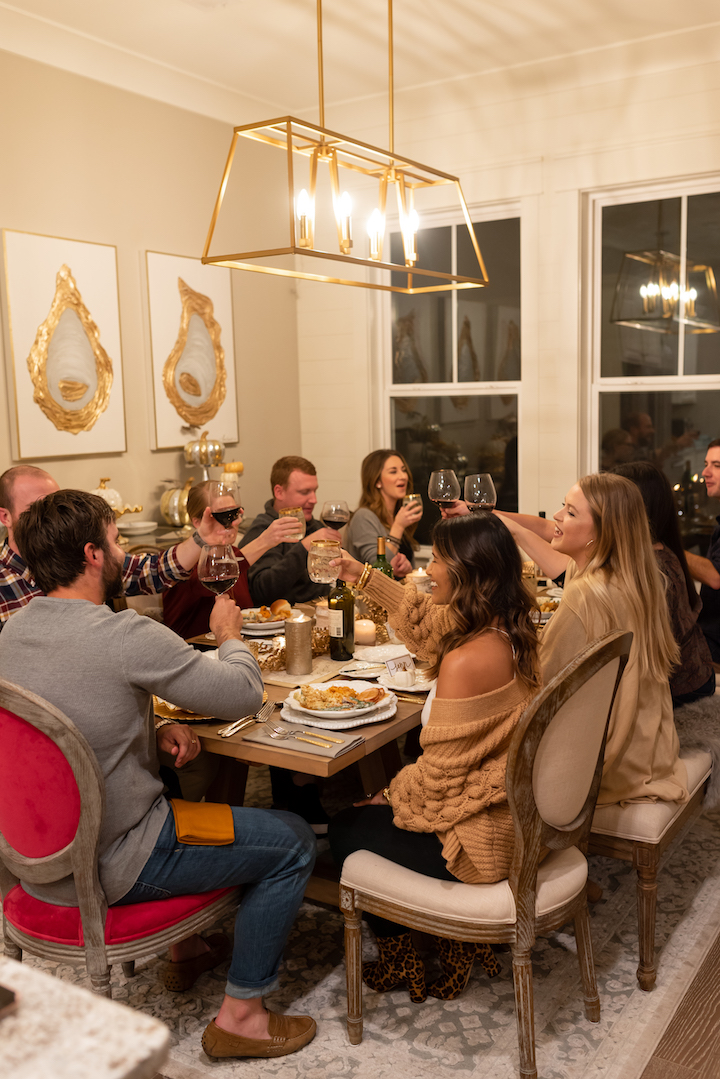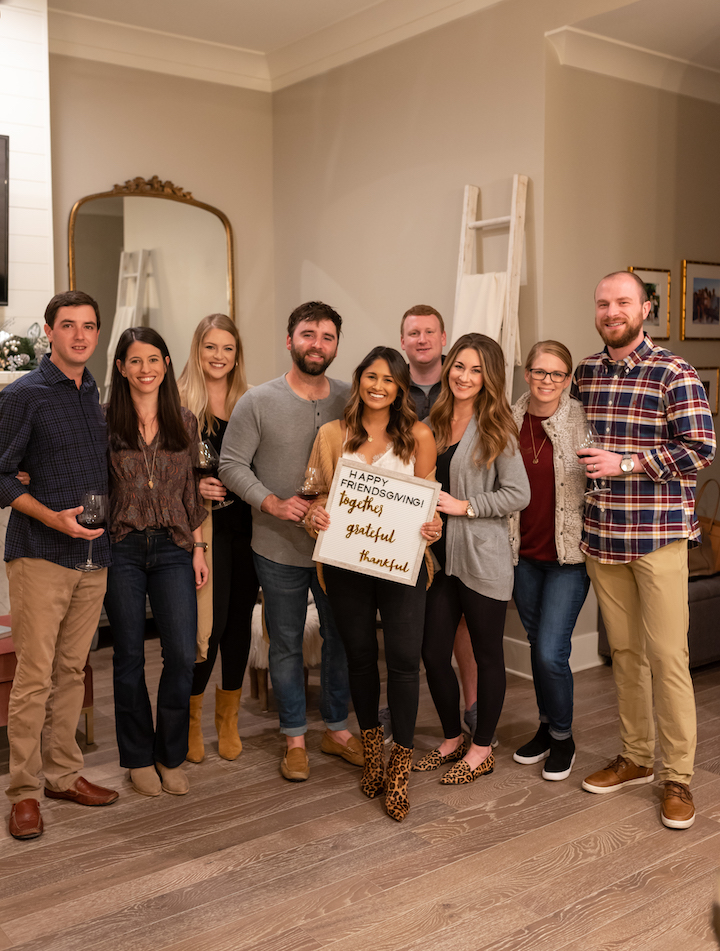 Shop all my Friendsgiving details:
| Shop My MacKenzie-Childs Dinnerware |

Table Runner | MacKenzie-Childs Blooming Tumbler | Gold Check Hostess Serving Set | Gold Check Flatware – 5-Piece Place Setting | Sweetbriar Charger | Sweetbriar Dinner Plate | Sweetbriar Salad Plate | Parchment Check Two Tier Sweet Stand |
| Shop My Dinging Room |

Furniture: Wood Leona Farmhouse Extension Dining Table | Neutral Linen Paige Dining Bench | Natural Linen Paige Round Back Dining Chairs | 3 Tier Rolling Bar Cart <—SALE ALERT! Take 40% OFF all furniture with code: FURNDEAL
| Shop My Decor |

Decor: Light Grey Sheepskin | Pumpkin Place Card Holders |Silver and Gold Mercury Pillar Candle | BIRCH VOTIVE CANDLEHOLDER | Gold Fern and Berry Garland | 3×3 Ivory Sugared Vanilla Bean Pillar Candle | Matte White Ceramic Pumpkin Casserole Baker | Velvet Pumpkins

Mirrored Side Board | Belen Rug | Light Fixture above dining table | Gold Light Fixtures above island | Gold & Silver Pumpkins c/o MacKenzie-Childs | 14 x 14 Letter board | White Gravy Boat
| Shop My MacKenzie-Childs Dinnerware |

Table Runner | MacKenzie-Childs Blooming Tumbler | Gold Check Hostess Serving Set | Gold Check Flatware – 5-Piece Place Setting | Sweetbriar Charger | Sweetbriar Dinner Plate | Sweetbriar Salad Plate | Parchment Check Two Tier Sweet Stand |
| Shop My Look |

Outfit: CREAM CHUNKY BOBBLE KNIT CARDIGAN (similar here) | The Racer Tank | Barbara High Waisted Skinny Jeans (also available here) | Ulani Heeled Leopard Print Bootie (also available here) |
Jewelry: Coin Necklace | Val Rose Gold Hoop Earrings Iridescent Crystal | Byzantine Demi Hinge Cuff, Catalina Hinge Bangle, Catalina Hinge Cuff & Monterey Link Bracelet c/o Julie Vos