Hey everyone, we're just three short weeks away from Thanksgiving so today I'm sharing all of the details from my intimate Friendsgiving dinner party to inspire your own Thanksgiving events. As promised, this post also includes all of the recipes that I showed you on my Instagram stories. I linked to all of the decor and dinnerware below to inspire your own holiday dinner party with friends. I hope you find these these ideas helpful when it comes to your Thanksgiving dishes and decor next week.
You can check out last year's Friendsgiving post here—> 3 Tips on How to Host Your First Friendsgiving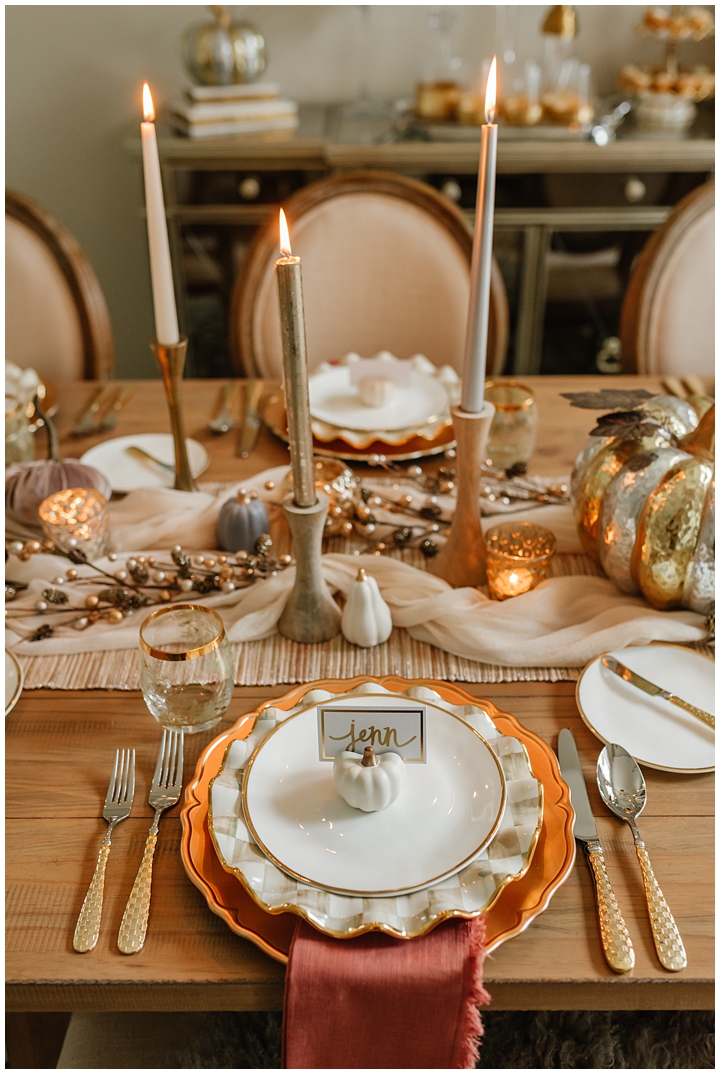 See the full youtube video below: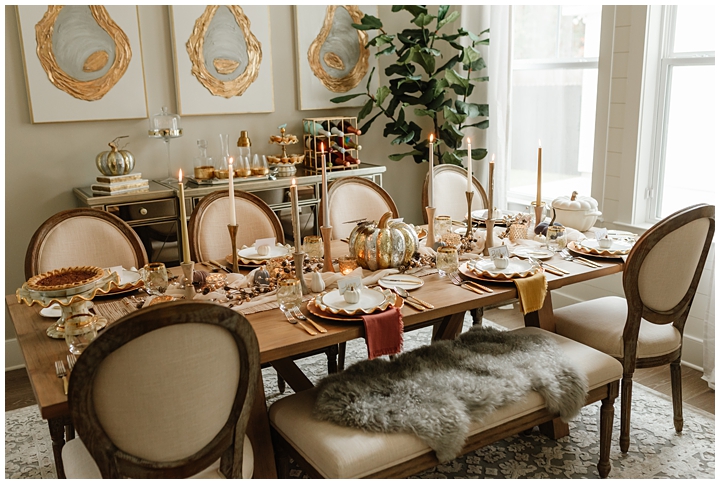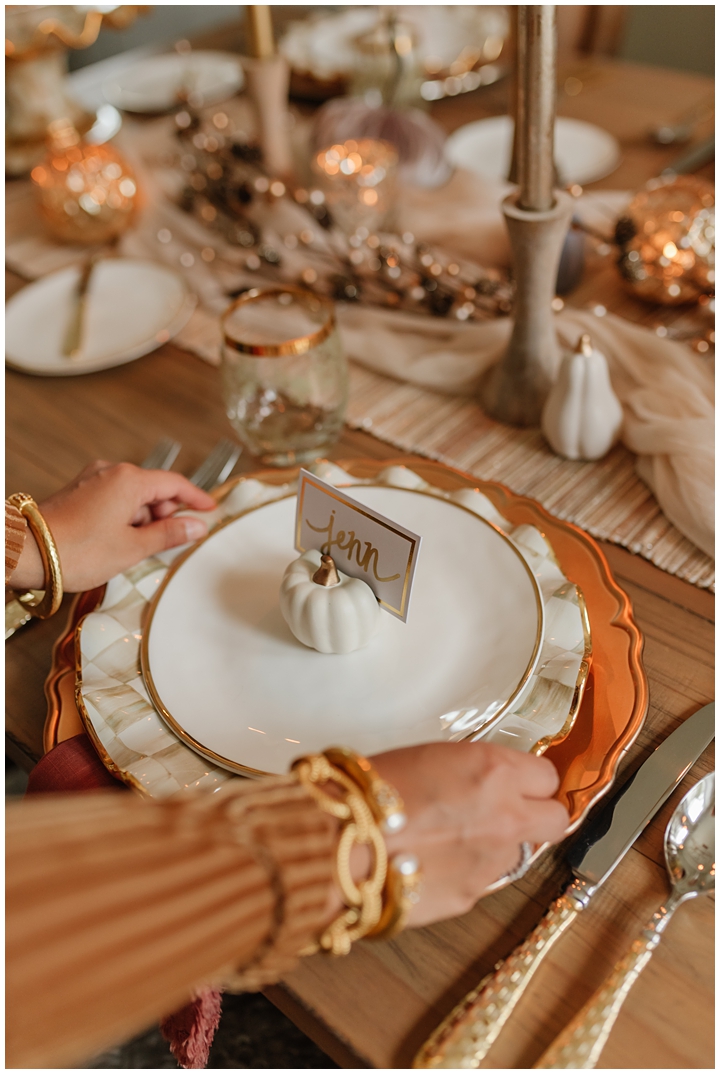 I wanted the tablescape to feel warm and welcoming so I incorporated lots of romantic candles and made sure everyone had a name card on their seat so they would feel welcome in my home.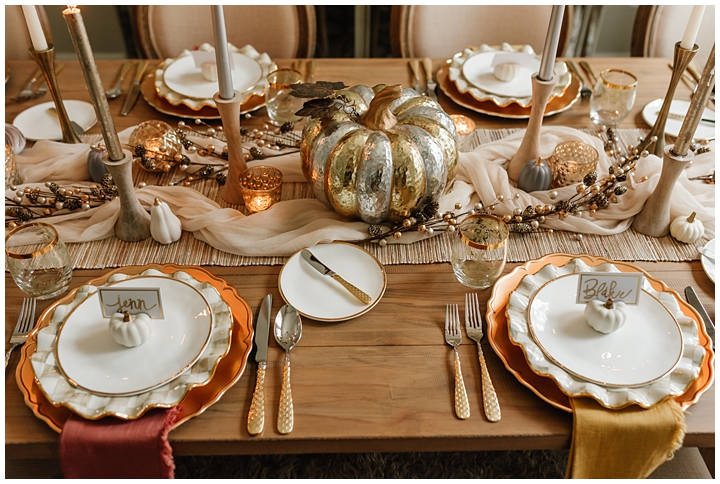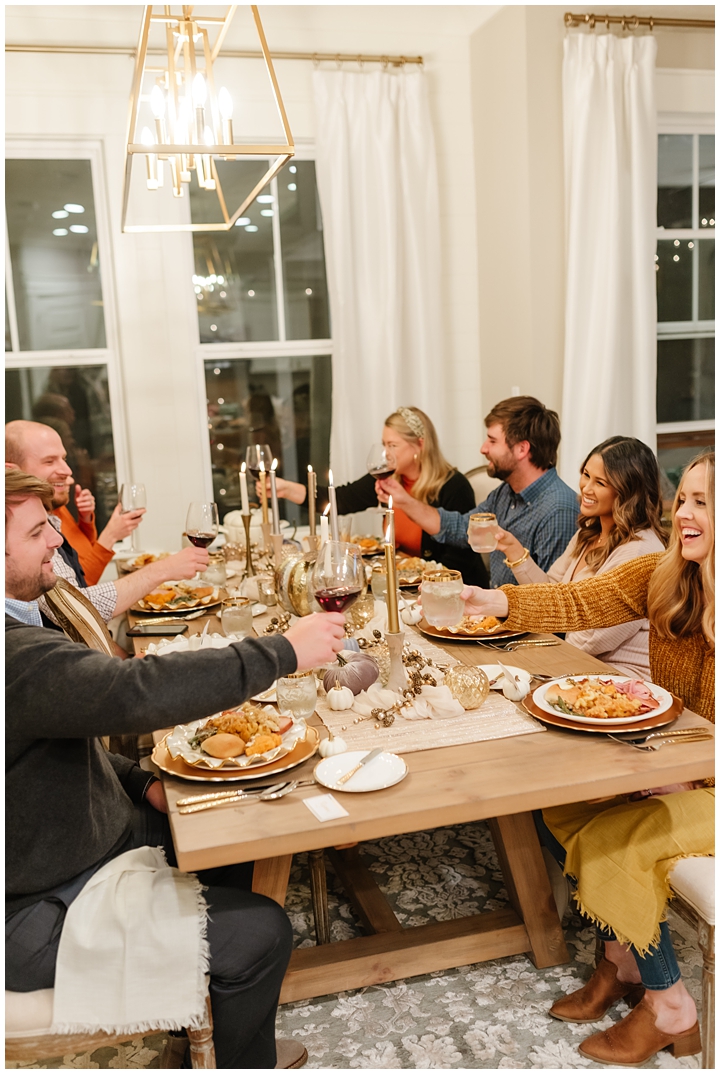 | Shop My Dinnerware |
Dinnerware: White Enameled Cast Iron Pumpkin Dutch Oven | White Gravy Boat | MacKenzie-Childs Parchment Check Fluted Dinner Plate— no longer available | MacKenzie-Childs Gold Check Flatware – 5-Piece Place Setting | MacKenzie-Childs Blooming Tumbler | Gold Check Canape Knives – Set of 4 | Metallic Scalloped Reine Chargers 4 Pack | Mustard Yellow Cotton Slub Napkins with Fringe Set of 4 | Ivory Cotton Slub Napkins with Fringe Set of 4 | gold-rimmed plates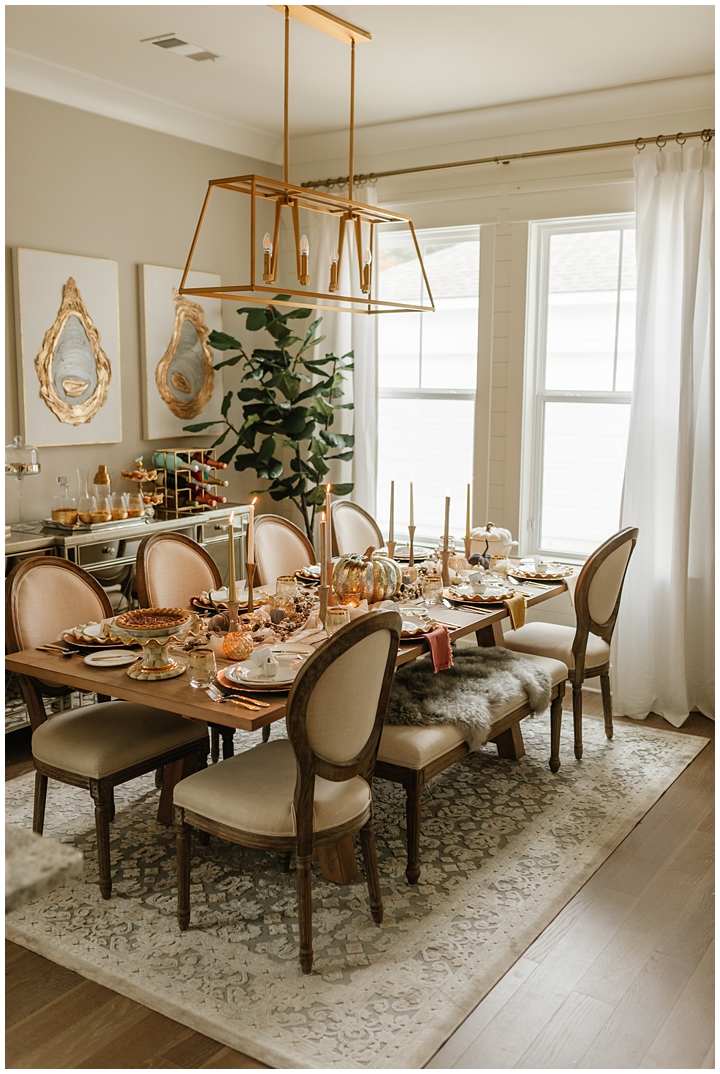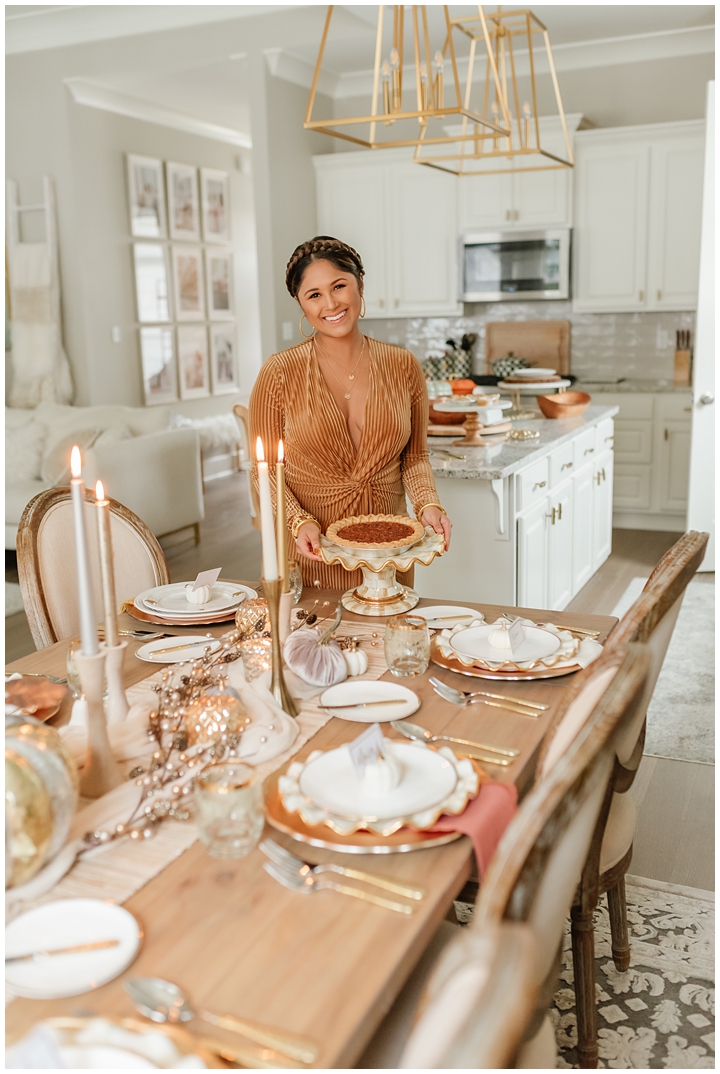 | Shop My Dining Room Furniture on Sale at World Market |
Sale Furniture: Wood Leona Farmhouse Extension Dining Table | Natural Linen Paige Round Back Dining Chairs Set of 2 | Paige Upholstered Dining Bench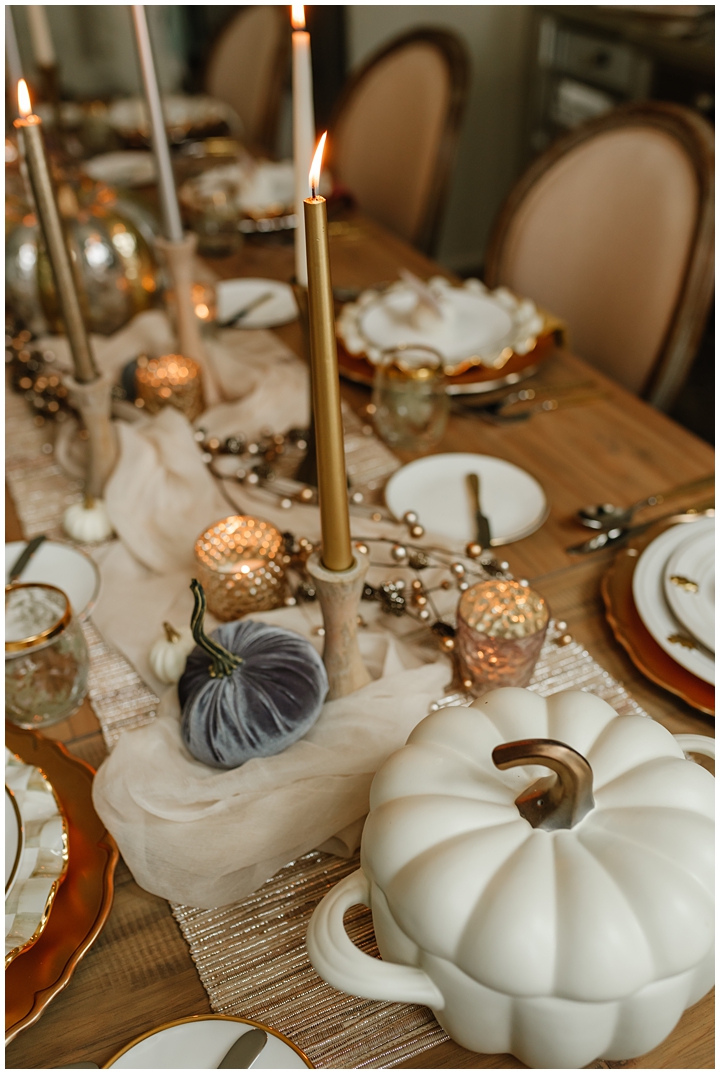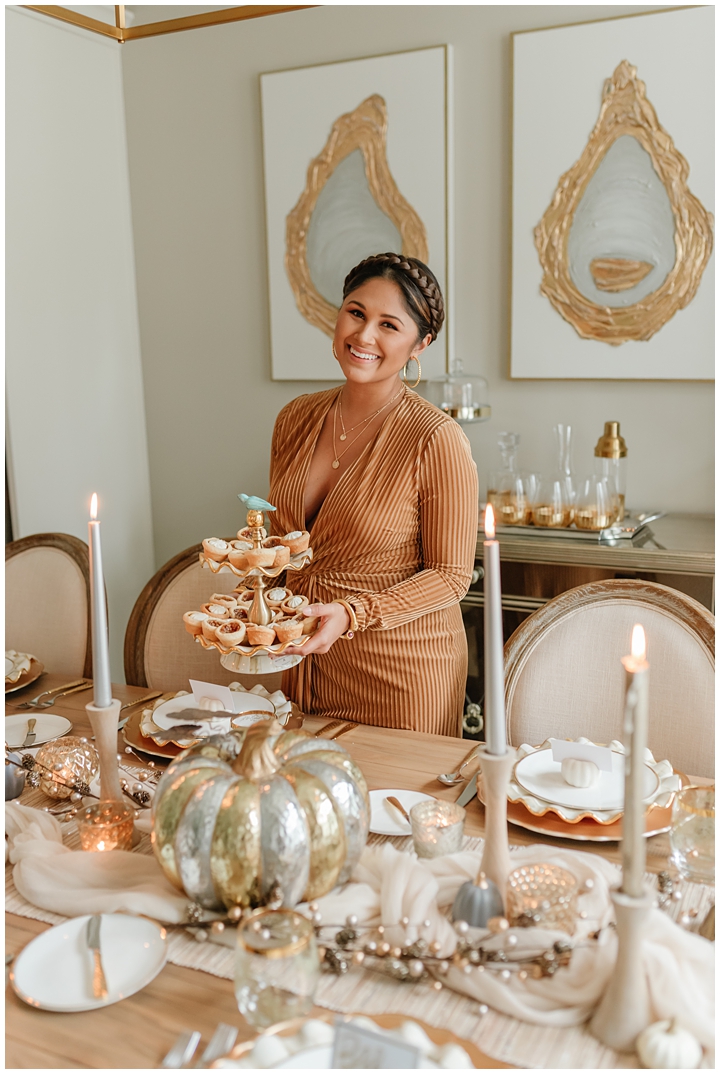 Furniture: Castelli Sideboard | Gold Light Fixture | Luis Clear Glass Bar Cart — currently on waitlist (similar gold bar cart here) | Belen Rug |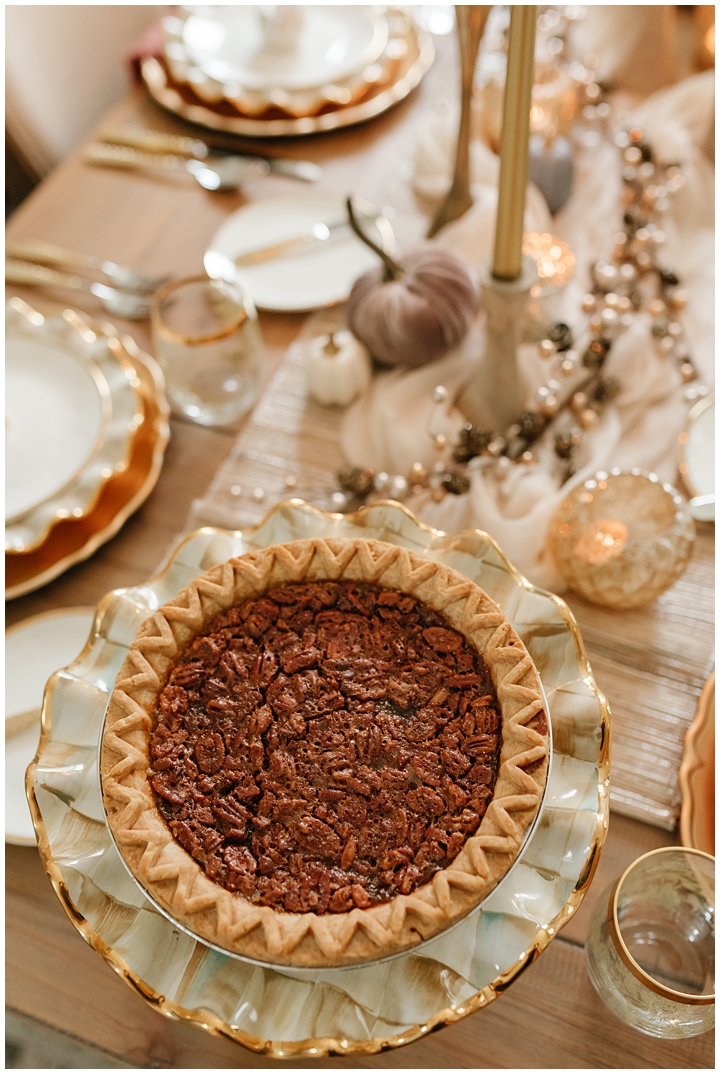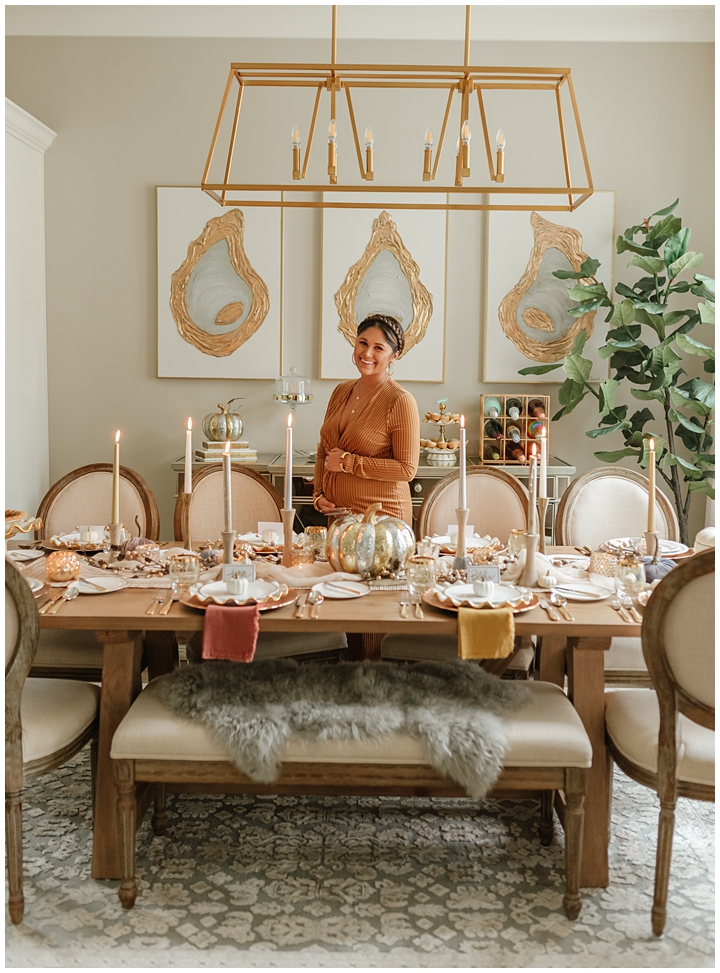 Custom oyster paintings by Christina Fontenot Art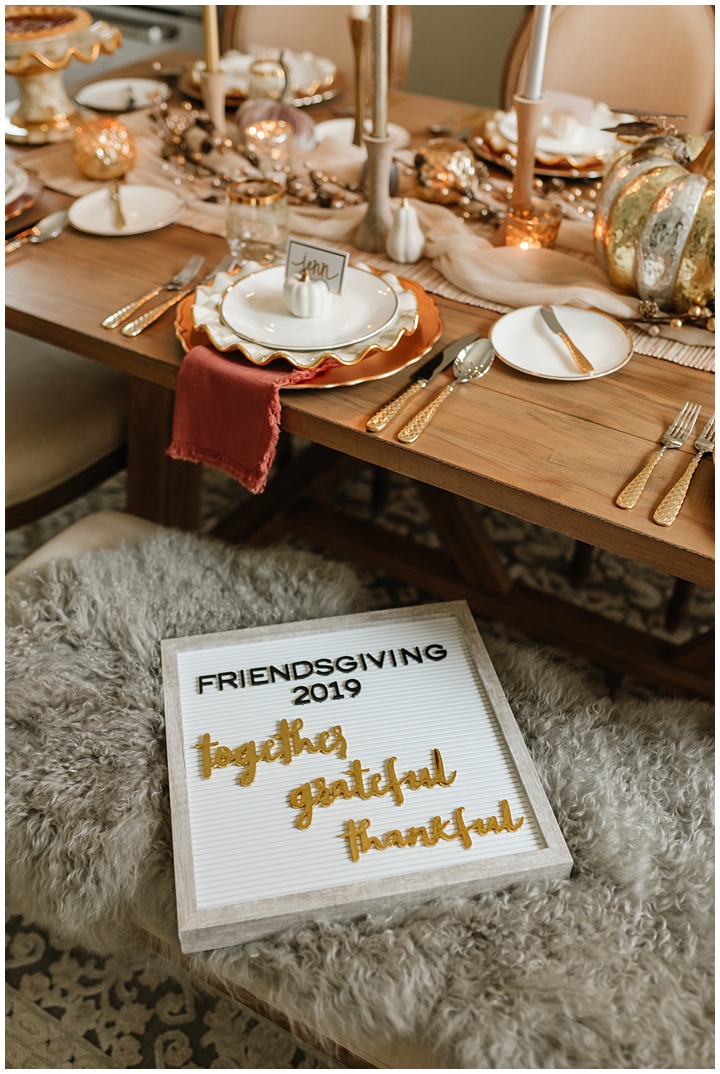 | Shop My Dining Room Decor |
Decor: Light Gray Mongolian Sheepskin Area Rug | Pumpkin Place Card Holders—old (similar here)| Gold Mercury Glass Votive Candleholders Set of 3 | Flared Whitewash Wood Taper Candleholder | Antique Gold Ribbed Taper Candleholder | Natural Fiber and Lurex Table Runner | Glittered Pinecone And Metallic Berry Garland | White Taper Candles, Set of 2 | Metallic Silver Taper Candles, Set of 4 | Metallic Gold Taper Candles, Set of 4 | Silver and Gold Mercury Taper Candles Set of 2 | MacKenzie-Childs Gold & Silver— no longer available | Crinkle Silk Ribbon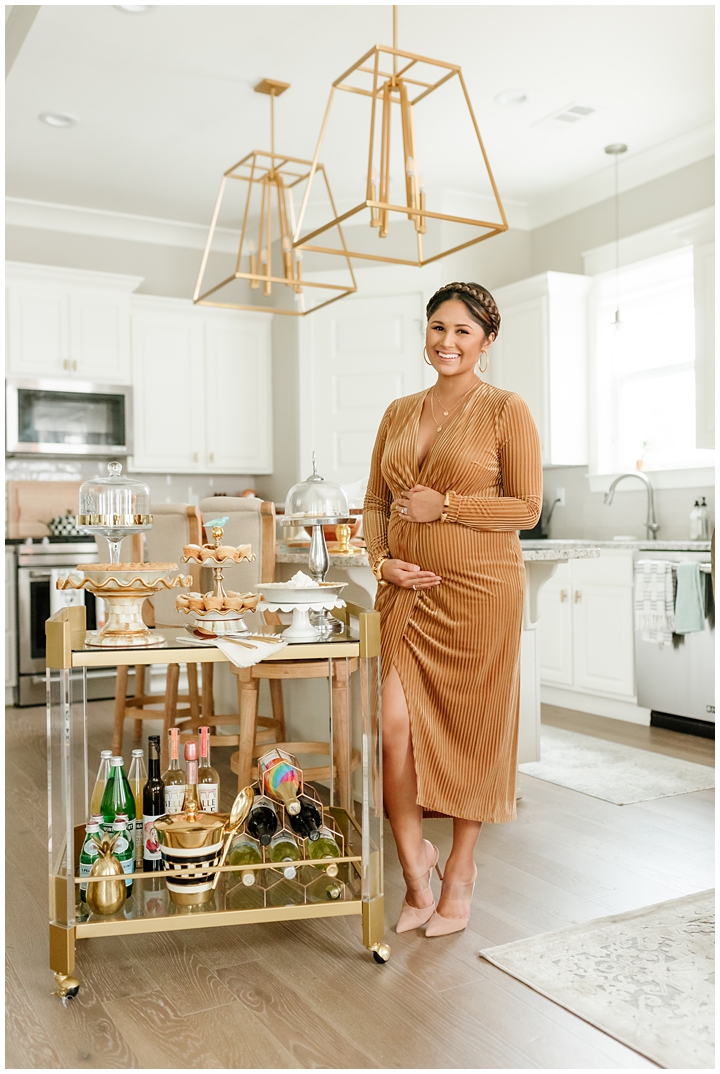 | Shop My Look |
Outfit: Knot Long Sleeve Velvet Rib Midi Dress | Sionne Clear Strap Pointed Toe Mule | Paris Demi Hinge Cuff | Olympia Bracelet | SoHo Hoop | Set of 3 Coin Pendant Necklaces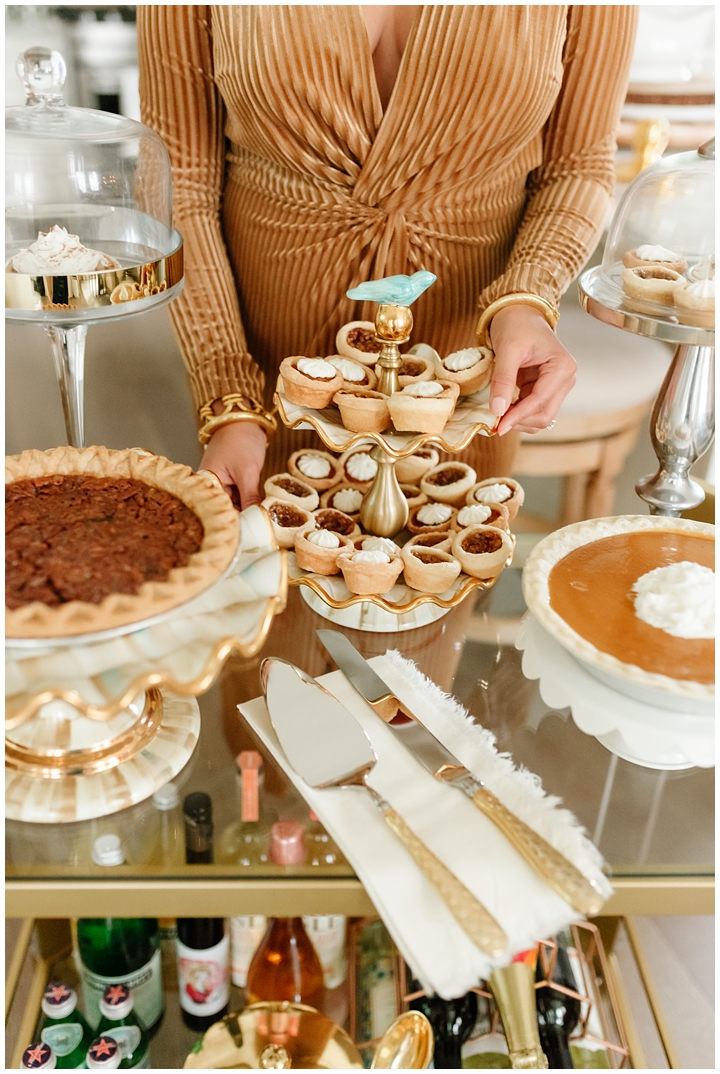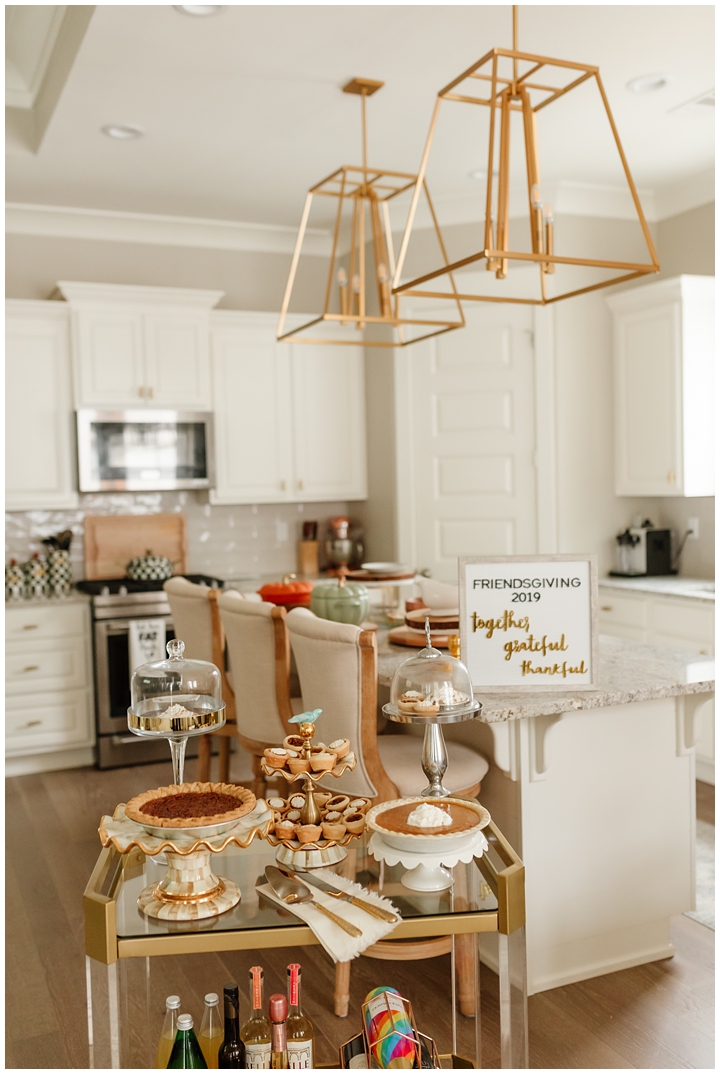 | Shop My Pie Bar Cart |
Pie Bar: MacKenzie-Childs Gold Check Cake Serving Set | MacKenzie-Childs Parchment Check Fluted Cake Stand | MacKenzie-Childs Parchment Check Two Tier Sweet Stand | Luis Clear Glass Bar Cart — currently on waitlist (similar gold bar cart here) |
When it comes to hosting an intimate Friendsgiving, be sure to create your guest list first and send out an invite to everyone a couple weeks out to begin planning your menu so you can start prepping the dishes 2-3 days before your party. Decide on the dishes you're going to cook and the items you're going to order and make sure you order them with plenty enough time. It's also fun to create a menu with your friends and host a pot luck where everyone brings a dish. Plus it makes prep time much easier.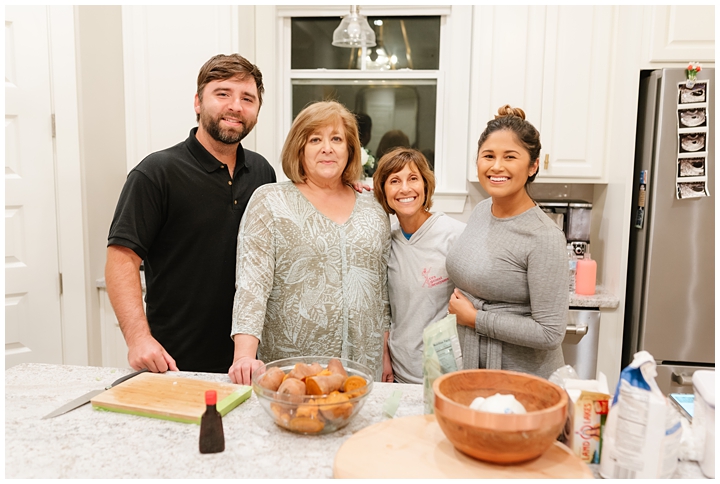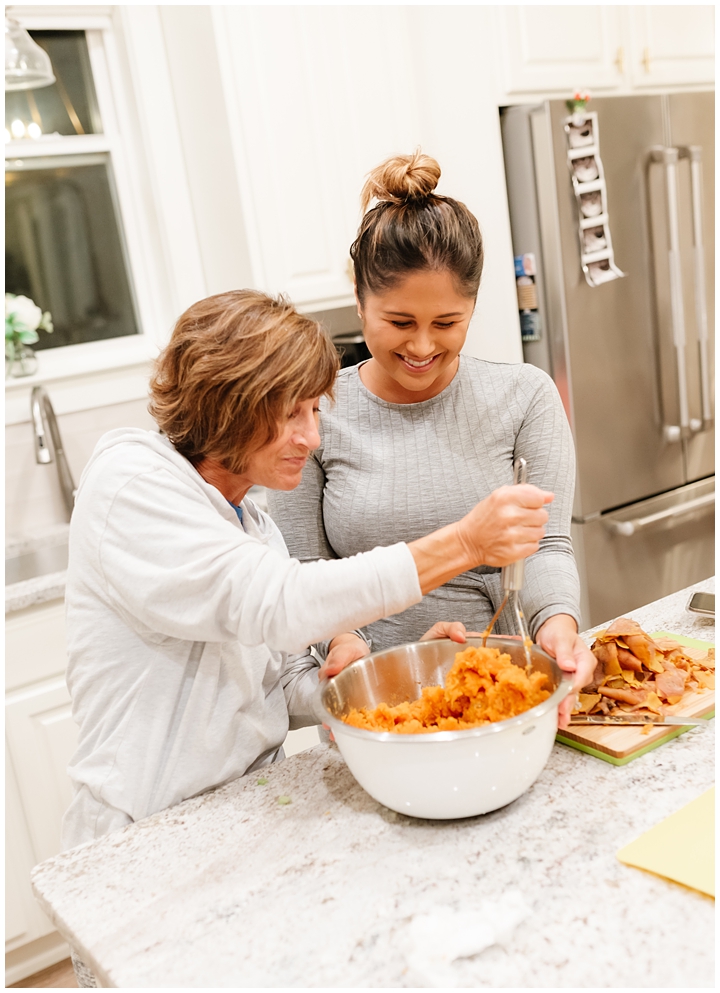 Blake and I enjoy creating the menu and cooking everything ourselves with a little help from my mom and his grandmother. The only thing we don't know how to do nor did we have the time is how to cook a turkey so we ordered an already cooked turkey and ham and then made everything else ourselves. You can check out the recipes we used below.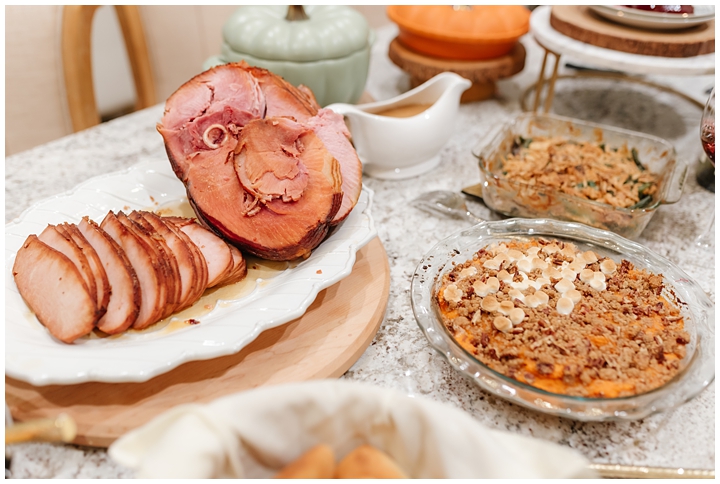 Recipes: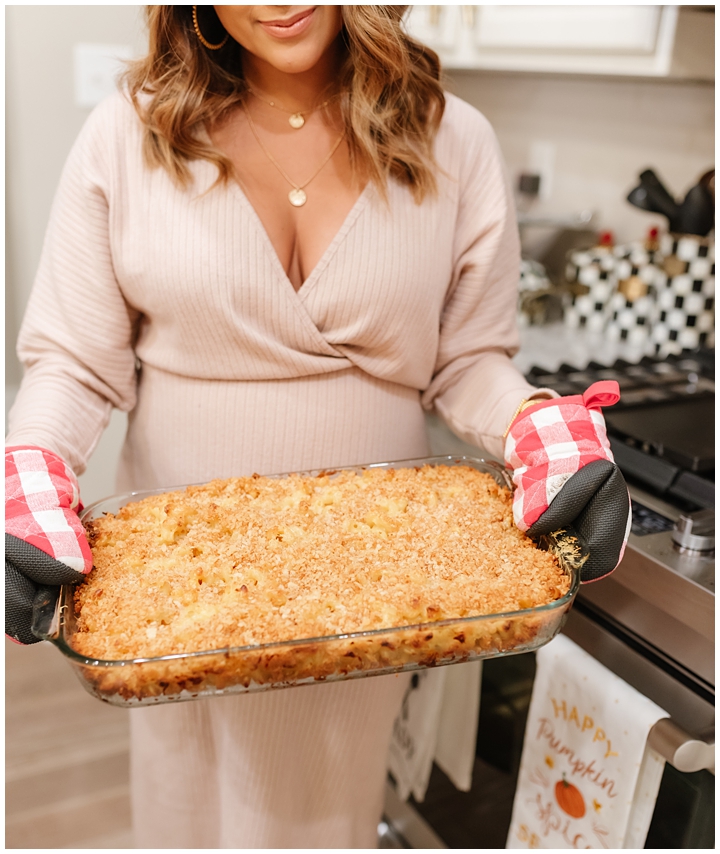 Mac & Cheese | http://www.thatwhichnourishes.com/the-mac-and-cheese/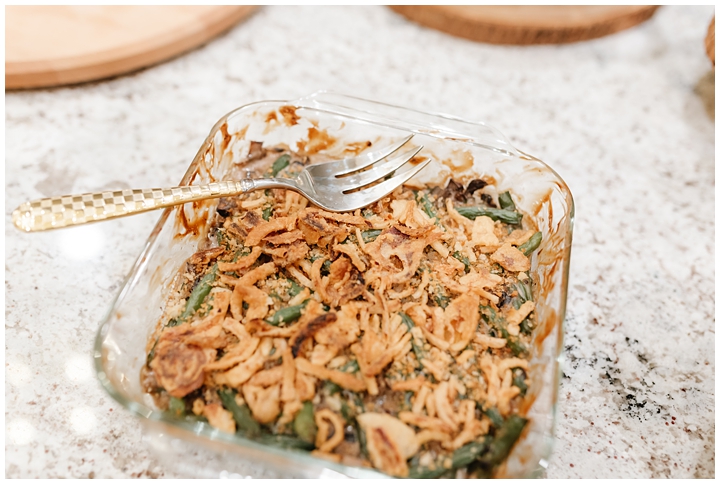 Green Bean Casserole | https://thenovicechefblog.com/the-best-green-bean-casserole/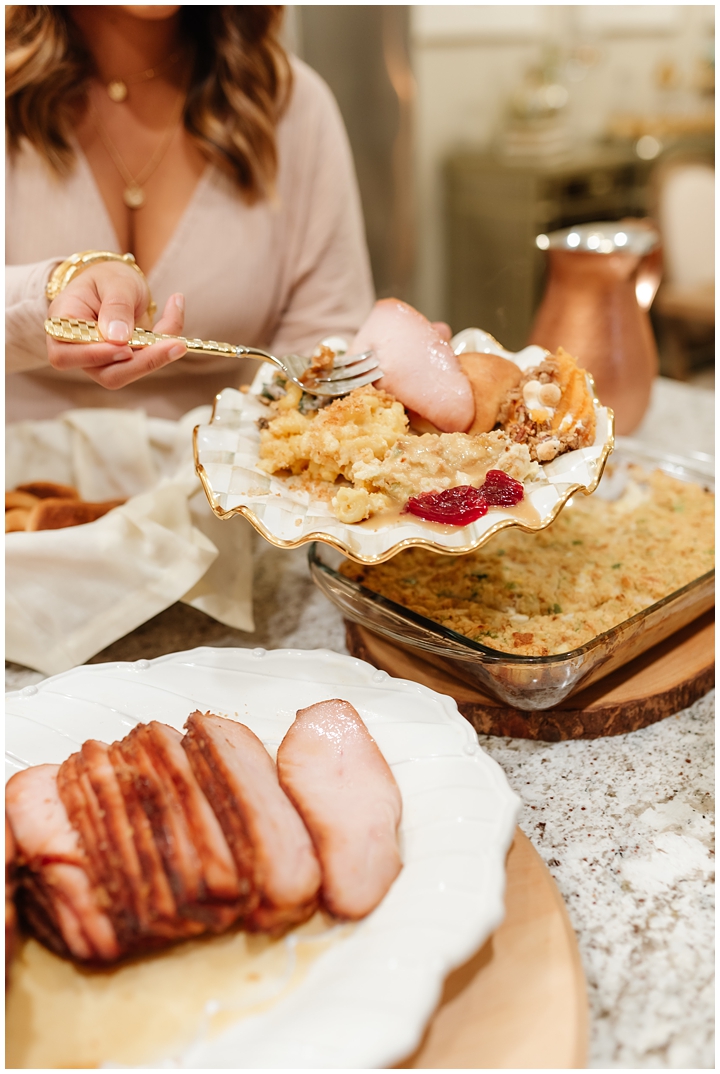 Stuffing | Blake's grandmother came over & made her personal recipe with me. I can't think of a more perfect time to learn your grandmother's recipes than during the holidays. We had so much fun making new recipes we found online, but it's also nice to use a family recipe and learn how to make it so you can pass it down to your own kids. I suggest reaching out to family member for a stuffing recipe to make sure your keeping some family traditions.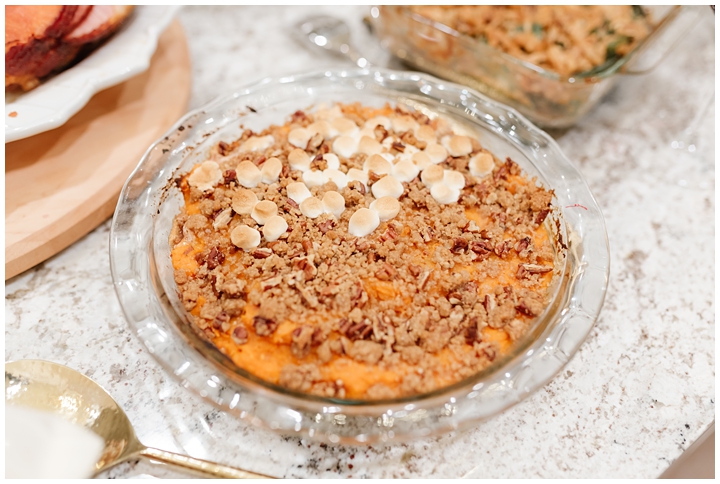 Sweet Potato Casserole | https://addapinch.com/sweet-potato-casserole-pecan-topping/ (My mom helped me make this dish and she used half the sugar and half the butter and it still tasted amazing.
Pumpkin Squares | I decided not to make pumpkin squares for our Freindsgiving because had plenty of pies, but they're so delicious I thought I would share my uncles recipe with you anyway!
1 large can of pumpkin puree
3 eggs
1 12 oz can of evaporated milk
1 cup of sugar
1 tsp. cinnamon
1 box of Duncan Hines Butter Cake Mix
1 Cup of chopped pecans (a little more is ok)
2 sticks of melted butter (1 cup)
Icing:
1 small Cool Whip
1 cup of sugar
1 8 oz. Philadelphia Cream Cheese
Mix pumpkin puree, 3 eggs, evaporated milk, 1 cup of sugar and cinnamon. Stir until all blended. Pour liquid mixture into a 13 x 9 inch pan lined with wax paper. Then sprinkle the box of cake mix on top. Sprinkle pecans next. Pour melted butter on top of pecans & cake mix and bake for one hour at 350 degrees. After baked, let cool ten minutes. Then turn the cake over but do not take the wax paper off until completely cooled. Mix one cup of sugar and Philedelphia Cream Cheese. After blended, add 1 small container of cool whip. Ice the whole cake and refrigerate. Cut into squares and keep refrigerated until serving.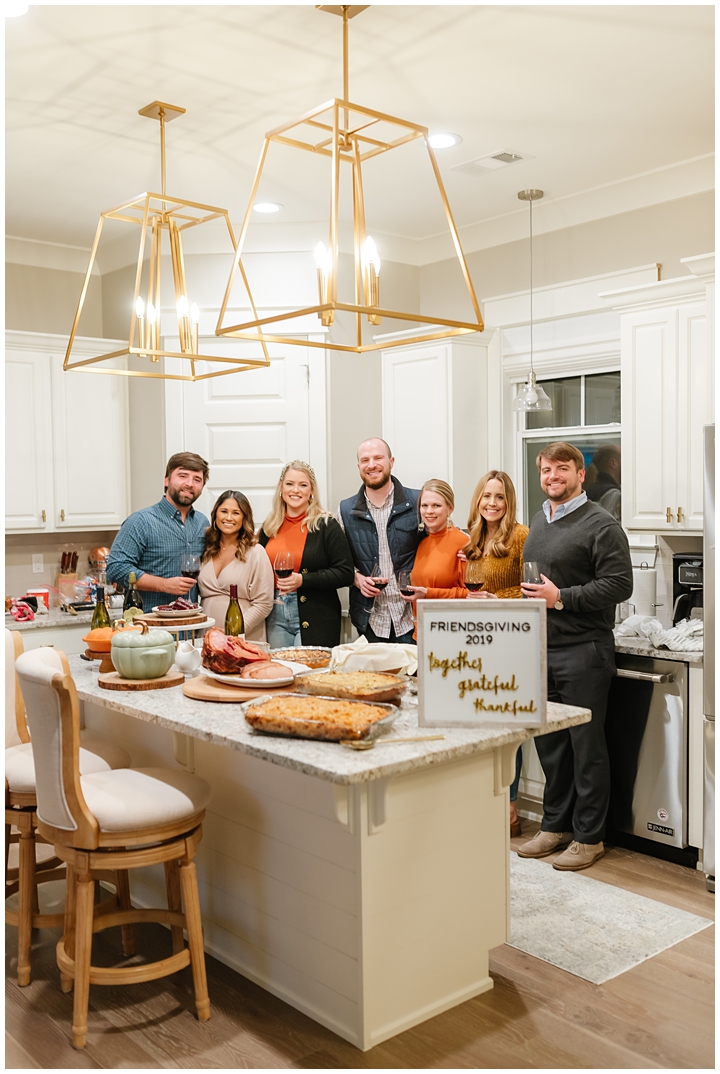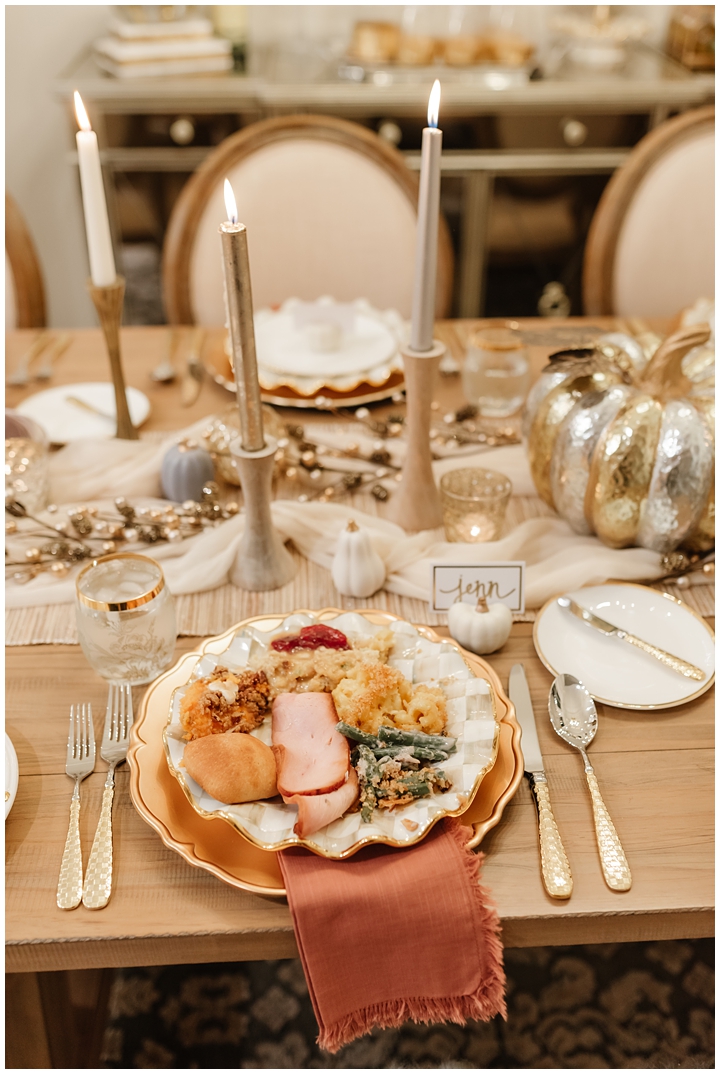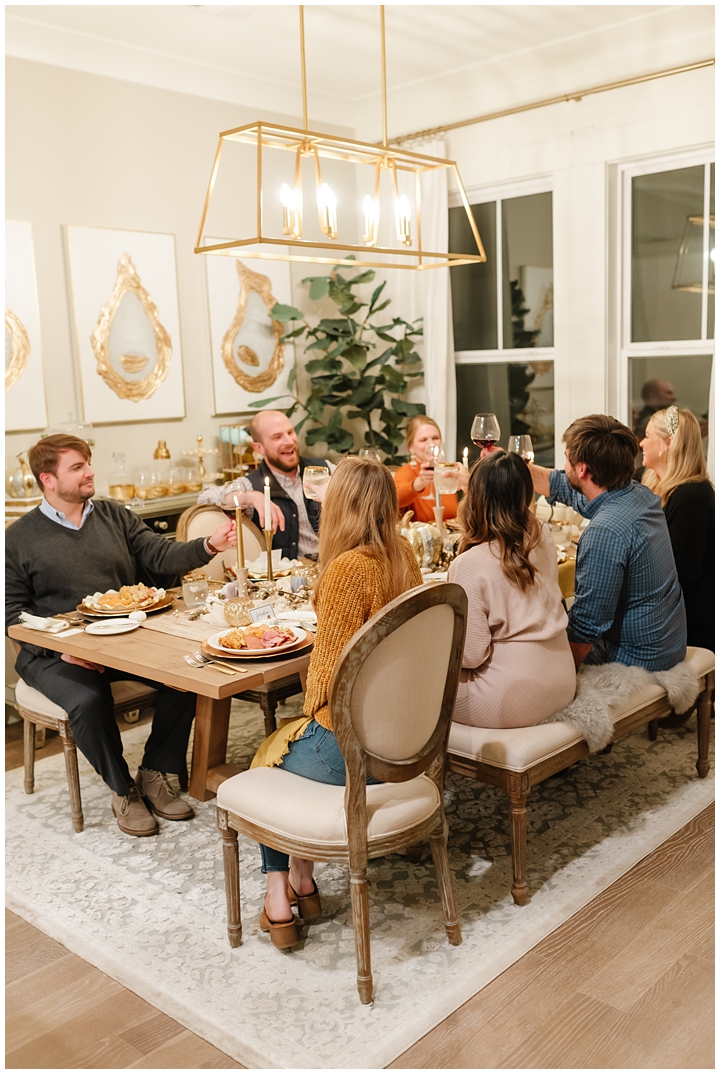 Shop All The Details
| Shop My Dinnerware |
Dinnerware: White Enameled Cast Iron Pumpkin Dutch Oven | White Gravy Boat | MacKenzie-Childs Parchment Check Fluted Dinner Plate— no longer available | MacKenzie-Childs Gold Check Flatware – 5-Piece Place Setting | MacKenzie-Childs Blooming Tumbler | Gold Check Canape Knives – Set of 4 | Metallic Scalloped Reine Chargers 4 Pack | Mustard Yellow Cotton Slub Napkins with Fringe Set of 4 | Ivory Cotton Slub Napkins with Fringe Set of 4
| Shop My Dining Room Furniture on Sale at World Market |
Sale Furniture: Wood Leona Farmhouse Extension Dining Table | Natural Linen Paige Round Back Dining Chairs Set of 2 | Paige Upholstered Dining Bench
Furniture: Castelli Sideboard | Gold Light Fixture | Luis Clear Glass Bar Cart — currently on waitlist (similar gold bar cart here) | Belen Rug |
| Shop My Dining Room Decor |
Decor: Light Gray Mongolian Sheepskin Area Rug | Pumpkin Place Card Holders—old (similar here)| Gold Mercury Glass Votive Candleholders Set of 3 | Flared Whitewash Wood Taper Candleholder | Antique Gold Ribbed Taper Candleholder | Natural Fiber and Lurex Table Runner | Glittered Pinecone And Metallic Berry Garland | White Taper Candles, Set of 2 | Metallic Silver Taper Candles, Set of 4 | Metallic Gold Taper Candles, Set of 4 | Silver and Gold Mercury Taper Candles Set of 2 | MacKenzie-Childs Gold & Silver— no longer available | Crinkle Silk Ribbon
| Shop My Look |
Outfit: Knot Long Sleeve Velvet Rib Midi Dress | Sionne Clear Strap Pointed Toe Mule | Paris Demi Hinge Cuff | Olympia Bracelet | SoHo Hoop | Set of 3 Coin Pendant Necklaces
Evening outfit: Cozy Ribbed Midi Dress | Ulani Pointy Toe Bootie | Paris Demi Hinge Cuff | Olympia Bracelet | SoHo Hoop | Set of 3 Coin Pendant Necklaces
| Shop My Pie Bar Cart |
Pie Bar: MacKenzie-Childs Gold Check Cake Serving Set | MacKenzie-Childs Parchment Check Fluted Cake Stand | MacKenzie-Childs Parchment Check Two Tier Sweet Stand | Luis Clear Glass Bar Cart — currently on waitlist (similar gold bar cart here)
Custom oyster paintings by Christina Fontenot Art